Sometimes it's so easy to forget little spaces like entryways, hallways, closets, etc. That's why we love Mandi's complete transformation of her entryway, which we originally discovered when Sherry pinned her awesome ceiling paint treatment over on her home away from home (yes, as a guy I still don't quite understand the magic of Pinterest but then again Sherry doesn't quite understand the magic of Angry Birds). Anyway, back to Mandi's entryway makeover. Here's her story:
I've spent the last week and a half making over my entryway and I am dying to show you! This is what it looked like before the makeover: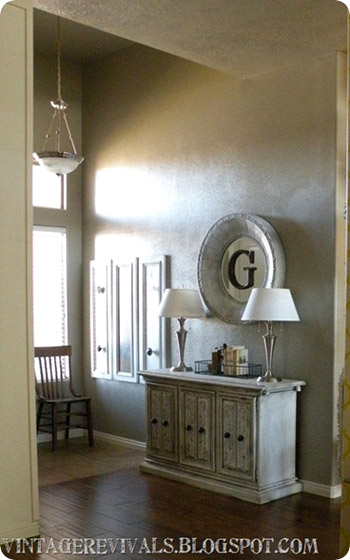 And here's the after. I love it.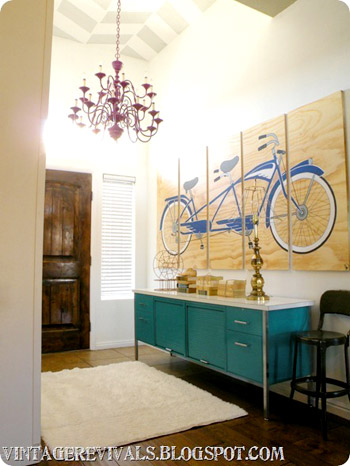 The hands down greatest thing in here is the tandem bicycle art by Jonathan from Olson Ink. All I did was tell him that I wanted a tandem old school bike in cobalt and white. He painted it on a 8'x4'x1" plywood with a wood veneer. The wood was stained a light Honey Blonde color before he started painting. Then when he was all done he cut it into 5 sections.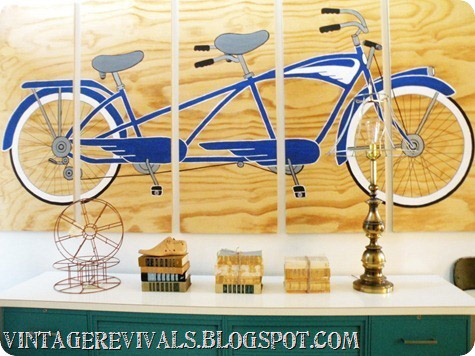 The credenza was a find that my mother-in-law spotted about a year ago for only $35.00. Its probably from the 50's and not one thing has been changed on it. Sometimes you can really score a great piece that just needs a good wipe down! It is made out of metal so its really industrial but, helllllllo it's teal. Its like a combo made in mismatched heaven.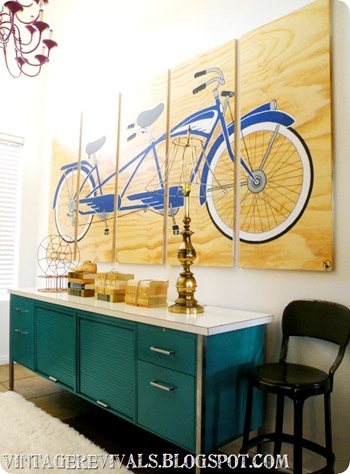 All of the books and odds and ends as well as the lamp were found thrifting. The cute little stool was a $10.00 Craigslist find and it gives it the raw industrial push that the space needed.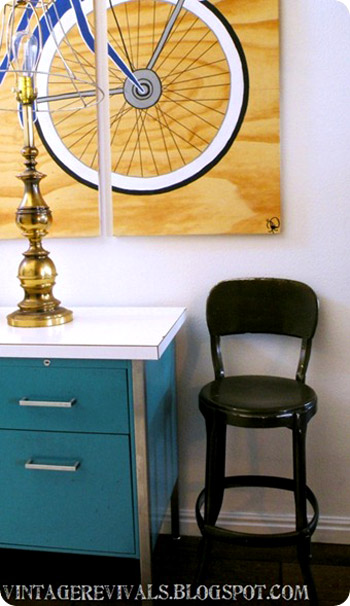 And then there is of course the herringbone ceiling. Oh how I love it. But it would not be as awesome without Octy the Purple Chandelier.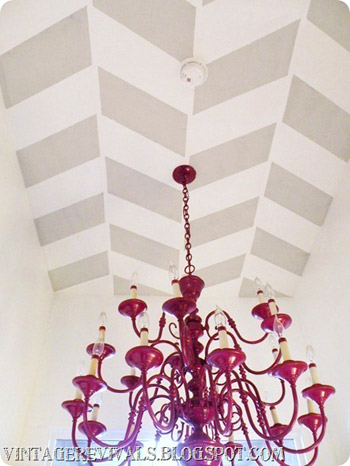 Ol' Octy is still one of the best thrifting finds I have ever happened across (painted in Krylon's Rich Plum).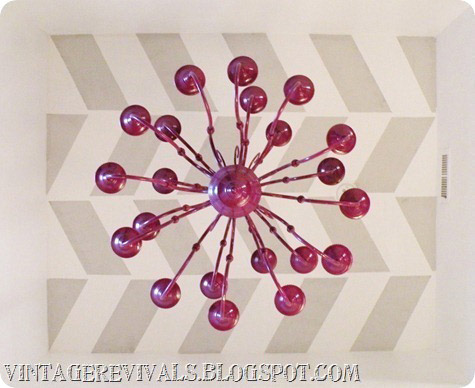 Thanks so much for, Mandi! Isn't that such a fun space to come home to? I mean, hello – BIKE ART. Everything from the colorful spray painted chandelier to that killer herringbone ceiling is definitely smile-worthy. And $35 for that teal metal credenza = jackpot (and yes, that is the first time I have ever typed credenza). You can read more about the makeover on Mandi's blog. And feel free to chime in with your favorite part. Mine is obviously the bike art. But that ceiling has Sherry doing all sorts of happy dances over here.
Psst- Clara met Santa! And it was quite the adventure (she apparently went through a roller-coaster of emotions from being nervous and excited to feeling some sweet affection for her cousin). More on that here.