This latest before & after comes from one of our neighbors to the north, Kahley from Ontario, Canada. She and her husband Steve revamped their home's only bathroom. And in the process proved that going dark and sophisticated can still be bright and airy. Here's her letter:
We are a young family of four – me, my husband, and our kids Noah (4) and Lexie (2). The only bathroom in our house dated back the 1950's, so it was HIGH TIME to reno!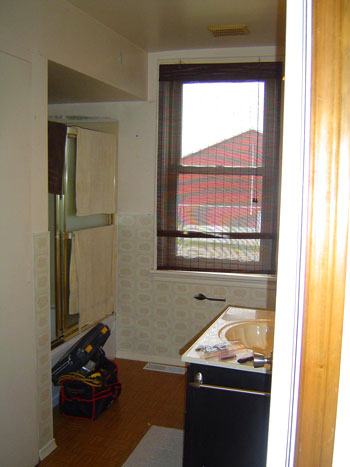 Since it was our only bathroom, we wanted it to be insanely multi-purpose. We needed a tub AND shower, some closet space, a dirty laundry area, lots of concealed storage, etc etc etc!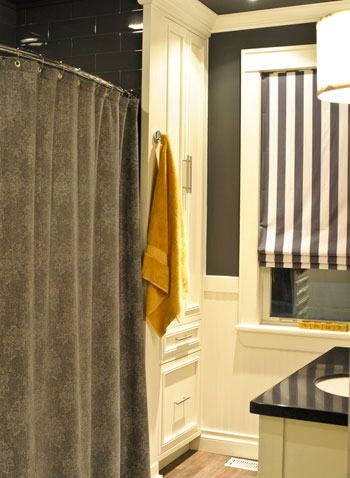 I had the color (BJ Moore "Gray") picked from the beginning. These built-ins were created according to plans that I developed. Above you can see the shower curtain that I made myself from some discount fabric in the women's "suiting" area at Fabricland. The fun striped roman blinds were made by Tonic Living in Toronto. The accent color that I chose in the end was a golden mustard yellow. The towels are from Sears!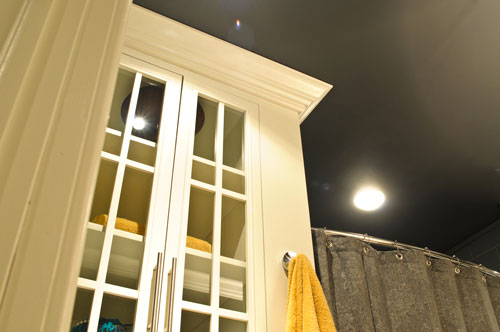 Here's the bttom view of our vanity. I fell in LOVE with an oh so unaffordable vanity at Pottery Barn (they used to have a larger double version that was amazing) – so I had it built for THOUSANDS less.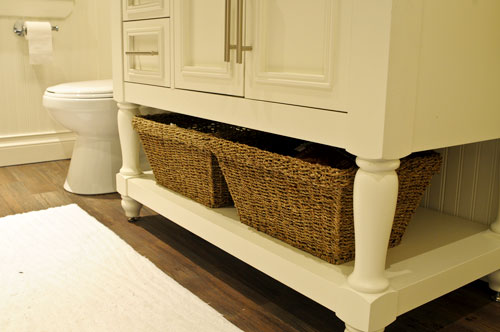 Here's what I like to call sexy tile!! I believe it's a Centura tile (it's an enlarged subway tile – 4″x12″ – in a high gloss gray finish). It feels oh so chic. Now if only I could have done a walk in shower (oh the joys of only having one bathroom, and children to bathe!). Anyway, thanks for checking out our bathroom makeover. I hope you love it! – xo, Kahl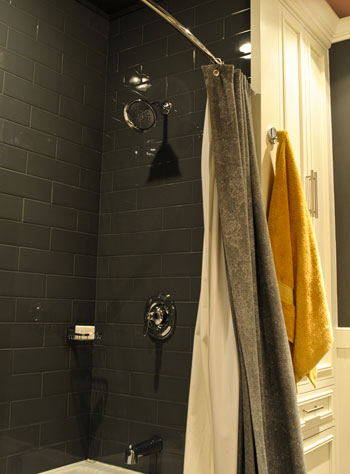 We're not sure what we like more – all of the function they added (a set of built-ins on either side of the shower) or the brave color choices (dark gray tile and a gray ceiling). So we'll just choose to love them both equally. How about you? What's your favorite part? Oh and you can read more about the project over on Kahley's blog.
Psst – Got your own awesome before & after project? Send your story, pics, and related links to [email protected] to be considered for a possible Reader Redesign feature. You know we love a makeover.