Having wrestled for an unnaturally long time with our own chair upholstery project (well, I was more a bystander while my wife played the role of the wrestler), we're that much more impressed with Erin's redo of her great aunt's loveseat. Here's her letter:
A few months ago I set out to reupholster my great aunt's old loveseat. I actually planned on hiring someone to reupholster it, as I have never done anything like this before (not even close!). But then I got to thinking "Why not try my hand at it first?" So Project Loveseat was born!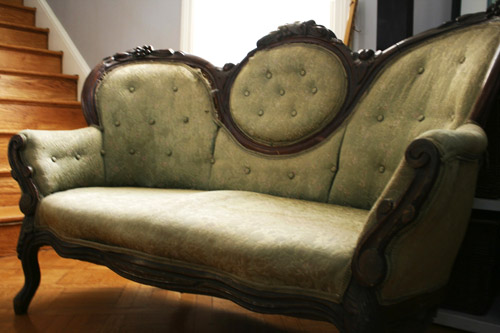 It was definitely a challenge. And one that I just sort of winged. I couldn't even write up a whole tutorial because I still have no idea what I did. But it goes to show you that projects like this one are doable for the average person (the average person with A LOT of staples). It's not perfect but it is faaaar better than what I imagined I could do. -Erin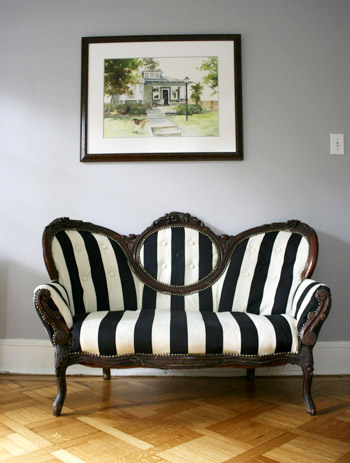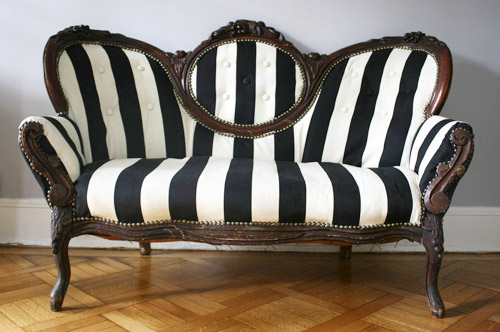 Three cheers for Erin for the great pictures and the encouragement to take on another upholstery project at some point! You can see more photos of the process on her blog Olive Our House. Has anyone else taken on any upholstery projects lately? Or any other furniture, paint, fabric, or full room makeovers for that matter? You know we're nosy and we love to check that stuff out. Just send any and all projects to [email protected].
Psst- We shared a little "Fair Fun" over on Young House Life yesterday. Check it out here.