Reader Redesigns
It's official – we've got bathrooms on the brain after our impromptu update over the weekend. And not just bathrooms, but closets too. Fortunately, Meghan and her husband Sean shared a double-dose of makeover-y goodness with us: their master bathroom and closet. Go figure. So check out their recaps below while we try our best to resist shopping for tile…
I didn't have a blog when you guys kindly featured our kitchen redesign, but you inspired me to start one and it has been a really fun way to document our adventures! I thought I'd share with you our master bathroom renovation. It was extremely small, extremely dated (think 1960's fab), and smelled extremely bad (no idea of what and I don't think I want to know).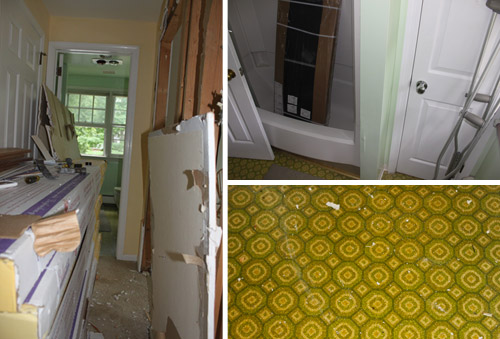 We opened up the space by knocking out a closet just outside the room, took the room down to the studs and replaced everything with carrara marble and white quartz (channeling my inner Candice Olsen).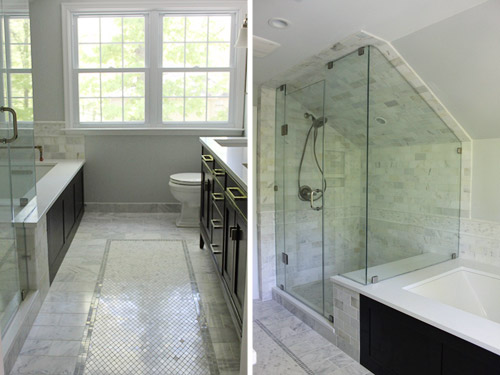 This was the renovation we were going to do 10-15 years after we moved in. When the kids were older we said. After 3 years of nothing but renovations and babies (in no particular order) my husband promised me we wouldn't DIY this one (well not all of it anyway). Sean throwing his back out lifting the new window for the room sealed the deal.
I worked on the design and purchased the materials over the course of six months as things went on sale to save money.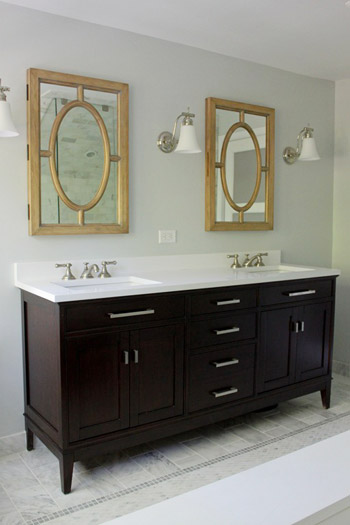 I'm an accountant by day, so here is a breakdown of the project in terms of numbers:
3: The number of general contractors we interviewed for the job.
0: The number of general contractors we actually hired. We decided to play general contractor ourselves and sub out to trades on our own.

6: The number of subcontractors we hired.
9: The number of months it took us from start to finish.
40: The percentage of savings for subcontracting ourselves versus using a general contractor.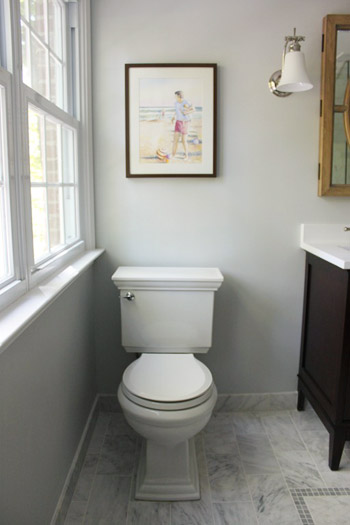 The new toilet is named Memoirs by Kohler. Seriously. I wonder if you need any special training or degree to name toilets. The painting is one my dad did for my boyfriend 10 years ago of the BF as a baby with his father (don't worry he's my husband now…otherwise that would be weird)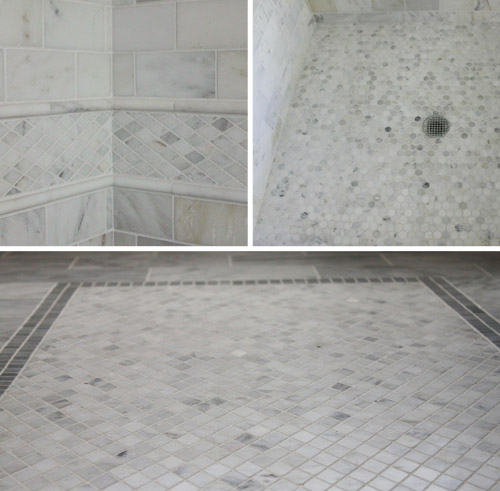 We chose a carrera marble scheme from Avalon tile and our installers were truly artists. I may regret the marble but go big or go home, right? We went with honed instead of polished marble because honed is supposed to be more forgiving. Marble takes maintenance and stains/scratches easily so I figured honed would hide the inevitable marks. I'm really glad I did. If you live in a house full of men like I do then you know their "aim" isn't always perfect.
Because one renovation always leads into another… this turned into to a master bedroom renovation too. We knocked down a wall to combine two bedrooms into one. This now-missing wall used to hold the rooms' closets which meant we were left with none.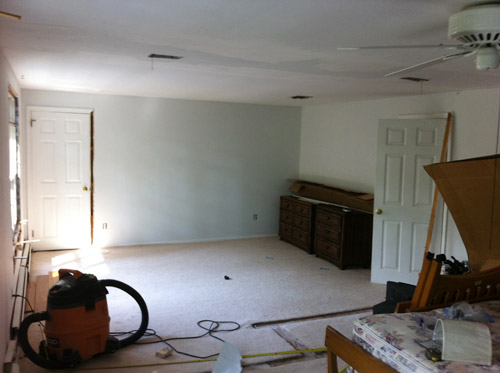 We liked the look of built in cabinetry (but couldn't swing the price). We liked the look of the IKEA PAX unit (but have short ceilings and weren't sure about the long term durability of the doors).  Compromise = Ikea hack.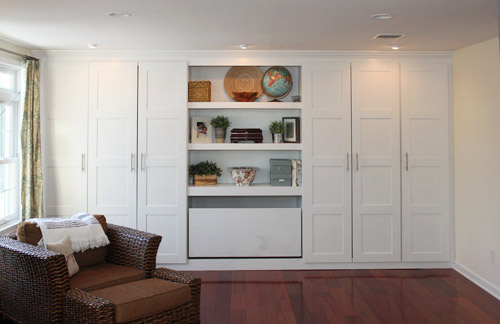 We cut down four 90″ Pax units from Ikea to fit our 80″ ceilings, secured them to the wall and added a hardwood frame over it. Then we took a crack at carpentry and built tongue and groove style shaker doors and painted it all out in Benjamin Moore Decorators White.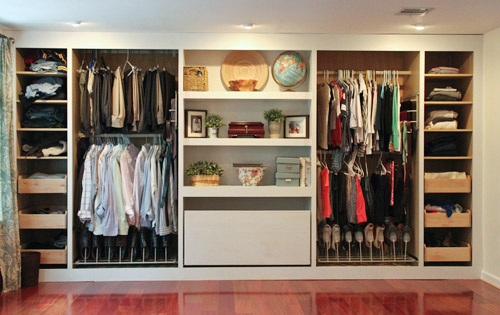 In order to break up the span of doors we added a bookshelf in the middle with a hamper drawer at the bottom. We finished the unit out with crown molding at the top and interior lighting. Thanks for letting us share! – Meg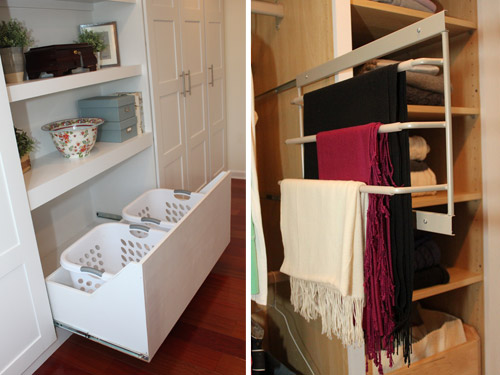 Thanks so much to Meghan and Sean for sharing the inspiration. We love that they were able to achieve high end looks while still finding ways to save – like managing the subcontractors themselves for 40% off, and building their own shaker doors for the closets. You can drop by Meghan's blog to get more details on their awesome bathroom and closet transformations. But feel free to play the favorite part game here first. Sherry's in love with those roll-out hampers and that bathroom tile. And I'm digging the converted Ikea cabinets (so smart to cut them down from 90″ and frame them out that way).
&nbsp&nbsp&nbsp
Something has us gravitating towards outdoor spaces lately. Maybe it's being mid-makeover on our freshly lofted sunroom? Maybe it's wishful thinking that summer isn't ending? Whatever it is, we loving Stacy's transformation of her backyard into a quaint and cozy green space. Here's her letter:
There were several books from my childhood that affected my view on life and how I wanted my home to be when I grew up. One of them was a book titled Mandy, and another was The Secret Garden. I have always wanted a space that was all mine. A space that maybe didn't function as anything other than a retreat and a place to image and dream. Welcome to my secret garden.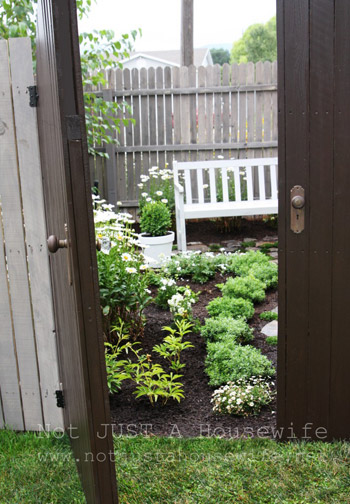 Here is what the area looked like before: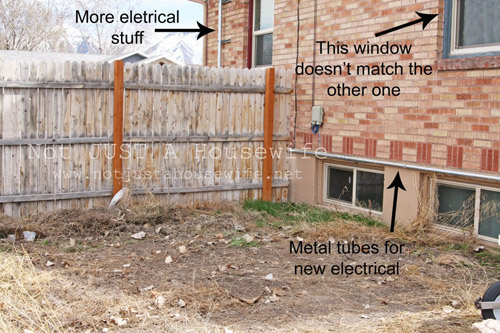 This garden took almost four months to create. Not only do I have four small children, but I was at the mercy of mother nature. Plus, I had to build the fence on two sides. It was harder to get finished that any other "room" I have ever done.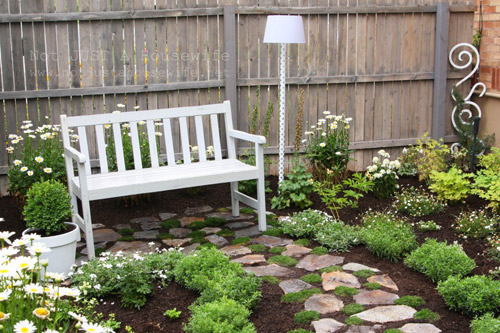 Next to the bench I have an outdoor solar powered lamp and in the corner there is a trellis. Next to the trellis is one of my favorite things about the whole garden. My moss art! I LOVE moss so this seemed like the perfect fit for my space.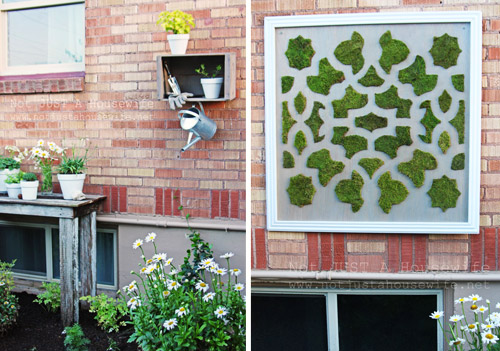 I used an old apple crate for all my gardening supplies (see above). I love that not only is it functional, but super cute! There is also the ladder from my Better Homes and Gardens photoshoot that I turned into a plant stand last year. I don't think the pictures really capture the effect this mirror has on the space. It wasn't until I hung the mirror that it felt like a room. I got it for $15.00!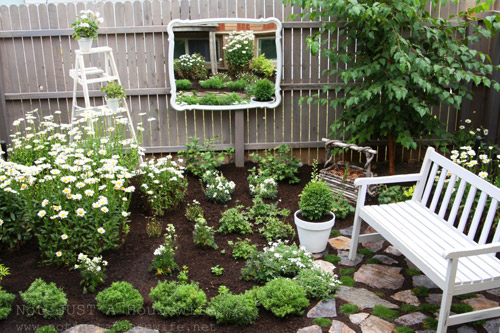 Thanks for touring my secret (okay, not so secret anymore) garden! I am so excited to have it done so can start on the next project. -Stacy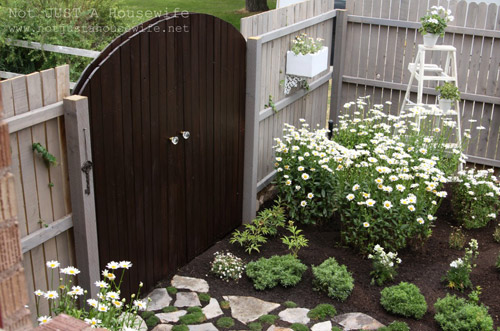 Amidst all of Stacy's cool projects in this space (which you can find linked to at the end of her blog post about the space) I think I'm charmed most by her casual stone and moss path throughout the space. And Sherry loves those awesome arched doors in that dark chocolate stain. Very secret garden indeed. Thanks for sharing your garden with us, Stacy!
&nbsp&nbsp&nbsp