Now that we're back home (and back in the swing of things), let's start this off with a deck sneak peek. Oh yes, more holes are happening. So rest assured that we're working towards a passed inspection (remember when we failed here?) and we hope to have an update on that early next week. So be sure to hold your breath for us!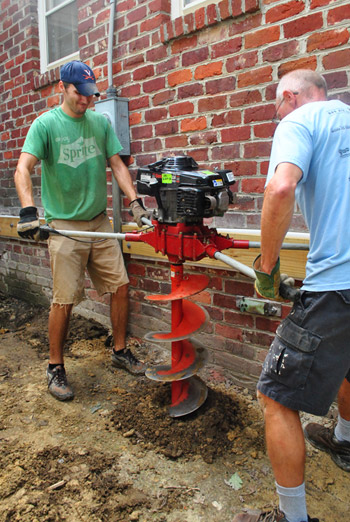 But back to our Reader Redesign. Despite this email starting off with a cheer to my alma mater's rival, I couldn't help but share this awesome bathroom makeover with an even more awesome price tag. Plus, although we may not agree on college teams, we can definitely relate to a bathroom that feels less than welcoming and functional. Here's Melissa's note:
What's up John, Sherry, Clara, and Burger? We are just down the road from you in Blacksburg (go Hokies!) and wanted to share our main bathroom reno with you. We have five kids and squeeze home projects in whenever we can. When we bought the house, the only thing we weren't crazy about was the size of the bedroom and attached bath, but we loved everything else, so we took the plunge. The "Before" (90's linoleum lighthouse/sailboat honey oak themed bath) did not feel updated at all…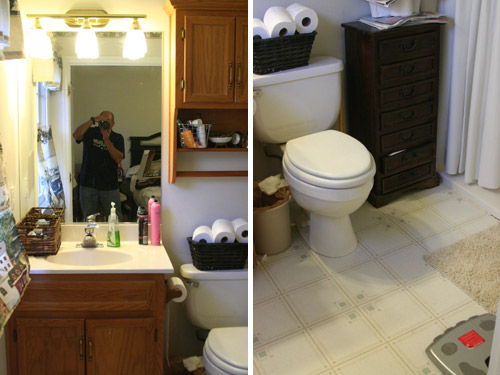 We didn't want to pay for a big addition or re-model, so we worked with what we had and gave ourselves an $1,000 budget for new floors, a new marble counter, fixtures, lighting, shelving, accessories, etc.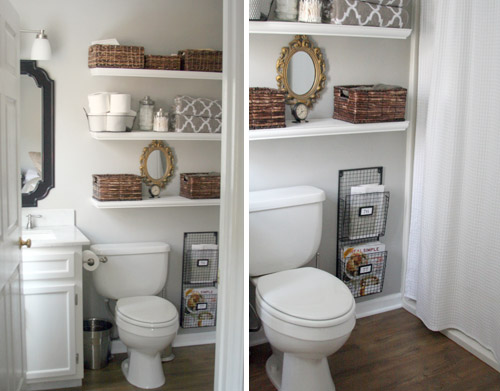 Down came the oak cabinet above the toilet to open things up a bit and we installed floating shelves and baskets to hide all of our stuff. We removed the mirror and replaced it with a clearance one from Lowe's. A wire magazine rack from TJ Maxx was added to balance the off-set toilet. We kept the vanity and painted it with Benjamin Moore's Impervo Paint in White Dove, but installed a new marble top and faucet from Home Depot.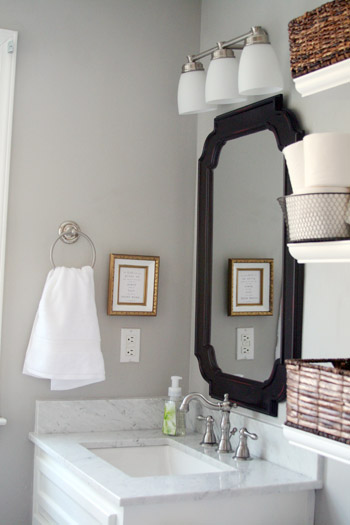 We went right over the lineoleum with allure laminate flooring from Home Depot – it's water resistant and we've loved it in our downstairs bath (it's really easy to install yourself).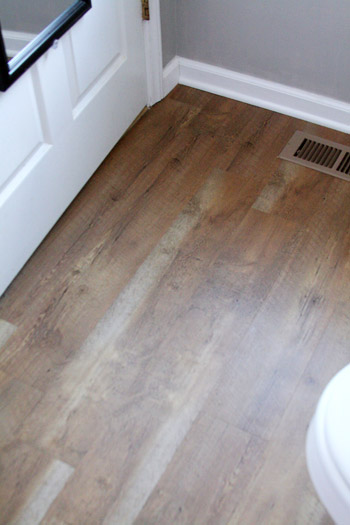 The shower curtain is just a basic waffle weave shower curtain from Target – like the one in your bath! The paint color is Fossil Grey from Glidden's old colors. Total spent: $995 for everything… towels, toilet paper holder, garbage can, the whole shebang.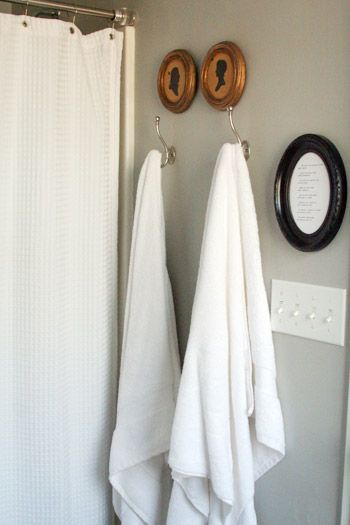 Thanks for looking/reading! If you're ever in town and want to go to a game, we would love to have Clara come play! – Thanks, Melissa
Didn't Melissa do an amazing job? It's awesome to squeeze in new floors, counters, accessories, paint, and shelving for under 1K – and we love that she worked with what she had when she could (like repainting and retopping the vanity). It looks like they added at least 5K of value to their house with that update and most people wouldn't believe it wasn't a total gut job. You can see more of their makeovers on Melissa's blog too. What's your favorite part? Sherry's obsessed with the mirror and those floating shelves and I think that new flooring and marble top is the icing on the cake, er, vanity.
Psst- We picked a winner for this week's giveaway, so click here to see if it's you.