Today we're working away on demo-ing out the old balcony where the new deck is going to go (since Mother Nature rained us out yesterday) so we hope to have more photos to share of our progress soon (Monday at the latest if all goes well!).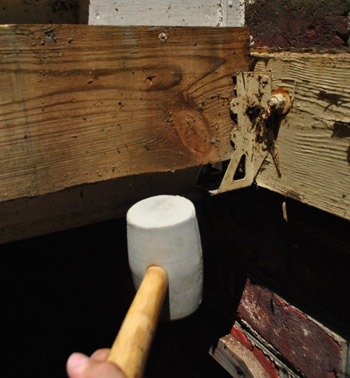 In the meantime, we thought this awesome budget-friendly kitchen idea was such a smart solution. We never really considered stainless steel counters, but after seeing Linn and her husband make it look so easy (and affordable) we're definitely into it. Here's Linn's note:
I wanted to share a DIY tip for countertops which isn't really that common, but it's a great idea if you're on a budget and you don't mind doing some work yourself. When my husband and I renovated our kitchen we were able to get awesome looking stainless steel countertops for the bargain price of $400 (for a small 20 square foot counter). A big box hardware store quoted us $3,000 to put in and install basically the same thing!! Here are our old formica counters during our renovation: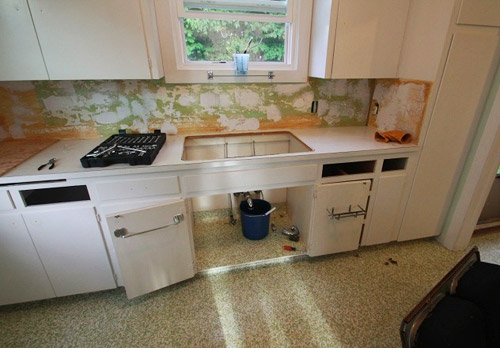 We made a plywood template to the exact size of our counter and worked with a local sheet metal shop that cut and bended a piece of 20 gauge stainless steel around our plywood template.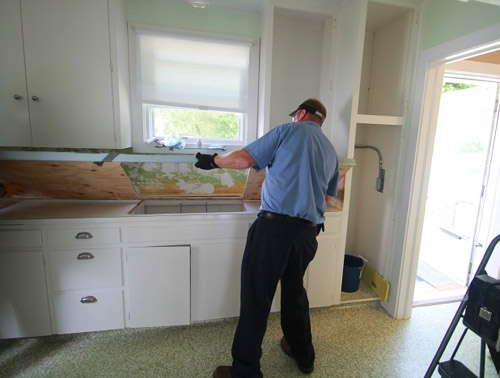 Then we installed the plywood on top of our old Formica counters…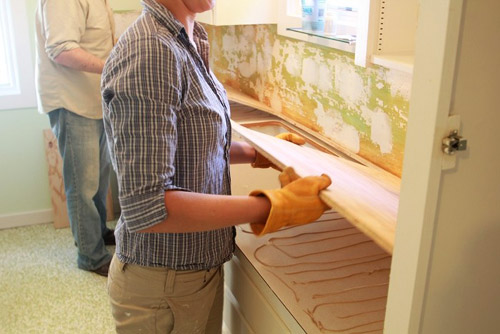 … and added the steel on top of it (it's covered in a protective sticker in this shot)…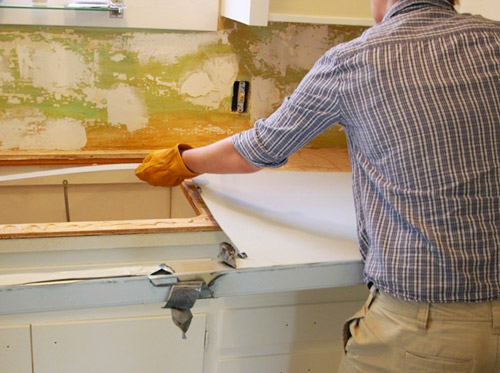 This option proved to be so much cheaper than many other materials around, so if anyone else is contemplating what type of counters to put in, and they don't want to spend all of their budget on granite or marble, then I would highly recommend this method!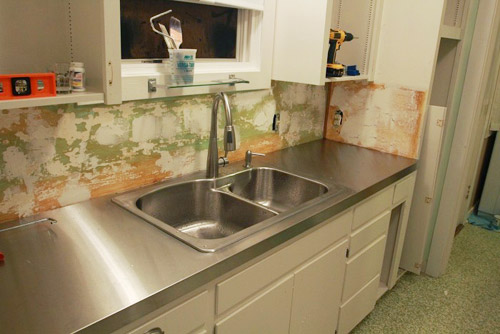 Stainless steel looks great, is super durable, and requires no maintenance whatsoever!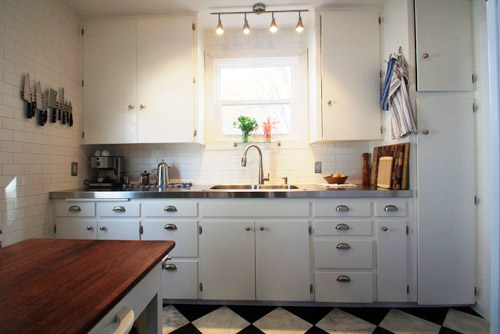 We really love how it turned out! – Linn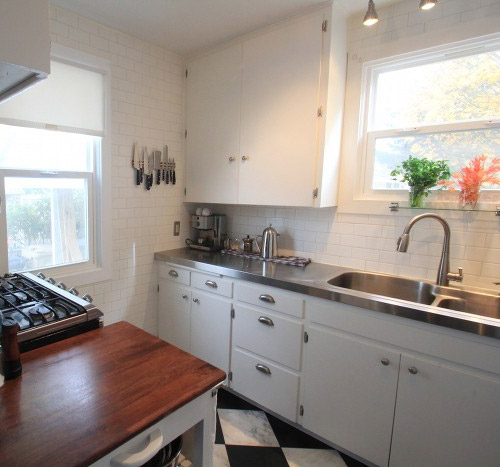 Obviously a lot of other great stuff went into Linn's transformation, so hit up her blog for more details about everything – from those awesome stainless steel counters to the kitchen project as a whole. Have you guys considered stainless steel? Did you know you could get help from a local sheet metal shop to accomplish something like this for thousands less than buying stainless counters the traditional way?
UPDATE: Since a lot of the comments are asking about long-term care and durability of Linn's counters, here's a link to a post she did with her thoughts on it.
Psst- We announced this week's giveaway winner, so click here to see if it's you.