Since we don't have any excuse to decorate a little boy's room, we live vicariously through friends and readers. Which is one of the reasons we're excited to share Kat and Mitch's awesome transformation of their son Ryder's room. They not only did a bang-up job on the whole thing (and took on lots of DIY projects to keep it affordable) it was all inspired by a free bed they found. Here's Kat's letter:
We just finished my son's room and we're so proud of how it turned out. First things first, this is what this room looked like prior… well several years ago anyway when Ryder was a baby.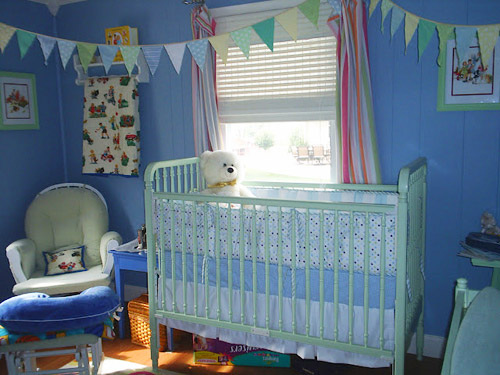 What made us decide it was time for a wee makeover was when I saw a metal bed in my neighbor's burn pile one day. I didn't want to put a new (to us) bed in a periwinkle room, so it was time for a change.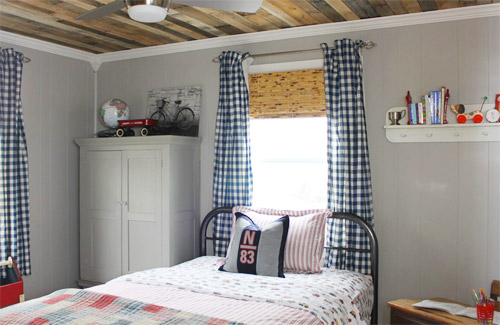 My husband did the pallet ceiling and I painted pretty much all the furniture in the room. The color we chose for the walls is Benjamin Moore Thunder. We had the swatch on the wall in our kitchen (actually it's still there) and whenever someone comes over they give us a weird look when they see the words "BM Thunder" underneath the swatch. Funny. And yes, gross. Unless you don't have a twisted mind like my friends and I.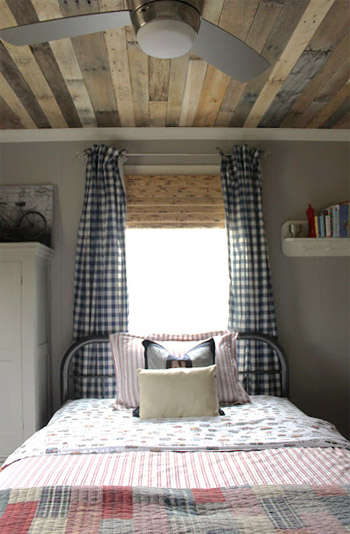 The ceiling was a lot of time-consuming work but totally worth it and actually really not that difficult. And the best part is that Ryder loves it and can enjoy it for years to come. I know that pallet craft seems to be all the rage right now and may be just a fad, but it really does look cool.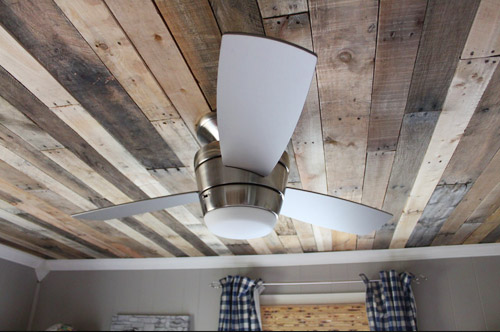 The curtains and duvet cover I found at a thrift store literally days before the makeover was complete. I really didn't think I'd be able to find anything second-handed. But wouldn't ya know, a few days later I walked into a thrift store and found this duvet cover and two pillow shams for $3. It was the exact size I needed and it's from Pottery Barn.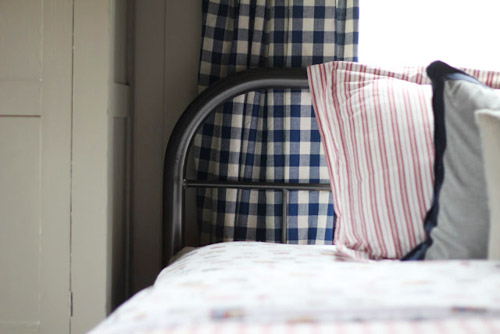 So we were able to makeover Ryder's room on a very small budget. Actually the only things we bought new were the ceiling fan and a jelly jar sconce. Everything else came from thrift stores, auctions, or was given to us. I love the thrill of finding deals… there's nothing like it!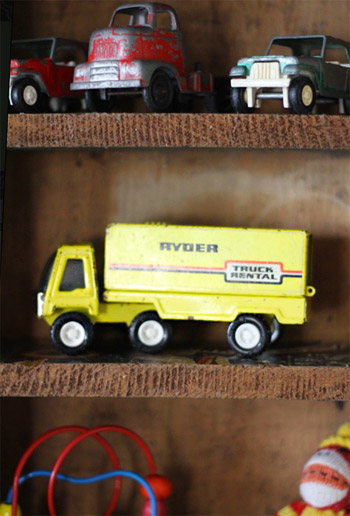 Hope you like it! – Kat
You can see more pics and details about the makeover on Kat's blog, where she's got loads of links to the various projects that are peppered throughout the space (including this cool bookcase they retrofitted to match the ceiling). We're so impressed with all of the thrifty finds she incorporated into the room. No wonder Ryder loves it! What's your favorite part?