It's no secret that we're suckers for a dark room turned light and bright. And during the summer months, we're especially keen on the beach-y, coastal vibe that Jessica achieved with the help of our pal Rhoda. So check out her letter below:
We finally finished our family room makeover. I feel like I've been working on this room forever. The colors in the room before were traditional and on the darker side. The old furniture was a set we bought many years ago and was in a much smaller room (so it looked a bit lost). I decided to change the look from traditional to a cottage-y pottery barn style. This was a joint project with Rhoda, from Southern Hospitality. I enlisted her expertise and boy was she helpful! Here's the before shot for you: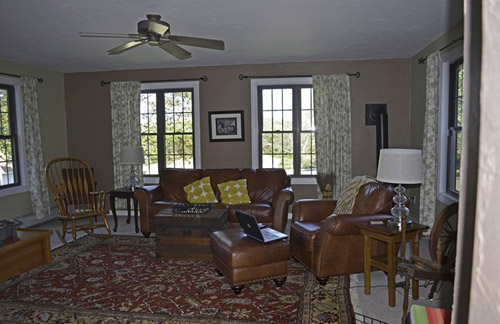 After the dark paint went away and I started to add planks to the walls, things looked like this: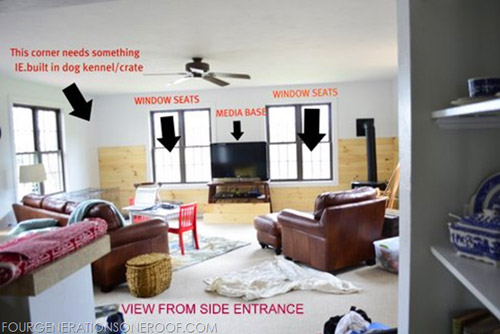 In order to achieve the look I was going after, I got busy nailing planks to the wall. I used 1×8 tongue and groove knotty pine. It seemed like it took forever to complete that part of the project. My dad showed me how to use the nail gun and then disappeared for two months while I worked on the room. It was winter time and he likes to hibernate in front of the television. He wanted NO part of this project.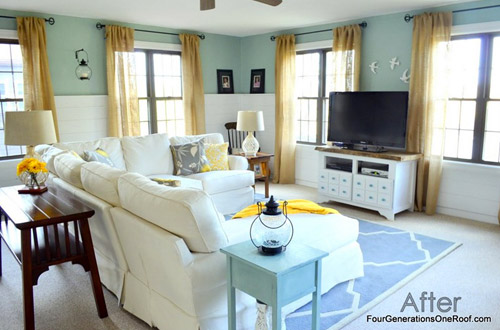 The planks on the wall are painted Benjamin Moore White Diamond and the top of the wall is Benjamin Moore Wythe Blue. I also added a two inch shelf on top of the planks to define the separation between the planks and the wall. It turned out great for leaning pictures.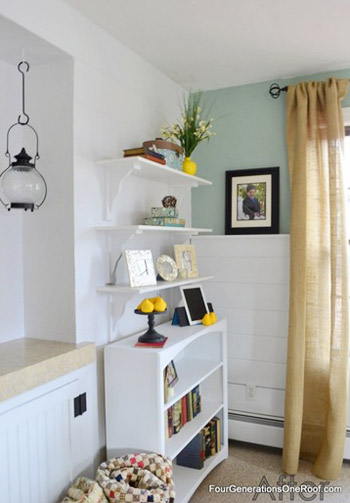 The drapes are burlap. I loved the deep pocket pottery barn burlap drapes but for $75 a panel, it would have been very expensive. I bought 55 yards of burlap at $1.99 a yard on sale and with my 40% coupon, I was able to make ten "no sew" burlap panels for under $130. That's pretty good in my book considering there are five large windows!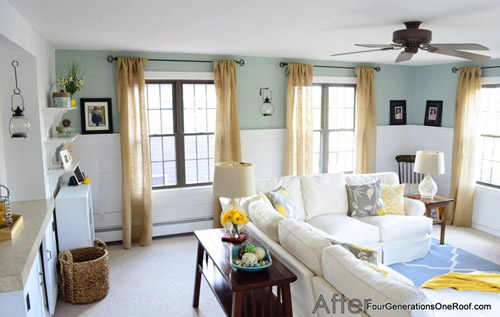 Yes, we invested in a new sectional sofa. I found it on sale at a local furniture shop and it was a deal let me tell ya! I also ordered all the fabric for the pillows and window seat / now bench from fabric.com. My favorite is the Thomas Paul fabric (gray) Dalia print.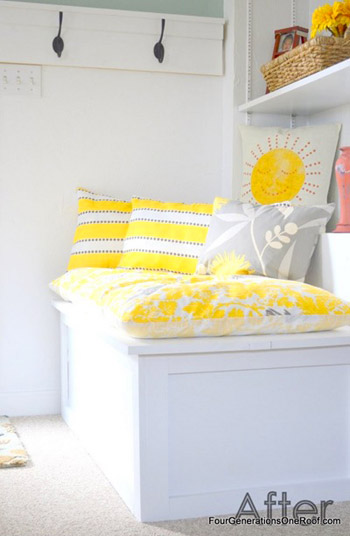 There you have it! A gigantic hug to Rhoda at Southern Hospitality for helping me throughout this entire process. We love hanging out in this room watching TV as a family or just surfing the net. – Jessica

You can read the full version of Jessica's reveal (with more photos!) right here on her blog. Be prepared to drool even more over the awesome plank-work detail that she added to her previously dull room. That's definitely my favorite part – and Sherry is loving the geometric rug and those homemade burlap curtains. We'd love to hear your favorite part. Maybe it's the lighter furnishings, that soft blue wall color, or those ceramic birds flying over the TV…