Projects like Shannon's almost make us wish we had four daughters running around. I should emphasize the "almost" on that. Haha. But, once you see the project Shannon took on, you'll see why the idea of having four girls around sounds kinda awesome (and this is coming from a guy who grew up with three sisters).
Hey guys! It's so funny reading your blog. We were and are where you guys are – but we started almost ten years ago when we bought our first house. Since then we've brought our total baby count to five (yup, five!) and we're still in the same house – trying to make it work. Anyway, with the birth of our fifth baby/fourth girl last may we couldn't figure out how to break up the kiddos among the 3 bedrooms we have for them. Initial plans were 2 girls/2 girls/1 boy… but then we found the double bunk room over at augustfields.blogspot.com and it was love at first sight! So last month the mister took off the week between Christmas and New Years and we got our major renovation groove on.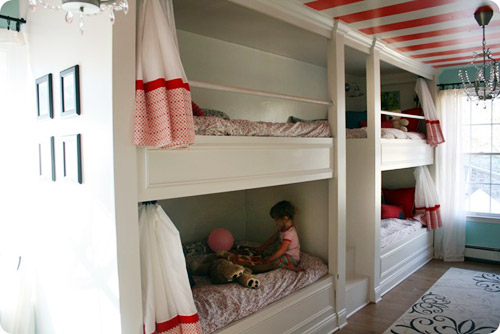 In ten days we took out a wall, merged two rooms into one, built a double bunk bed unit and finished the room – if not to completion, at least a good portion of the way. And we did it all on the super cheap. SUPER, super cheap.
Creating secret storage spaces like pull out drawers (on casters) have really come in handy.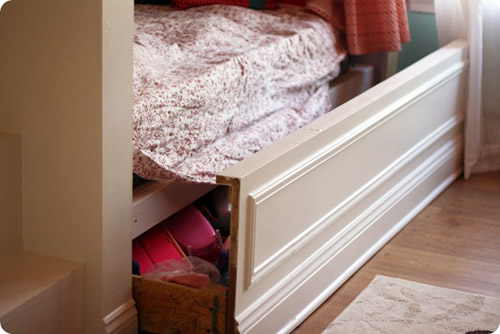 I made these silhouette pillows for each of the girls, to add something personal to each of their beds.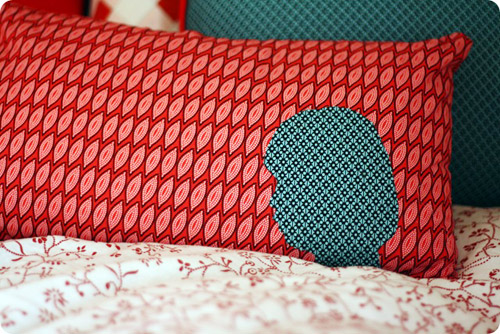 We went with a playful striped ceiling (like the one here), and love the bold color it brings into the room.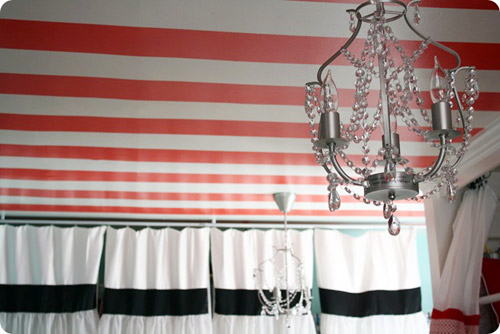 Inexpensive dressers (three Malm ones from Ikea) and turquoise walls make the room fun and functional.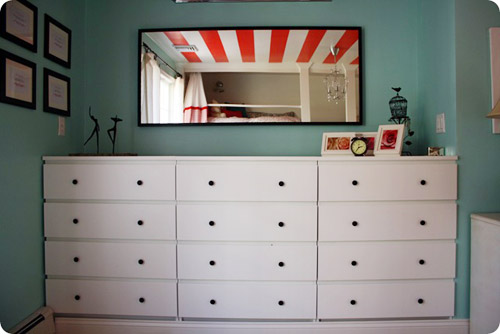 The girls love it, and so do we!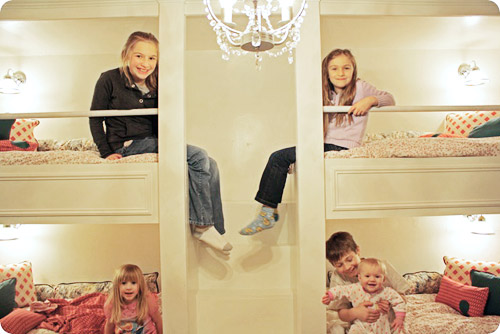 Thanks for checking it out! – xoxo, Shannon
How fun is that? We're sending out a huge thanks and a giant bravo to Shannon and her mister for sharing their awesome project. If you wanna see more of the inspiration, progress, and reveal pics – be sure to click over to Shannon's blog too. Who knows, maybe we can all score a sleepover invitation. Hah. Oh and let's play the what's-your-favorite-part game. I'm loving the built-in drawer storage and Sherry's dying for the stripey ceiling.