If you ever wanted to quiet that voice in your head that says "Kitchen makeover? Are you crazy? You don't have the money for that!" – let this transformation by Erin inspire you. Here's her letter:
I wanted to share my blog post on our kitchen remodel with you. It's a temporary remodel, as cheap as possible, until we can afford to completely gut it and get a new kitchen in a few years (hopefully!).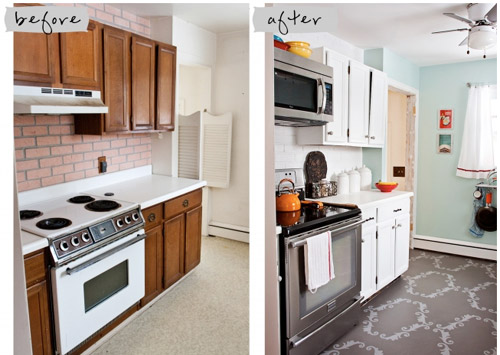 The biggest purchase was new appliances, besides that we spent max $100 for paint, stenciling supplies, and a shelf above the microwave.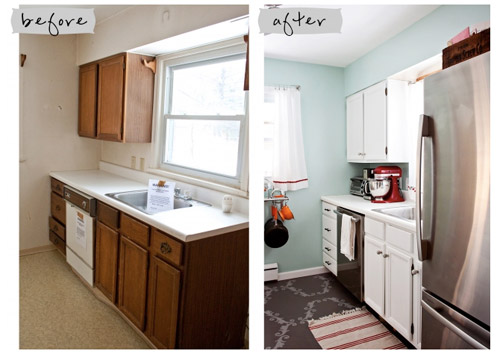 I also finished the floor by stenciling on it, and I love the results! I don't know if I would have had the guts to do the floor stencil if this was our "forever" kitchen, but since this is a "live-with-it" stage until we can do a whole gut job, I went for it! I'm so glad I did!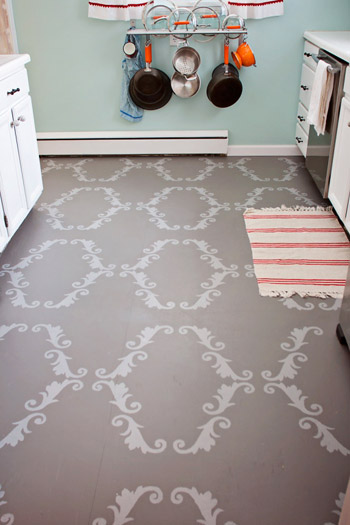 The floor was probably the most tedious part of the entire kitchen update. It started with peeling old linoleum off of the plywood subfloor. Then it needed to be wood puttied, sanded down a bit, and finally primed and painted. This part of the process has been done for a while, but we needed to wait until the rest was done to finish the painting and stenciling part. I'm glad we waited – the floor got pretty scratched up moving things around, and it had more than a couple paint drips on it! – Erin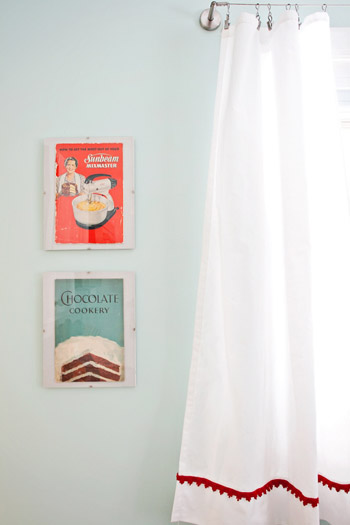 Chalk up another one to the power of paint, eh? We love how fresh and bright Erin's new kitchen looks (and the painted brick backsplash reminds us of our first "for now" kitchen makeover back in the day). Oh, and she's got more info on the makeover over on her blog so be sure to head over there too. Thanks so much for sharing Erin! I'd suggest we play the favorite part game, but I'd bet it'll all be floor votes… although the painted cabinets are room-changers for sure.
Psst- We picked a winner for this week's giveaway. Click here to see if it's you.