In honor of this week's organization extravaganza, we thought this makeover was a great reminder that organizing and planning isn't just about putting things in baskets or sorting your socks. An organized thoughtful approach to your home could help a dark and dated space become beautiful & functional with a little (or a lot) of planning, penny-pinching, perseverance, and perspiration. Morgan and her husband Kevin took their paneled den and turned it into a bright and modern kitchen. The transformation is, in a word, insane. And their planning tips are awesome, like scouring Craigslist every day in a nice wide radius to save serious loot – and rethinking the placement of a kitchen to make more sense of their floor plan. Here's Morgan's letter:
We bought our 1930's bungalow almost four years ago and it was in need of some serious love, but we're enjoying the renovation adventure as we work room by room demoing, designing, and constructing on our own. We built the new kitchen from scratch from what was previously a den or TV room in the back of the house. Here's a look at the den before we moved in three years ago: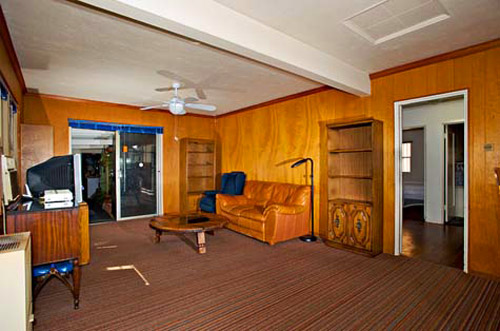 Now that space is a kitchen!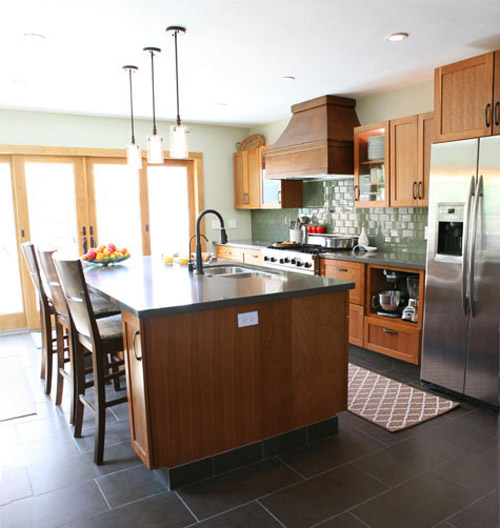 All in all we guestimate that we saved 50-75% of what a contractor might charge for the same kitchen if we had outsourced the work and bought everything brand new. Instead, we scoured Craigslist every day (in about a 500 mile radius) and scored a stainless steel fridge, viking range (drove over 300 miles to nab this beauty), range hood, dishwasher and sink for anywhere from 40-80% off of the original price.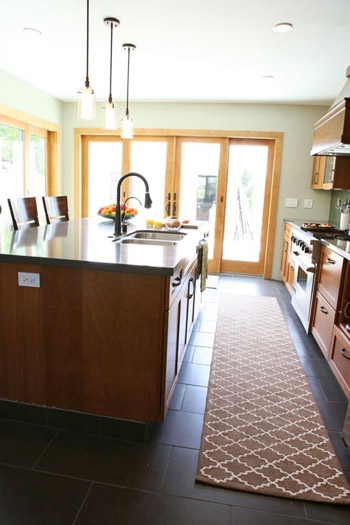 Since our 1930's home was built in traditional San Diegan Spanish-style architecture, our goal was to create a contemporary kitchen that would compliment the original design of the home. Beyond that, we wanted a space that was fresh and modern! And it was so rewarding to do it all ourselves.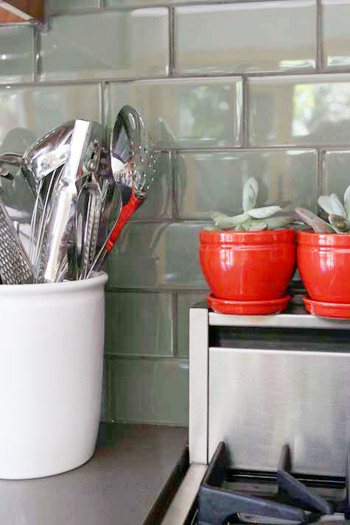 So that's the new kitchen! We know that we'll enjoy this space for years to come and it was all well worth it. Hope you enjoyed it too! – Morgan
Thanks for sharing your amazing makeover Morgan and Kevin! And as if this den-to-kitchen transformation wasn't enough, they're actually doing lots of reconfiguring and redesigning at their house (like turning a bunch of closets into a bathroom), so head over to their blog to see more – including a full source breakdown of this kitchen. Update: It looks like their site has crashed due to traffic- oops! We're hoping it's back up for you guys soon. Now let's all play the what's-you-favorite-part game. Sherry's all about that brown runner and the backsplash tile and I'm ogling those giant glass doors.