Holiday & Entertaining
Heads up: this post might be a bit of a smorgasbord. I think it's because life has been feeling kinda smorgasbordy lately (in a good way) and sometimes it's hard to organize life into tidy, tightly-themed blog posts when it's really all over the place behind the scenes…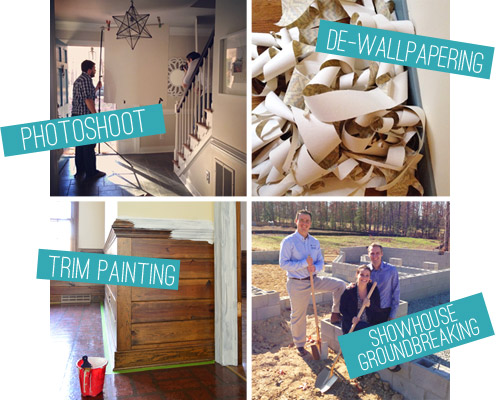 I say it's "in a good way" because we feel like we're really starting to gain momentum around a goal that we mentioned in this post of taking on more "off-campus" projects. In other words, projects that aren't centered solely around improving our own spaces and, in more than one case, are for a good cause. The Homearama Showhouse that we're doing for Habitat For Humanity, being the most obvious example of this so far (you can read more about that here and here).
But that's not the only exciting thing on our plates. We've also been invited to help with a very special project: decorating a family waiting room at the Children's Hospital of Richmond at VCU!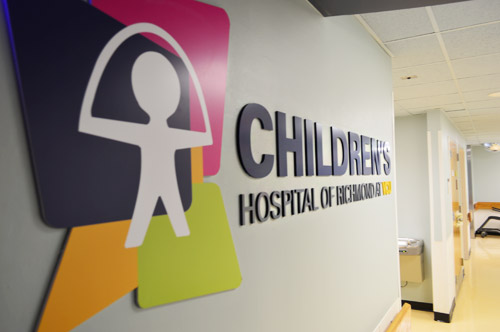 They contacted us in the hopes that we could volunteer our time to warm up the room so it's more cozy and homey year-round, as well as to add some festive touches for the holiday season. Not only did it sound like a fun project, it had such a deserving purpose that we couldn't wait to get started. For many of the children in the hospital's care, this is the space where their family will spend the holiday season. So as part of a "Spread Cheer" campaign, they've handed this entire room over to us. It's already turning out to be a really fun challenge (some things have to stay, some things can change, and of course there are safety/sanitary/maintenance concerns to take into account since it's a children's hospital).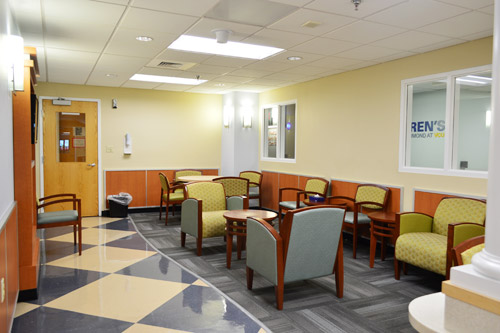 *One thing to note is that the kids have a playroom and an arts & crafts room along with other colorful spaces where they get to hang out, so this room really is for the entire family. The hospital staff asked for some playful touches that include children, but their overall vision is a soothing and homey room that makes everyone feel comfortable and calm.
Getting it done before the holidays is also part of the challenge, considering that we just had our first meeting last week – but we're getting a fast and furious education in the sensitivities of decorating in a space where not only function, but cleanliness, is paramount. Cozy touches like plush pillows or a basket full of toys are big no-nos because they're too tough to keep sanitized (things we don't think twice about in our own house are critical details in a medical environment).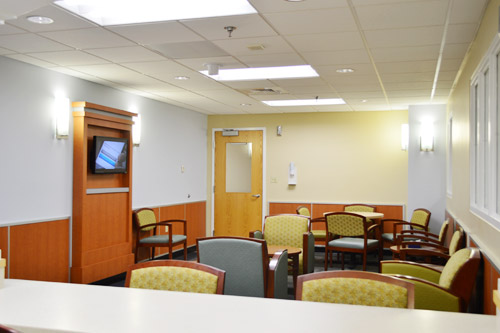 So here's a mood board that Sherry tossed together to share a few of our initial ideas with you guys (all of which will evolve as we go, most likely in hyper-speed since we have such a tight turnaround).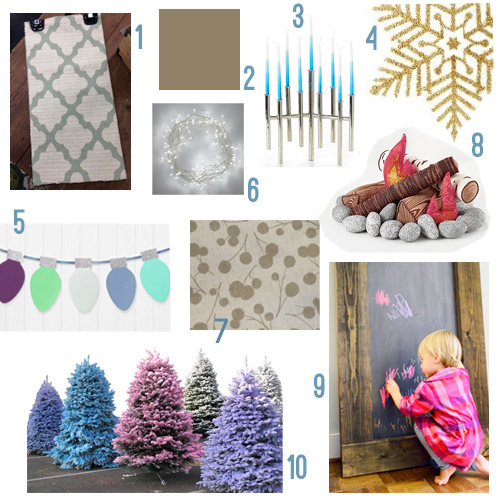 1.  We somehow convinced our friends at U-fab to help us cozy up the room by donating an armchair from their showroom so we can create a little story time corner – or maybe even a place for Santa to sit, should he choose to visit. The extra heavy upholstery weight fabric is super durable for high use, so it's great for a public space (although it looks white in this photo, it's really wheat & blue, and has held up well in their showroom for a while).
2. After going through a bunch of swatches for the walls, we landed on Gargoyle, which works well with the existing wood paneling (for maintenance purposes that has to stay & can't be painted).  The room's so well lit that we don't worry about going a little darker with the walls, in fact we're excited about the cozy-factor that a slightly deeper and warmer color will bring.
3. To represent all of the families who might be using this room, we've been asked to include a menorah as well as a Christmas tree. This candle one is awesome but for fire code reasons we can't go that route, so we're on the lookout for something electric or battery operated. Update: although Hanukkah is earlier this year, the hospital is planning to bring this decor out annually, so it's nice to have everything they'll need for future years from this initiative.
4. We'd love a flurry of snowflakes hung en masse in a strategic won't-be-in-the-way spot. They won't necessarily be gold, we just saw this and thought it was a good representation of that general idea.
5. We'll definitely be making some garlands. This one from paper source is great inspiration, but we're thinking of involving the kids so they can color things that we can then string together to make something really meaningful for them.
6. Three words: twinkle lights. Everywhere.
7. U-Fab has also kindly offered to donate some fabric and their time to make two custom valances for the windows in the room – again just to warm things up and make it feel more homey. Our usual floor-length curtain idea isn't allowed for a slew of safety/fire reasons, but after finding some cool roman-shade-looking-valance designs, we're really excited. And this fabric was the big winner (here's a link to the gray version).
8. This cute campfire is just here to represent the idea of a faux fire. There's a recessed rectangle under the built-in around the TV, and we thought temporarily inserting a piece of wood with a cozy little fire painted on it would be fun for the kids and families. We'll add some stockings on the mantel to complete the fireplace-like effect.
9. We want to adapt our leaning chalkboard project to create a large hanging one that will allow the kids and families to write holiday wishes and greetings. Can't you just picture it all filled up with kid doodles and holiday scribble? The hospital staff thinks the children will love something interactive like that, and chalk is preferred because it's easier to remove from upholstery than markers (and it's cheaper & easier to switch out regularly for sanitary reasons).
10. Last but not least, they've asked for a tree, and we really want to have fun with it. These guys are real (and it has to be faux for fire code reasons) but we're leaning towards something full of color that mimics this look. We want this room to feel calming, but we also want to inject a nice heaping dose of holiday cheer.
**************************************
The mood board represents around 50% of the stuff on our to-do list, so there will also be centerpieces, holiday tablecloths, DIY art, and a whole bunch of other things in the mix. Our goal is to have the room ready within the next 2-ish weeks… which, thanks to having Thanksgiving in there, means it's gonna be fast and furious around here. We're really looking forward to sharing the process with you guys. And most of all, we can't wait to see the faces of those deserving families who will be spending their holidays there. The hospital has planned to make a little video of the makeover and the kid and family reactions, so Sherry already has her tissues ready…
&nbsp&nbsp&nbsp
Happy Friday, guys! As is the annual tradition, we thought we'd share what Clara and Burger are going to be for Halloween this year, especially since I DIYed Clara's costume for the second year in a row (without crying or cursing!) and I love how it came out. At first when we asked her what she wanted to be for Halloween she said "a lawyer!" True story. And we laughed and pictured her walking down the street with a little briefcase. Then a few days later she said "I want to be a jellyfish!" So asked her a few questions like "what color jellyfish do you want to be?" and that's when she came out with her full request: "I want to be a pink jellyfish… and I don't want to be a regular jellyfish, I want to be A FAIRY QUEEN OF THE JELLYFISH!" So here's where we ended up.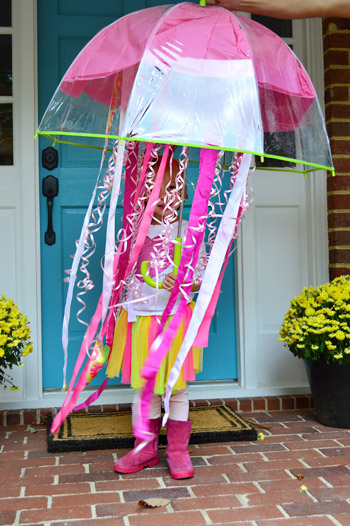 I just decked out a clear umbrella with some pink tissue paper, fabric ribbon, and that thinner plastic ribbon that you can curl with a scissors. And then John added some battery powered cold-to-the-touch LEDs to make it glow (tech nerd hubby FTW). Clara could not be more smitten (this is her attempting to hug her costume). Burger, by contrast, abhors his, but we'll get there in a second.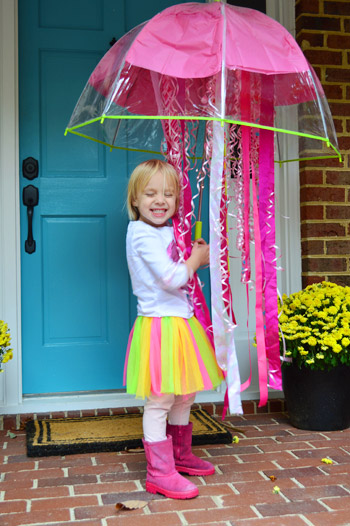 As for how I made it, first I hit up Sir Google to check out other jellyfish costumes (guys, there wasn't a single Slutty Jellyfish costume, which was both comforting and surprising). As for the costumes that I did find, some were of the stuffed hat variety (like this) and others were made from umbrellas (like this), which I thought was a good choice for Clara because she could hold it and swing it around if she wanted, but not have to worry about balancing it on her head like a giant hat. So we grabbed a clear umbrella at Target.
The first step in my umbrella-to-jellyfish conversion was sticking some pink tissue paper into each of the umbrella's panels (those metal arms held each triangle of it in place) so the entire thing wasn't see-through. I did this because I wanted the bottom to be clear so Clara could walk and see, but thought the top would look more jellyfish-ish if it were more solid. Next I tied some long strands of thick fabric ribbon around each of the spines inside the umbrella that holds it open so those could hang down around Clara. I saw all sorts of fun tentacle ideas when I Googled (using bubble wrap, ribbon, fabric strips, etc) and loved them all, so I decided to just work with the things we already had around the house (like ribbon leftover from this tree) and see how things went.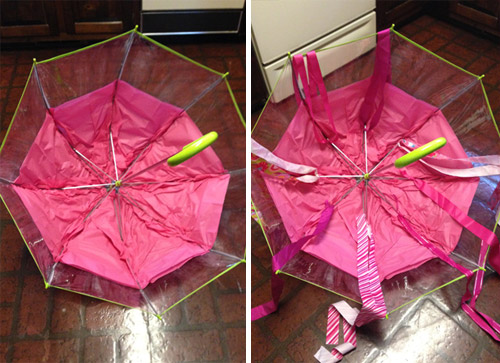 Lastly I just cut a whole bunch of long pink lengths of curl-able plastic ribbon (the one umbrella-decorating item that I ran out and bought for $1.50 at Michaels) and tied them to each of the metal spines (I did six lengths of them hanging down on each of the eight spines). Then I dragged the edge of a scissors down them after tying each one in place to make them curly.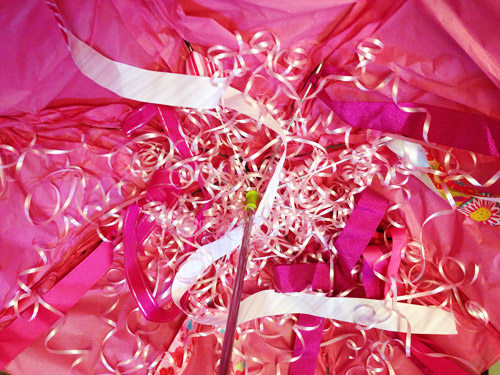 When Clara came home from school and saw it, oh man, I wish I had it on video. There were lots of wows and even a coveted "it's AMAZING!" Then John added his little battery powered LEDs (fairy lights he found on amazon for $6.99) and Clara really went wild. Since it gets dark so much earlier these days we actually think they'll come in handy. Just look at them glow in the darkest spot we could find in our house: our closet.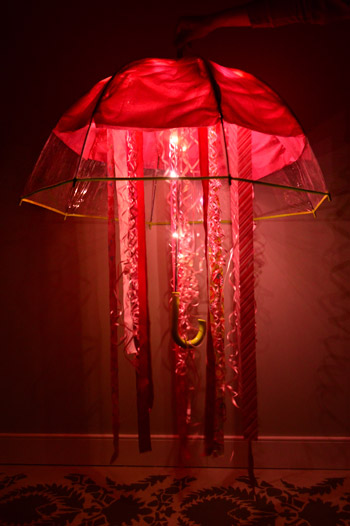 It's a bit ambitious to think that Clara will hold the umbrella the whole time, but she gets to wear a little costume of her own (just a fun tulle skirt that she got for her birthday and other general fairy-slash-queen-ness) so in the event that she's over the umbrella she'll still have her fairy costume to go door to door in – and heck, I might just tuck a wand and a crown in my purse for added bling. Yes, I still use that word.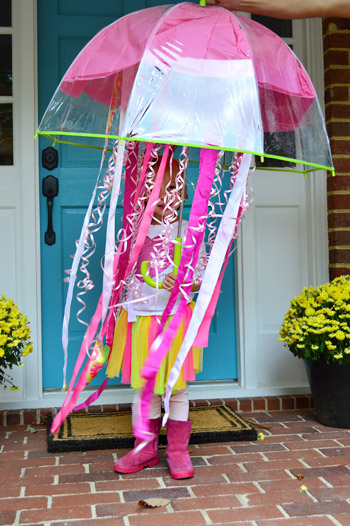 As for Burger, well, he's never a fan of anything on him. Ever. This goes for all sweaters, boots, hats, and costumes. So he was not amused when he magically became a seal thanks to this costume that we found at Target. We just couldn't resist – especially since it's a tradition to dress him up with Clara every year (heck, we've been dressing him up since way before she was born). We joked that he just needed a crown and a scepter so he could be a King Seal to match Clara's royal sea-creature status. Still kinda bummed Target didn't carry the lobster or shark costumes they had in previous years, but he does make a pretty cute seal.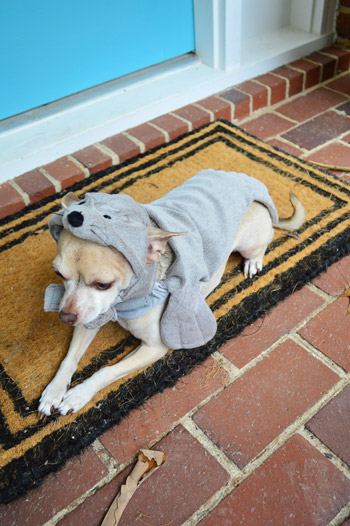 And maybe we have it all wrong. Maybe Burger loves costumes. Because he certainly seems to take immense joy in shimmying around to wriggle out of them. Wish we caught that on video too.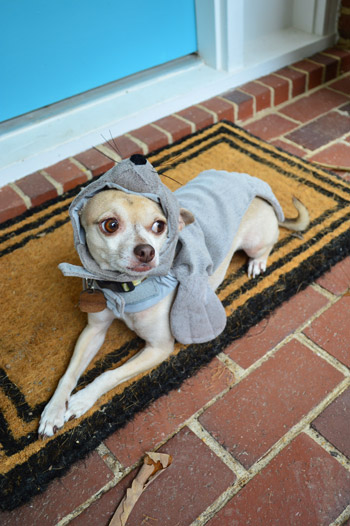 And this year John and I actually have a costume party to attend, so after a little "uh… what should we be?" pondering, we came up with a theme of our own. Some people say that I look like Kahleesi from Game of Thrones (and who am I to argue with the idea of dressing up like a chick who HAS DRAGONS?). So a cheap blonde wig from Target and a green dress that I already had (you might remember it from Clara's party a few years back) became my somewhat completely ridiculous costume…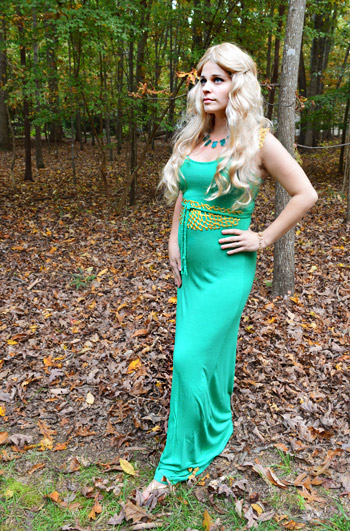 Oh and I used a strategically placed ten cent placemat from a yard sale to make a gold belt and some little shoulder things. You know. For flair.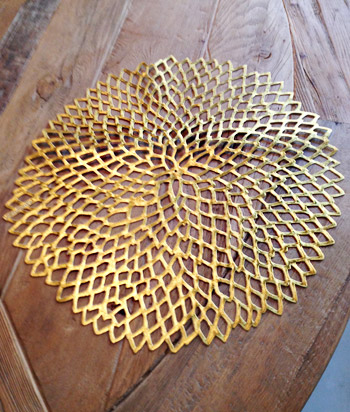 I just snipped it in half and cut off the curved part at the bottom and used the green rope belt that came with my dress to hold that in place in the front like a big ol' gold front plate or something. As for the shoulder things, I just cut the remaining part of the placemat in half to create little triangles that I could tuck under the straps of my dress and pin them to keep them there (forgot to get a detail shot of those for ya, but you can sort of see them peeking out from behind my wig in the full shot above). Overall, it was really easy and only ran me $9 for the wig and ten cents for the placemat.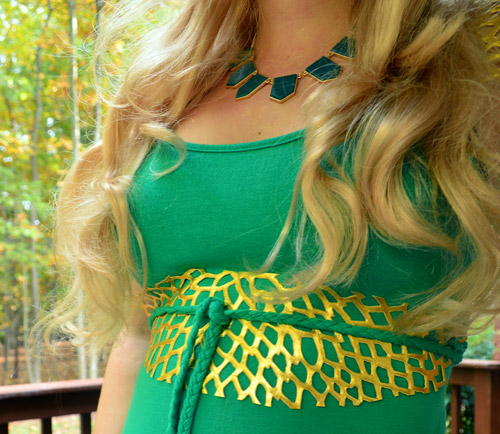 But I might like John's "costume" most of all (ok, it's tied with The Fairy Queen Of All The Jellyfish) because it's so him. Keeping with the Game of Thrones theme, I actually proposed that he be Khal Drogo (to which he responded "have you seen me?") so then I suggested Littlefinger (hello, he'd get to sport a mustache). He went silent for a second and then said "I have a better idea." Any guesses?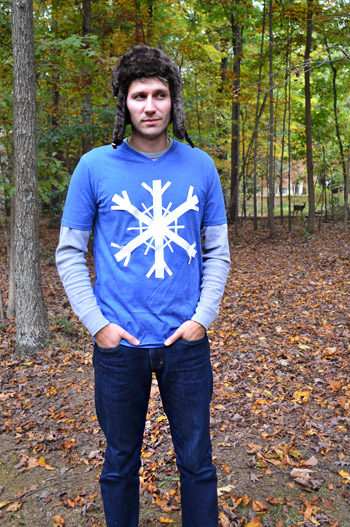 Yup, that's his pun-tastic interpretation of Jon Snow. Since he looks nothing like the character, he figured "well, I'm already John, so I'll just wear a wooly hat and add a big ironic snowflake to my shirt or something and poof: I'm John Snow." Not sure if it would pass muster at Comic Con, but it cracks me up. And if nothing else, at least the background of his photo brought of touch of Winterfell to it. Yes, that's a deer just grazing about ten yards behind him.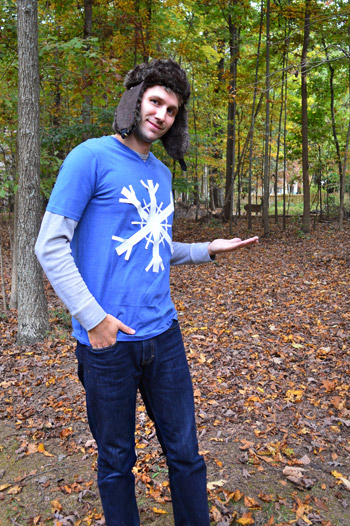 As for how he made his shirt, it's just white duct tape on a blue t-shirt (so he can peel it off and still wear the shirt the rest of the year when he's being John Petersik).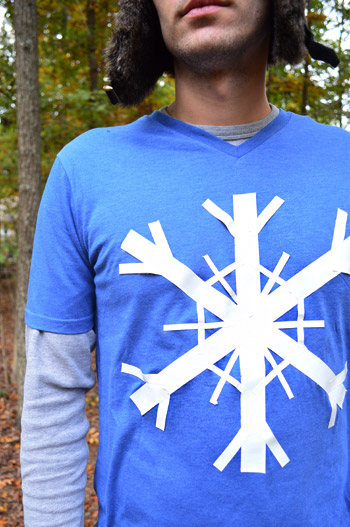 It was pretty funny watching him place each strip of tape in the mirror… whilst wearing the shirt. I think he's nothing if not dedicated (my version of a snowflake would have a lot fewer line segments).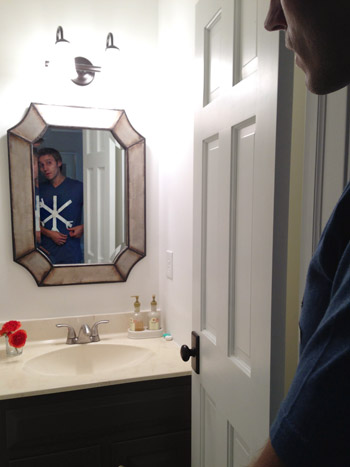 We're pretty low key about this stuff, so admittedly nothing that we made is super intricate, but we think it'll do the trick nicely for the costume party. Now to figure out what dish we'll bring. Ahh!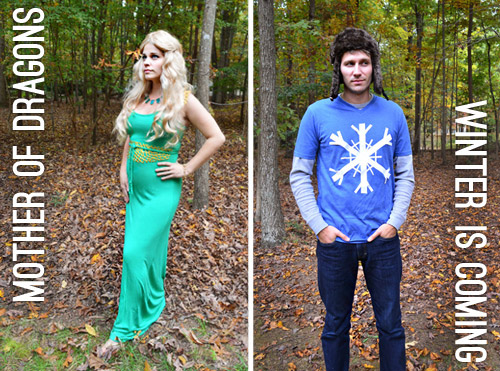 Also, if you watch Game of Thrones, this ridiculously inappropriate dubbed video of other things that match up with their lips has us walking around saying "Are you a fan of the pikachu?" and "I'm working on a gravity belt."
Oh and the buggy pumpkins! Here they are. No, they didn't get infested or anything, I just love unusual pumpkins and Clara loves bugs, so she helped me turn one into a spider and the other one into a caterpillar. Here's how they started out (we got them here because they looked so bug-like, which spawned this paint-job idea).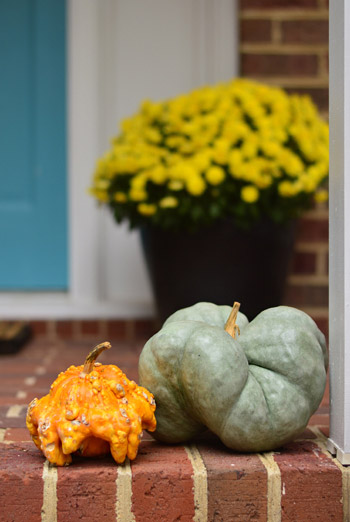 I loved them as-is (yes, I truly adore oddly shaped pumpkins just as they are) but I couldn't resist having some fun with Clara and some paint. So here they are after a laugh-filled little painting sesh with the bean: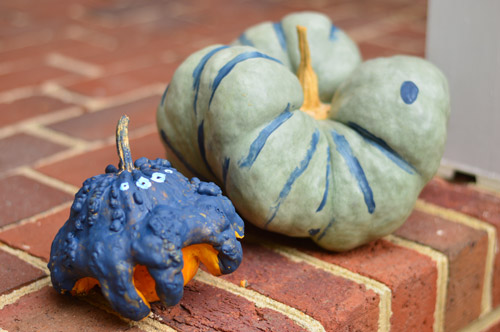 She painted the spider with some craft paint (I just told her to go to town on the top and we left the bottom orange since we thought that would make it look more leggy and creepy – just like Clara likes 'em). Meanwhile I added a little dot for an eye on the caterpillar and swiped my paint brush around it to quickly make some rough little wrinkles, like the sections of a caterpillar. When they dried, we added some little painted on eyes to Clara's spider (she loved the idea of four of them since I showed her a picture online of a real spider with four eyes) and we called them good.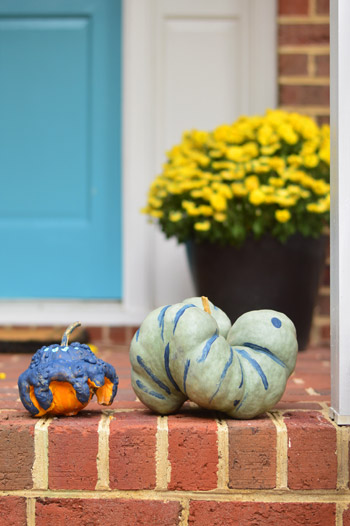 We still have to grab some pumpkins to carve (there's a field trip to a pumpkin patch with Clara early next week so we've been holding out for that) but one thing's for sure. There will be some last minute pumpkin seeds baking at our house (mmm, my favorite). What are you guys doing with pumpkins and costumes? Let's hear it.
*******************************
Psst- For anyone who wants to walk down memory lane and check out C & B's costumes for the last few years, here's the post about Jesse & Slinky Dog (my first attempt at homemade costumes).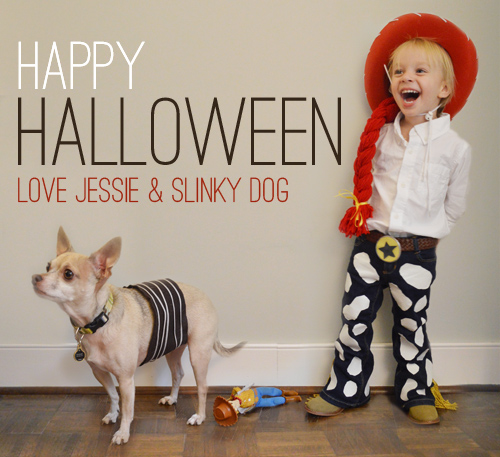 And here's the dynamic duo as a monkey & banana.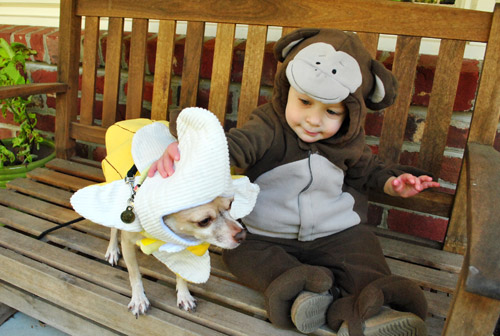 And here's their very first Halloween together as a hot dog & hamburger.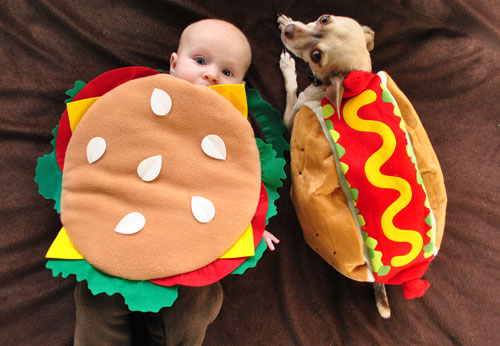 &nbsp&nbsp&nbsp