Alternate post title: The Vow (Not The One With Channing Tatum). Ok, now it's the one with him in it because I mentioned him in the title, but he has nothing to do with this post. He's not my type anyway. You know I like 'em tall, lanky, and bookish. And not formerly of a male dancing background.
But back to my vow. This year I wanted to actually share 4th of July ideas with enough time for other people to see them. I'm usually so last minute about holiday stuff, sometimes I post 4th of July ideas on the actual 4th of July (like this) which doesn't do anyone much good. So yes, I literally raised my left hand with my right hand over my heart and said "I hereby vow to get it together and actually post table setting pictures the week before the 4th of July. You know, so anyone who sees something they like might actually have time to get 'er done instead of seeing it when they're back at work on the 5th.
I only have one rule for myself when I play around with holiday table settings: use what I have. So I didn't buy any table wares or accessories for this, just padded around the house to see what I could dig up (and got lucky that we had lots of fresh fruit in the house thanks to my fruit-loving daughter). Oh but I did spend $3 on half a dozen Ukrops cupcakes (best. cupcakes. ever.) which not only came in handy when I used them for a table setting, they came in handy when I ate them. Haha.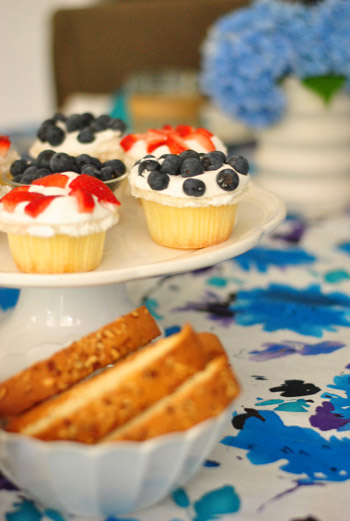 But other than that, this was a zero dollar table setting spree. I even snatched some fresh flowers from the yard, but we'll get to that in a second. My method was basically to hunt/gather and see what I could find. Here's what the counter looked like about halfway through – I just plopped anything red, white, blue, or neutral enough to drop in and add texture on the counter in one big pile and just picked stuff out and played around until landing on something I liked. And yes that is a navy blue dog leash in my pile of possibilities. Could've been cute for tying around napkins (but I didn't want to cut it up) or weaving around a vase to make a little textured "cover" – maybe next time…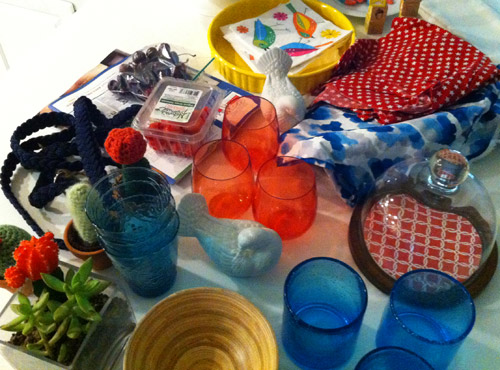 I actually did three table settings, and let me just tell you, it's times like these that I miss our first house's little rectangular table so much (remember this and this and this). It seated four people most of the time (and six in a pinch) which was a huge pain for family gatherings, but it was so much easier to set/shoot for my little bloggy adventures in table setting. So bear with me as I share the corner of our giant round table with four place settings (since it's a monster that seats eight, it's awesome for family gatherings but not so easy to shoot). Enough jibber-jabber. On with the show.
Setting number one was all about keeping things easy and casual, while adding some patriotic pop (mainly with fresh fruit):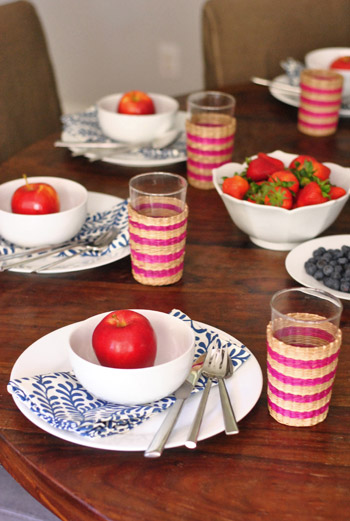 Here's what I used:
our regular white dishware and silverware (from Linens N Things for our wedding)
woven cups with pink stripes from HomeGoods a while back (I figured they were close enough to red, and kinda playful)
bowls with red apples in the middle for some 4th of July flavah
blue patterned cloth napkins from Marshall's a while back
a scalloped bowl full of strawberries (from Target a long time ago) and a regular old dessert plate full of blueberries
I think it could make for a cute breakfast, brunch, or dessert shindig since it's so blissfully uncomplicated (which is usually how I like to host since I get all sweaty at the thought of formal gatherings).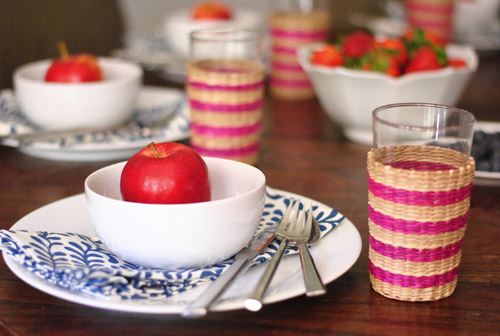 And now for a shot from above. It's getting crazy up in here.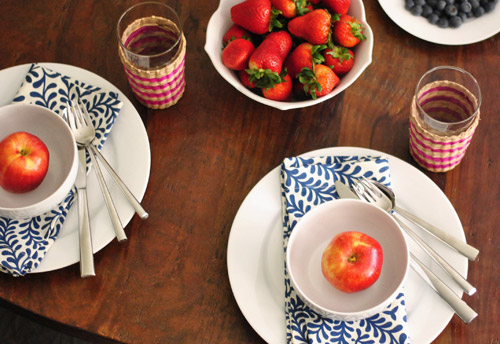 The second setting felt a little more "gussied up" thanks to the use of an old fabric remnant and some free flowers from outside.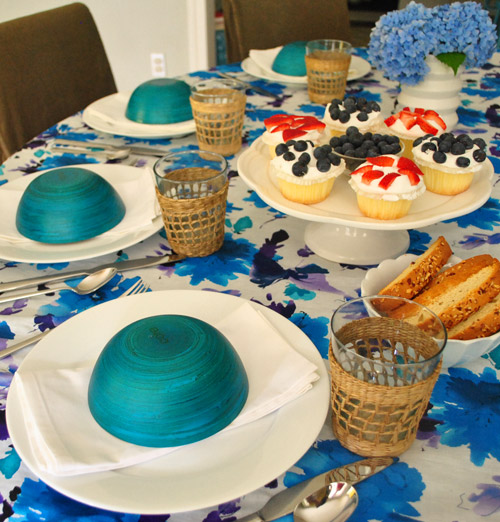 Here's what I used:
our regular white dishware and silverware
basic white cloth napkins that we've had forever (from Target or Bed Bath & Beyond, I can't remember)
woven cups on clearance from Sur La Table a few years back
blue wooden bowls (the same ones that usually sit on our open shelves in the kitchen) from HomeGoods a while back
a cake stand from a thrift store a few years ago
an old vase from West Elm with a free hydrangea swiped from the patio
two yards of fabric that we used for one of Clara's monthly photos (from JoAnn with a 50% off coupon back when we got it)
And now a view from the top. I flipped the bowls over so the blue part faced up (the inside is a tan color like the woven cups) and decided it could be cute to use them like little serving domes and hide a treat for each guest under each one. So pretend there's a little box of chocolates or a roll of Smarties under there.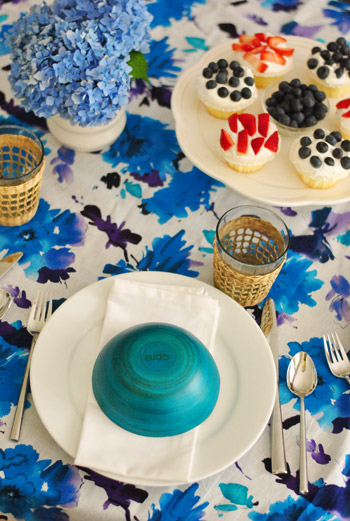 See what I did to my regular old store bought white-icing-ed cupcakes? Just shoved a few blueberries on three of them and a few sliced strawberries on the other three. I'm telling you, this is The Lazy Girl's Guide To Hosting. Just get store bought stuff and take a second or two to add fresh fruit or some other topping and suddenly it feels special without having to fire up the oven or break a sweat following a recipe (yes, I actually get sweaty when I attempt to follow a recipe).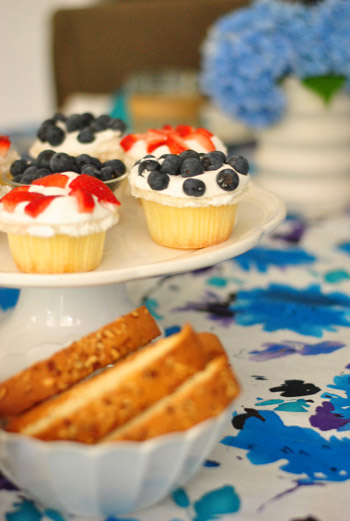 Oh and that's a little bowl (from Target) full of biscotti. Cupcakes and biscotti are my idea of the best party ever hosted.
This last setting isn't as pretty since the sun was setting so my shots are kinda meh, but you get the idea. It's my little riff on a kids table. Of course my imaginary guests would have to be a little older than Clara (maybe 5 and up to sit at their own table and make this stuff work), but when searching the house for place setting items to use, I kept coming across fun kid-ish stuff, so I smashed it all down on the table and called it good.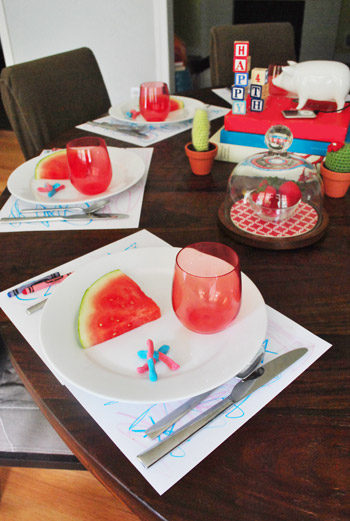 Here's what I used:
our regular white dishware and silverware
two pieces of cardstock under each plate with a red and a blue crayon for patriotic doodles
a few of Clara's blocks to spell out "Happy 4th"
stacks of colorful books with our little pig dock on top (for playing some kid-friendly songs)
my crocheted cacti from here (blissfully free of dirt to spill)
plastic (aka: unbreakable) cups from Target that we used for Clara's party
red and blue sugared gummy worms (yup, I picked them out of a multi-colored pack) along with a slice of watermelon
a little thrift store cheese plate with red decorative paper that I made a while back with a small dish of strawberries inside
I like how Wilbur is sniffing Clara's blocks in this picture. Totally a Burger thing to do.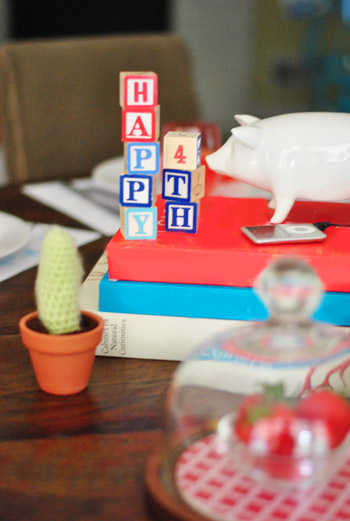 And here's a little worm close up. You know we love worms around here…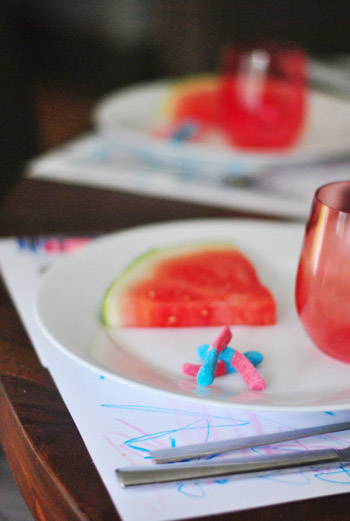 Oh and for those wondering where Clara was, she was sitting on the other side of the table for some of the fun. Haha. As soon as she saw me break out the strawberries, let's just say there were requests. So it was nice to play around with the bean nearby, watching and chewing and singing hilarious things like "the strawberries on the bus go bite, bite, bite." But that's not even that funny. I just shared THE FUNNIEST conversation she and I have had to date (warning: it involves female anatomy and a baby in my belly) over on Young House Life.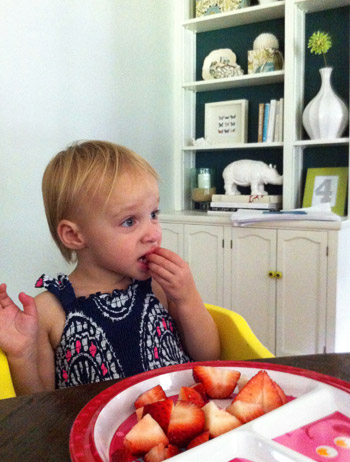 So there you have it. Fourth of July place setting ideas almost a week in advance. How novel!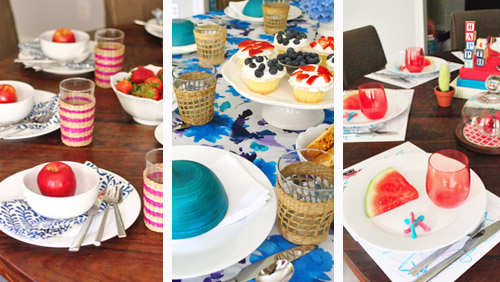 Now if only I could magically sort through 1K house crashing, window shopping, and thrift store photos from ATL. My goal is to have those all written up for ya next week (except for a few of my House Crashing posts since I like to space those out) so here's hoping! In the meantime, what are you guys doing for the 4th of July? Anyone hosting? Or planning to squish some berries into store bought cupcakes? Any other awesome 4th Of July ideas you want to link to or try in the comments (would love for the comments to become a treasure trove of holiday goodness). Feel free to link away!
Psst- Speaking of things that don't have to do with Channing Tatum, we're over here chatting about dealing with the ceilings (and that giant "to paint or not to paint" question).