Archive for October, 2008
We're clearly too old to go trick or treating tonight.  So we enjoyed our own version of it last weekend by treating ourselves to a stroll around a historic downtown neighborhood in search of some tricked out Halloween decorations. To be honest we didn't find that many (wait til Christmas when everyone goes bonkers) but we did stumble upon a handful of subtle and stylish autumn arrangements worth sharing. Let the virtual house hopping begin…
This little pumpkin + mum arrangement reminded us of our own front steps… if only we had the amazing door, classic columns and wide stairs to go with it.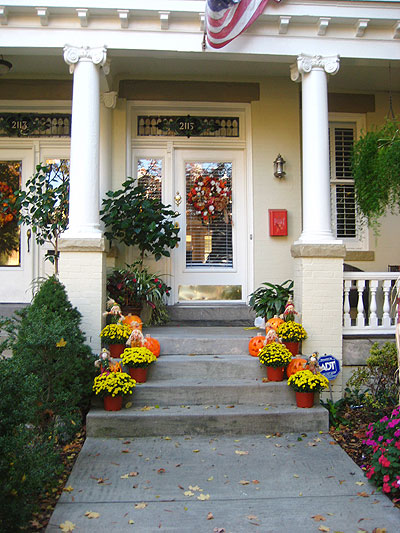 This house taught us to not stop at a simple autumn wreath when you can do a little spooking through the window (this awesome ghost was actually painted on the back of a rolling shade that must get hung every October- such a great DIY idea).  Boo to you too.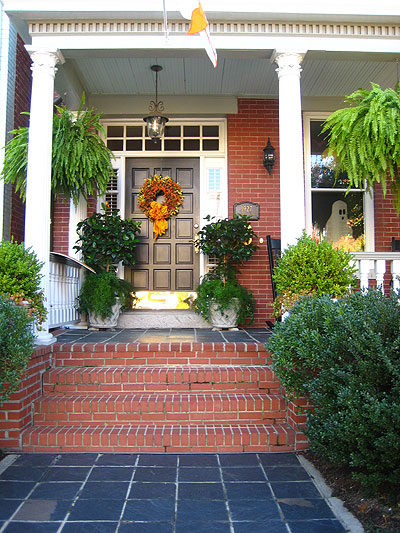 And upping the ghost ante a bit is this house, which nicely balanced the whimsical kitsch-factor of Halloween decor (the spider and the ghost) with a nice collection of classic autumn accents (the plethora of pumpkins- including the mini ones lining the transom window above the door).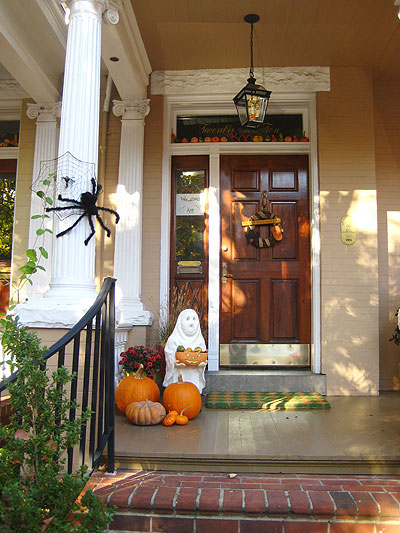 And before we leave the Halloween theme for good this year, here's the pic Jenn requested of our hand carved jack-o-lanterns all lit up and ready for all the little candy-hungry neighborhood ghosts and goblins.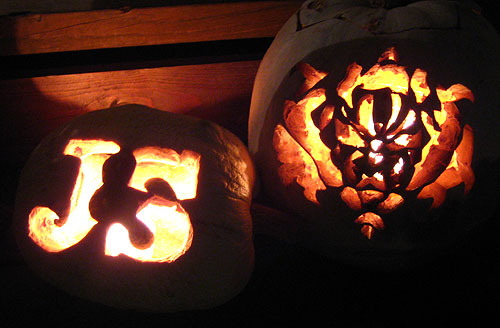 Happy halloween everyone!  Be safe out there tonight… and eat Snickers and Reece's til you're blue in the face.
&nbsp&nbsp&nbsp
We love books. Lots of them. In fact, John's mom works at a library, which has definitely influenced John's lifelong desire to be surrounded by stacks of books. And my dad and I often spent hours each Saturday morning trolling garage sales and making a beeline to the old books in search of ancient tomes with a story or two to tell (for a dime a piece). So the long and short of it is that we love books. Old ones, new ones, funny ones, serious ones, and especially inspiring ones.
And nothing even comes close to the inspiration that we're constantly rediscovering in the pages of the Design Idea Book by Karen Templer. This compilation of interiors is not only fabulous when it comes to fresh color schemes and furniture arrangements, it raises the bar in the idea category (hence the name) and always gives us an exciting new perspective with regards to materials, layouts, and even unique accessorizing.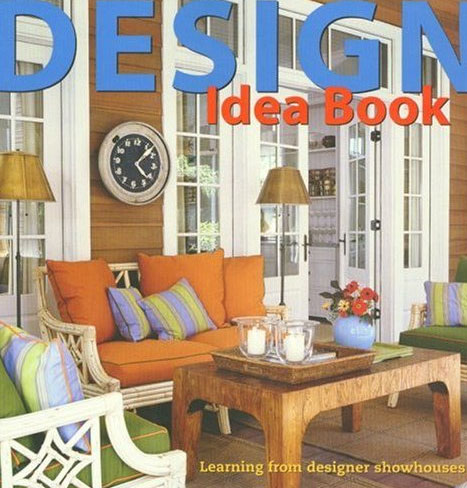 And don't judge this book by its cover- every page gets better and better (and the aesthetic is anything but ordinary). At around $16 it's the best bang for your buck in the book department (many expensive hard cover home decor books are three times as much and are a lot less interesting and inspired). You're sure to find some pretty amazing ideas for your own home among the pages- and we love that a lot of the furnishings in the book aren't over-the-top designer pieces that are totally out of our price range. Many things look like thrift store finds, pieces that have been given a second chance thanks to a can of spray paint, and even items that can be snagged at places like Michael's & Target (arranged in an upscale and interesting way).
So in case it's not painfully obvious, we're head over heels for this book. And since we're all about sharing our inspiration, we thought featuring our favorite design guidebook as our steal of the week would be the perfect way to shine the spotlight on a totally worthy read. Nothing beats snuggling up to a good book as the nights get colder and the days get shorter.
&nbsp&nbsp&nbsp