Ever since DIY styled their way through our home we've been super excited to rearrange our own pieces (many of which used to spend most of their time tucked away in our cabinets) to refresh every shelf, side table, and bookcase in our house. But why stop at those surfaces when we can play around with place settings? And thanks to the abundance of flowers and produce leftover from the shoot, I was able to whip up a few fun and festive table setting scenarios with everyday objects that I already had around the house. All in under five minutes per place setting. I couldn't believe how easy and fun it was- as evidenced by the fact that this post was originally going to be about three place setting ideas and I just couldn't stop myself…
First I pulled out my basic white plates and bowls (John and I aren't fancy china people, we just have one simple white set of dishware that we use for everything from Domino's pizza to fancy anniversary dinners). Then for some added color I brought out some green fabric napkins.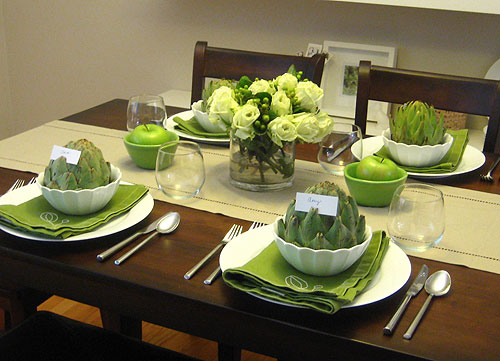 I also added our stemless wine glasses to keep the whole table feeling swanky and low profile, and kept the centerpiece simple to work with the casual green & white theme. I also grabbed two little green bowls and added an apple inside each one for interest. Then I pulled out four artichokes (also leftover from the DIY shoot) and popped them each into a bowl with a handwritten card stock name tag slipped under one of the artichoke's spiky-thingies (I believe that's the scientific term). Voila, a sweet and simple table setting with a bit of unexpected charm (thanks to the place-card wielding artichokes). And a little grocery store bouquet, two apples, and four artichokes is all it takes to recreate this entire setting in your home.
My next tablescape was a bit more flower focused. I created three different bouquets (all in different shades of pink) and actually used three different vases for a mixed & matched feel (well one was a candle holder, one was a mercury glass cup, and the third was an actual vase). Then I filled two of my old collected wine bottles with water (but wine would really do the trick- even lemon or cucumber flavored water to be fancy). Out came the green ceramic bowls again (for serving fruit or salad) and our cute lemon & lime paper napkins (still leftover from our 7/7/07 wedding) added some more interest and color. Again I chose my stemless wine glasses which almost disappear, and also grabbed two pink and two yellow vases (picked up at Ikea a few weeks back) and placed them on each plate with a single bloom in the center. I imagined that these would make nice favors that you could send home with guests at the end of the night. Cute, right? And all you'll need to recreate this look is a few old wine bottles (cleaned and de-labeled), a few small bouquets of flowers, and some tiny cheap-o vases (that don't even have to match).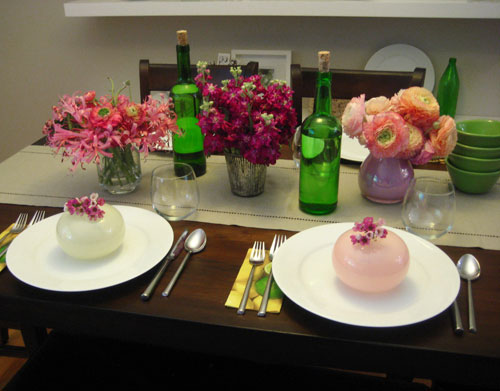 My next setting was more on the natural side. Three of my favorite succulents (they're called Burro Tails) lined the table and out came the recycled wine bottles again. Then I added some cute little drinking glasses with natural woven sleeves and dug four corks out of a glass jar in the kitchen (we've slowly amassed a little collection). I then stood each cork on its end and cut a horizontal slit in the top of each one just deep enough to slip a tiny piece of card stock that served as a place card. White fabric napkins finished the natural and clean look. And all you need to recreate this look is the aforementioned recycled wine bottles, a few corks, and some house plants to repurpose as centerpieces for the day. Oh and the woven cups are extra credit.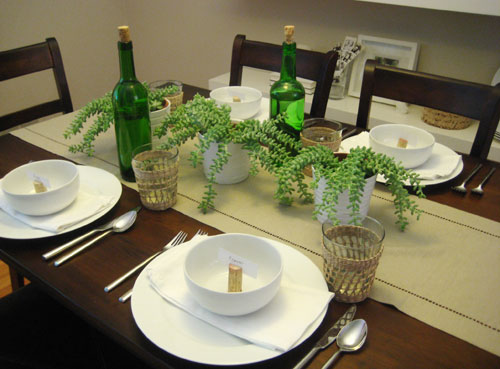 After such a low key and natural setting I wanted to kick things up a notch and do something extra sparkly, so I basically just pulled out all the candles I could find and used a hurricane that usually lives on the den's mantel as the centerpiece. Some coral and a ceramic flower tea light holder added a bit of interest and I actually pulled out our regular drinking glasses and repurposed our stemless wine glasses as candle holders on each plate. Again these could be cute little favors (any type of candle holder with a tea light in it would make a great little gift) and this entire look can be yours for next to nothing (assuming you have a bunch of mismatched candles in your home already- and maybe even a few other white ceramic objects for added dimension).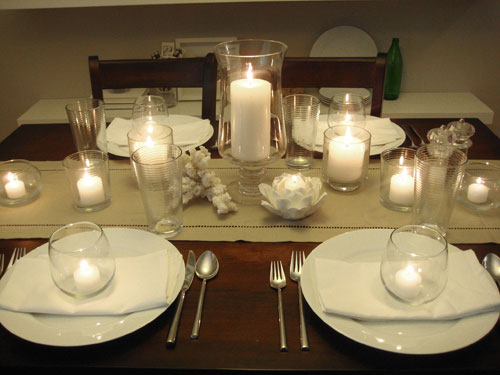 After my white on white scheme I was itching to inject a little more color again. So I stuck a simple bouquet into a glass cup, threw out a few lemons and limes for casual charm, and whipped out some Pellegrino along with my recycled wine bottles and a few other smaller glass bottles that I happened to have lying around. All that green glass paired with the lemons and limes made me want to add even more green. So I used those same green ceramic bowls, but this time for a totally different purpose. They easily became festive place card holders thanks to two lemons that I cut in half and then placed cut-side-down in each bowl. One tiny horizontal slit in the top of each lemon allowed me to slip in some card stock place cards and our lemon & lime wedding napkins polished things off. For this setting all ya need is a few bottles of Pellegrino, some recycled wine bottles, a small bouquet and some fresh and fruity lemons and limes. Easy peasy.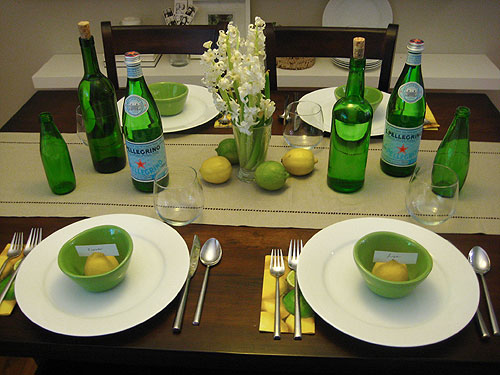 Anyone who knows us knows that we adore pale blue. Not only is it our favorite paint color (both our bedroom and our kitchen are painted a subtle gray-blue) but we love collecting pale blue accessories, like these glass vases. After snatching up all the blue glass that I had in the house (from candle holders to vases and bottles) I set everything down on the runner to create a gleaming tablescape accented with simple white plates and napkins and our regular old drinking glasses. And for a bit of added interest and color at each place setting, I added tiny blue dishes that I had laying around (they're meant for soy sauce when you serve sushi) and popped a place card in each one to give them a bona fide purpose. And all you need to create this look is a few colored glass bottles, cups, and vases (in any color, all pink or all orange would be awesome too!) and a few contrasting blooms for height and interest. Piece of cake.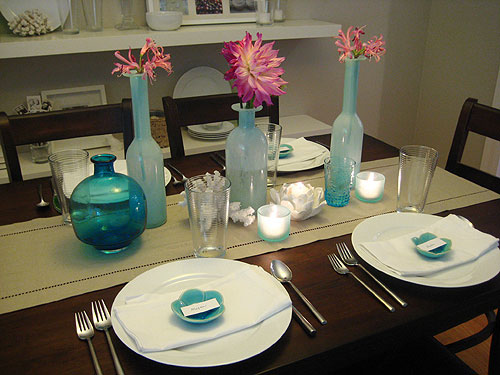 And this last place setting is a lot less formal than the rest. I imagined this might come in handy if a few of the girls are coming over for some snacking or a light fruit and salad brunch or something. I've always loved a buffet, so setting out a few small fruit bowls (those trusty green dishes), salad bowls (those fun scalloped white bowls) and some small plates (for any little snacky things) would pretty much do the trick. Then laying out some fabric napkins and some cute little glass bottles of pink lemonade or even Orangina would really add charm (along with a bouquet of flowers if you just happen to have one laying around). Presto, another simple place setting with that oh-I-just-threw-this-together appeal.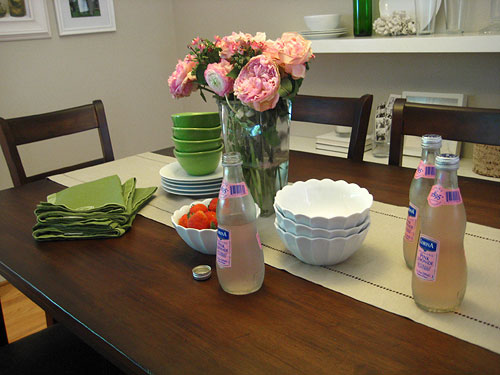 So there you have it. Seven simple ways to create a fresh and festive table that says "sit down and stay a while" without breaking the bank. I think one of my favorite things was creating unexpected place card holders (with everything from artichokes to wine corks) and seeing how quickly our simple white everyday servingware could look transform when paired with a few carefully chosen accessories. Now it's your turn! Tell us about your favorite centerpiece and place card ideas and of course feel free to send us some pics as well. We're always up for learning new things, and we can't wait to see what table setting tips and tricks you guys have up your sleeves.