Eighteen football fields… but not a pigskin in sight. That's because I'm talking about the eighteen football fields of showroom space occupied by Green Front Furniture, a MASSIVE discount furniture and accessories company located in Farmville, VA. Since that's only about an hour away from our home in Richmond, we figured a mini-road trip to check out the goods was in order.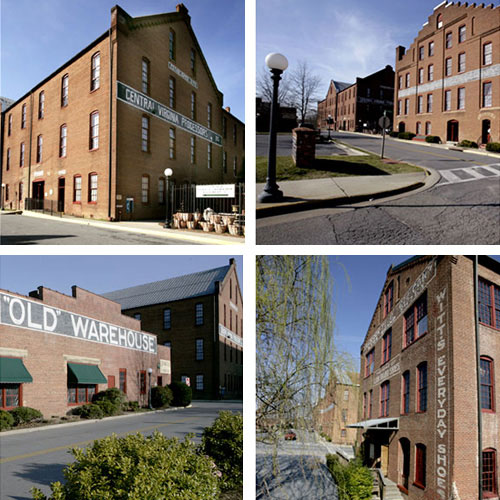 Green Front occupies twelve buildings (practically monopolizing Farmville's tiny downtown) most of which are former tobacco warehouses. So not only do you get to browse all types of furniture, rugs and accessories – from imported and traditional to discounted and weird – you get to wander 'round these cool, historic buildings in the process. And we even managed to check out most (but not all) 650,000 sq. ft. of this furniture mecca. What can I say, we're troopers.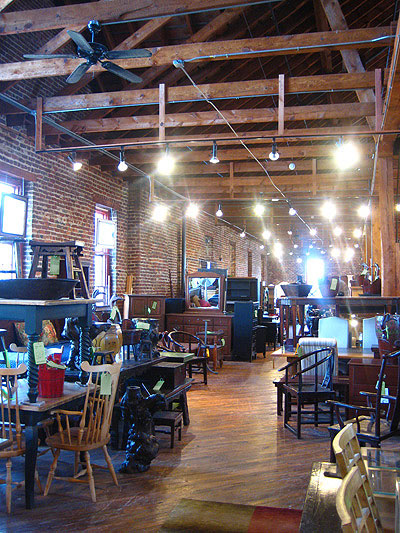 We weren't looking for anything in particular, which was good because most of the stuff was more traditional and dark than our taste (think wood, leather and more wood). So even though we left as empty-handed as we arrived, we did drool over a few things along the way. Like I couldn't get Sherry off of some of these rugs (she loved that this one was coral colored):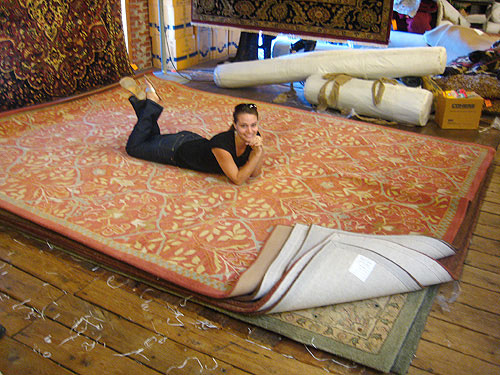 Meanwhile, I was wishing we had room (and budget) for another couch – like this affordable collection of eco-sofas (the one I'm sitting on was only $899). Not to mention that the chance to rest my feet was much appreciated at the time.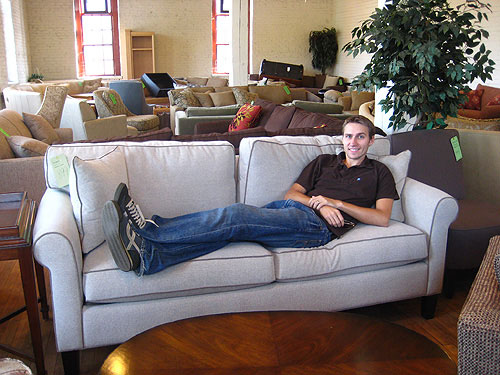 But those couches weren't the only seating that we would gladly welcome into our home. Sherry was swooning over this armless, grey-blue chair while I was sold on the oversized leather ottoman. And we both agreed that the cool, American-Indian-meets-Ikat inspired pattern on that armchair would bring an interesting new flavor to our living room.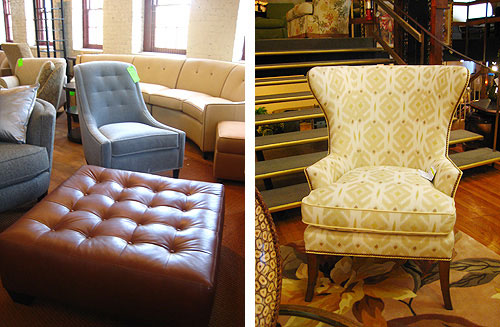 And always ones for form meeting function, we were fascinated by this sleeper ottoman. That's right, need a place to rest your feet? Now need an extra twin bed? This piece has you covered: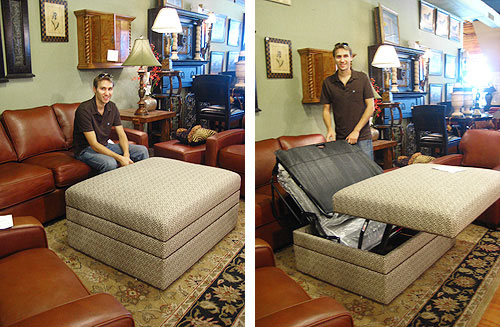 Check out the sleek lines on these flashy-yet-classic mirror-backed hutches. What a great way to keep a big piece of furniture from not overwhelming a space.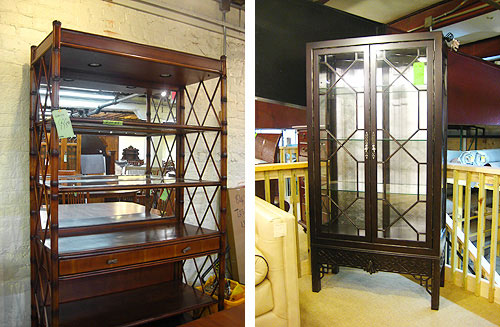 And as you guys know, we can't help but relish in the weird and wacky stuff along the way. There was plenty to pick from at Green Front. It must attract the discount shoppers looking to show off with some over-the-top "eclectic" furniture – like this longhorn chair and these creepy monkey sconces. Note: these chimps are actually wearing glasses (because monkey eyes aren't designed for reading, I suppose).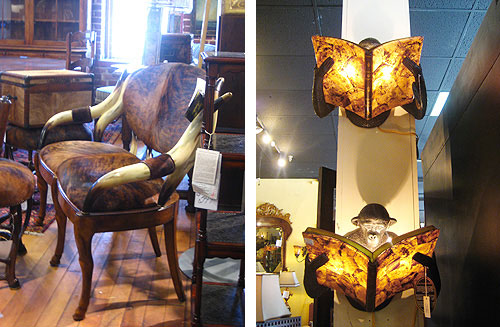 Think your next piece of furniture lives in Farmville? You're in for an adventure. But we'd recommend having something in mind before making the trip, that way a salesperson can guide you to the right places (and save you some unnecessary walking). Plus, while the furniture is sometimes discounted up to 50% off retail, don't expect IKEA prices (since you are getting above IKEA quality). Oh and they also offer shipping to just about anywhere so you don't have worry about lugging anything home.
Lastly we wanted to give a big thanks to Kristin for letting us know about this nearby furniture goldmine… and for trying to politely hide her disbelief that we had never heard of it before.