As John mentioned this morning, Do It Yourself Magazine's 48 hour whirlwind photoshoot of our home was extremely eye opening and of course, über exciting. They say the best way to learn something is to completely throw yourself into it, so from holding equipment to noting all the photo styling lingo, we made many a mental note (which we're sure will come in handy when it comes to sprucing our home in the future- and virtually redecorating your homes too!). So without further ado, a few shots that I snagged over the real photographer's shoulder, and some interesting behind the scenes facts about our two day DIY extravaganza.
So-That's-How-It-Works Fact #1: Almost every national magazine will tweak your house before they shoot it. From sending out a prop stylist a few days ahead of time (which wasn't the case for DIY) to snagging a few things right before the shoot (which was), everything from flowers to vases and table runners- even area rugs- can be brought in to add some pop on film.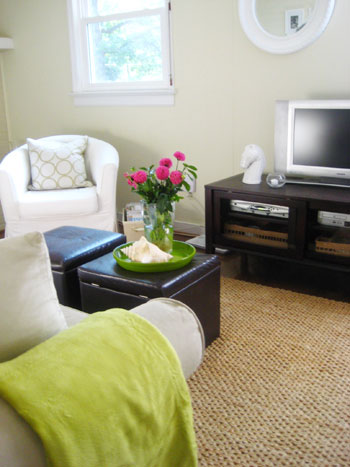 For example, in our den (above) they rearranged a few things while adding some fresh flowers and a pretty green ceramic tray (snagged at Pottery Barn) to one of our ottomans for some additional color and charm. Sadly many of the items that they purchased got returned, so that adorable little tray didn't stay. But we do know where to find it should we decide to permanently take the plunge…
So-That's-How-It-Works Fact #2: Home magazines aren't just selling style, they're selling a lifestyle. So it's not uncommon to notice that many houses featured in glossy mags have a pitcher of iced tea out by the pool and a half read book by the bed. In our case they added a sweet little bowl of red grapes and two opened bottles of pink lemonade (along with some gorge purple hydrangeas) to the table in our sunroom to project that casual lived in feeling.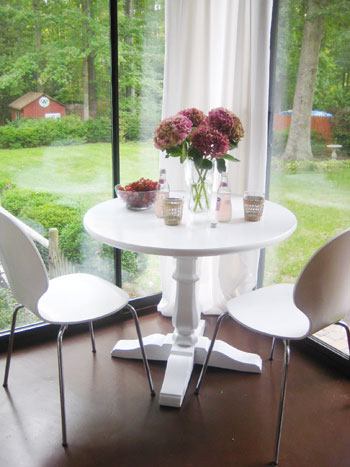 So-That's-How-It-Works Fact #3: There's no such thing as too many flowers. From our little floating vases to this sweet blue pitcher, blooms abounded in every container available. Beth even had her favorite florist in Iowa (where DIY is based) ship everything to our house on ice just in time for the big day(s). And we learned a cute little photoshoot phrase about floral arrangements. If a single bloom is facing straight at the camera someone will shout "hey, that flower's lookin' at me" at which point someone will step in front of the camera and push the flower slightly to the left or the right so it's not facing the camera head-on (which can look too perfect and contrived for them). Fun, right? I literally took notes on all the lingo- it was so intriguing to me. I felt like I was among extremely stylish aliens and I was learning their fabulous language one day at a time. They also assigned sexes to inanimate objects ("she wants to go here" or "I think he's too dominant there, let's lose him"). Too funny.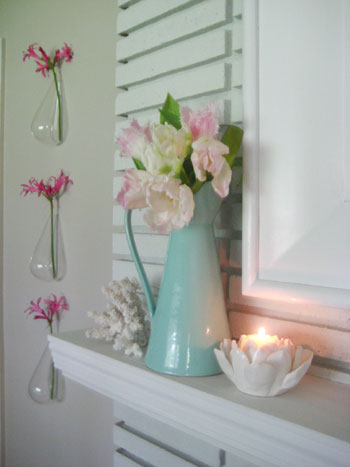 So-That's-How-It-Works Fact #4: Food is just as important (and abundant) as flowers. From robust loaves of bread to adorable cupcakes from a local bakery, Beth and Cat made a food run and returned with bags a plenty. And it's not just about strawberries and apples, stylists are using more playful and unexpected goodies these days- like gummy bears (displayed in a glass jar in our sunroom). They even picked up some mini oreos but we ate 'em all before they could hit the set. All that propping and shooting works up quite an appetite…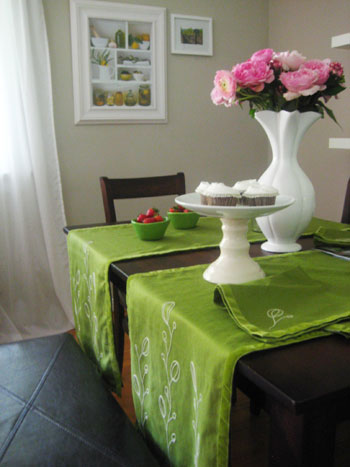 So-That's-How-It-Works Fact #5: Props depend on the season. Since our living/dining room is going to be featured in the spring, Beth and Cat worked hard to take our neutral, seasonless space…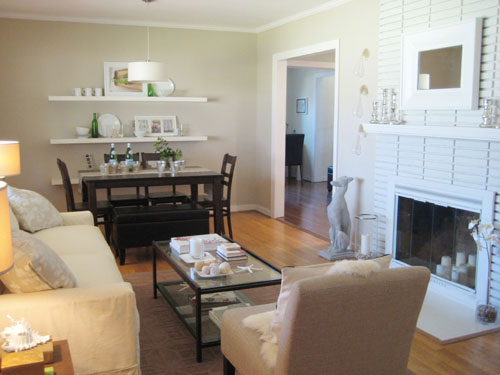 … to a cheerful spring-y room full of pop and personality: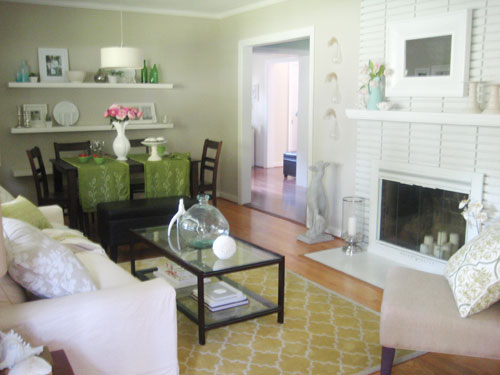 We always love a before and after, and in this case there are some interesting things to note about the transformation above:
-The items on our floating shelves above the dining table were arranged to be photographed straight on, so from the side you can clearly see the voids where items were intentionally eliminated so that they didn't conflict with the pendant light and the tall floral centerpiece on the table.
– The biggest change that was made for the shoot was the living room rug switcheroo. Beth and Cat swapped out our brown 5×8 rug for something lighter and brighter: the yellow Moorish Tile rug from Pottery Barn (which we actually purchased at a serious discount thanks to the fact that it was a floor model- score!). And now our trusty old brown rug lives in the guest bedroom to provide a foot-friendly experience to everyone who stays the night (it's a lot warmer than our hardwood floors in the winter months).
– The slipper chair is angled in a way that makes sense in the shot, but in real life it actually blocks the entryway to the hall that leads to our bedrooms. Which brings us to…
So-That's-How-It-Works Fact #6: Things might look balanced and centered in the shot. But honey, they ain't! Here's an honest to goodness shot of things in the living room after a few of the hero shots (another term we picked up, which means the images that they'll be putting the most emphasis on in the article). Since the camera is sometimes placed at an angle, things have to be shifted to make everything seem to make sense through the lens. When in reality they, er, reallllllly don't.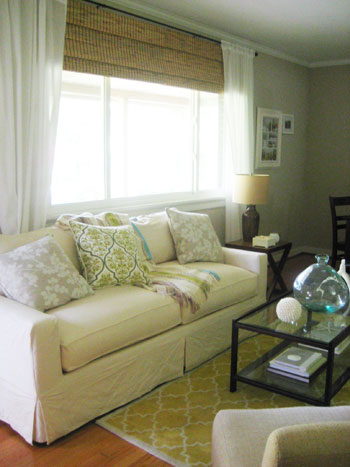 So-That's-How-It-Works Fact #7: Borrowing is the name of the game. When the photographer suggested that someone run out and purchase a rug to break up all the hardwood in the kitchen…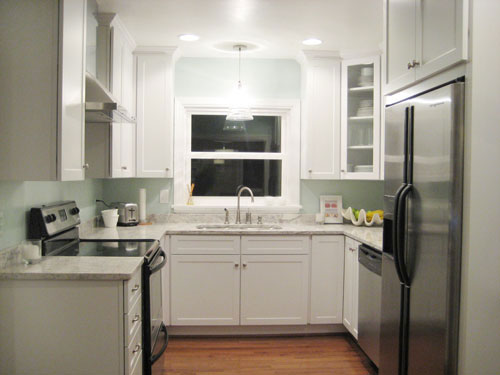 … someone cleverly snuck into the third bedroom and borrowed our little 4×6 jute rug. Perfecto! And although they later shot the bedroom (with the rug in there as well), everything else about each space was completely different, so they didn't seem to care about the rug relocation. Now I'm going to look for duplicate items in every mag I read! I wonder how many vases and pillows are recycled throughout the rooms- although Beth and her team totally made a concerted effort to use different accessories in each space (which we really appreciated since we plan to prop our house to the nines for our next par-tay and we got loads of ideas).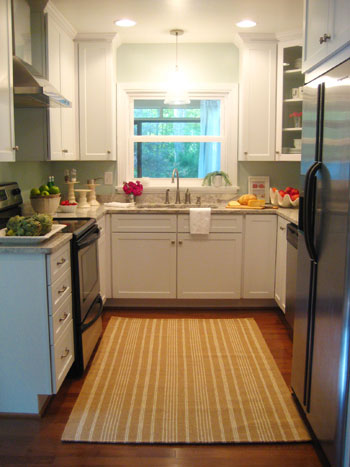 You'll also notice that our kitchen looks more appetizing than a bloomin' onion from Outback. From artisanal cheeses to well orchestrated artichokes- and even mini roses (placed in the glass fronted cabinet no less) they pulled out all the stops. And our sweet little burro tail plant (one of our favorite succulents) was moved onto the window sill, and we loved it there so much that we made it his permanent address.
Ah, those were the days. Creamy cupcakes and chunks of cheddar. Pink pansies and playful peonies. Our house never looked so abundant.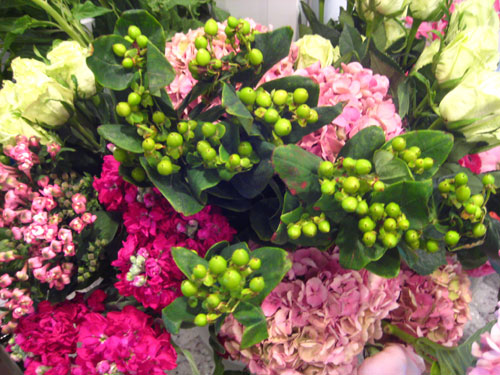 Thanks so much to Beth, Cat, Erik, and Piper for their tireless efforts to make our house look the part! We can't wait to see all the real pics in the Sping, Summer, Fall, and Winter issues of Do It Yourself Magazine. Stay tuned…