We bought a new house! Actually, we got two of them but they're for the birds. Literally. We picked up two cheap ol' $3 birdhouses at Michael's after learning that now is the time to put them out to hopefully catch the eye of some feathered friends (who will someday repay you by catching their fair share of mosquitoes in the spring). But they weren't much to look at, and didn't seem built to weather the elements, so of course we whipped out our tools for a little home makeover. Here's they are before the renovation, with their porous and rickety balsa wood frames and their woven (and therefore not at all rain proof) roofs: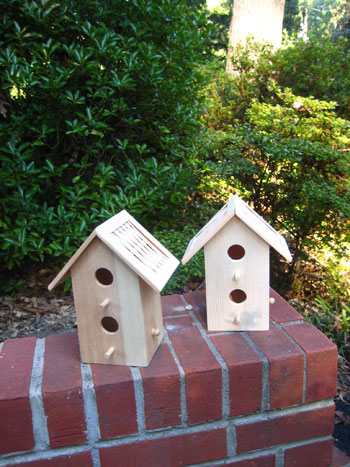 Zero dollars later (thanks to some leftover all-weather deck paint from the sunroom floor project and a few extra roofing tiles that we had lying around) we whipped up something a bit sturdier and a lot more rain-friendly. We just reinforced the rickety wood frames and attached the roofing tiles (cut to size) with good ol' Liquid Nails, and drilled a small hole in the back of each house to allow them to hang on a tiny nail hammered directly into the tree. Voila: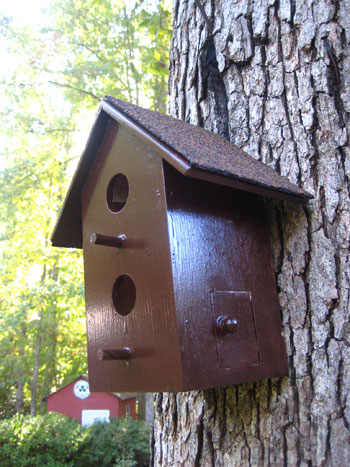 Something sturdy and sweet to come home to. Times two.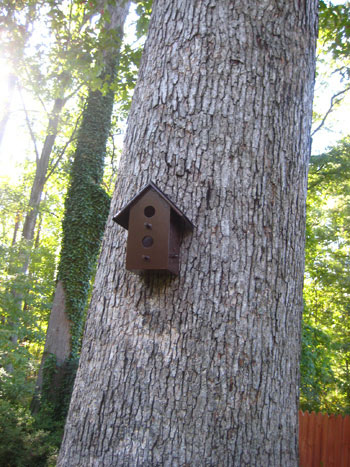 So what do you think about our two new homes? Any tips to get some fabulous mosquito eating birdies to come to roost? We can't wait to see who comes to feather our little nests…