Ok, prepare to be wowed. Because when Lindsay sent her kitchen makeover pics our way we almost couldn't believe our eyes. Here's her letter:
Okay, okay. I've read your pleas to send in more before and afters! Admittedly, I am nervous to send anything your way because I feel it just won't measure up to the stellar work you two have done. However, I am super proud of our low-budget kitchen makeover and wanted to share. This is our first house and we've never done anything remotely "handy" before. We learned a lot along the way (never knew what 1/4-round was before!), and if we had to do it again we would make a few changes. But overall, we are pleased. Just like your first kitchen re-do, we hope this one holds us over until we can make big changes. :)
We ripped out the linoleum and installed new 20″ tiles throughout the entire 1st floor, replaced the refrigerator and the microwave (and plan to replace the stove soon), primed and painted the cabinets a glossy white color, and replaced all the cabinet hardware with a much more updated pull. Overall, we are really satisfied with our budget makeover. We spent about $50 on primer and paint, $60 on hardware, $50 on hinges, $14 for laminate flooring that we used as a wipeable (and durable) shelf liner, and about two weekends worth of labor. Anyway, hope you enjoy our makeover in our first home. -Lindsay
Here's the builder-grade before: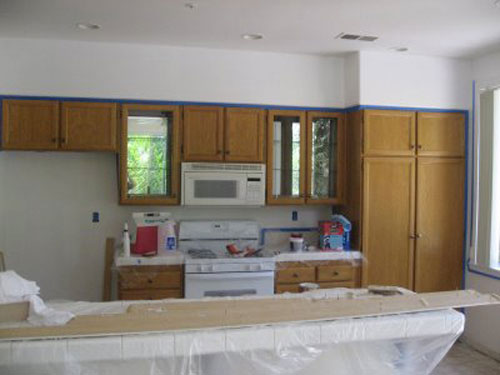 And the stunning and fresh after (thanks to some paint, new hardware, new appliances, and a few adorable accessories- love those green glasses and the rotating spice rack on the counter):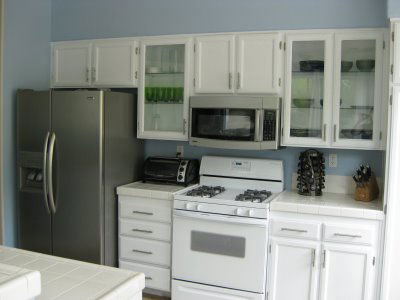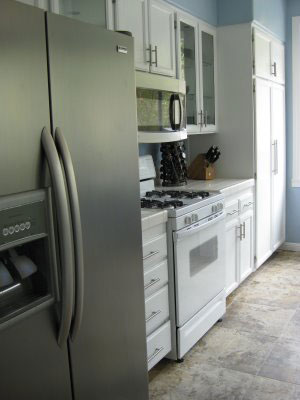 Thanks for sharing your mouthwatering kitchen makeover with us, Kelly! And if anyone out there is holding back their fabulous makeover pictures, let this be a gentle reminder that we have a serious before and after dependence. So please oh please oh please send 'em our way!
Oh and stick around for a step by step tutorial about painting your cabinets in a snap. If you can paint a wall you can paint your cabinets so stay tuned…