We've made some pretty major eco changes around here, and we wanted to share our switcheroos for anyone out there who's interested in creating a less toxic environment at home (did you know the air inside the average house is four to ten times more polluted that the air outside?!). So without further ado, our pretty painless trade outs that make greener, healthier living a snap:
Switcheroo #1: We swapped out our old water bottles (we used to reuse plastic Propel bottles and other sport bottles to keep water cold in the fridge) for stainless steel Klean Kanteens that ensure there's absolutely no nasty leeching or off-gassing into our air and our drinking supply (John even keeps one at work so no matter where he is, he's drinking pure h20 and nothing more). We also replaced all of our Tupperware and plastic mixing bowls with glass containers and bowls (and even switched out our old plastic cereal dispensers for some pretty cool oversized glass jars) to further eliminate any chance of tainted food. The added bonus is that we no longer have to think before sticking things in the microwave since everything's glass and not plastic. Love it.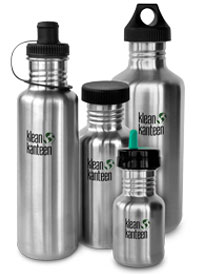 Switcheroo #2: We tossed our scary and probably carcinogenic non-stick Teflon coated pots and pans and snatched up a Chefmate 8 Piece Stainless Steel cookware set (on sale for $35) from Target. 100% stainless steel insures that nothing's tainting our food (or our air as it heats up) and although there's a bit more clean-up involved, it always feels like a fair trade for a healthier home (we've read report after report that advises sticking to glass, cast iron and 100% stainless steel and avoiding aluminum and of course Teflon at all costs). Update: we upgraded to these seriously amazing pots & pans a few months later and love them (no more scrubbing).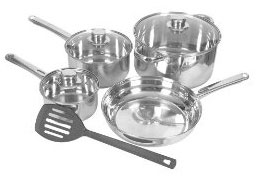 Switcheroo #3: We replaced the sheets on our bed with Target's Home Organic Sheet Set made with 100% organically grown cotton fiber and eco-friendly dyes (even the packaging is recycled and made with vegetable dye!).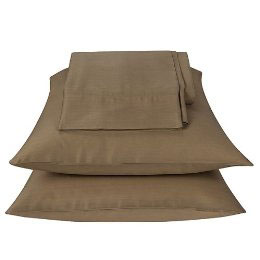 Switcheroo #4: We replaced our old, lumpy memory foam mattress pad (which are known to off-gas, and since you spend a third of your life in bed…) with an 100% cotton and down feather bed without any firesafe chemicals or waterproofing sprays from Bed Bath & Beyond. Oh and we also switched out our vinyl shower curtain and liner (a huge off-gassing offender) for a floor to ceiling fabric curtain and liner combo for added ambiance and a truly clean shower experience.
Switcheroo #5: We tossed our old cheapie vacuum cleaner (from our apartment days) and picked up a surprisingly affordable Dirt Devil Vibe Quick Vac with a HEPA filter (by far the most effective way to keep the air cleaner and allergens at an all time low when it comes to vacuuming).
Switcheroo #6: We switched all of our paint and stain for no VOC alternatives (now available everywhere from Lowe's & Home Depot to Benjamin Moore).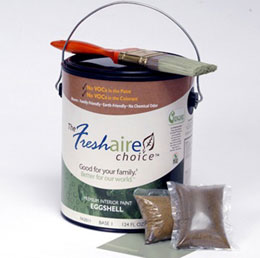 Switcheroo #7: We made it a priority to purchase organic produce, meats, eggs, and even butter/dairy products and eliminated sugar free gum and all sodas except for Boyland's or Jones soda (which are made with pure sugar cane- no aspartame for us, thanks). Of course it's expensive (and grocery costs are already at an all time high) but our health is pretty darn important too, and it's about time we started taking care of the only bodies we get.
Switcheroo #8: We also switched out almost every product in our bathroom. By trading chemically enhanced hand soap for Dr. Bronner's Castile Soap (we love the almond scent) and swapping our shampoo, conditioner and lotion for Avalon Organics products we definitely greened up our clean-up.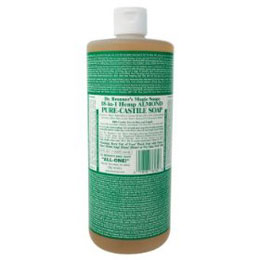 Switcheroo #9: I also upgraded my make-up to purer and more eco-friendly alternatives. All my old nail polish was traded for a few bottles of Honeybee Gardens natural nail polish (so natural it's vegan!) and my old Nars bronzer and blush were swapped out for Physicians Formula Organic Wear (which come in recycled packaging and are available right at CVS). Even my ChapStick & Vaseline were traded out for Dr. Bronner's 100% organic lip balm (the petroleum in Chap Stick is now listed as a possible carcinogen due to the refinement process). Make-up never felt so healthy…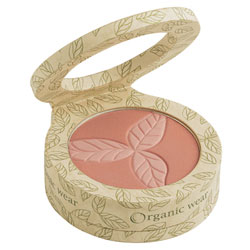 Switcheroo #10: And of course we already swapped out our dishwashing liquid, laundry detergent, and glass cleaner for Seventh Generation products that are just as good to Mother Earth as they are for babies and dogs to inhale. We also vowed never to burn anything other than soy candles and have completely eliminated air fresheners and fabric softeners- two highly scented (and highly chemical) contributors to indoor air pollution. The funny this is that we swear our clothes are just as soft so we wonder if fabric softener is a total placebo product anyway. Try going without for one load and tell us if you can honestly tell the difference.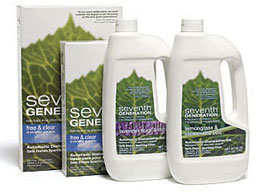 So there you have it. Some pretty simple (yet totally rewarding) changes that we made to reduce our toll on the planet (while reducing the toxins in our home). Of course there are still a few more switcheroos that we can't wait to implement: adding a water filtration system under our sink, planting an organic veggie garden, swapping our old mattress for a 100% latex organic one, replacing the air filters in our heating and air system (something you should do at least once a year for clean indoor air), adding bat houses and birdhouses to naturally control the mosquitoes in our yard, etc. But we're confident that we can do it thanks to the super seamless transition we've made to our newer, greener existence.
What about you guys? Do you have any easy changes that you've made to detox your home? We're still learning as we go, so we rely on you to keep us up to speed on all things eco!
For more home-detox tips, check out this Planet Green post
Images courtesy of Amazon (some of the links included above are Amazon Affiliate links).