At our house, we serve dinner buffet style (setting out all the food in the kitchen so people can pile their plates high) which means I get to have some fun with the table since it doesn't have to accommodate a million platters and serving bowls. And I figure that even though Thanksgiving is typically a holiday full of orange, red, yellow, gold, and wheat tones when it comes to table decor, who says that's the only way to do things? Methinks there's more than one way to skin a cat cook a bird, so I had some fun with a rich green and blue palette thanks to some free wine bottles I've been working into our home's decor for a while (topped with some simple taper candles inspired by a recent Pottery Barn catalog).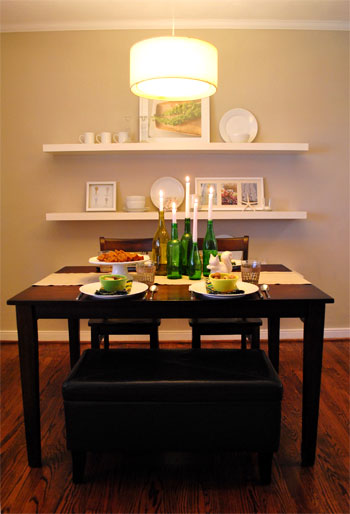 The addition of some cheap-o clearance napkins from Crate & Barrel and our regular everyday plates, cups, bowls, and silverware along with my funny ceramic squirrel (for a splash of quirk) completed the picture.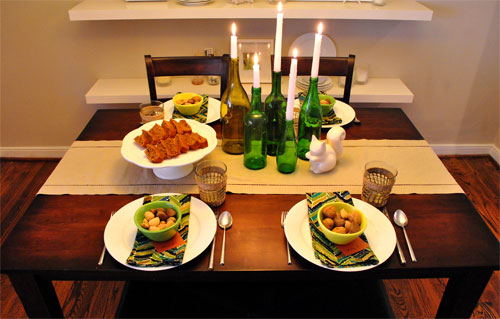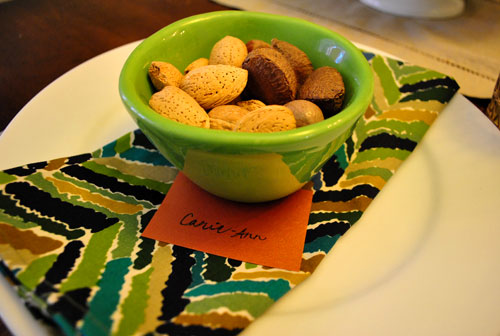 Oh and that stuff on the cake stand? Pumpkin bread. So delicious. Although it'll probably all be gone well before Thursday rolls around. One downside to working at home: constant eating. But that's also an upside.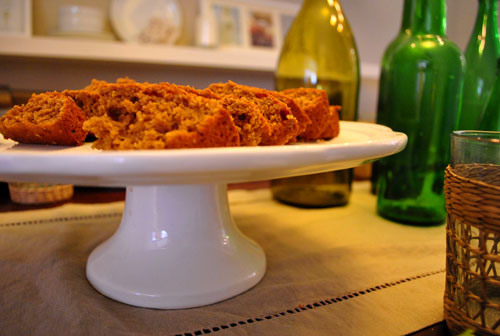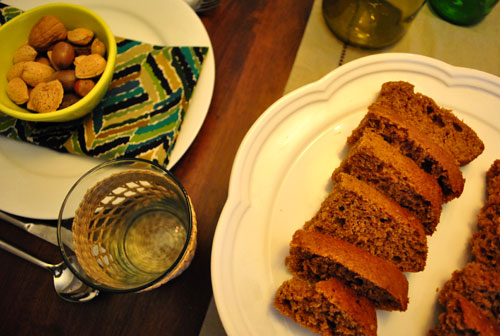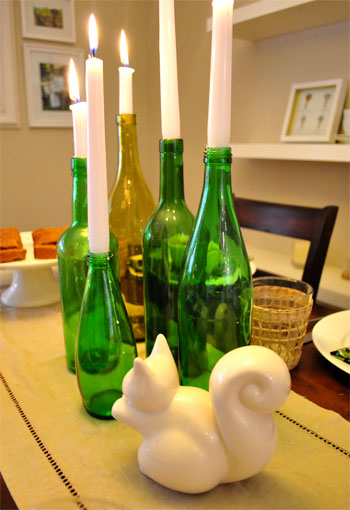 The result is still pretty festive and inviting, even if it doesn't scream Thanksgiving (although it does seem to whisper it thanks to the mixed nuts, the tan runner, the ceramic squirrel, the woven glasses, the gold place cards, the wheat tones in the napkins, and the big plate of pumpkin bread).
Here's a source list, just for fun – white plates: Linens N Things thanks to our registry, patterned fabric napkins: Crate & Barrel on clearance, cups: Sur La Table on clearance, yellow & green bowls: gifts from a friend (but we've seen similar versions at TJ Maxx), cake stand: TJ Maxx, silverware: a wedding gift from my mom from Crate & Barrel, ceramic squirrel: West Elm, bottle candlesticks: various already owned wine bottles & Pellegrino bottles soaked to remove the labels, white taper candles: Target, tan runner: Target, table & chairs: Target, floating shelves: Ikea.

So that's the state of our table right now. Any practice place-setting going on at your house? What are you guys doing for T-giving anyway? Anyone else hosting family? Or traveling in the name of face-stuffing? And while we're on the subject, what's your favorite Turkey Day fare? Mine is stuffing. John's is pumpkin pie.
Update: You can check out all of our favorite holiday decor finds here – many of which are under $15!