Aw, yeah. Clara's second b-day party was full of food, family, friends, fun… and worms (she picked the theme based on her deep love of looking at, drawing, and even dreaming about worms). So… worm to your motha!
We were so thankful to be surrounded by the people we love, the bean had the best time, and the 75 degree weather and sunny skies were the icing on the worm cake. Or should I say worm cupcakes. Let's get this party (breakdown) started…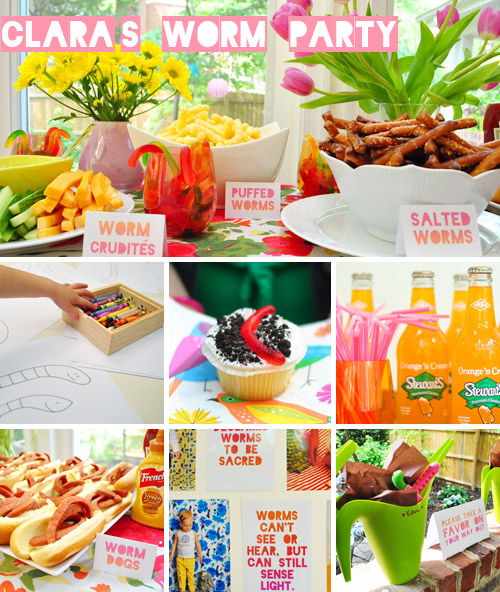 But let's start at the beginning. Clara was born two years ago today. Wait, that's too far back. Let's just cover the party. Here's the sunroom all decked out for the big day. Nothing too fancy, just some balloons and streamers from Target, a colorful tablecloth from HomeGoods, and lots of worm-a-licious food. But we'll get to that in a second.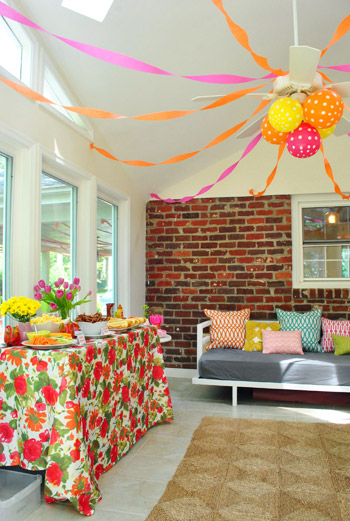 We decided to use the sunroom, the patio, and the carport for the entire gathering, which was about 30 people total (ten were kiddos under the age of four). Of course if it had rained we would have partied inside, but it felt especially wormy and fun to have kiddos running around outdoors in the fresh air. Having the sunroom (which is located right off the patio) for food and drinks was also really nice since we didn't have to worry about finding actual bugs in the food (fake worms = ok, real bugs = not ok).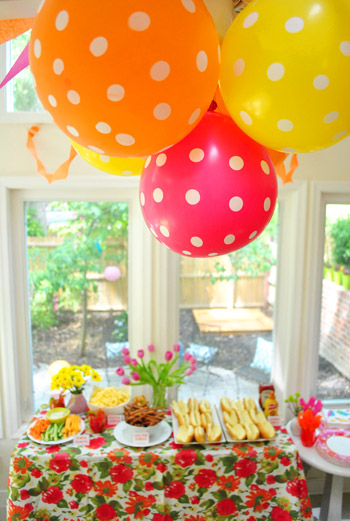 Here's a close up of the table seconds before everyone arrived. Fun fact: the table is actually a secret book project covered with a tablecloth since we can't reveal it on the blog – and also since we didn't have room to stash it anywhere else. Haha. We figured we might as well put it to good use for now (we'll be auctioning a bunch of book projects off for charity this fall once the book is out and they're allowed out of the proverbial bag).
We set out worm-ish food with worm-related labels (made in photoshop and printed at home) like "worm crudités" (long skinny slices of carrots, cucumbers, and cheese), "puffed worms" (white cheddar cheese puffs), "salted worms" (pretzel rods), and "worm dogs" (hot dogs that we cut into fourths and boiled to make them all curly as so many of you recommended in the comments of this pre-party post – thanks!!).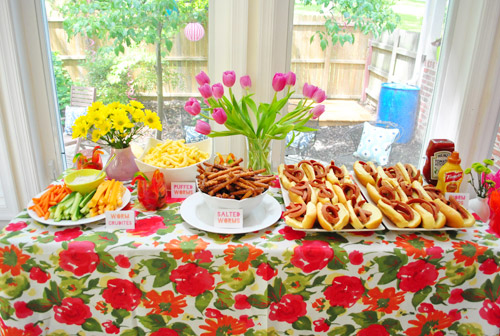 See those pretty flowers on the table? They were from J-boom for Mother's Day. Love my hubby.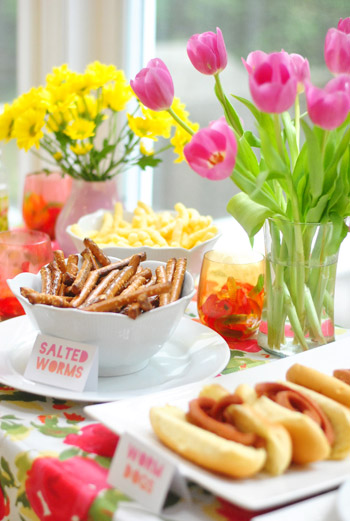 Here's a close up of the worm dogs. They were a hit among kiddos and adults. I think we moved more of them than we had people at the party.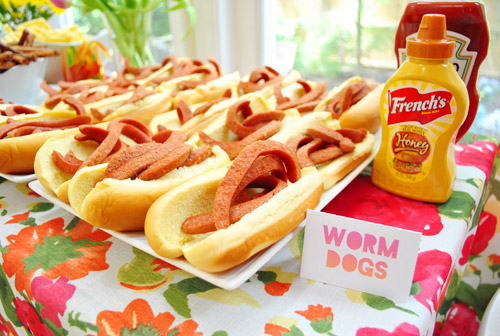 All of the bowls and plates were just things we had in the pantry. Nothing really matched in shape (round, scalloped, rectangular, etc) but it all worked because it was white – which was actually a nice combo with the crazy-colorful tablecloth (bright platters and bowls might have been a bit much with such an in-yo-face pattern).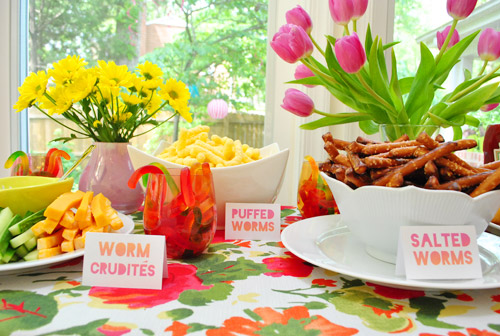 We also set out little cups of gummy worms. Hanging a few over the rim like they were crawling out was my idea of a good time. Oh yes, I live on the edge.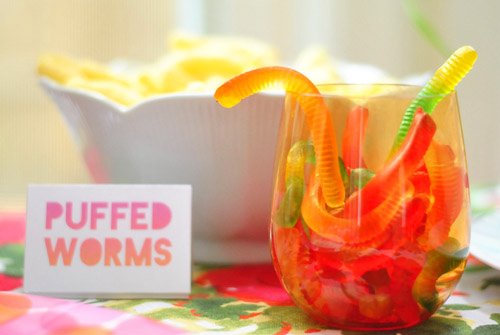 We had another small table for the pizza – which is always a party pleaser. We did our take on worm pizza by ordering one with worm-like peppers & onions and topping one with pre-cooked spaghetti. The other two (cheese and peperoni) had a label that said "dewormed pizza." Oh yeah, we ran with this worm theme, baby.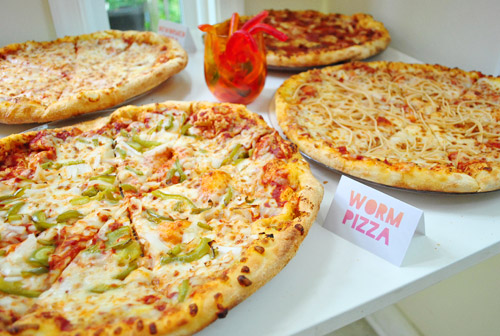 Everyone got a kick out of the bird napkins (birds eat worms, right?) that we found at Ikea.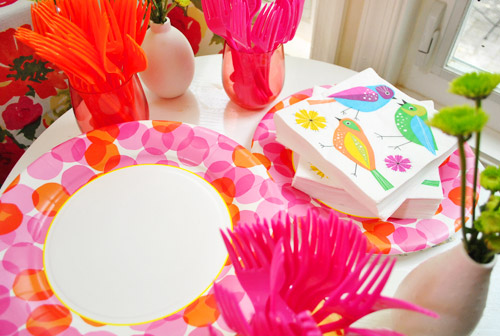 On the other side of the sunroom we set up a little drink station. See this table covered with another HomeGoods tablecloth? There's another secret book project under there. Haha. As for what drinks we served, we went with some cute glass bottles of orange soda and Coke for the 20-ish adults and also had Izze, water, and sparkling water in the beverage tin along with apple juice and water for the kiddos. Oh and see those apples in front of the drink tin? We plopped a gummy worm on each one. Ha. They actually got eaten, too!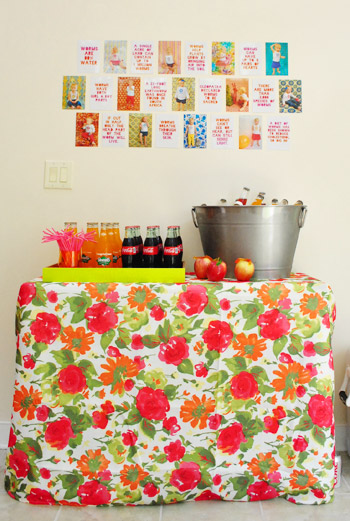 And check out those worm-like pink straws…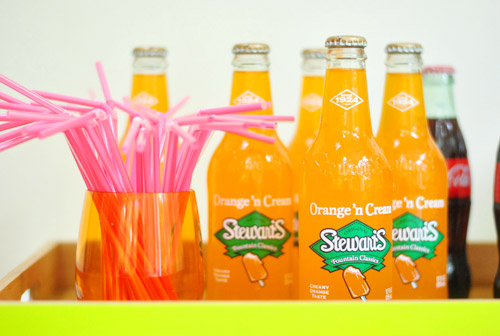 Since this room is still completely untouched, there was no wall art going on (we just plopped down furniture 16 months ago and haven't done anything but shove book stuff in there since). So we taped up Clara's monthly pictures from this year along with 12 fun worm facts on a nice bare expanse of wall above the table. John just googled around for worm trivia and typed each 4 x 6″ card up in Photoshop.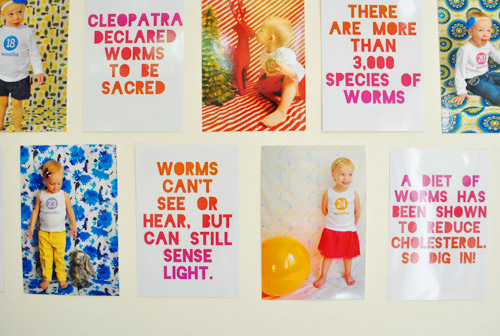 For anyone who wants to see the whole shebang a little closer, just click this photo for an enlarged version: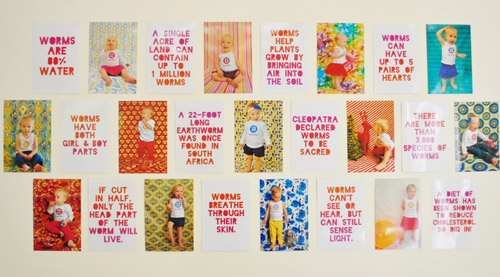 Oh and here's the carport all snazzed up with pink & orange streamers. When it comes to bang for your buck, they're pretty festive (and so cheap!). It's hard to see in these pics, but we swagged them so they were sort of wiggly and worm-ish. And I proudly hung the fabric banner that I made for Clara's first birthday on the half wall that looks back onto the patio. We brought a few chairs and a garden stool out from inside as well as all the sweet little watering can favors for each of our young party-goers to take home.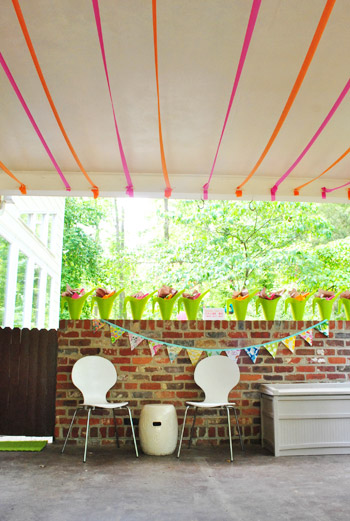 I can't tell you how happy it made me to see all ten of those little watering cans lined up on that wall. As I mentioned here, they were each filled with a bottle of bubbles, a pink or orange shovel, and a stuffed snake-turned-worm that we found at Ikea for 49 cents (we cut off the forked tongue to complete the conversion). We also grabbed the watering cans at Ikea for 99 cents each.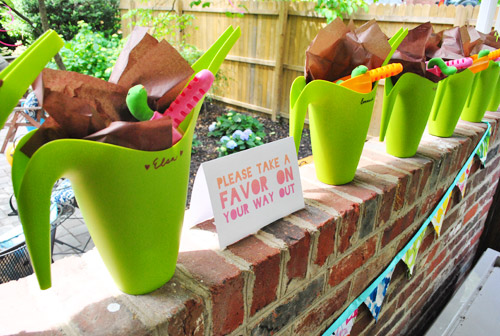 Other than streamers and balloons, we just hung three paper lanterns that came in a pack from Target and some funny worm-like pink swirlie paper things that we found for a few bucks at Party City. Then we brought out a low table from the sunroom and made a little play station for the kiddos with things like bubbles, a puzzle from Melissa and Doug that has bugs/worms on it, a box of crayons, and a bunch of color-the-worm pages that I sketched before the party.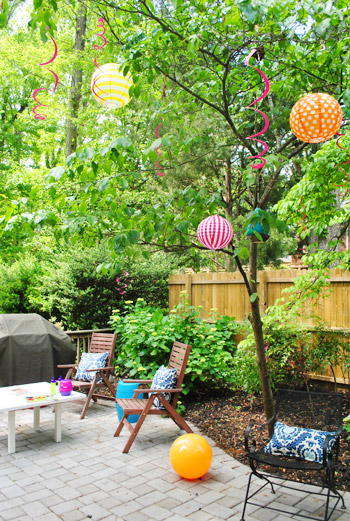 I just took cardstock and a gray marker and drew a few happy little worms for the kiddos to color. It actually went over pretty well. It was so much fun to see all those colorful scribbled worms at the end of the day.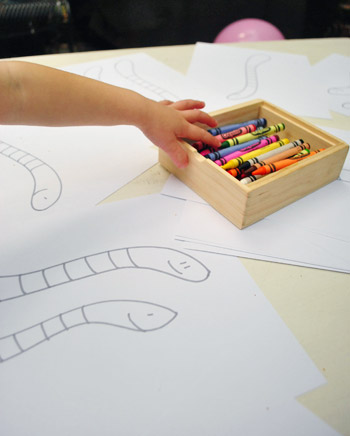 Here's a people-milling pic for ya. Is there anything better than a patio full of people you love?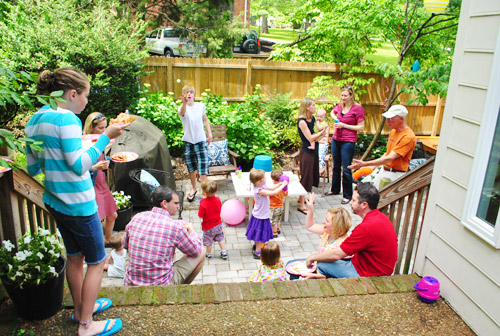 Sidenote: Clara was kind of hilarious about the pizza. She took a big bite of mine and then moved over to her cousin Jake and asked for a bite of his and when we all stared laughing she went from person to person, requesting a bite of each slice (thankfully there were only two other people nearby so it didn't turn into a giant germ-sharing fest). It was very "welcome to my party, now feed me" of her. At least she wasn't asking us to bow to her and fan her with leaves.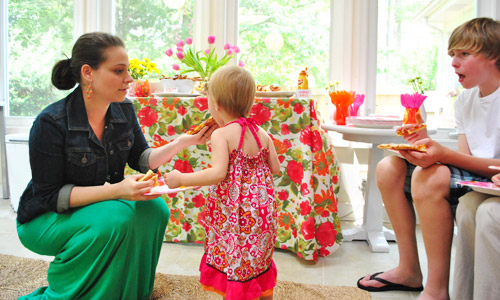 The other crowd favorite of the afternoon (besides our sweet little pizza-mooching bean) were the dirt cupcakes. We just picked up tasty little 40 cent vanilla cupcakes from a local bakery here in Richmond (Ukrops), pressed them icing-side-down into crushed up Oreo cookies, and plopped a gummy worm on top. We also made some that were dirt free (just squished a worm into the white icing) but the consensus from the crowd was that the Oreo ones were the best since they had some crunch.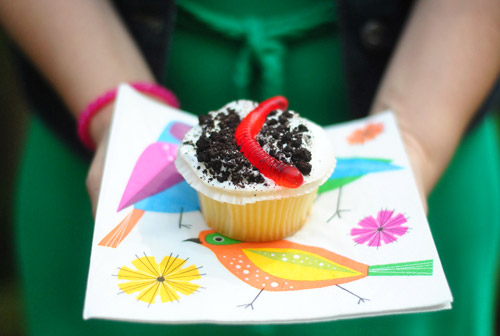 Here's the birthday girl getting her special cupcake (she hand-picked that green gummy worm before the party) in her favorite yellow chair. We stuck two worm-ish pink candles from Target on top, sang our little hearts out, and blew them out fast (since she's still mildly afraid of fire from a certain Hawaiian hibachi incident).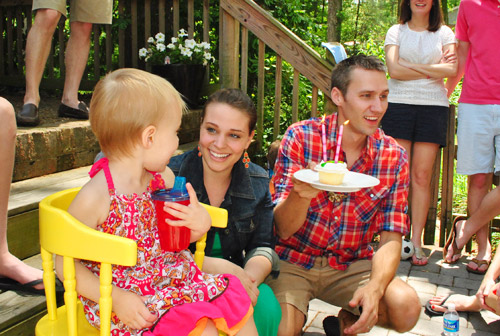 She did momma proud with her cupcake-eating skills.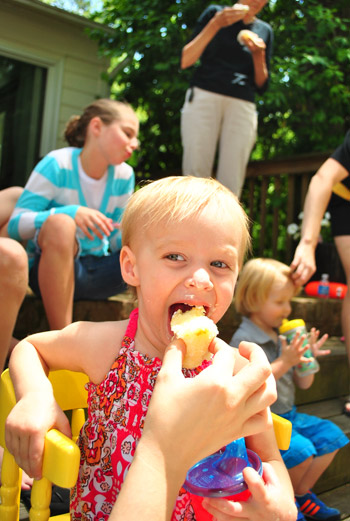 We even remembered to try to take a few family photos. Of course we didn't get any with all of us looking at the camera and smiling (what are those odds, one in a million?), but we did end up with some sweet candid ones (yes that is a random bubble floating by in the foreground).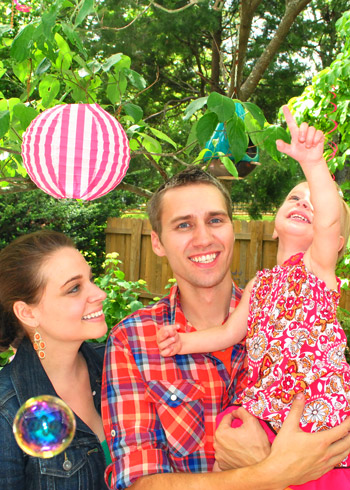 Clara took the worm theme very seriously. For example, she took great pleasure in feeding them to me.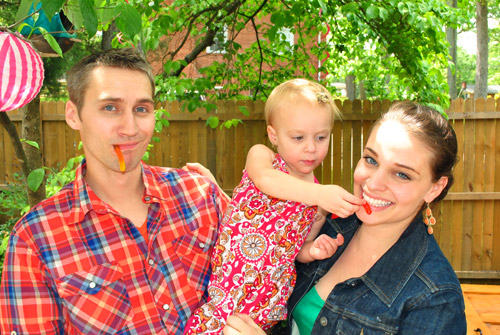 She and her daddy even got all Lady and The Tramp for this shot: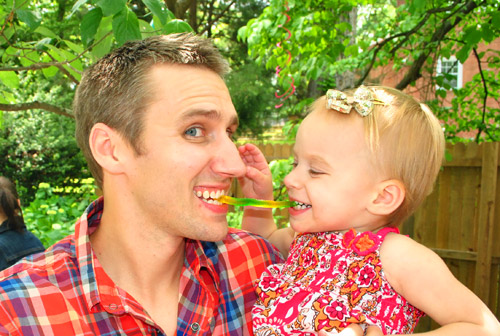 We all seemed to gravitate to the carport after a few hours in the sunroom and on the patio, and then we decided to open some presents. This wooden worm (well, actually it's a snake) from one of Clara's best buddies was a huge hit. The funny thing is that John and I played around with that exact same thing (from Michael's) for this old Halloween post before we had any idea Clara would develop a deep, strong love of worms.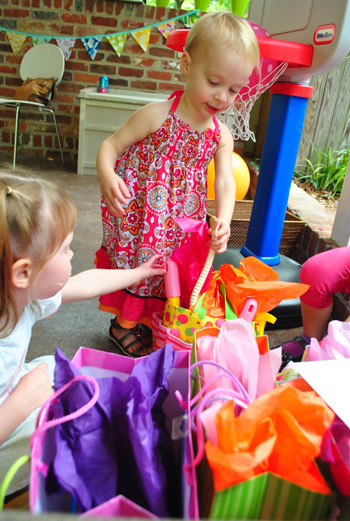 Clara was seriously smitten.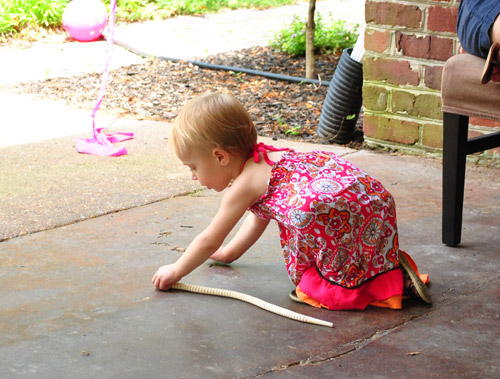 Here's another people-milling shot in the carport. As much as we would someday love to convert that space to a garage, it sure is good for friends and family (and balls and balloons). We ended up bringing out our dining chairs with their slipcovers back on (so any rogue icing could just be washed off) and we did what we do best: hung out and watched those sweet kiddos of ours. Although there are only three out of ten kids in this pic, so there must have been a gaggle of them staring at a spider in the corner or dunking by the basketball hoop (a sweet gift from my brother Dan, which you can see two pictures up).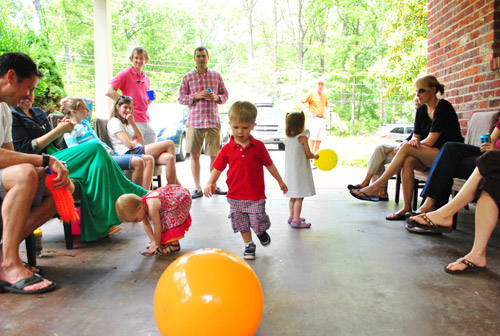 The general gist? It was a great day. We are so thankful for our friends and family and our sweet, happy little girl. I always cry at her party. Just can't help it. She's our little miracle (birth story here, sniffle sniffle). And we're so grateful to have awesome folks like you guys to virtually attend our weird little worm party. Haha. There's a sentence I never thought I'd write.
But perhaps Burger had the most fun, gazing dreamily up at all the leftovers at the end of the festivities.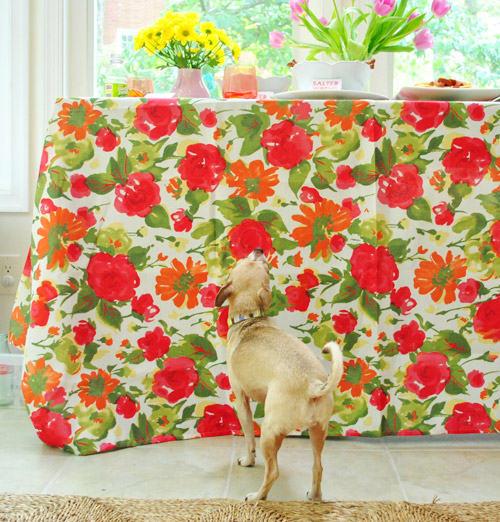 He even got lucky and found a cheese puff under the table.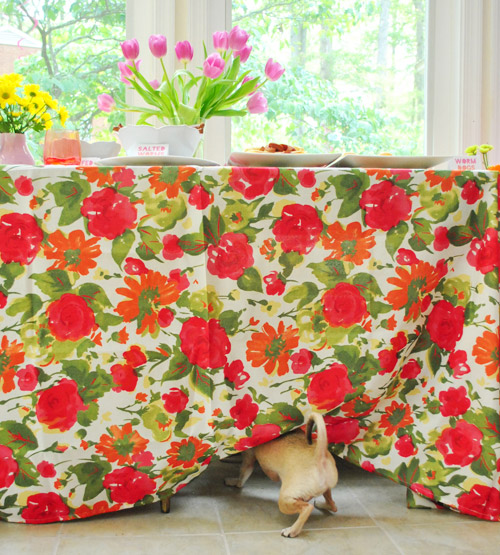 The End.
Oh wait, we made a little Clara video like we did last year – not to show at the party this time, just to have so we can look back on it (and watch it with Clara, since she loves the one we made for her first birthday). So here's her last year in seven minutes. My favorite parts are her Britney Spears impression near the beginning and some Flash-Dance-ish ottoman dancing in the outtakes at the very end.
Love that girl. Love you guys too. Lots of mushiness flying around. Haha. What did you do this weekend? Any Mother's Day fun? Any worm eating?
Psst- We have a bunch of outtakes for this month's Clara picture in front of her homemade fabric, so you can check those out here on Young House Life.