Better Late Than Never? I tackled this project about two months ago before we moved (hence all the pics of our old kitchen counters). But I figured I might as well share it in case someone else comes across their own cheap-o cheese plate and wants to update it with some fun patterned paper. Let's step into the DeLorean for a nice trip back in time…
This little makeover idea was hatched when I laid eyes on this crazy old cheese plate at Goodwill for 40 cents in early December. Yes. Forty cents for the glass dome and the wood base with the ceramic cheese inscription (it was marked as 80 cents and they were having a half-price glassware day). I couldn't not buy it. But it was definitely crying out for a little love, so I dragged John to the paper aisle in Michael's (my home away from home) so I could pick up a 79 cent sheet of decorative paper. Which brings the grand total for this entire project to $1.19.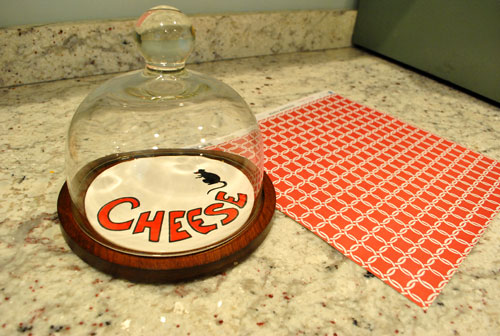 The cheese inscription was cute and retro, but the scary black rat with red eyes was freaking. me. out.
Time for a do-over. First I used a flat head screwdriver to pry up the ceramic cheese inscribed plate that was glued to the wooden base.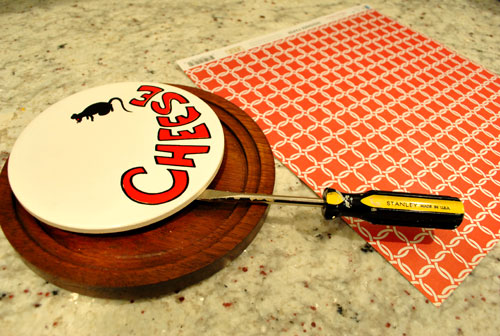 Had it not popped off semi-easily I would have made a paper template to the exact size of the ceramic plate and used that to cut a perfectly sized circle out of the sheet of decorative paper. But since it popped right off, I just placed the round ceramic plate on the middle of the decorative paper (so the pattern was centered) and traced the circle shape of the plate onto the paper with a pen. Then I carefully cut it out and was left with a pretty exact looking circle to cover up that funny little cheese inscription once and for all. I glued in place with Aleene's Tacky Glue. Then I glued the ceramic plate back onto the wooden base using Gorilla Wood Glue.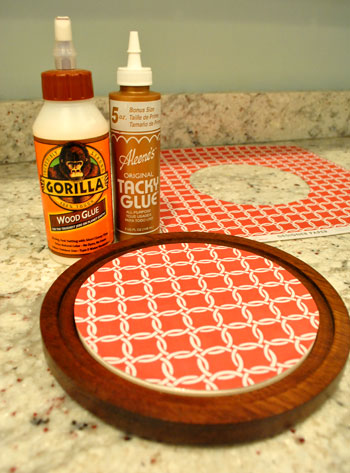 Next came the highly scientific method of placing a stack of books on the whole thing to keep the paper flat so it would bond nice and tightly to the ceramic tray without wrinkling while the ceramic tray bonded securely to the wooden base at the same time. And why not use a few of our favorite cookbooks since they were nearby?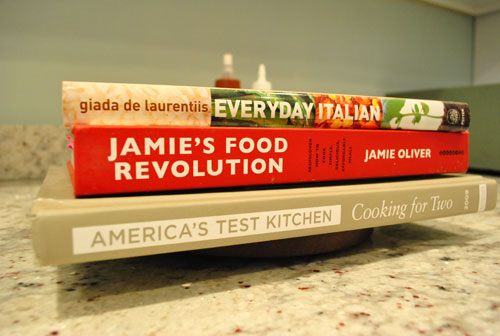 After a few hours of glue drying time, I removed the books and Mod Podged the top of the paper, so it's protected with a laminated-esque "seal" that's 100% non-toxic and water-based (which means it's ok to display holiday cookies or something). I wouldn't recommend slicing cheese on it (it's not that strong), but it would be great for storing pound cake, cupcakes, a bowl full of holiday nuts, etc). And the reason I've said holiday twice (even though it feels like Christmas was eons ago) is because the festive red paper just feels so jolly to me. But it should work for the other 11 months of the year for other stuff too.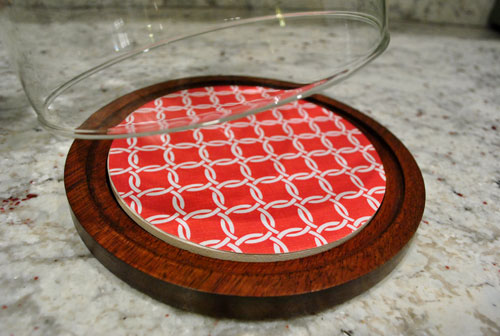 Like pinecone storage if you're weird like me.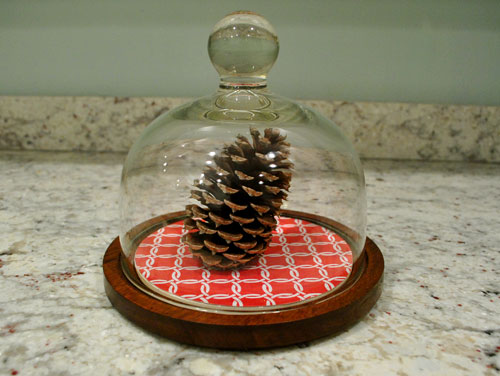 What? I just thought it looked cute in there.
So that's the latest oldest little DIY undertaking hiding in our drafts folder that I thought I'd share since it could make a cute gift or project for your own casa. It's kind of bittersweet because these are probably the very last photos that we'll publish on YHL with our first house in the background. Sob. Just kidding, we're way too busy with the new house to cry over the old one. But it's fun to take this last walk down memory lane and appreciate those purty granite counters one more time. And getting back to my updated cheese platter, I've decided it would be the perfect spot to display a stack of pretty bar soap in our hall bathroom when we tackle that room. Someday. For now we're trying to stay focused on the guest room (and adjoined guest bath). But you know I get easily distracted…
Update: You can check out all of our favorite holiday decor finds here – many of which are under $15!