Enough about our colorful stools…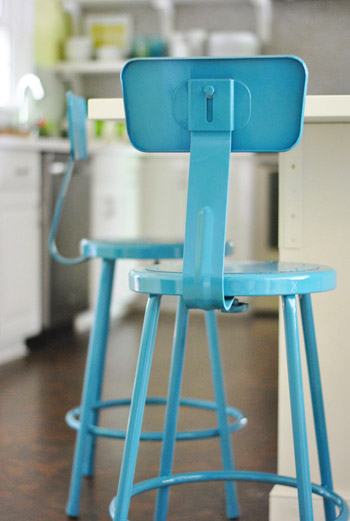 …and on to our newest set of colorful chairs. Oh yes, we're officially on a bold-colored seating kick. Remember we already have these $35 thrift store guys that we gussied up with green paint and fresh upholstery in the office?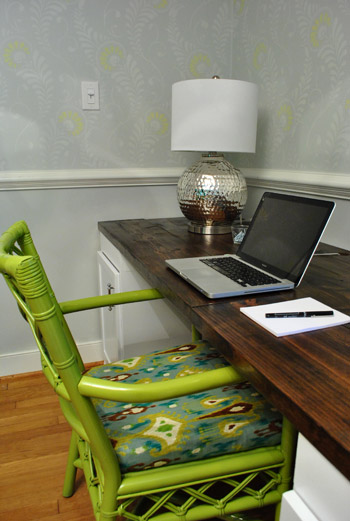 And this zero dolla (holla!) hand-me-down highchair for Clara that we happied up with some sunny yellow paint?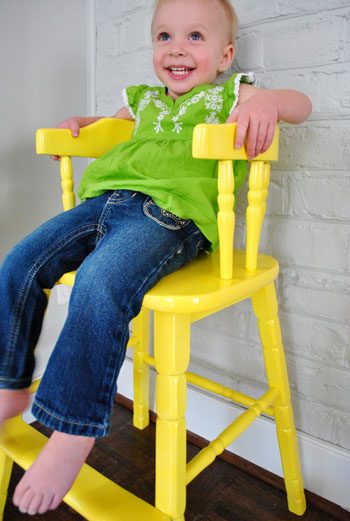 Apparently it's nothing but the best brightest for our buns. And this might be kind of shocker, but this time… we've gone red!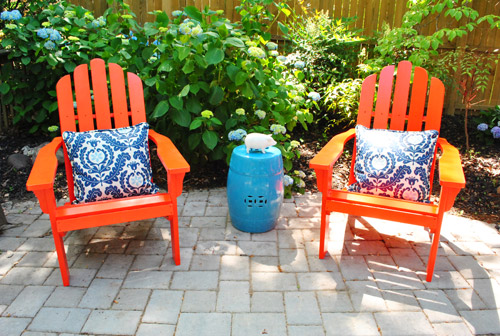 A pretty tomato red, to be exact. And it looks pretty darn tasty with the blue hydrangeas around the paver patio that we DIYed last May.
When we shared the big patio reveal pics last spring, we mentioned that we needed some nice solid long-lasting patio furniture, but would be saving our pennies for a while. So after 13 months of squirreling away $20 a month toward the cause, we finally had enough in our little patio-furniture savings jar to get two of these babies!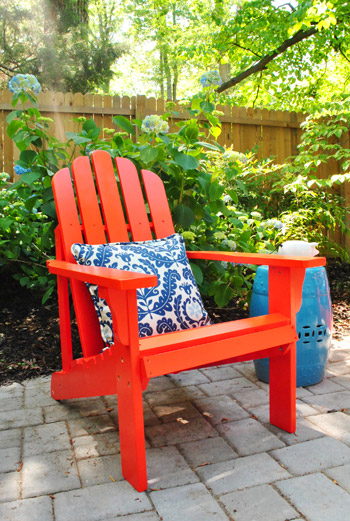 To refresh your memory, these old folding chairs from Ikea used to be parked there: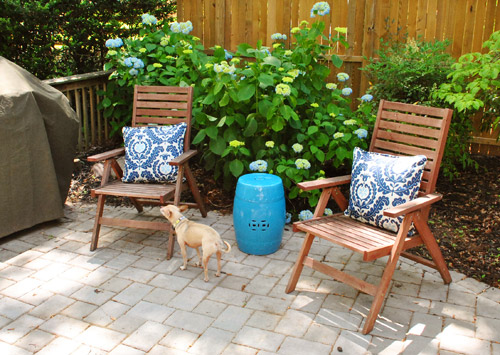 Which weren't half bad looking… until you got a little closer.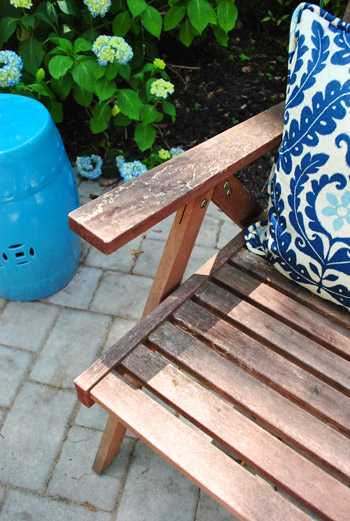 That shot above doesn't even do justice to the "hard life" that these old wood folding chairs now exude when you get a little closer. They're peeling, cracking, creaky, and just generally kinda sad looking. We got two of them from Ikea for $100 over five years ago, and they were great in our former house's sunroom for around four years.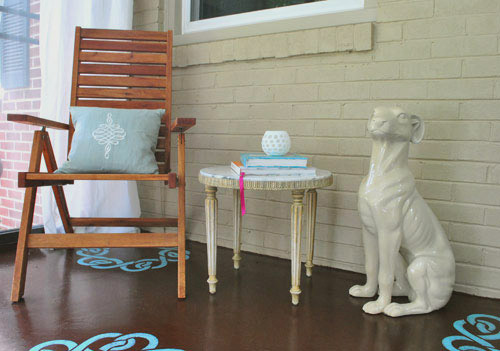 But after we moved and stuck them outside in the elements, even though they were made for outdoor use, they weren't looking nearly as hot anymore. Probably because they weren't covered with any protectant (like weather resistant oil/stain/sealer/etc). But it's ok. They were honestly not the most comfortable things anyway, and we've always had a full-blown crush on colorful wooden adirondack chairs. How dorky is that? The slope of the seat is just so perfect for relaxing, and we love the wide wooden arms (big enough to rest a nice cold beverage). Basically if there was an Adirondack Chair Fan Club, John and I would both totally volunteer to be the treasurer and the secretary.
But a good well-made wooden adirondack chair comes with a price (we tried craigslist/yard sales/thrift stores to no avail). So we're not talking about $39 (like our new blue stools) or $35 (like our office chairs) or zero bucks (like our hand-me-down highchair). Hence all that saving. We're not usually as methodical about saving a certain amount each month for a specific thing, but putting a monthly "payment" of $20 into a jar for lawn furniture actually worked while we continued to squirrel away whatever other cash we could spare in our normal savings account for other things. Our main money MO is usually just to save as much as we can in general – like by only having one car, giving each other haircuts, not eating out too much, buying a fixer-upper in an affordable city so the mortgage is lower than the rent on my tiny studio apartment was in NYC six years ago, paying off credit cards to avoid interest, couponing at the grocery store, etc (you can peruse over 30 posts on how we save cashola here).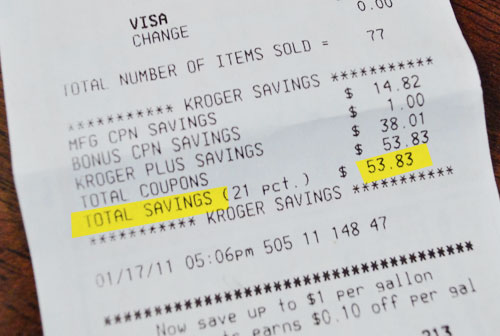 So we're usually saving up for multiple things at a time in one general savings account to be used towards whatever we think is next on the priority list (ex: the kitchen reno was something we saved up for since putting an offer on this house two Septembers ago, but during that time we also bought other things like materials for our DIY patio, a dining table, or a bed – since they would occasionally move to the top of the priority list). You can read more about our little money management method here.
Back to those new chairs of ours…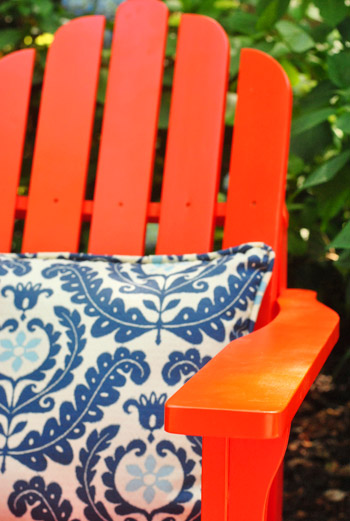 We successfully resisted our instincts to cheap out and get plastic ones because we're enamored with the real-deal-Holyfield wood ones and knew that plastic ones would be what we call "an interim item" (something we'd buy but and then later be annoyed that we didn't just put that money toward the actual thing we wanted and save until we could make it happen). So we generally try to avoid placeholder stuff. And lo and behold, this month we finally had enough cash in our jar to close the deal. But you know me, before I pulled the trigger I had to weigh a bunch of options. So here they are:
Contender #1: These guys were $129.95 (marked down from $144 each, with free shipping) from Joss & Main and came in the fun cherry tomato color that we loved. They're made of solid premium cedar and painted with polyurethane paint for protection against the weather, heat, and sunlight.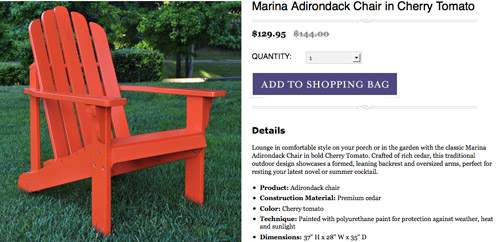 We knew we could always buy an unfinished chair somewhere and attempt to paint it ourselves, but with so many cracks and crevices we didn't want to end up with something that didn't look as good (and wasn't as protected in all those hard to reach spots where water could collect and cause problems). So chairs that came pre-painted by the pros with polyurethane paint for protection against the weather, heat, and sunlight definitely appealed to us as something that would hopefully stand the test of time. Just didn't want to spend less but end up with something that looked shoddy by next summer. I guess you could say that we're happy to save money on free/cheap indoor chair makeovers but worried that messing around with wooden outdoor furniture was more risky since they have rain/sun/other outdoor variables to contend with. But when it comes to metal outdoor furniture – we love a good DIY!
Contender #2: Next I found this guy for $289 – eeks! More than double the price. Back to the hunt.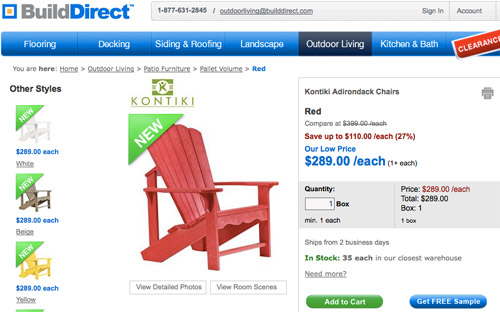 Contender #3: This guy on Target's site was on sale for $123 (also with free shipping), down from $174. But we didn't like the look of this one as much as the first one (it felt sort of squat/less classic).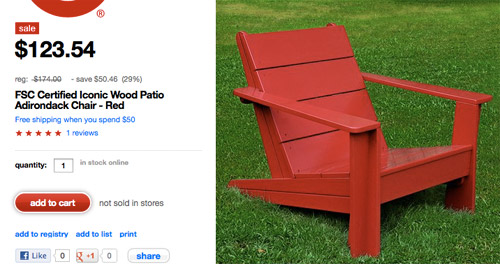 Contender #4: We also found this one at LL Bean but it was $299, so it wasn't our first choice either.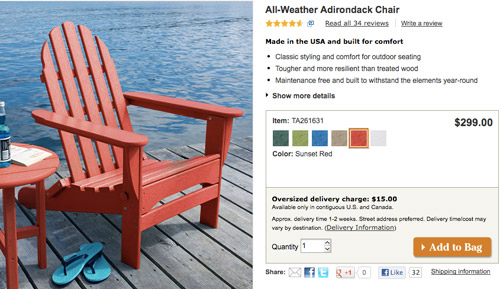 Contender #5: Then we saw this guy in another Joss & Main sale, but he was $250 (down from $339) and we actually preferred the $129 tomato red color for our little hydrangea complementing plan.
Contender #6: Ballard Designs also had a plain white or wood one for $299.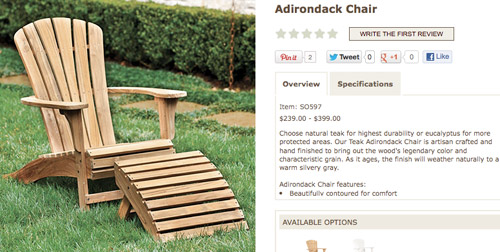 So that's how we found ourselves right back to our original find: Contender #1…
And about two weeks later, these guys arrived, and our little patio-furniture fund has officially been restarted (we still need other items out here, so we're just going to continue our $20 a month habit).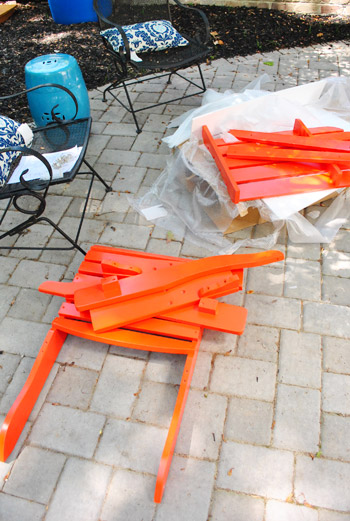 After "some assembly" we finally had our sloped back, wide armed adirondack lovies all ready for use. I know this might not be exciting for you guys, but it was kind of epic for us. We even invited John's parents over to see them. It was a full on viewing party for our adirondack chairs. There was oohing, ahhing, sitting, petting. All of it.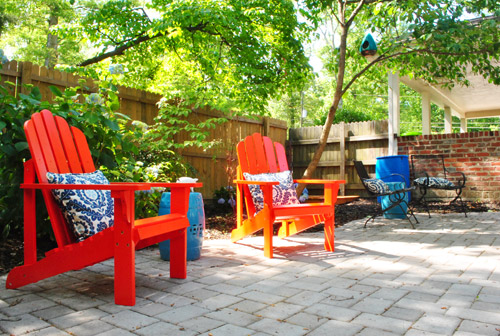 And sure enough, they look pretty perfect with these great balls o' flower.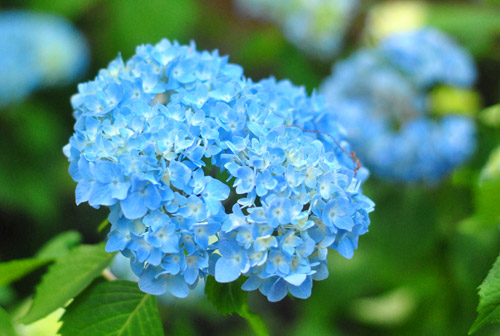 We're definitely far away from a fully furnished patio, but we're closer than we were before. Inch, inch, inch. We didn't even think about how nice these guys would look with the warm wood tones in the fence and Clara's rock box, so that was a nice accident.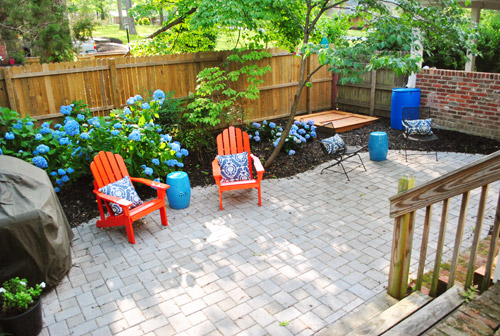 We're thinking we might start saving for a square woven outdoor storage ottoman like this next. Oh and see those blue garden stools? I got one at HomeGoods for $39 a month or two ago and loved it so much that I actually went back and grabbed another one last week (although the free black metal chairs that surround the second one – left by the previous owners – are only temporary). We really like how the blue stools tie into all the blue hydrangeas, and even the blue birdhouse in the tree (also a HomeGoods find from last year for $9). Heck, even the crazy blue rain barrel sort of fits into the scheme now. Haha. We can't wait for those newly planted hydrangeas on the right side (next to Clara's rock box) to grow enough to catch up with the 2-year old guys on the left. Once they're all nice and big it'll look even more garden-riffic back here.
So that's the latest on our little patio. Have you guys been doing any outdoor furniture buying or saving? Do you think it's crazy to pick chair colors based on flower colors? Or to have family over just to ogle some new chairs? Haha, it just might be.