We hope you are all enjoying your 4th of July! Yesterday we whipped up a little edible centerpiece in about fifteen minutes and couldn't wait to eat it (and share the pics with you guys of course):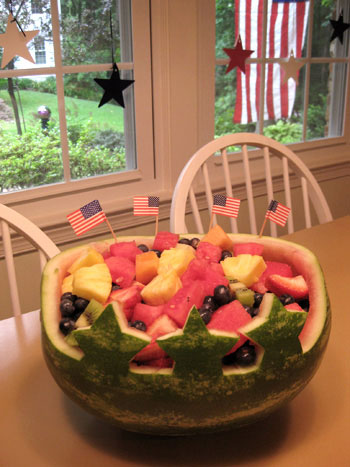 We were at John's parent's house when his mom found the recipe in one of her favorite cookbooks (Pillsbury: The Best Of Classic Cookbooks) and thought it would be a fun little project for us to take on. So we snagged a watermelon along with some pineapple, honeydew melon, cantaloupe, blueberries, and strawberries and got down to business. The first step was cutting off the top third of the watermelon (tip: you may have to even out the edge a bit if your cut isn't perfect from the get-go; also it's best to pose like a serial killer):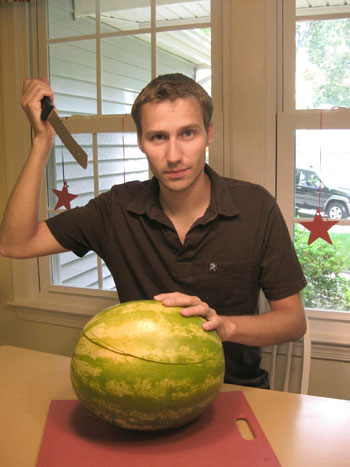 You may also have to cut a small slice off the bottom of the watermelon to ensure that it sits on the table without wobbling (we skipped that step because ours was miraculously a bit flat on one side). Then you cut out hunks of watermelon (eating a few as you go is mandatory) and hollow it out until it's about two thirds empty. Here's John making long criss-cross cuts: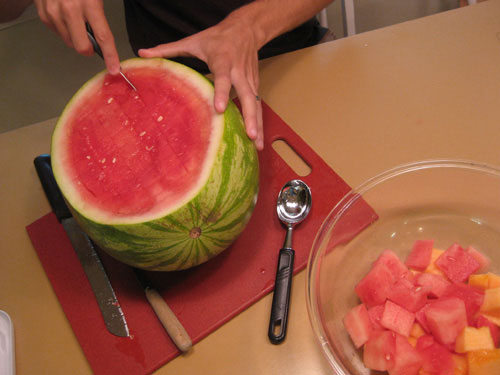 We also took care to thin the sides of the watermelon with a melon-baller for a clean and bowl-like effect, so once we dumped hunks of tasty fruit back in it would look like a little basket of goodies: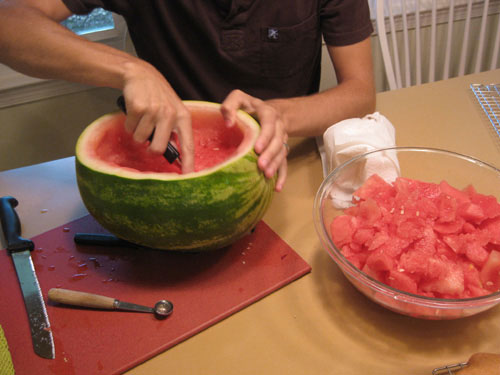 Then came the detail work to create a quick little decorative star trio on the front edge. John's mom happened to have a star-shaped cookie cutter on hand, so we used that along with a toothpick to pierce the watermelon in the five outer corners and four inner corners the of the star so we could remove the cookie cutter and use the holes as a guide to cut out three partial star shapes along the rim: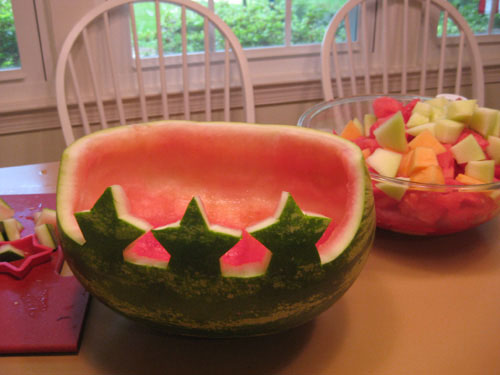 Then we just filled our patriotic little watermelon back up with fruit for a deeelicious and delectable result.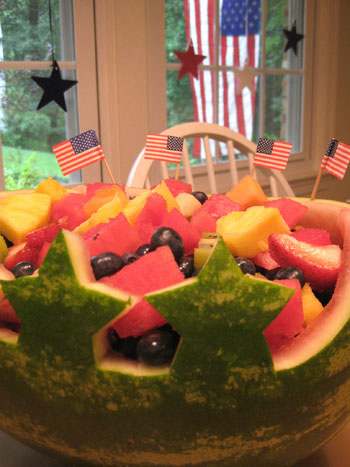 We also took the liberty of sticking a few small toothpic flags that John's mom had laying around on the back rim for even more yay-USA flair. Here it is all set out on the middle of John's parent's table just waiting for lunch guests to dig in: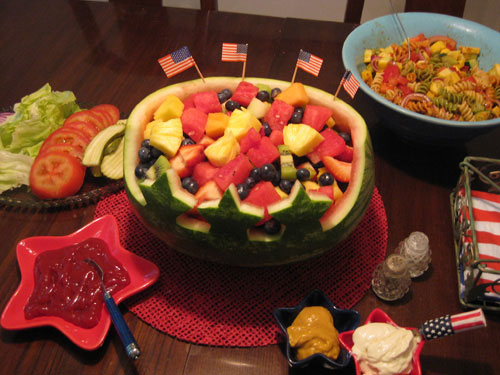 John's parents had some pretty fabulous company so our centerpiece wasn't just for our enjoyment. My very best friend Cat (who married John's cousin to become a bona fide family member- as seen here) came over with her hubby Travis and their new baby in tow! Born just five days earlier, Elsa Kelley is a doll. Happy 4th of July little Elsa! Sorry you couldn't enjoy a bit of fruit with the rest of us.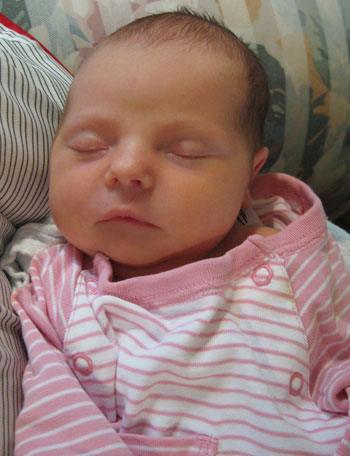 And our baby got into the 4th of July spirit too. Just look at him hanging out with his red, white, and blue buddy: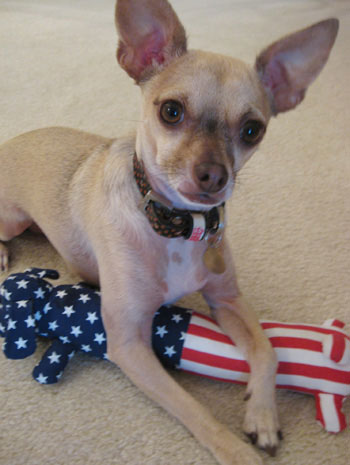 Happy 4th to you and yours!