Updated 2019
With Thanksgiving around the corner, we thought it would be nice to adapt Sherry's daily gratitude journal habit for a fun holiday craft for the whole family. Rather than keep the things we're thankful for stuck in our heads or on the page of a journal, what if we put the practice on display during the month of November? Who knows, maybe it will even inspire more gratitude!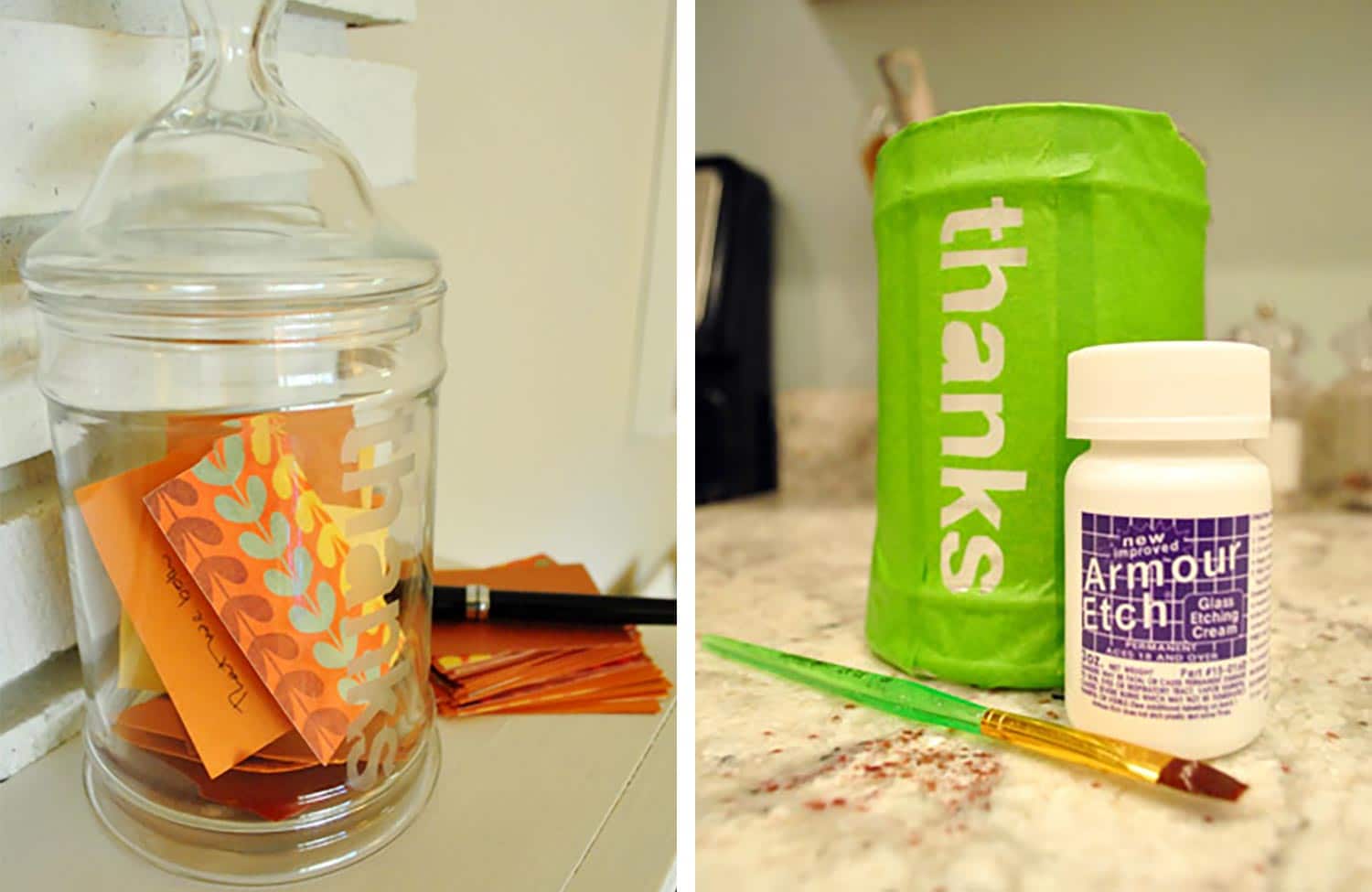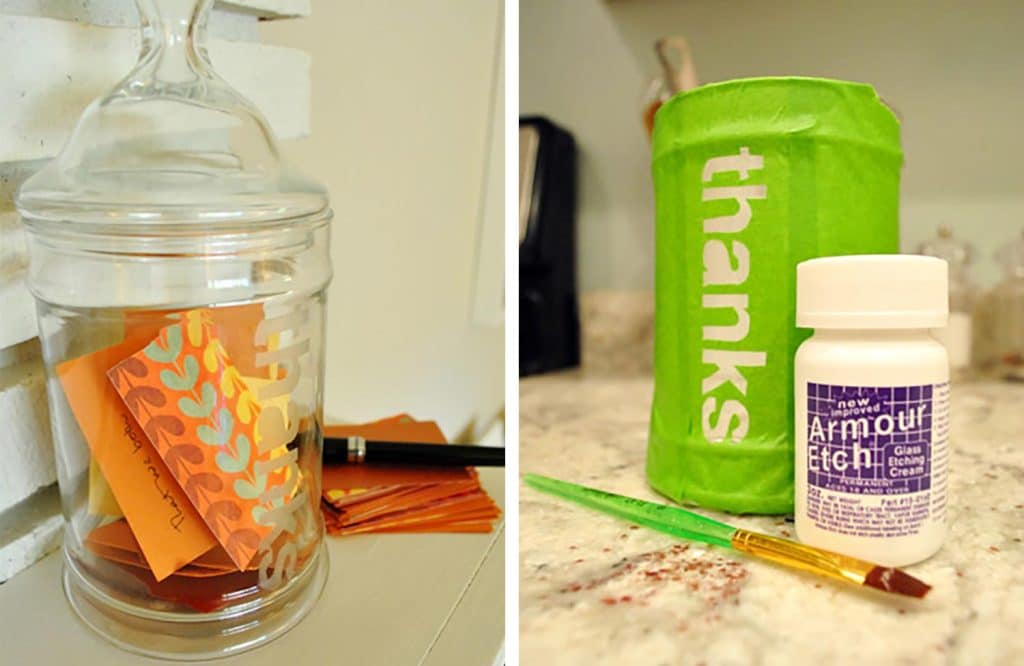 Craft Supplies To Create Your Own "Thanks Jar"
We got this idea after scoring this awesome 99-cent apothecary jar from the thrift store (it was originally $1.99 but we scored it during a 50% off glassware sale). But you can use any glass vessel you choose, even a regular drinking glass or flower vase!
Small glass jar
Small paintbrush
Craft knife
Printer and printer paper
Painter's tape
Colorful cardstock cut small enough to fit in the jar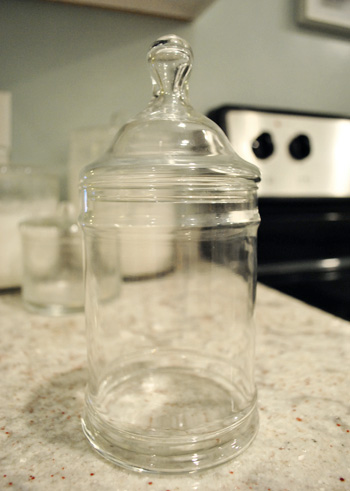 Obviously you can also create a Thanksgiving "Thanks Jar" without etching your glass vessel, but we've been itching to try a glass etching craft ever since seeing this one on How About Orange.
Step 1: Design & Print Your Stencil
We ever-so-creatively (kidding) decided that we wanted to etch the word "thanks" on the base of our jar. So we used our computer to print it out on paper in a simple, blocky font (Helvetica) that was sized perfectly to our jar. You can create this in any word processing software (even a draft email!) just be sure to keep the design simple and stencil friendly.
Step 2: Tape Your Stencil Over Painter's Tape
Since we really need to stick our stencil tight to the glass, we first had to transfer the design from paper to painter's tape. So we taped a thick section of green painter's tape to a cutting board and then scot taped our "thanks" print out over it. I promise this will make more sense in a moment.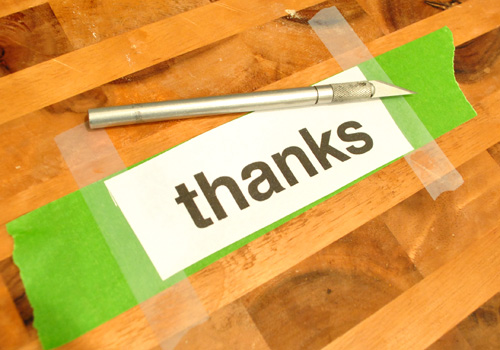 Step 3: Cut Out Your Stencil
With everything taped down, we used an Exacto knife to cut out our letters one by one. Be sure to go deep enough to cut through the painter's tape too. We decided not to be picky about preserving the hole in the "a." But we did crack up when Sherry said "I don't think we need to save the a-hole." I know, we're like fifth graders over here.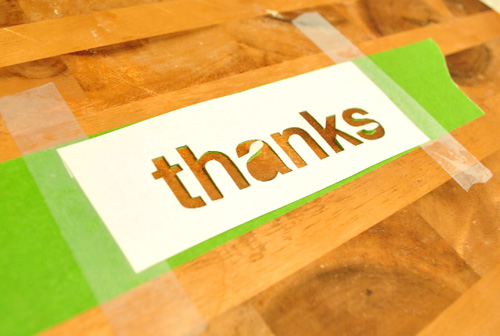 Step 4: Apply Your Tape Stencil To Your Glass
With the "stencil" cut, we then disposed of the paper print-out guide and slowly peeled the painter's tape from the cutting board, being careful not to rip the tape or let it stick to itself. Once it was safely off the cutting board, we stuck it right onto the glass jar. Ta-dah! Tape stencil mission complete.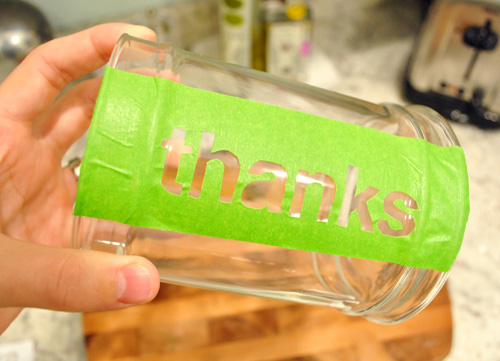 The hump in the "h" got a little wonky, but other than that we were pleasantly surprised by how well our makeshift stencil was holding up. And with a couple more strips of tape on the sides (just to be safe) we were ready to apply the etching cream without having to worry about getting it in the wrong places.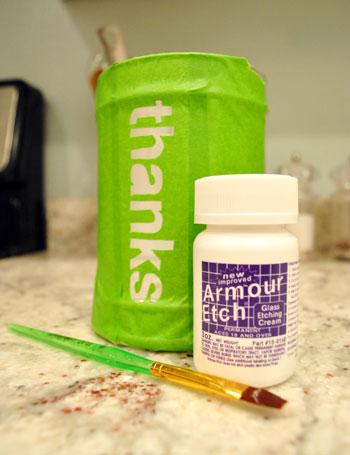 Step 5: Brush On Your Glass Etch Cream
We picked up this Armour Etch cream for $6.50 at Michael's (thanks to a 50% off coupon) and broke out this tiny paintbrush to apply it over each of the cut-out letters. The painter's tape does the job of not letting it seep behind the letters.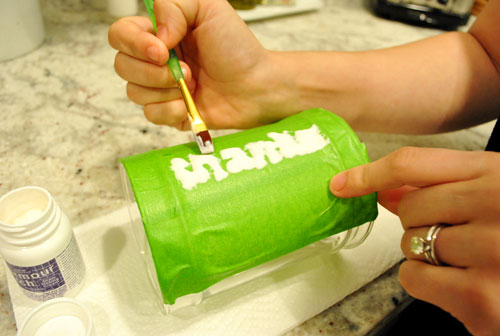 Step 6: Wait!
The instructions made it unclear how long we should keep the cream on (since that depend son your "stencil" material). But since our tape wasn't as durable as a vinyl stencil might be, we kept a close eye on the backside of the tape through the glass. We noticed after about 90 seconds that the edges of the tape weren't looking as crisp as they had been (the etching cream was probably slowly degrading the tape). But the longer you leave it on, the deeper your etch will be.
Step 6: Rinse Off Cream & Remove Stencil
After letting the cream work its magic for about 1.5 minutes, we washed it off in the sink and removed our tape stencil. We had a tiny smidge of bleeding between the "k" and "s" but otherwise it worked out beautifully!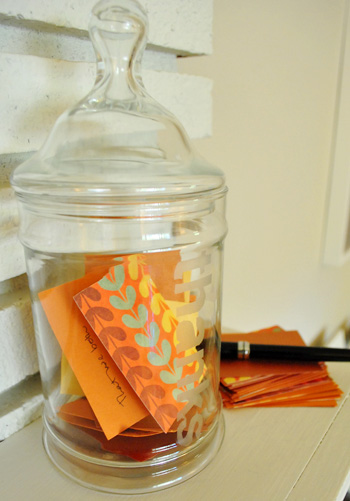 Step 7: Starting Filling Your Jar With Gratitude!
Sherry cut out several small notecard from Fall-colored scrapbooking paper from Michael's. Our goal is to write one per day all month long so by November 30th we'll have accumulated sixty notes of gratitude. Oh, and we have a no peeking policy so we won't know what each other has written until the end of the month! That should be a fun little family reveal.
"Thanks Jar" Update
Want to see what we ended up writing? Here's are the results of our inaugural "Thanks Jar" Thanksgiving tradition.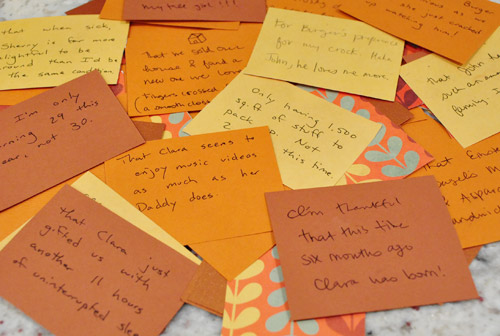 BONUS: Save Your "Thanks Jar" Notes
We're also thinking at the end of the month we'll punch holes in the cards so we can store the collection on a ribbon or a binder ring. That way when we break out our "thanks jar" next year we can relive all of the things that we were grateful for in 2010 and create another collection of things we're thankful for that year.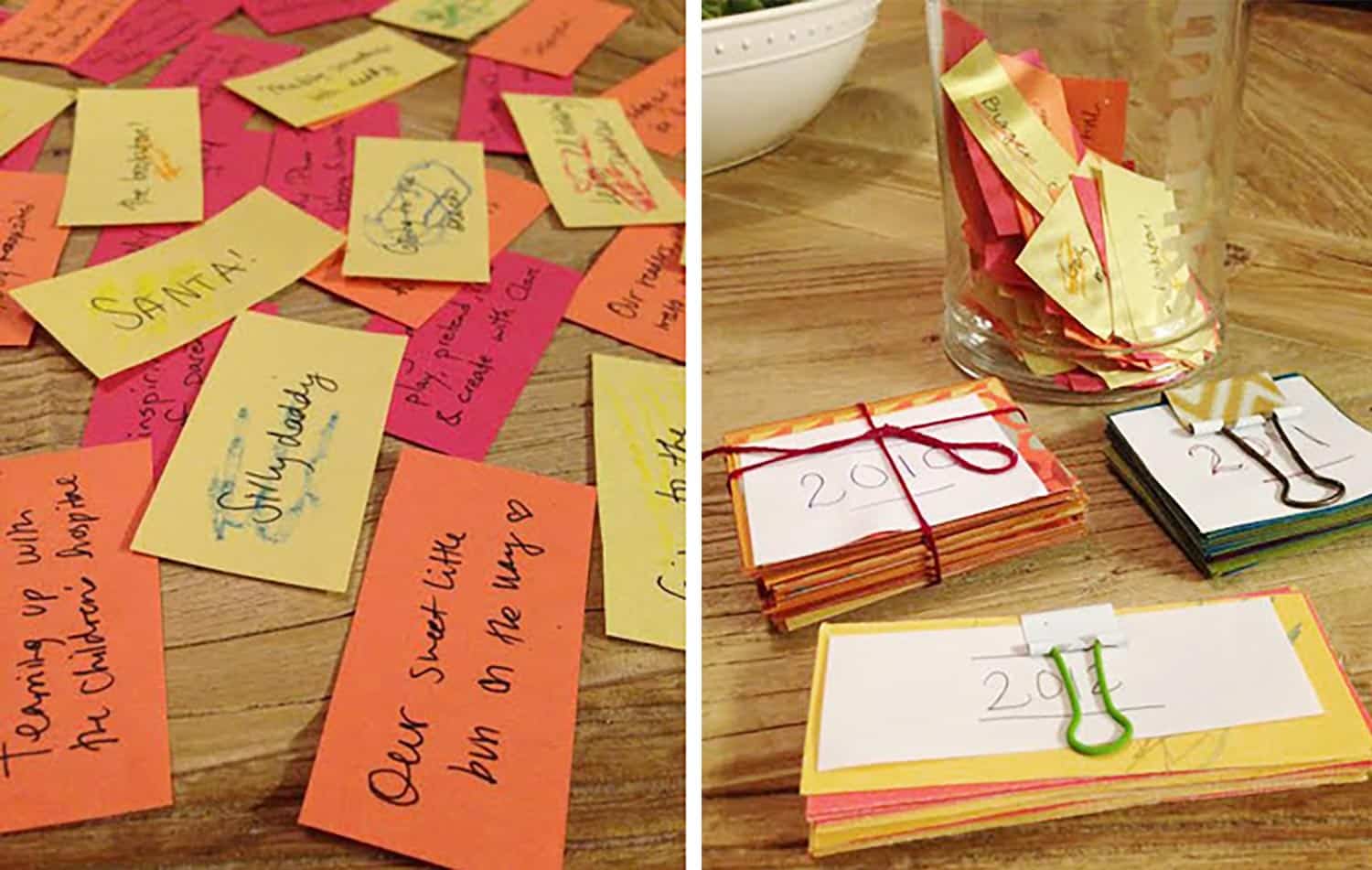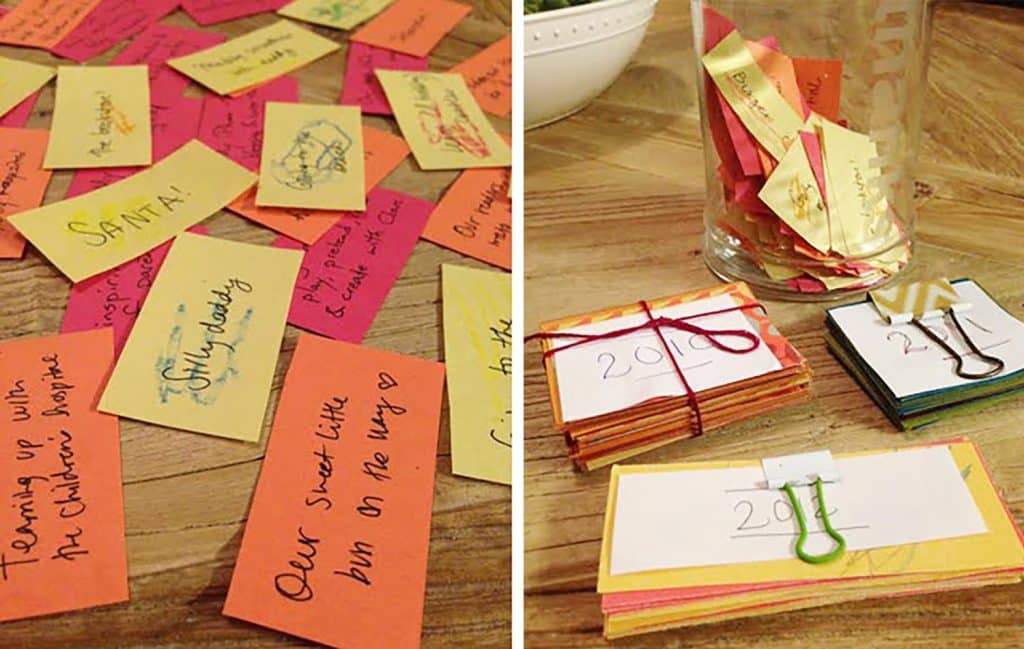 Who knows, it could become a great little family tradition with Clara and future kiddo(s) adding their thanks to the pile when they're older. And we love that we'll have a yearly account of everything that we're grateful for. Kind of like a diary, but less high maintenance since we only have to scribble one small thing down each day for a month.
Update: Our Continued Thanksgiving Tradition
We did end up keeping this tradition for several years and even blogged about it several other times, along with other Thanksgiving crafts and traditions we undertook. Check them out here: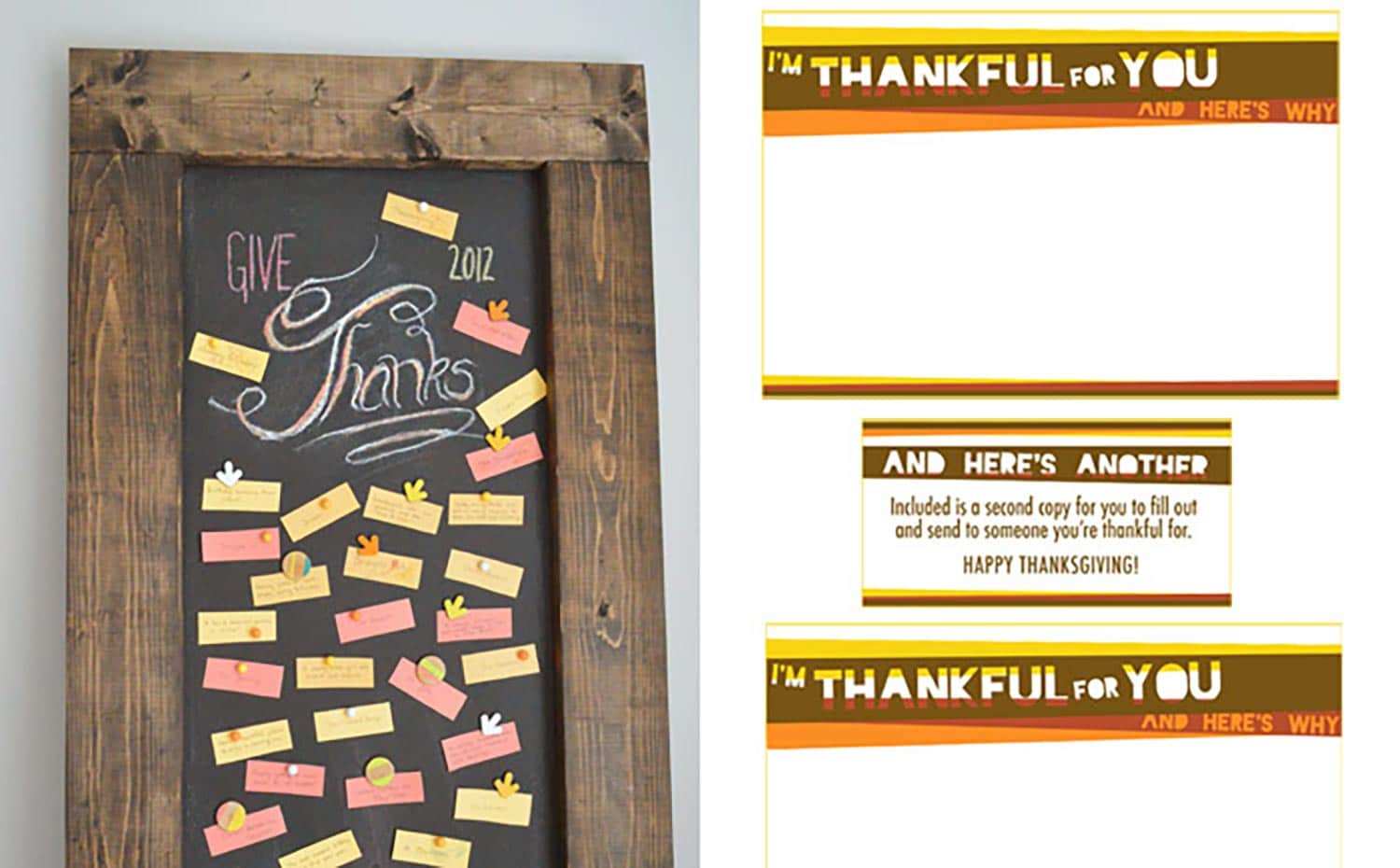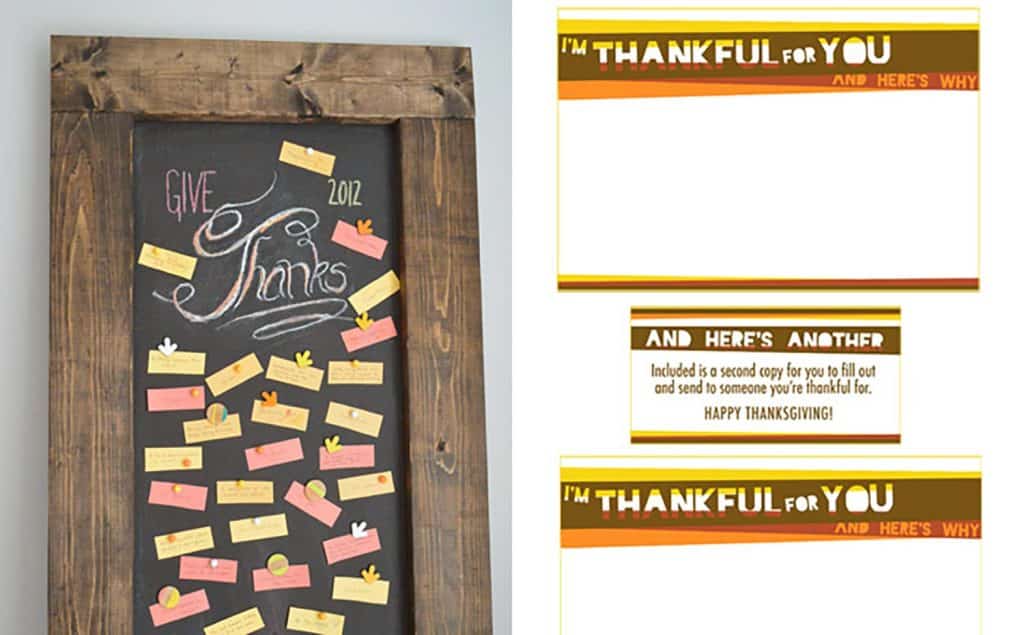 Do you guys have any fun Thanksgiving traditions? Any glass etching stories of success or horror? An acute attraction to printed scrapbooking paper like my wife? She can't be the only one who geeks out in the paper aisle.
Update: You can check out all of our favorite holiday decor finds here – many of which are under $15!