Many people have requested a few photos of my old office in the corner of the den (that's what we call our informal living room) so I'm here with the goods. Before we created our office/guest room/playroom this small "corner office" was where I worked full time. Here's what it looked like back then with the old printer and a few file boxes along with my trusty laptop: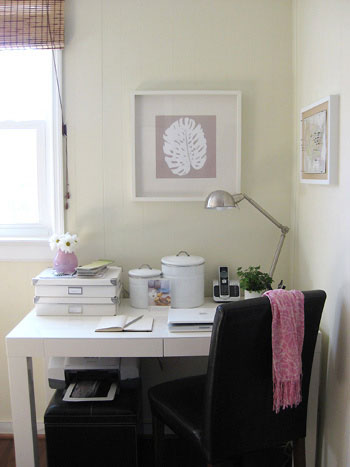 We decided to keep the desk around as a place for letter writing and web surfing during the weekends (when we don't want to be holed up in the office). We also think that eventually it'll become a great place for Clara to draw and do homework while we cook/hang out nearby since it's part of the living area. Here's what it looks like now: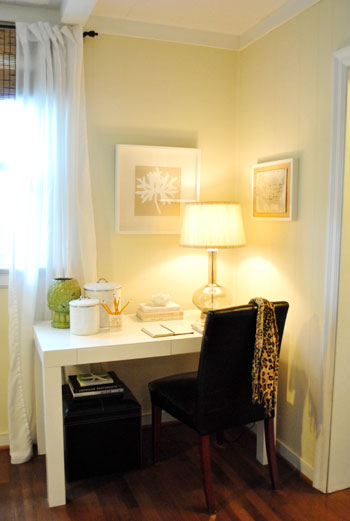 It doesn't really look that different from my old full time office of yore, other than the fact that we didn't need the phone or the printer out in the den anymore (since we upgraded to a wireless printer in our new home office). And a lot of the boxes and other office-y stuff could also be removed.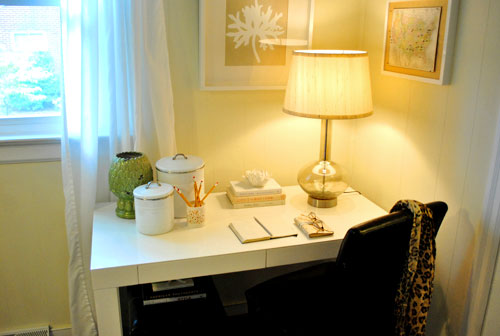 Oh and we switched out our homemade botanical leaf print – just for fun. I've always had a thing for the coral leaf that's in there now, although the palm one was fun while it lasted.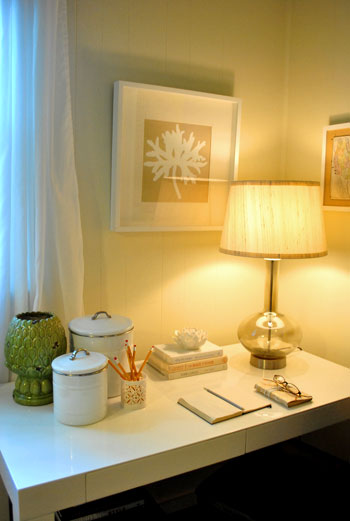 Oh and the old desk lamp moved into the office and our beloved gourd lamp took its place (it used to live on the side table back when the office was a full time guest room). You know we're all about working with what we have and moving things around from room to room so it was a fast little switcheroo.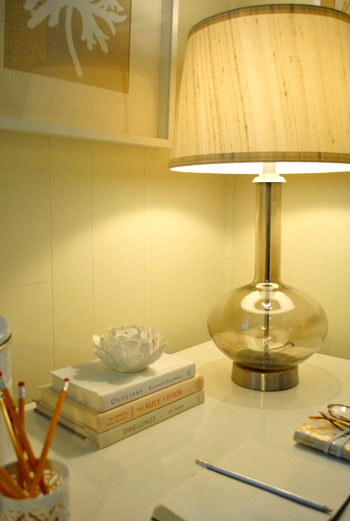 Sure it's huge, but we love the oversized silhouette, especially because it creates some nice balance in the den since it's the same height as the floor lamp with a similarly shaped drum shade across the room. And isn't it amazing how much warmer it makes that corner feel thanks to the soft creamy light that it casts? We love turning it on at night and watching TV with it glowing in the corner. It's also worth noting that all the after photos were taken with our new camera so that might also add to the ambiance that we're finally able to capture.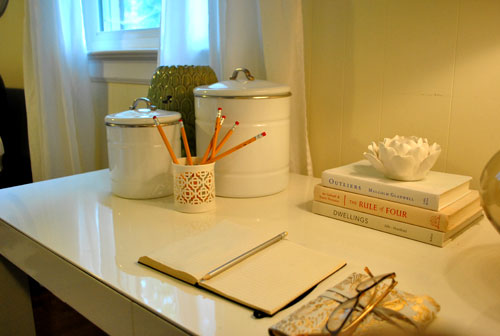 So that's what became of our small full-time office-turned-part-time-casual desk. Do you guys have a desk in a living area that you use for writing cards, laptop surfing, kid art/homework, or anything else? Do tell.
And while I'm at it I'll share a personal little morsel about that gold & white notebook in the foreground above. That's actually a sweet little leather bound notebook that I scored on clearance from Anthropologie. For the last two years I've been using it as a gratitude journal. I know it sounds corny, but jotting down a few things that I'm thankful for every day really helps me remember to appreciate all of the little (and big) things that make me smile- so I don't take anything for granted. I highly recommend it! Anyone else out there with a gratitude journal? I never could stick to keeping a diary, but listing a few things that make me happy each day is so much easier.
Psst- Wanna see the rest of the den? Click here for an update about our new rug.