For the fourth year in a row we've filled up our little thrift store jar that we etched with the word "Thanks" back in 2010 (you can read how we made it here). So before everyone dives headfirst into the gravy bowl (what? that's not a thing?) we thought we'd stick with the annual tradition of sharing a few glimpses of some things that ended up on the list this year.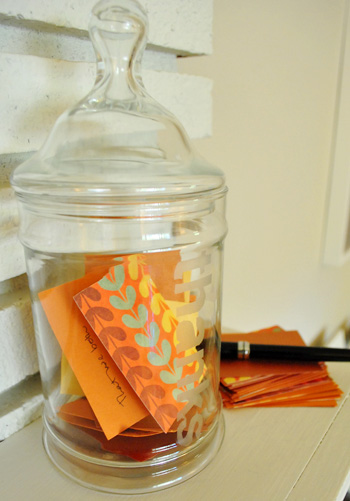 Spoiler alert: one of them's you guys. So let's just pause for a moment so I can tell you how good your hair looks and how nice you smell and how flattering that shirt is and most of all, how grateful we are that you drop in on our blog.
This past year has been insanely wild and wonderful: moving into a new house, a new baby on the way, a whirlwind book tour, working on a showhouse for Habitat For Humanity, hearing Oprah say our names. Look, I'm so ver clempt I didn't even use parallel structure for that list. We just don't have the words to explain how amazing and completely unexpected this little blog journey has been. We never could have dreamed that first post in 2007 would ever lead to this life, and I'm so so thankful that my techie hubby was all "let's start a blog for fun" and I was all "a what? that sounds nerdy."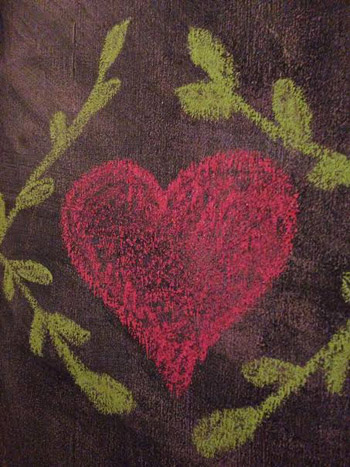 Anyway, I'm rambling. Back to the "thanks jar" tradition. For anyone who needs a refresher, every year since 2010 we've each stuck a piece of paper in it every day during the month of November with a different thing that we're grateful for. You can see a few things that made the list in 2010, 2011, and 2012. This year was even more special because Clara is so articulate and color-happy that she got to dictate every single one of her card to us, and had fun coloring each one as she went along (last year there was a lot of us asking "are you thankful for… books?" and this year she came up with each item all on her own). Plus there's a card where she drew me and my head looks just like a football. Priceless.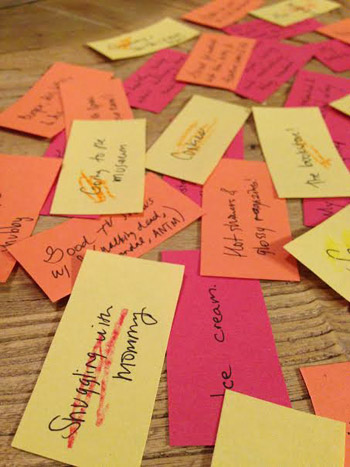 This year we also tried a new color system. Instead of everyone picking a randomly colored card each day, Clara's are all yellow, mine are all orange, and John's are all red. So when we flip back through this year down the road, the colors will clue us in on who's "talking" (sometimes our chicken scratch starts to blend after staring at a ton of tiny pieces of paper).
Some of our favorite things that Clara listed were:
Making smoothies with daddy
Santa! (a holiday crossover)
Legos and building really biiiig castles with mommy
Going to the beach
Grammy & TomTom and their toys
Playing in my box crib (we currently have a giant refrigerator sized box in our living room and Clara fills it with animals and toys and basically wants to live in there)
Meanwhile, John and I had some funny overlapping ones (we both specifically shouted out The Walking Dead, iPhones, and the mighty miter saw).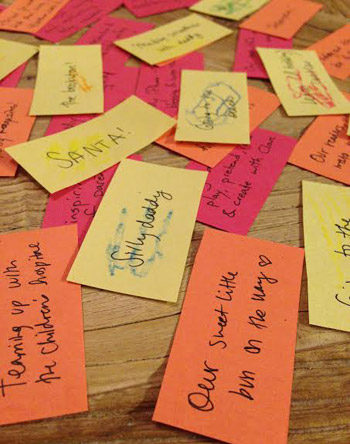 Every year at the end (usually Thanksgiving Eve or Thanksgiving Day), we open the jar to read them all together – and we also go through the batches that we've saved from the past years. It's sweet how they freeze time and remind us of things we'd never remember otherwise (old shows we watched that have since been canceled, places we visited, "hot" songs that we loved that have since been completely forgotten, weird inside jokes). I love that we'll always have them to peek back on.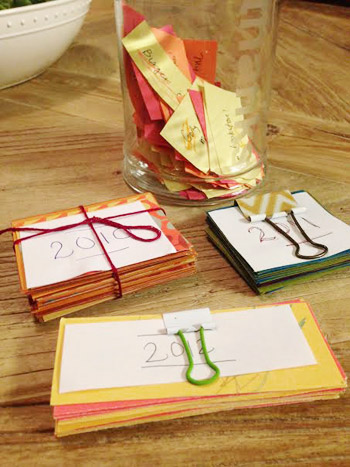 Sheesh, and to think my original plan for this post was just going to be typing "Happy Thanksgiving" with this cute chalkboard pic and letting you guys go eat your stuffing in peace. I'm going to go ahead and blame the hormones. They make you wordy, right? No. Then maybe it's the smell of cookies baking (they make me delirious). Can't. Stop. Talking.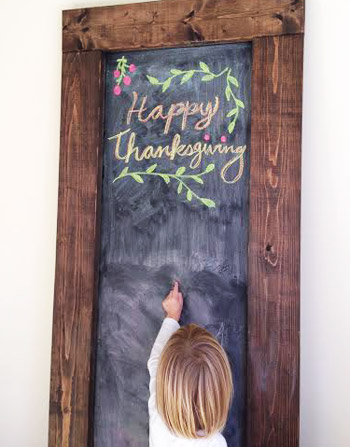 We hope you all enjoy safe travels, good food, loving company, and weird dreams about Bound 2 a nice post-dinner nap. We'll be spending the holiday with the fam along with diving into some kitchen stuff and a few Children's Hospital projects that we can't wait to share with you when we come back (three pounds heavier).
More Thanksgiving Crafts & Traditions
We love celebrating Thanksgiving in our home, so check out some other holiday crafts and traditions here: