When Jessica sent us her before and after kitchen photos we couldn't believe she and her hubby stretched their $400 budget so far. Here's her letter:
I'm always inspired by what I see going on at your pad! My husband Josh and I recently took on a cheap-o kitchen makeover and found that $400 goes a very long way toward bringing an 80's kitchen into 2010. That budget covered paint, an electric sander, a jig saw, hardware, primer, Liquid Nails, "real" nails, and beadboard- which is all it took to really transform the space. The "before" picture was from before we moved in, so please excuse the terrible light fixture and furniture. We really hated the fake wood paneling under the bar and around the sides of the cabinets, so we covered it with beadboard that we then painted white. It was easy to install (especially since we had the wood cut at the store & borrowed a tack gun) and it's definitely our favorite part of the entire makeover. As for our paint sources, the green is Benjamin Moore's Mountain Lane and the white is Sherwin William's West Highland White. Oh and there's more info about the whole kitchen redo on our blog. Our next step is a nursery (we're adopting a baby from Russia) and I can't wait to see how yours turns out! I'm sure I'll get some great ideas. Thanks for all you do! -Jessica (& Josh)

Here's their kitchen before the big overhaul: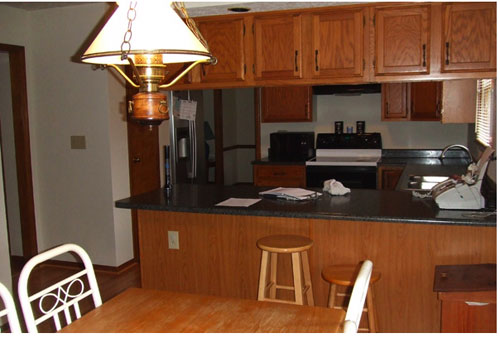 And here's the same space after just $400 worth of upgrades: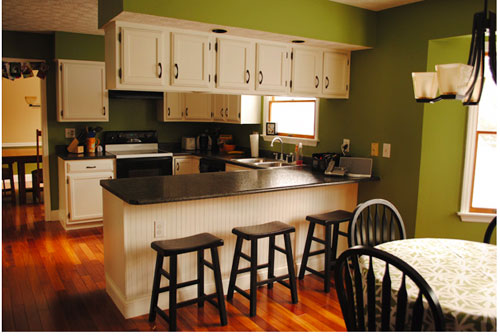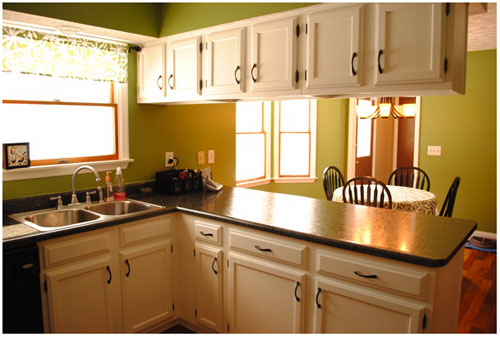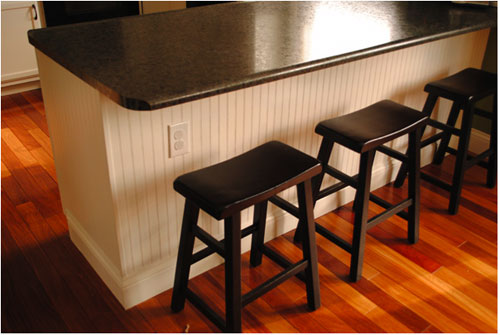 Isn't that amazing? We love Jessica and Josh's infectious DIY spirit and we totally appreciate that they weren't afraid to use some bold color and a little creativity (in the form of beadboard and paint for those cabinets) to cover up the things that they didn't like and draw attention to the features that they wanted to highlight. What do you guys think? Are you itching to paint your walls a bold color, overhaul your cabinets or tack up some beadboard? We definitely love that not every kitchen makeover calls for several thousand dollars of work and tons of hired help. Inspiring!
Psst- Looking to paint your cabinets like Jessica and Josh did above? Here's a quick and easy tutorial to help you get 'er done.