We recently mentioned our trip to Charlotte, North Carolina when we explained how we DIYed a few faux sheepskin throws for our house. And now we're back to share more of our road-tripping details. We dropped in on a slew of fun fabric and decor stores (and snapped photos of a ton of inspiring ideas as we went) so here's a little virtual play by play of what we liked along the way.
We already mentioned that we swung through Mary Jo's Cloth Store, which is basically the biggest and most insane fabric store that we've ever seen. It's actually a gigantic 32,000 square foot warehouse full of about a million bolts of fabric (we're talking about a football-stadium-sized holy grail of textiles) and it's located right outside of Charlotte (just off of 1-85 at exit 21). All I can say is that if they don't have it there, nobody does. Plus their prices are fantastic. We saw designer prints marked down to $10 a yard that go for $19 a yard here at fabric stores in Richmond. Yes please. Here I am among the rows and rows (and rows) of stacked fabric bolts with my cute friend Kristin who showed us around town (remember when we crashed her house for you a while back?).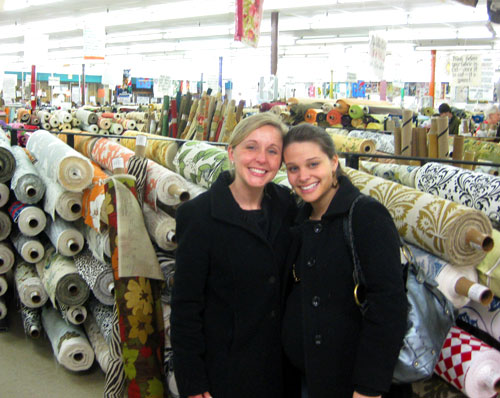 Seriously, you think I'm kidding when I say that there are literally like a million bolts of fabric just stacked on top of each other- some nearly as tall as me. I felt like Alice in Wonderland- and it was my kind of rabbit hole.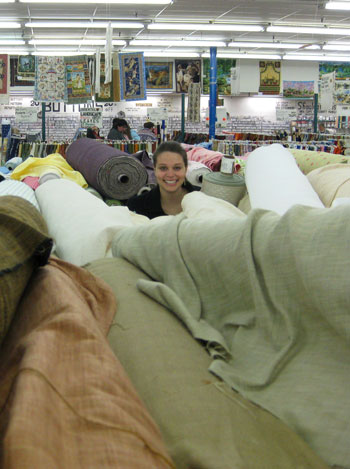 And while we already shared that we picked up a yard of faux fur for our fake-o sheepskin project, what we didn't reveal was that we also got a yard and a half of fabric for the nursery. See, there's actually about a foot of space between the crib mattress and the drawer beneath it, so we thought a nice band of removable fabric would be a great way to bridge that gap (and keep people from being able to peek down into the contents of the drawer). It was as easy as taking a leftover swatch of our trusty curtain fabric with us (see it below on the left) and holding it up to a lot of potential textile choices until we settled on the delicately patterned nubby fabric that you see there in the middle of this picture: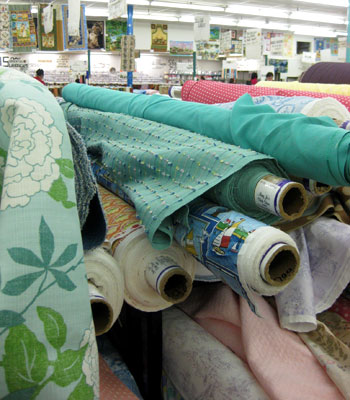 We knew it wouldn't ever be right up against our curtain fabric, but wanted to be sure that we didn't get something too busy that would compete. But it would be up against our crib sheet, so we hunted down a bolt of solid turquoise fabric to approximate that color- just to see how they'd look together (see it to the right of the patterned fabric we picked for the skirt in the picture above?). We really loved how the slightly more saturated and solid turquoise tone (which is extremely close to our crib sheet at home) worked with the subtly patterned lighter teal fabric that we'll be using to make a crib skirt. So that's how we settled on a taking home a yard and a half of that pretty nubby fabric (for just $14) along with a yard of our faux fur sheepskin stuff (stay tuned for our crib skirt making tutorial coming soon, or check out this alternate method to tide you over).
Next we headed to a place that we've only been once before: a Pottery Barn Outlet (cue the sound of angels singing). This one was just south of the North Carolina border in Gaffney. And the funny thing is that we had actually been to this exact same store during our big Texas road trip last year (check out those hijinks right here). Here we are with all of our loot out front, but first let's go inside and have a little look see…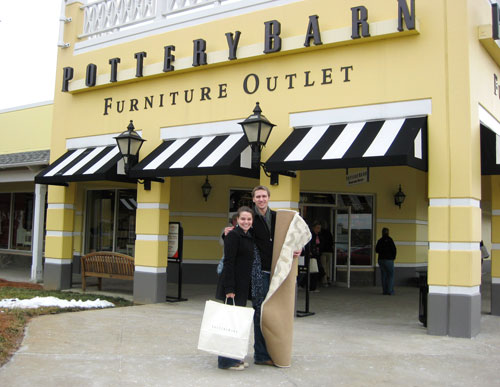 You may have noticed that we were holding a rather large (5 x 8 to be exact) rug in the photo above. Well, when we saw this amazing tan on cream link-patterned wool rug (marked down from $429 to $129.99) we just had to take it with us. We actually have another big room makeover on the agenda after the nursery (surprise!) so you'll have to stay tuned to see where it goes and what else we'll be bringing in to go with it…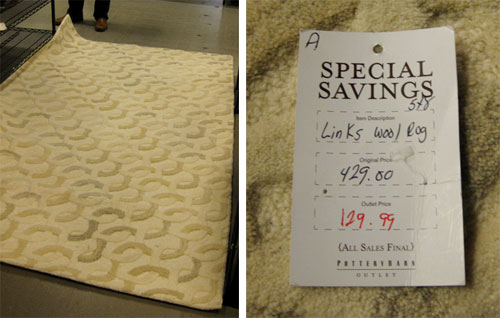 We also fell in love with a ton of amazing lighting options. Too bad we didn't have a place for either of these fixtures, but the rough woven texture of the light on the left and the soft ceramic patterned pendant on the right really had us at hello.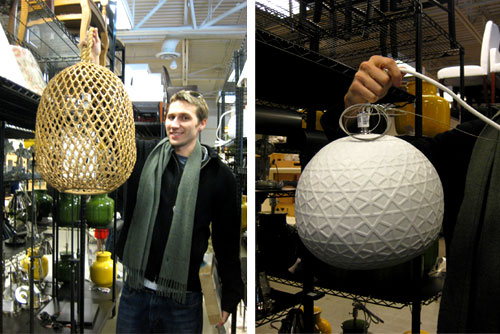 We were also extremely inspired by their framing options (especially with all those red sale stickers on them). So much so, that we grabbed the two large woven frames on the left (for just $16 and $12). You can't really tell how big they are but they're nice and meaty- and the grasscloth texture just slays us. We also saw the cute frames-within-a-frame on the right and thought it was a great DIY idea. Grabbing twelve small frames at a craft store like Michael's and hanging them within a larger burlap-backed frame is such a fun way to layer textures and create a great grid-like accent. And you can frame anything from small scribbles made by your kiddos or collected matchbooks or skeleton keys to black and white photos of friends and family. We just loved how unique and do-able the idea was.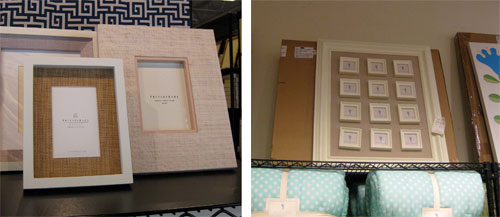 Then we headed back to Charlotte where we stopped at the Sleepy Poet Antique Mall. This place is another gigantic warehouse, but instead of being filled with fabric like Mary Jo's, it's packed with antiques and collectibles as far as the eye can see.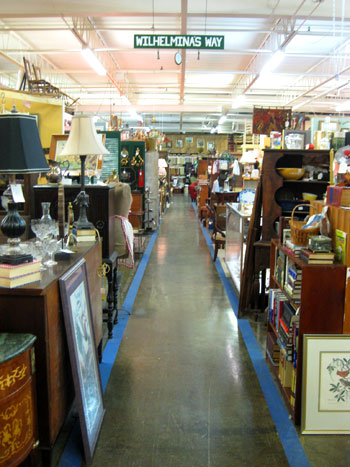 Here are just a few of the things that caught my eye along the way. This mustard ceramic artichoke would make a pretty cool bookend- and that large woven basket would be a great spot to wrangle toys in a nursery or blankets next to a sofa.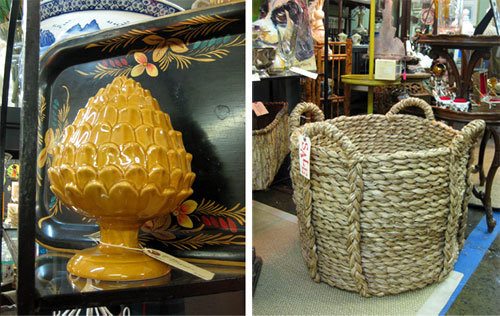 We also loved these nesting tables (just $60 for all three!) and the booth on the right was full of chic lamps, chairs and accessories that felt oh so Domino to us.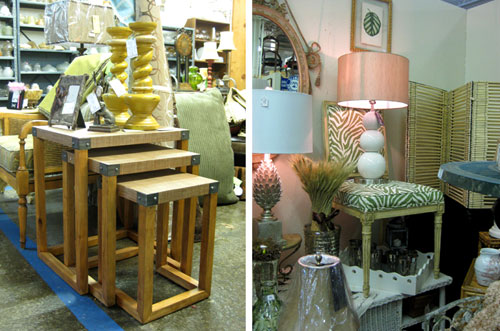 Next we stopped at one of the most amazing and inspiring decor places I've ever stepped foot in. And it just happened to be geared towards kids rooms and nurseries. But there was nothing cheesy or unsophisticated about it. Lucy & Co was founded by a woman named Beth who adopted her daughter (named Lucy) and was so inspired by children's spaces that she decided to start her own little design boutique.
And let me tell you, the woman is a genius. We actually got to hang out with her (and swoon over some photos of her daughter Lucy) and we just couldn't believe how creative she is. See the window treatment on the right in the photo on the left behind that amazing butterfly mobile? It's actually a simple wooden cornice box that Beth completely covered with rows and rows of white pom-pom trim (you know, the kind you can put on lamps or pillows?). And she did it all by hand with a regular old glue gun. Amazing, right? And let's turn our attention back to that yellow mobile with what look like swarms of yellow butterflies fluttering around. We were so inspired by that concept that we're actually going to adapt it for our nursery (using thin floral wire and small blooms) so stay tuned for that.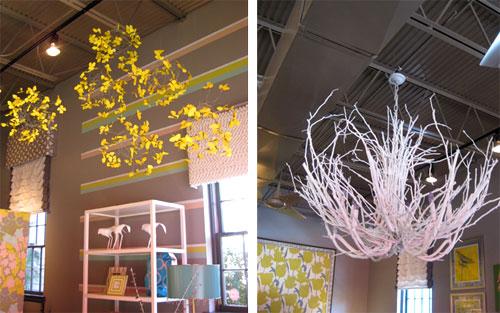 Meanwhile on the right in the photo above you'll see the awesome twiggy chandelier that she made with branches and white spray paint wired around a more traditional ceiling fixture. Pretty fabulous, eh? It actually reminded us of the chandelier that our friend Katie Bower had in her little boy's mood board so we snapped this photo just for her.
We also couldn't deny that Beth's bold fabric pairings and murals were pretty darn fantastic. Check out this painted wall that she created after being inspired by some fabric that she found for that long pillow that rests on the foot of the bed.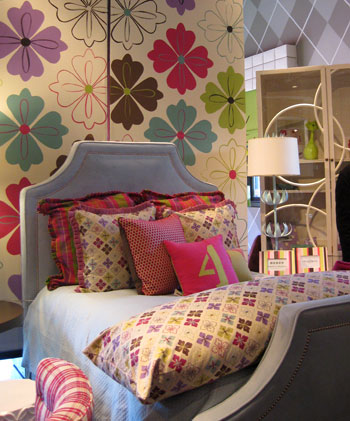 And speaking of that long pillow, Beth confessed that she didn't want to spend a ton of money on that fabric to create a real duvet that she could fold at the foot of the bed so she just made a long plush pillow to act as sort of a faux-duvet. We actually love this "accident" because we can picture many a child loving that giant pillow (for sitting on the floor and reading, pillow flights, snuggling in bed, etc). She's amazing I tell ya. Head over to her site to check out more stunning spaces.
We also hit up a slew of other stores (namely a few baby ones like Nesting and Shower Me With Love) where John got to do what he does best. Pose with ironic items. On the left you can see him trying on "My Brest Friend" (it's sort of like a Boppy) and on the right he's in Home Goods holding the weirdest ceramic animal we've seen yet. Yes that is a cat with binoculars.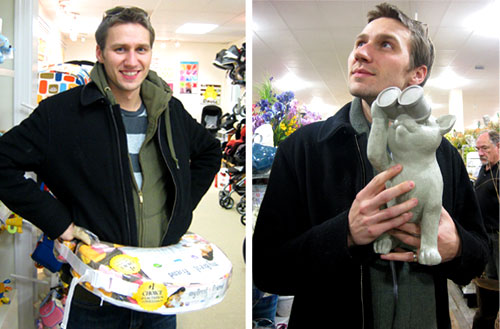 On our way back home we headed over to one last shop, the Mitchell Gold + Bob William's Factory Outlet, right outside the Hickory Furniture Mart. We didn't exactly need any of the amazing on-sale sofas, armchairs or sectionals that they have in every square inch of their spacious shop (nor did we have a vehicle that would accommodate any of 'em, which is part of the deal- you buy things right from the floor and cart them home yourself). But we did have a ton of fun trolling each of the many furniture-stuffed rooms to see what they had and how much of a markdown they were offering (many sofas were under $900 and some arm chairs and dressers/coffee tables were as little as a few hundred bucks).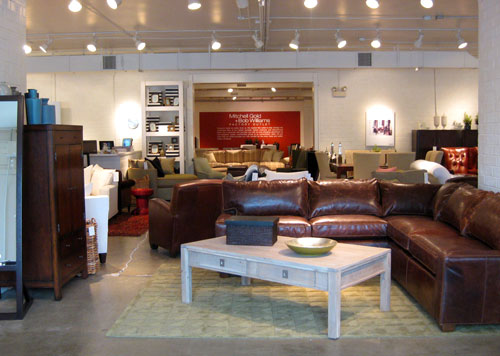 This is one of our favorite sectionals they had on display. Can't you just imagine this in Brad and Angelina's house with a million kids on it? So cozy for a spacious den or basement media room in a house with a giant family.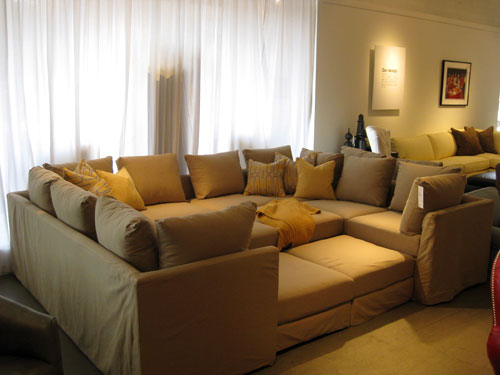 And here's a gorgeous solid wood 9-drawer dresser for $325 on clearance. We thought that was definitely a great price for such a well made and timeless piece that could work in a dining room as a buffet or in a bedroom for clothing storage.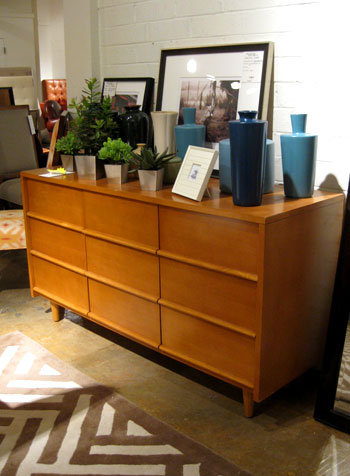 So there you have our long-weekend-whirlwind-road-trip through Charlotte from a few weeks back. We hope you enjoyed the virtual ride. And who knows, you might just find yourself visiting that area someday and now you have a little list of places to hit up. Have any of you been to these stores? Anyone from the area with other shop recommendations for us the next time we're in town? Anyone longing for that cat sculpture with binoculars for their garden? Do tell.
Psst- Looking for our closet organizing update from this weekend's "Let's Tackle It Together" challenge? We're still in the process of uploading pics and writing the post- so stay tuned for those details tomorrow afternoon.