There are definitely some projects that we've taken on (and hired out) along with a few accessories that we've brought home that stand out in our mind as particularly worthwhile, especially because they were all around $100 (some much less, some a bit more) and they made a heckova difference in our casa's function and form department. Without further ado, our top ten list:
1. Widening the two doorways between the living room, the kitchen and the den (we paid a mason around $100 to help us with the den wall since it's load bearing and had an electrician help us widen the living room wall since there were some wires in the way- also to the tune of around $100). The difference is night and day. Going from two standard 33″ doorways to over 5′ wide thresholds between all three spaces opened up our entire floor plan and allows so much light to bounce around all three rooms. Totally worth $200 (heck, we would've paid $500!).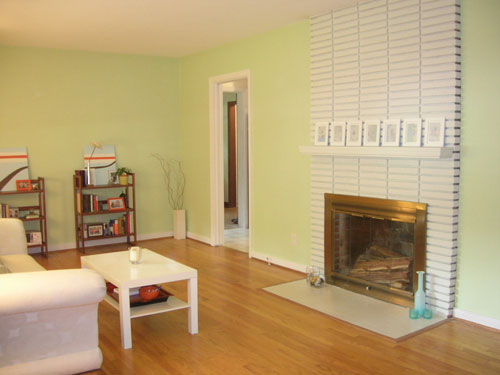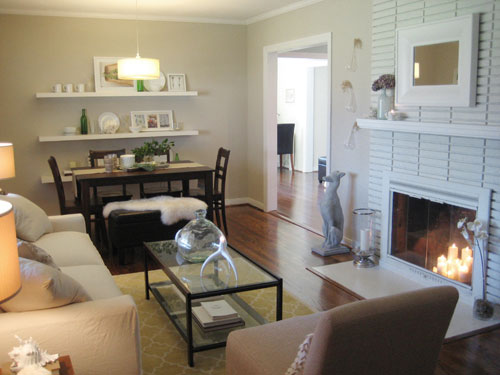 2. Adding plywood, blinds and oversized frames to our laundry nook. For under $100 we created a clean-lined plywood countertop for folding and sorting, added concealed storage with the use of two cheap Walmart blinds, and obscured ugly wires and pipes on the back wall by leaning two oversized picture frames in front of them (showcasing $1 Target wallpaper as art). It was all easy & cheap- and the result is surprisingly polished looking (you can find more details on the subject right here).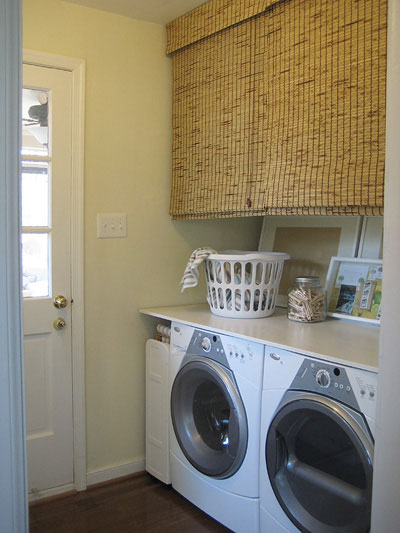 3. Getting an outlet added to our bathroom. Yup, it came without a single outlet in there. I used to blow dry my hair in the sunroom (which was pretty darn cold in the winter). But for $65 we got an electrician to add a clean little white bathroom outlet that still thrills us to no end. It's such an improvement in the function department! No more sending guests to the sunroom to blow-dry…
4. Curtains. End of story. Beyond painting a room, we think hanging floor length curtain panels high and wide above your windows is the quickest way to add height and airy softness to any room. Plus we only spent about $45 for the six breezy extra-long Vivan curtain panels from Ikea in our den and our living room. Can't beat that deal with a stick.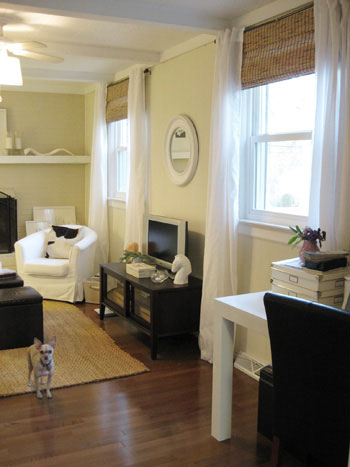 5. Tossing a jute rug down in the kitchen. After the renovation dust cleared our white kitchen was shiny and lovely, but it was missing a bit of warmth and texture. Enter a cheap little jute rug from The Company Store to the tune of $34 on clearance. Now we're cooking.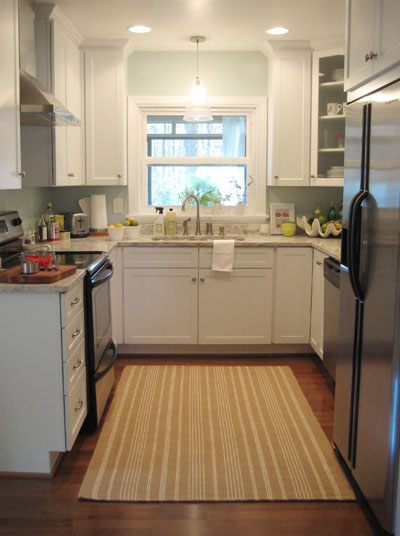 6. Popping a pendant light over the dining table for an instant "zone" that previously never existed. Again, to the tune of around $100 we had an electrician drop a fixture box above the dining table that we dragged into the corner of our living room right off of the kitchen and bam- instant dining area. It adds ambiance, even more light (which always makes a space feel open and airy) and eons of polish that couldn't have been achieved by swagging a plug in light over the table.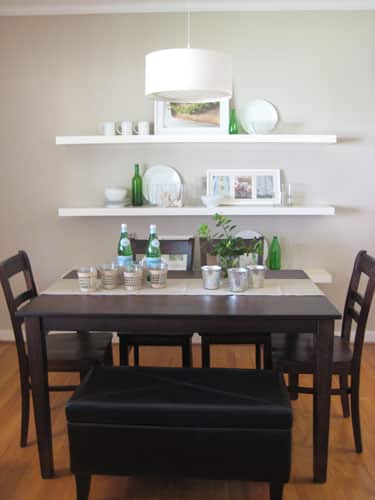 7. Storage ottomans. We can't get enough of them. We have two leather cube ottomans in the den, a longer bench ottoman in the mudroom area, another bench ottoman at the dining table, two more leather cube ottomans under the console table in the living room and even a jute ottoman in the third bedroom. Between all of that concealed storage there's more than enough room to hide every single file, bill, receipt, board game, printing supply, and every other unsightly item in the entire house without the purchase of a big industrial filing cabinet. And they even double as extra seating in a pinch (read more about where we stash and store everything right here).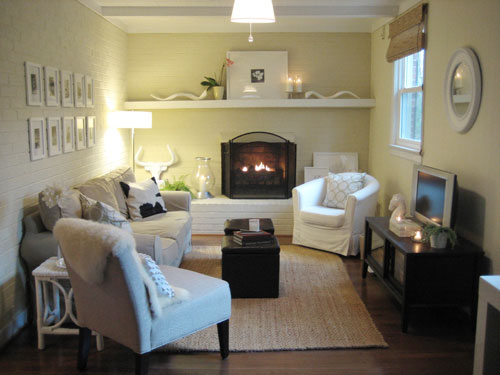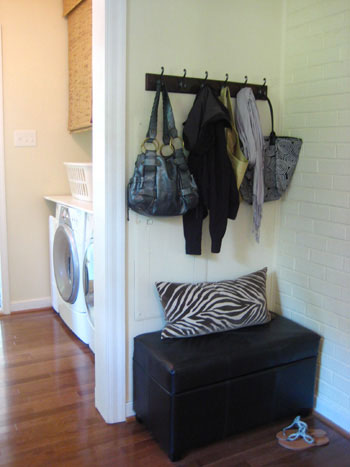 8. Trolling those thrift stores. From our living room's $35 glass coffee table (that looks like a dead ringer for this $400 Pottery Barn version) to our $20 secondhand Ikea armchair in the den, we've saved hundreds if not thousands of dollars by giving thrift store finds a second life in our home. We even snagged the base for our sunroom's pedestal table that we rebuilt (read more about that here) at a local thrift shop (check out two of our favorite local haunts here and here).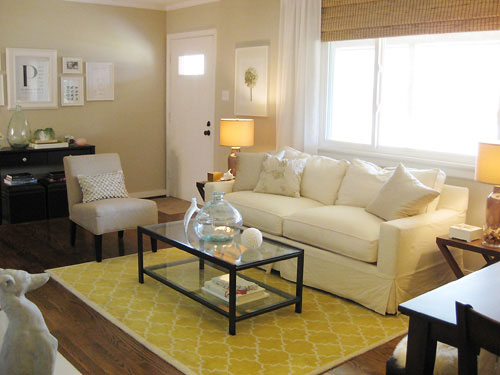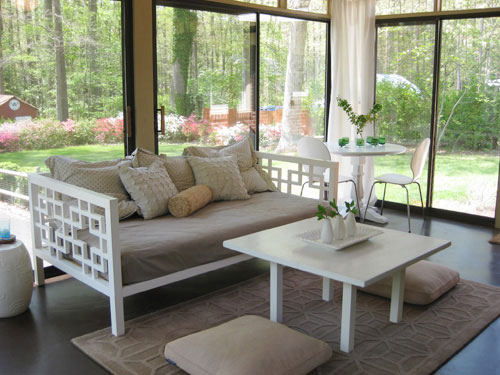 9. Adding built-in details on a dime. One of our favorite afternoon projects that seriously changed the entire feeling of our home was installing the three long Ikea lack shelves on the wall behind our dining table. They instantly added architecture and clean-lined style to a formerly blank wall (and at $29 each they're even cheaper than DIYing them with thick lumber that you'd then have to finish to get the same look!). Plus we never have to hang anything on that wall again, leaning frames and displaying favorite items is now as easy as pie.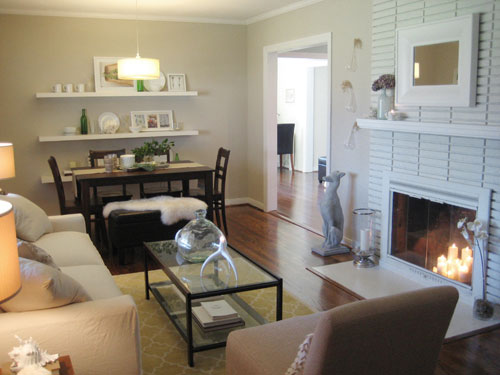 10. Whipping up cheap art. You'll find at least a few framed pieces in each room of our house that are completely DIYed (and each one set us back less than $5 a pop). Sure, they're not museum worthy, but they're customized and meaningful so they still feel special. And did we mention they were cheap cheap cheap? From framed keys in a shadow box and a vintage map with pins that highlights our adventures to black and white photos we printed at CVS and framed in a grid above our sofa, we're no strangers to stashing something behind glass and calling it art. And you know we love a customized monogram (or two) as demonstrated by the big P in our living room and the sweet little first initial monograms above our bed…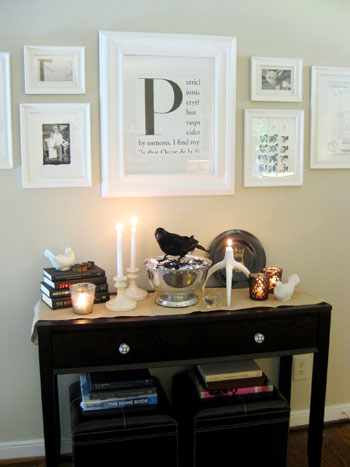 So that's our little roundup of the ten things that seemed to make a world of difference around Casa Petersik… all without breaking the bank. Here's hoping they spark a few ideas for you guys! And while we're on the subject of getting more bang for your buck, we'd love to know what projects or purchases have changed your house for the better without emptying your wallets. A simple coat of paint on the walls? A jaw-dropping accessory you snagged on the cheap? A DIY project that you whipped up with your own two hands? Do tell.
Update- We finally created this Shop Our House page to help you hunt down any furniture/accessories that you see in our house, along with all of our paint colors.