It's amazing how dragging a table and chairs into one side of our underutilized living room and adding a light fixture centered above it was all it took to create an instant dining area that everyone thinks has always been there. Here's our sad little living room right after we moved in (we had no idea what to do with such a long narrow space- and no money to upgrade our hand-me-down furniture):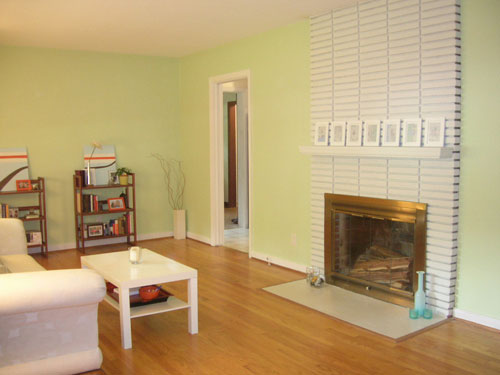 Here's the same space now with a fully functional dining area right off of the kitchen (we widened the doorway for even more flow and openness during our kitchen remodel):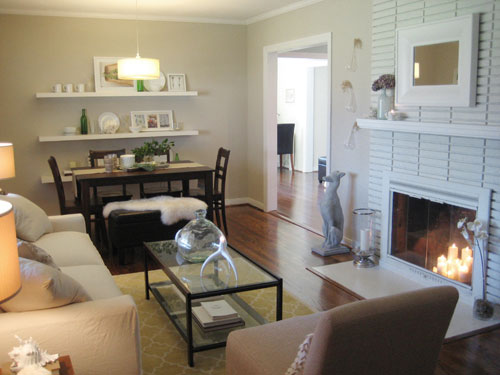 Getting the pendant lamp (which we picked up from CB2 for $49) wired to hang above the table by a professional electrician only cost a hundred dollars, which is a small price to pay for a brand new eating space that works perfectly for "open living" lovers like us. And since we conveniently placed our dining area right off of our kitchen, it's easy to serve and set the table thanks to the close proximity. Our modest dining space has been such a hit that it was even featured in Do It Yourself magazine and the Australian edition of Better Homes & Gardens. And it's literally just a table at the end of a long living room!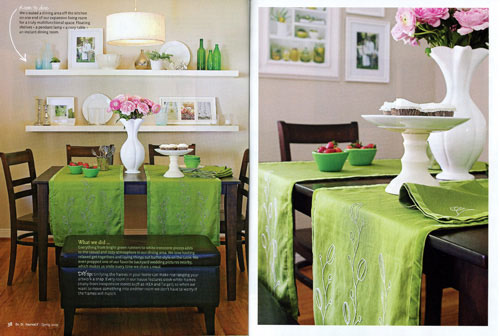 Of course the three inexpensive floating shelves from Ikea add architecture and personality (especially since we use them to display dishes and bottles which seem appropriate and fun in a dining area). And because many people ask us for details about the shelf-hanging process, here's how it all went down. First we grabbed metal anchors to fit the screws that came with the Ikea shelves from Lowe's (making sure they were made to support a good amount of weight) and then just centered each shelf on the wall with 17″ between each one. Installing the anchors is a snap, you just predrill holes into the wall (slightly smaller than the anchors) and tap the anchors into the holes with a hammer until they're flush with the wall. That's all it takes for the screw to grab the anchor and stay put for good. Almost three years later ours are still going strong with lots of weight on them.
Oh and the spacing between each shelf is important if you have specific items in mind that you'd like to display, for example if you want to show off a grouping of frames or a collection of vases be sure to space the shelves with adequate room between them for the items that you want to stick on each one (nothing would stink more than trying to lean your photos on each shelf and finding out that they don't quite fit).
We also had a bit of fun with our table and decided to switch out two of the wooden chairs for a padded leather storage bench instead. It really broke up all the wood, gave us another concealed spot to stash stuff, and John and I actually sit and eat dinner on it together every night. It's cushy and sort of romantic to share a "booth" in your own home. Plus one of the best things about it is that it can be used while we're entertaining in the living room as well, since people can sit on it facing the couch just as easily as they can face the table.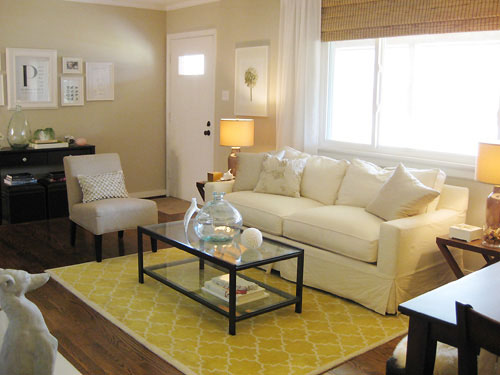 So that's how three cheap-o floating shelves from Ikea, a bench, a table, and a pendant light came together in an under utilized corner of our living room to create a cozy and convenient eating space right off of the kitchen.
Oh and we also got a third bedroom and a wall of extra cabinetry in the kitchen out of the deal. We converted our old unused dining room (which already had a closet)…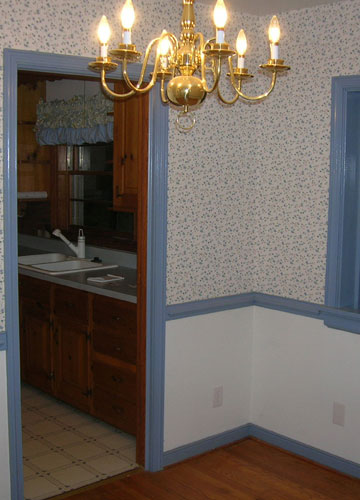 …into a third bedroom: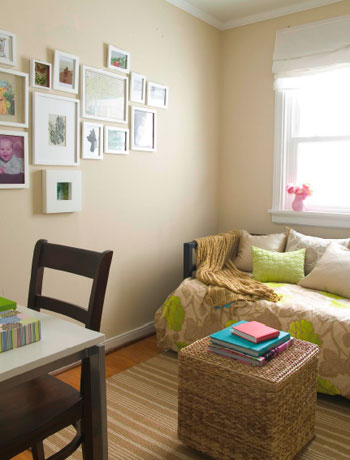 And in closing off the doorway that led to the old dining room from the kitchen (see it here on the right)…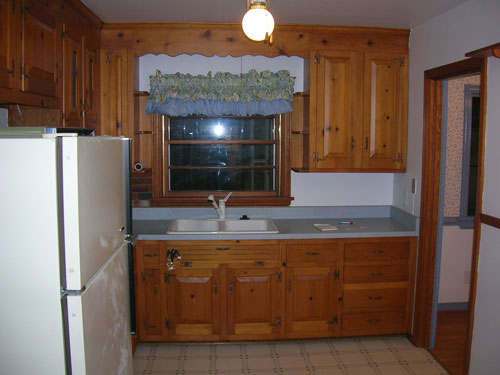 … we earned a lot more counter and cabinet space in one fell swoop: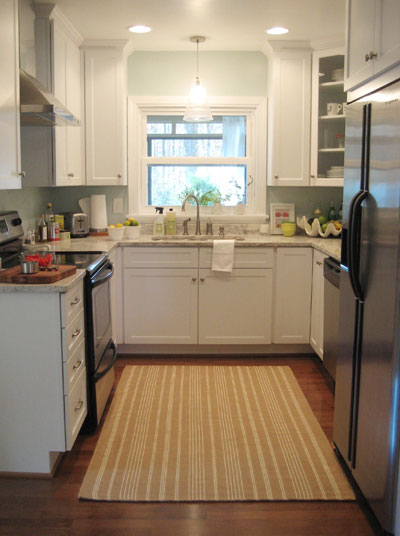 Gotta love a little shift in the way you use your home that leads to so many other perks along the way! So what about you guys. Have you converted a bedroom into a library or sewing room to suit your needs? Have you created a master suite in an old unused attic? Any plans to repurpose or reconfigure the way a room functions in your home? Tell us all about it.