Back when we showed you around Love of Jesus Thrift Store, we promised more posts about our favorite secondhand spots here in Richmond. So I'm back to take you inside Diversity Thrift, another goldmine when it comes to finding cast-off furniture and home goods in need of a little TLC.
Diversity Thrift is located at 1407 Sherwood Avenue (kinda near the Diamond and the SPCA). If you're driving on I-95 past Richmond you've probably spotted the distinctive rainbow-striped building from the highway.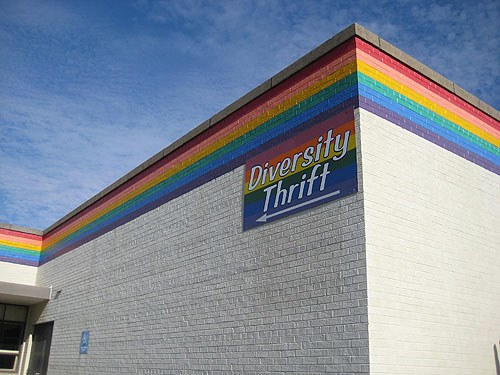 While Diversity Thrift carries appliances, books, clothes, music, kitchenware and a whole bunch of other stuff, its overflowing collection of furniture truly makes it a top choice for people looking to decorate on a budget. There's so much inventory that you can see how they've had to stack it just to cram it all in: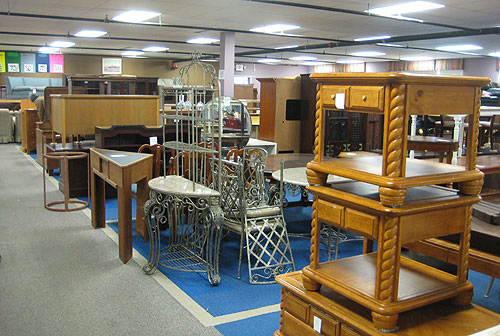 We've had lots of luck hunting at Diversity Thrift in the three years we've lived in Richmond. Some items that we've scored include: the white Ikea chair in our den for $10 (we purchased a new slipcover from Ikea for that crisp new look), the pedestal base of the table that we made in our sunroom (for $30) and the often-asked-about glass coffee table in our living room (it's a dead ringer for a pricier Pottery Barn version and it was only $35). On our latest visit we spotted another promising collection of coffee tables, like this sleek low-profile table with glass inserts that just needed a little bit of polish (or a coat of white or black paint for a whole new look):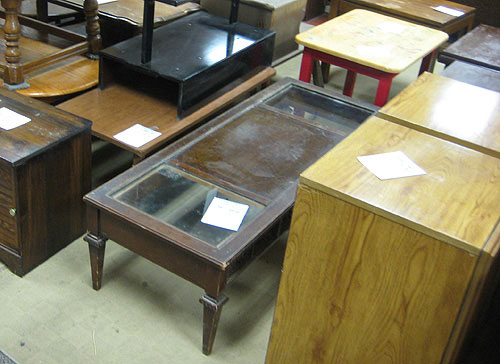 We also saw some intriguing higher-profile furniture, like this moroccan-meets-traditional hutch. We immediately began picturing it with a fresh coat of paint (you know us)… maybe a muted gray, an antique blue or a classic white. It would also look amazing in a deep charcoal or navy tone. We forgot to note the price so we can't quantify how much of a steal this was, but our best guess is around $100. Rest assured that Diversity is definitely far from overpriced.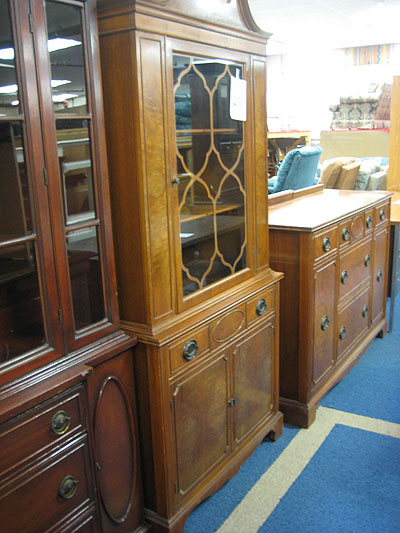 And if we ever created a formal office in our house, something like this chunky teacher's desk would be the perfect anchor to a classic workspace. It too could take on new life with a fresh coat of paint, but in this case I'd lean towards the charm of worn wood (and maybe some chunky new handles).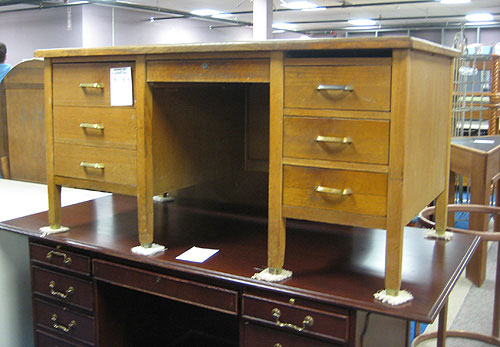 There's also a wide collection of upholstered finds, especially in the couch department. Many fall into the "old lady" or "cheap motel" category, but we did spot this charming sofa. I don't think the Jonathan Adler-esque blue and green patterned fabric would work in our house, but it definitely could shine in the right space (as long as it were thoroughly cleaned!). And of course getting it reupholstered would emphasize those great lines and give it a whole new life (it could look really high-end in gray or chocolate velvet).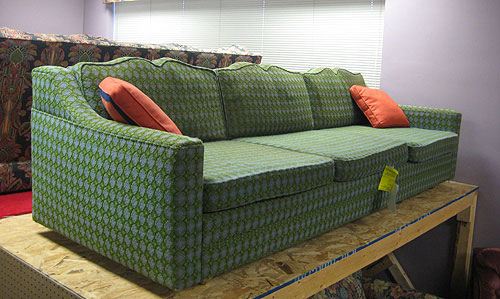 Beyond the furniture section, Diversity Thrift has loads of little trinkets for your home, kitchen and bathroom. We generally breeze through this section pretty quickly, but just had to share their collection of glass vases – most going for only a dollar or less.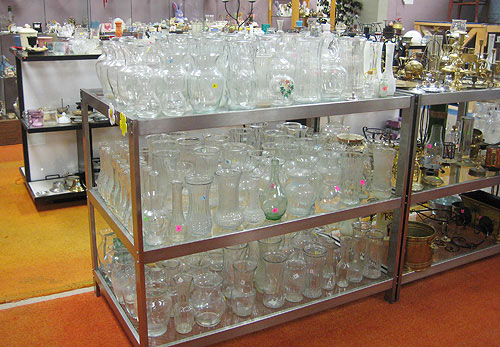 And lastly, it wouldn't be a successful trip to a thrift store without enjoying some of the weirder finds (I'm still waiting for the sequel to Kelly's Hero to come out, btw). This time I was relishing in the collection of trophies- mostly bowling- that I could snag on the cheap. Sherry noted that spray painted trophies have been popping up in design magazines lately as a new form of kitschy art, which is a good alternative to pretending you're a champion bowler (note: I once received an actual bowling trophy from the one season I played in an elementary school league- sorry ladies, I'm taken).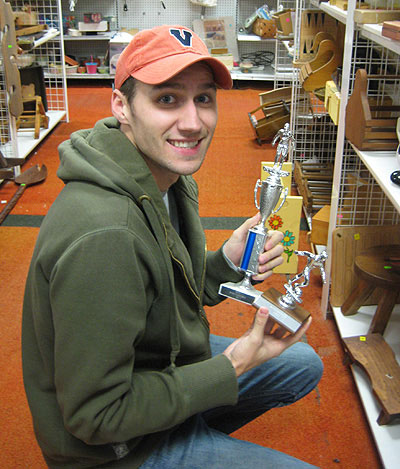 So that's our little peek around Diversity Thrift, which we highly recommend for all you Richmonders (or others driving through on I-95). And we'd love to know if anyone has scored anything stellar from Diversity, or any other thrift store for that matter. Sound off about your favorite secondhand pieces.
Earlier this week we posted about our latest article in R.Home magazine that features a slew of thrifted finds that we made over (the chair hailed from here!) so check it out if you missed it.