Our kitchen has continued to evolve after our 113 day renovation (where we grew to despise takeout and yearned for the days when we would once again have a kitchen sink). Of course we can't mention the renovation without flashing back to our hideous before shot: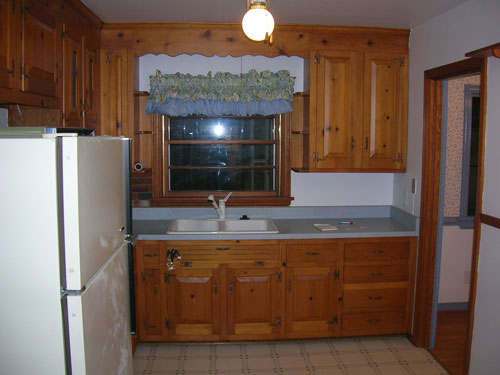 And here's our totally renovated kitchen right after the counters were installed and our sink was (finally!) hooked back up again.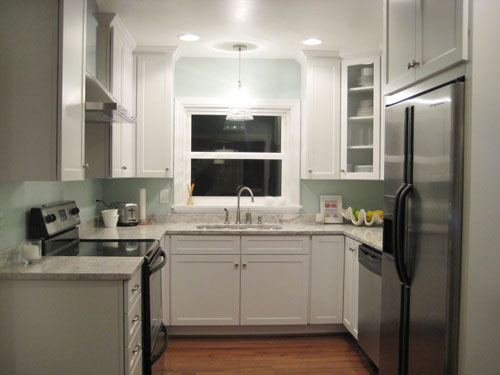 We loved the lighter and brighter look, but thanks to all that added counter space, it felt a bit bare. Slowly and surely we brought in glass jars, herbs in the window, a thick wood cutting board, and a few other touches to make everything feel more inviting and less sterile. But the biggest makeover occurred when we ordered a striped jute rug ($34 on clearance!) and plopped it down on the floor: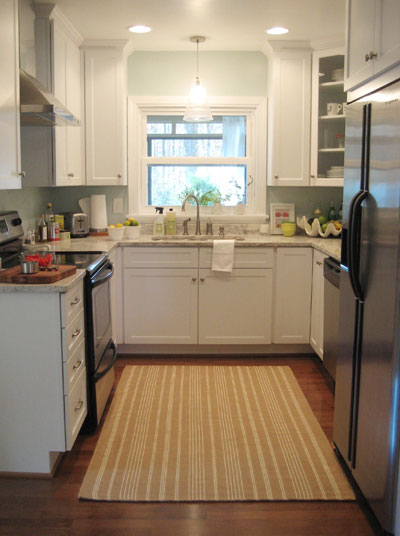 It's actually the same rug from The Company Store that we have in our third bedroom (which we also snagged for 34 beans on sale last year). We're dying to link to it on their website, but it's not currently available- boo! But fret not, it keeps coming back after a few weeks of hiding so we assume that if you check back in a month or so it'll be there- and hopefully it'll be marked down to that magical $34 price.
I initially thought it would be strange to have a rug in the kitchen, but this baby's jute so it's virtually non-pourous. Everything seems to bounce right off, and we've lived with it for over a month without any staining incidents (and we're two people who drink Pom right from the bottle while standing on it). So that's what we have cookin' in the kitchen. What about you guys? Any aversion to kitchen rugs? Any other objects that you use on your counters or windowsils to make your kitchen feel warm and welcoming? Do tell.