We're pleased to bring you another exciting transformation, this time in the form of a table. The story begins when we purchased an old rickety game table at a thrift store for twenty bucks two whole years ago. We hated the old scruffy square top, but immediately knew the chunky wooden pedestal had potential. For a while we just topped it with a bigger square of wood and painted it black so it could serve as a dining room table. But it was eventually replaced with a rectangular one when we shifted the dining room into the living room, and the ol' table happily lived in the garage for a while.
But with the warmer weather blowing in, John and I were just talking about how nice it would be to have dinner outside sans bugs and we realized that sunroom + table = dinner outside sans bugs. So we picked up a round tabletop for 40 bucks at Lowe's and popped it onto the pedestal of yesteryear and presto: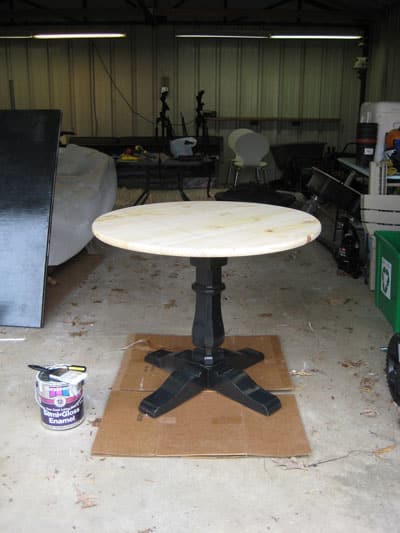 Then all it needed was a coat of oil based primer, two coats of white semi-gloss paint followed by a few light coats of water based polyurethane to keep it food and drink friendly. And the best thing is that we had four of these fun Eames-esque chairs in the garage just waiting to be recycled in some form and two of them work perfectly for our new dining nook in the sunny sunroom (they used to be blonde wood, but we painted them to match our table).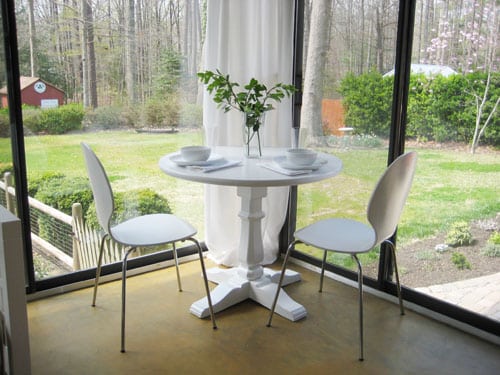 And for all you big picture people, here's the wide shot so you can see it in context: