Here's a quick project for all you DIY peeps with blank space on your walls. It's as easy as pie, so in honor of that delicious after dinner delight, I've decided to write the steps recipe style. Mmmm…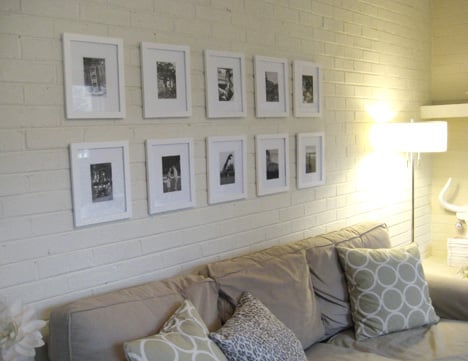 INGREDIENTS
An even number of identical frames (I used ten white 8×10 Target ones)
The same amount of black & white photos (we got regular 4×6 inch prints)
White paper to create a "mat" behind each framed photo
Plain ol' scotch tape
DIRECTIONS
1. Take your favorite photos and make them black and white. Feel free to up the contrast as well so they really pop.
2. Burn them to a disk and get them printed at any photo processing center (we like CVS for its close proximity and for the white borders you can add to each pic for a nice finishing touch).
3. Use a loop of tape to secure them in the center of the white paper (cut to fit each frame).
4. Hang 'em in a grid and help yourself to a big ol' heaping slice of pie. You deserve it.