Yup, we finally gave Ed a little haircut. For over a year and a half we tried to work with the posts on Ed the bed, but the realization that we didn't have a lofted ceiling or a floor plan that made sense of those big dramatic posts slowly worked its way into our conscious and we finally decided that just because Ed was born with long hair posts doesn't mean that a little haircut is cruel and unusual bed punishment. So here he is before…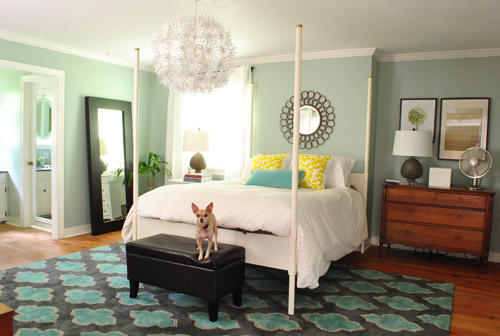 … during…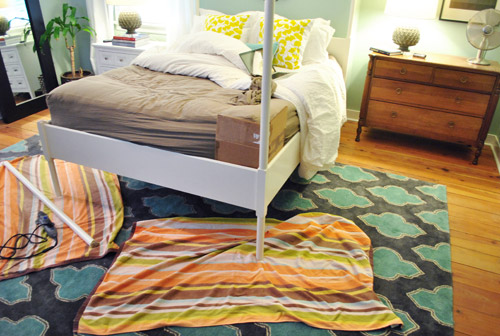 … and after…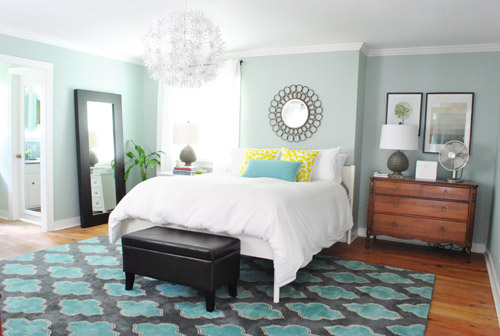 This whole bed-trimming project was free, took about an hour of work, and we totally dig the more open look. It was just too much vertical stuff going on- especially with the bed right next to the window (with those floor length curtains going on). Ed's totally crying out for a large fabric headboard so we can raise the mirror above the bed about another foot or two (like this poorly photoshopped rendering) and someday we'd love to stain the floors (and possibly the dresser) darker…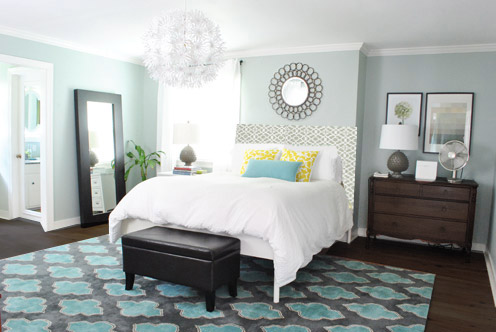 … but we're getting there. And just because I can't stop at one photoshopped headboard option, here are some more I had fun with: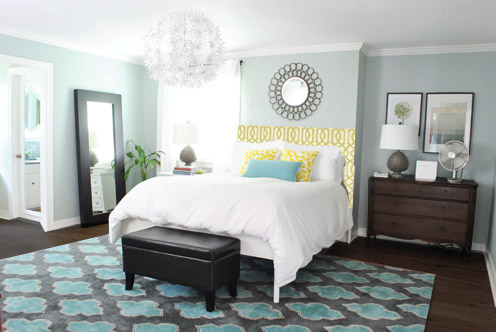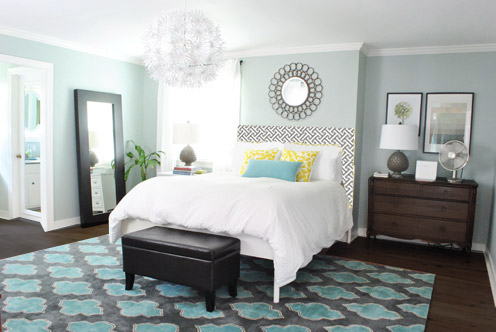 But back to reality. You know we like to use what we have, and we love Ed for so many reasons. The height, the comfort, and the thin airy legs that he sits on which allow us to hang out be weird under the bed…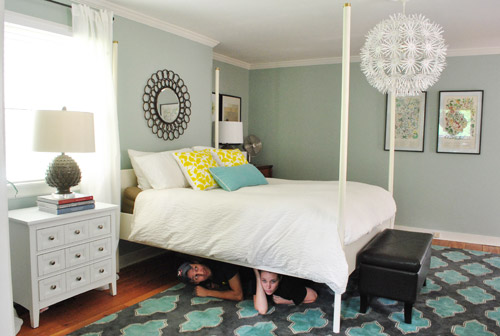 … so instead of completely scrapping him (ex: craigslisting him and buying a new bed) we devised a completely reversible plan to give his posts a little trim. How is it reversible? Well, while they don't just screw off or anything, they're solid wood posts. So we can always reattach them by adding a nice long metal screw to the center of each post that we could just screw back into the bed frame to attach them (it's how a bunch of Ikea items are made, like how Lack tables have legs that can be screwed on and off). So although we don't foresee any reason to put those suckers back on, who knows… maybe someday we'll end up in a house with lofted ceilings and we'll wish we could put Ed back together – and now, theoretically we can. Haha.
So after concocting our little Ed-tweaking plan, this is how it all went down (complete with insanely embarrassing not-meant-to-sound-perverted comments by yours truly):
For those who can't watch the video (perhaps you're at work, although it pretty much tells the story on mute) we snapped some photos for ya too. We basically just lined the Dremel up (we have a Multimax, and used the wood cutting attachment) with the base of the post and slowly sawed around it.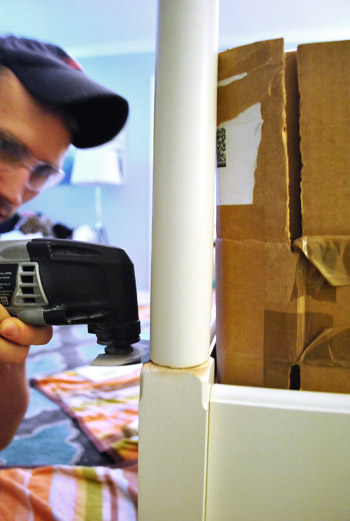 Oh and see how we put a piece of cardboard between the mattress and the post? Just wanted to make sure we didn't get too chop-happy near the mattress (and moving our organic mattress takes the strength of ten vampires, so we just didn't have it in us).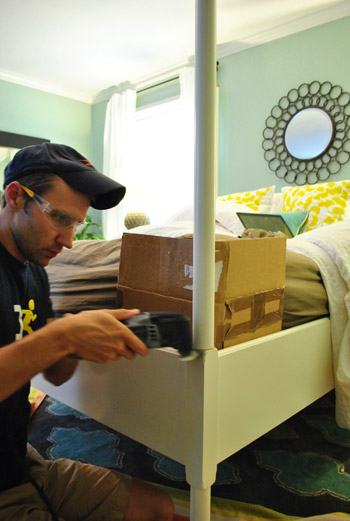 Thankfully we had no mattress casualties and each post came down after around five minutes of careful cutting.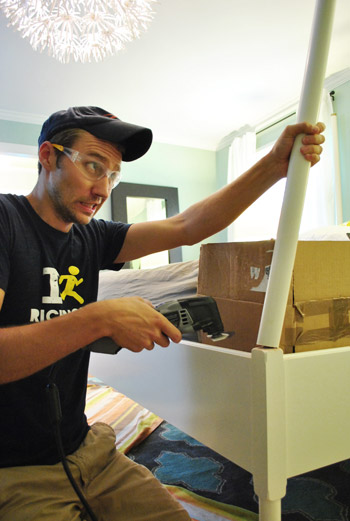 We actually got much better at making super clean cuts as we went, so we're glad we started on the two bottom posts of the bed (which will always be covered by the comforter anyway) and worked our way up to the top two posts, which are seen a lot more.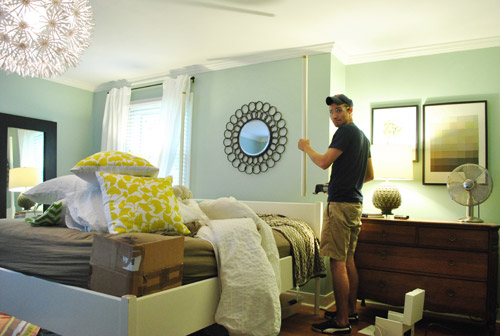 John even let me take a spin. I had to wrestle the Dremel from his cold dead tool-loving hands, but it was worth the trouble. Girls need a romp with a power tool every once in a while too. Especially because safety glasses are so undeniably sexy.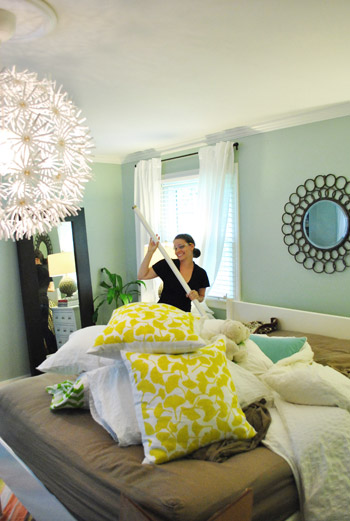 We were really surprised how nice the top posts looked when they were cut. See the circle detail that they ended up sporting (the bottom posts didn't have those)? They made it look like a decorative design, so they looked convincing. Like they were meant to be this way. Total happy accident.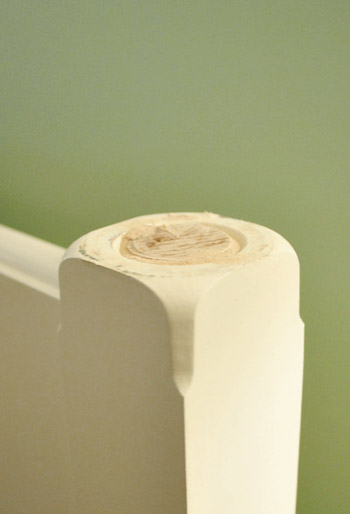 Then we just did some sanding to get everything smooth…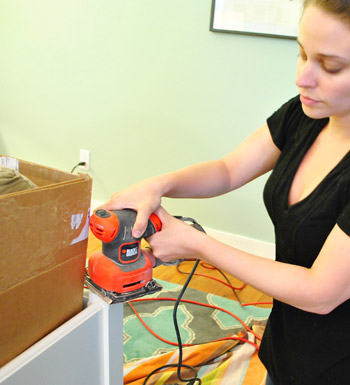 … and I used the Ikea-white paint (I did a little hunting to find the perfect white paint that matches Ikea's white tone here) that we had leftover from another project.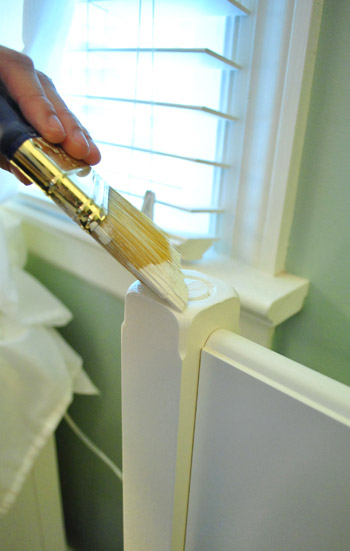 Check out the top right post after cutting, sanding, and painting…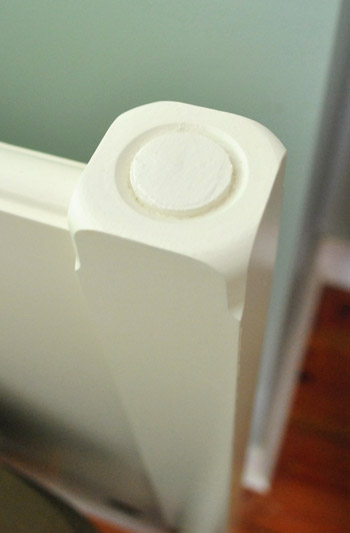 … and the top left post after the same rigmarole.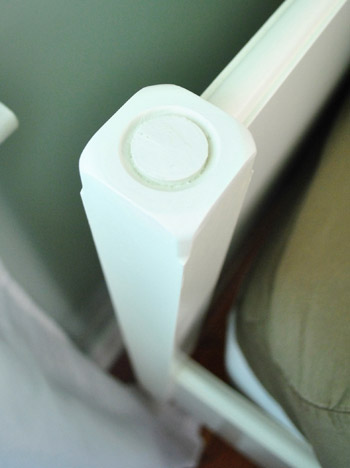 By the time the paint dried and we made the bed it totally looked like Ed was born this way. Cue the Lady Gaga dance-a-thon.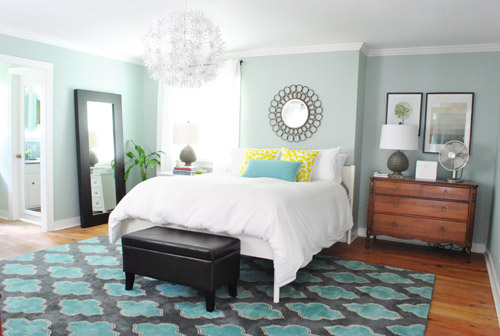 Here's John breaking it down. Just kidding. He ran through the shot and kicked his leg up in some sort of weird victory cry and somehow the camera caught his ghosted karate move. Hilarious.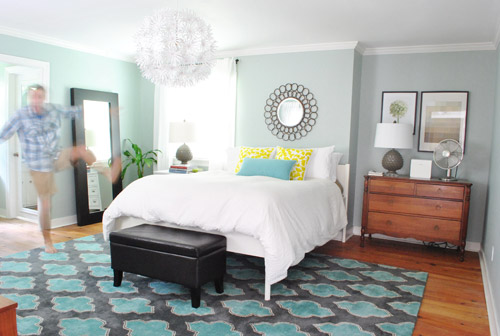 Here are things from another angle. Obviously we need nice large art where those botanicals are floating on that wall on the right of this picture (we'll rehang the botanicals over a chair that we have in another corner), but we're getting there. Especially once we build an upholstered headboard for Ed and move the mirror a bit higher, so it further ties into the chandelier.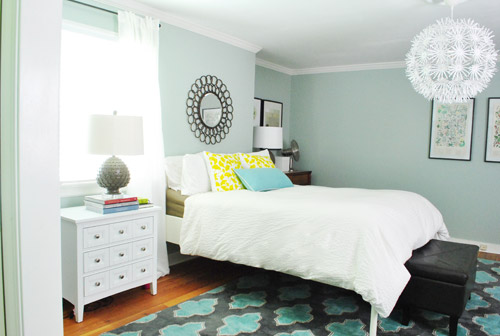 I can't tell you how much we like this hand-me-down dresser from John's parents in the nook. It's the perfect fit.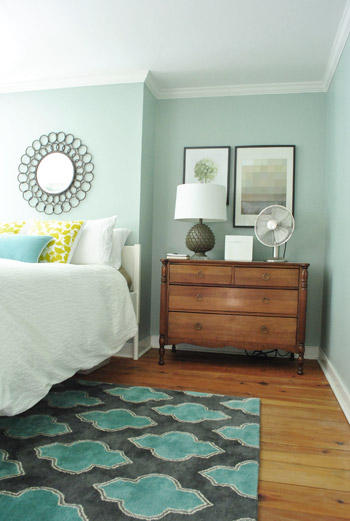 We already shared how it looks from the hallway in this morning's post, but here's that shot again, just to refresh the ol' memory: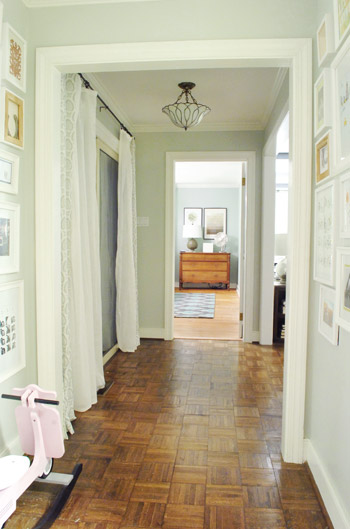 Although it definitely doesn't match the wood dresser on the other side, there's something charming about the little white nightstand in the window. And the fact that we have the same bedside lamps on each one sort of connects the two pieces, even though they're very different.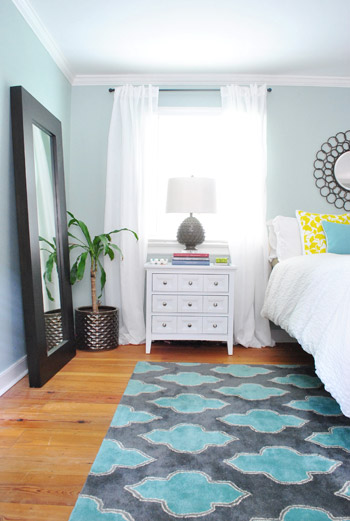 Here's a straight shot of the bed as it looks now. I'm definitely itching to get on that headboard project so I can bump the mirror up a bit higher so not everything will be in the same line (the art on the right and the mirror are so perfectly lined up, I think the bed will feel more special with a big fabric headboard and a higher focal point above it). And as for the color of the dresser and the white nightstand, we're open to painting or staining something, but we're not rushing into anything.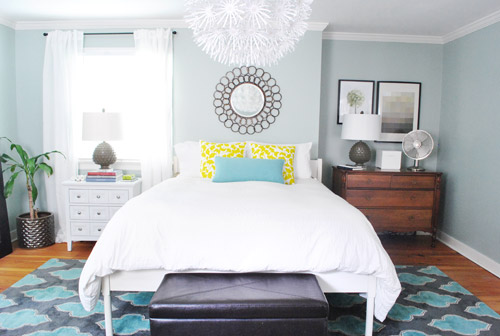 One thing is for sure, it definitely feels more homey and full than it used to look back when the bed was on the wall near the door.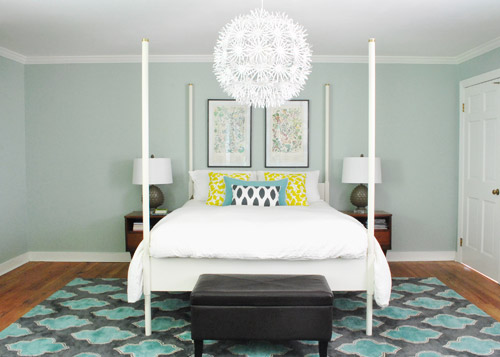 And it's so much nicer to walk into this view, instead of stepping three steps in the door and hitting the bed.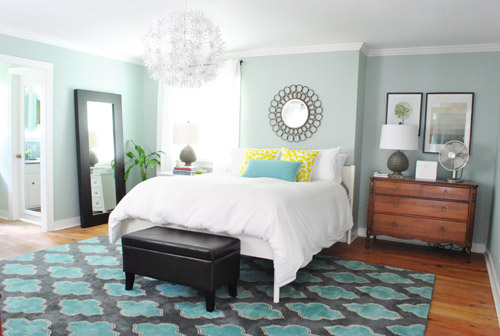 So that's the latest bedroom tweak, but we're probably a good dozen tweaks from being done in here. Haha, you know us. Inching along. But you know we'll keep you posted when we tackle other things, like dealing with the bare wall across from the bed, making a giant fabric headboard and moving the mirror up, etc. Should be fun…
Oh and how funny is this? Every morning around 10am the sun shines through the window above the sink (this pic is from before Ed's move and subsequent haircut)…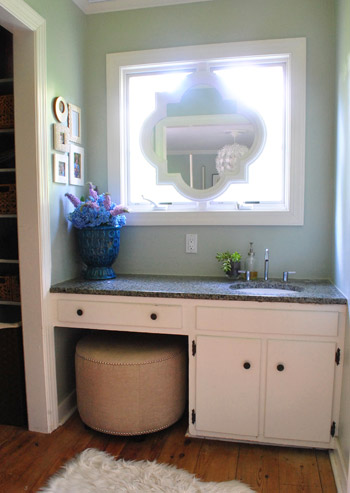 … and this shape is reflected on the rug: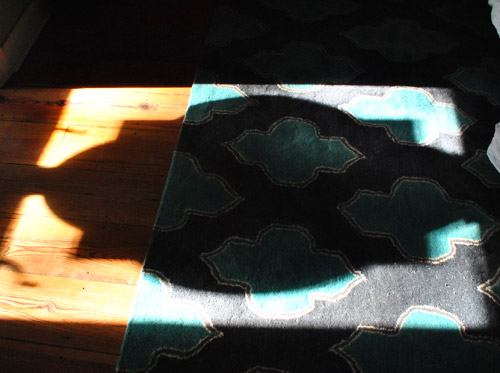 Yup, the elongated shadow is pretty much exactly the same shape that's on the rug itself. The weirdest thing is that when we fell in love with this rug and snatched it up at a local outlet, we made absolutely no connection that it had a similar shape to the mirror above the sink. Hooray for happy accidents.
What are you guys up to in the bedroom (decor wise, I mean – let's not get saucy). Has anyone else altered their bed to make it work better for their room? Or straight up built one from scratch? Anyone else planning to make a headboard in the next few weeks? I can't wait to go fabric shopping…