As we mentioned here, the bedroom is "still looking rough and we're not sure about a lot of things – just waiting for inspiration to strike – which might involve repainting and rearranging furniture along with refinishing the floors"). We even elaborated a bit in the comments when folks started asking what we meant by that or if we hated the current color by saying: "We love the paint color but something is off about the bedroom and we're not sure we can rule anything out – including the paint color. Everything is a suspect until proven innocent. Haha. Something is limiting us, so we're not opposed to changing that thing once we pin it down (it might be the curtains or the art or something else!) just to get things to "click" for us. Who knows where we'll end up!"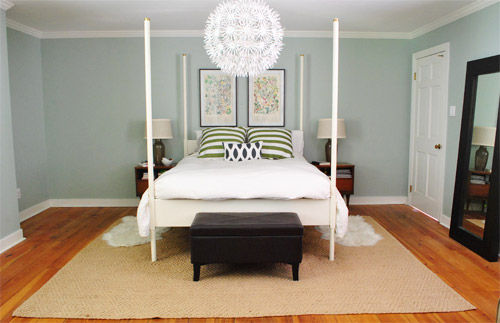 You can relate to that feeling, right? The whole something's-off-but-I'm-not-sure-what-it-is thing? Moving the art together above the bed on Friday was a start, but we actually have a bunch of changes on the agenda for this week in the hopes of cracking the case and making "that room where we sleep" feel a little more like "that room that we love!" Of course we know that a big ol' transformation doesn't happen overnight, but we also have seen firsthand how a few updates and switcheroos can go a long way in remedying that "hmmmm, something's just not right" feeling that has probably popped up at least three dozen times in our last five years of DIYing. So we know it well.
We've learned that the only real way to get any closer to something that feels right is just to play around and see what you like and what you don't. The ol' trial and error approach. Because if you're sitting there frozen in fear or over-thinking things to the point that you've lost all momentum it can get sticky. So without further ado, let's get into the first tweak, which has already taken place. And it's kind of a biggie. It all started when we saw the rug on the bottom of this picture at an outlet liquidation sale…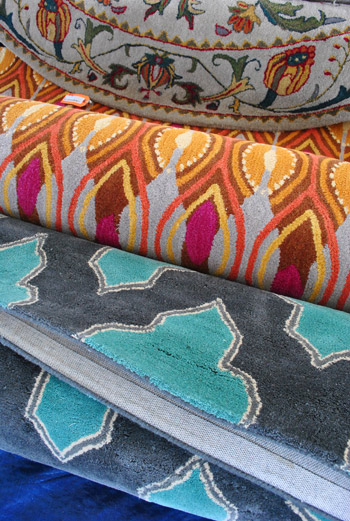 We weren't looking for a bedroom rug, although we weren't ruling out the idea of changing anything in that room (because remember, everything in there was guilty until proven innocent- haha). I had actually said to John "the jute rug in the bedroom could always move out to the dining room since we're planning on getting a natural fiber rug in there for under the table and it's definitely big enough" – so I guess you could say we were open to anything. So when there was a big tent sale at our favorite lighting outlet (The Decorating Outlet), which also happens to sell rugs (it's where we got the thick wool rug in Clara's bedroom along with her blue capiz chandelier and the big glass pendants in our kitchen), we had to check it out.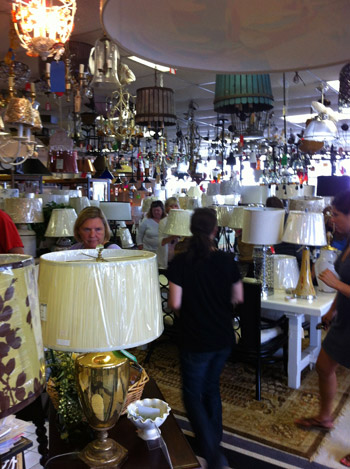 And that's when we saw the patterned blue rug in the picture above this one. And it was all over.
We love all of those colors (gray, navy, teal, white!) and the geometric pattern was totally calling our name. By now you know we're suckers for a geometric rug, right?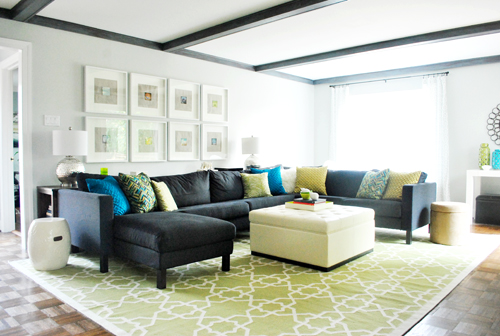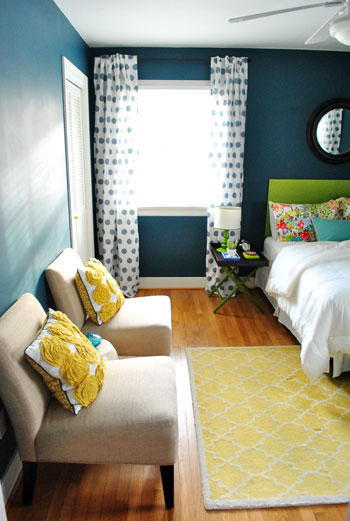 They just do something to us. They make us feel alive. Oh yes, we live dangerously.
But back to reality. Since it was a thick 9 x 12 wool rug, we were nervous that even on sale it would be $700 or more, which is sadly way out of our price range. But when we checked out the tag, we almost couldn't believe our eyes. Did that really say "was $1287.00, now: $250" ?????!!!!!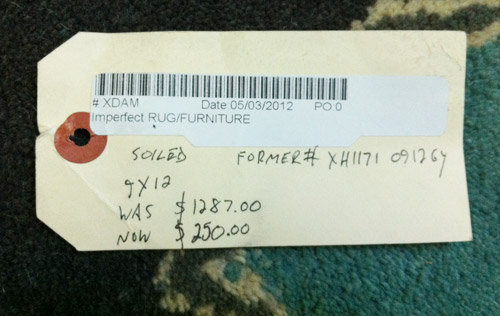 That's not 40 or 50% off – that's over 80% off! So we asked the guy what was wrong with it to make it so cheap, since the tag said "soiled" as the reason for the discount. We hoped if it had a stain we might be able to hide that part of the rug under the bed or try to remove it with some crazy scrubbing ritual, but he actually told us it was ripped. As in, there was a hole right through it. Eeks. But thankfully the placement of the rip was in a corner, and although it looked like this if you picked it up and put your fingers through it…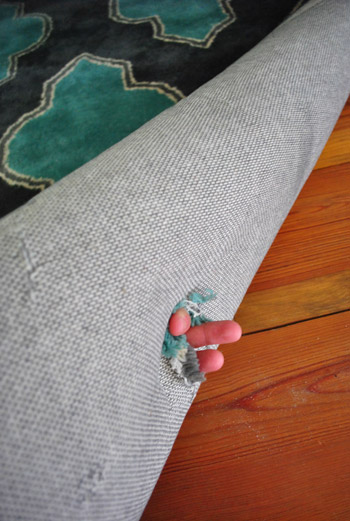 … it looked like this when it was laid out on the floor. See the big gaping hole?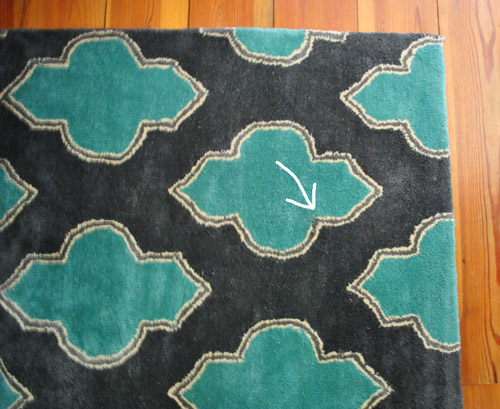 We didn't either! The thick pile of the rug was so dense that the rip wasn't even visible, let alone obvious. So you know what we did, right? We thanked our lucky stars that it was there. It was the only reason that we were able to get over $1000 off (!!!) and take home a $1287 rug for $250. We shoved that sucker into the passenger seat of the car faster than you can say "will-that-fit-in-an-Altima?" and I rode in the back with Clara, happy-squealing my way home.
To save you some scrolling, here's a before pic of the old rug for ya again (remember we're still missing major furnishings, like something in that nook, art on those bare walls, etc):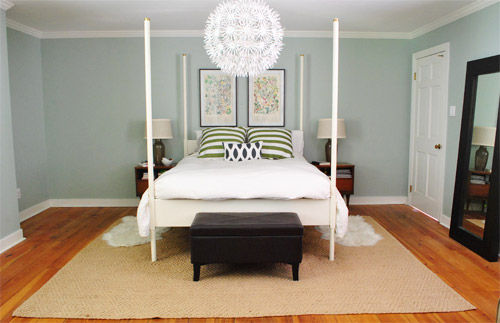 Next we pulled out the old rug that we'd love to relocate into the dining room under the table. We laughed at how naked that yellowed old floor looked. Someday we'll refinish it, but until then our new rug will be in charge of de-naked-ifying things.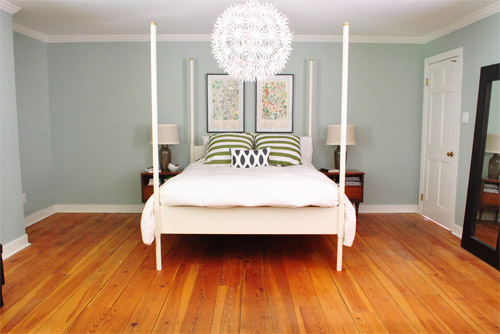 First John did some cute vacuuming to remove any dust/fibers leftover from the tent sale. Look how fast he is. He's like Edward except he doesn't sparkle in the sun or bite me for sport.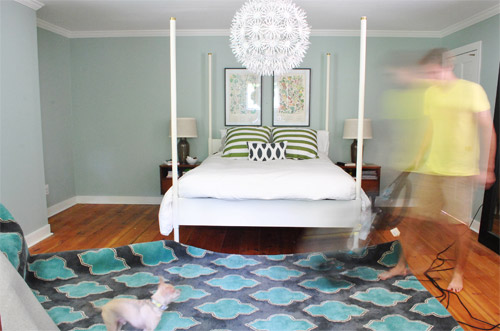 Next we shimmied it carefully under our bed. It probably took us a good twenty minutes to get it centered – just inching it back or to the side a little bit at a time.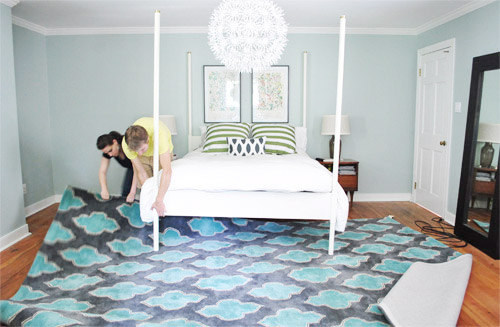 We love it more than words can say. Although, to quote Tim Gunn, it's a lotta look. Haha. Still missing major furnishings/art of course, but we'll get there. So some folks might go for something less patterned or colorful for their bedroom, but we think one of the main "what's wrong with this room" issues for us was that it didn't feel happy or fun or "us" at all. And now it does. Oh happy day.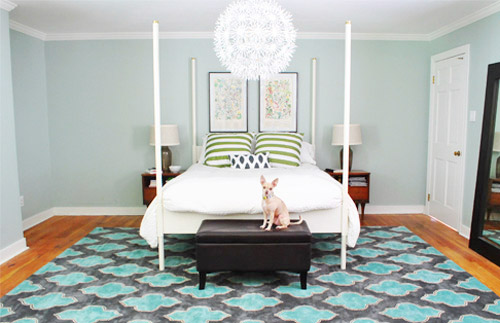 See how this room could almost be anyone's bedroom?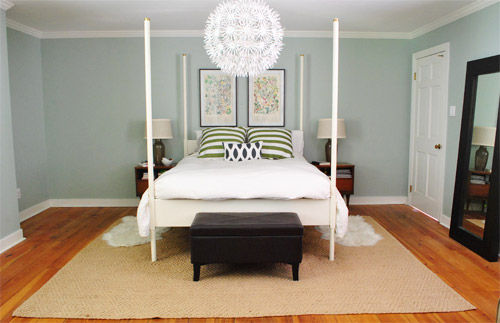 And see how the room above it probably couldn't be most people's bedroom? Haha. That's the beauty of a room that feels like you. It almost feels like it couldn't be anyone else's. So I'm sure there are lots of folks out there who would pass on this baby, but we decided when we moved into this house that we were going to make a playful, happy-go-lucky little love nest for our family. So we're cool with waking up to a room that "smiles" back at us. Sort of like how we love our chipper living room and guest room (which have those other colorful geometric rugs going on):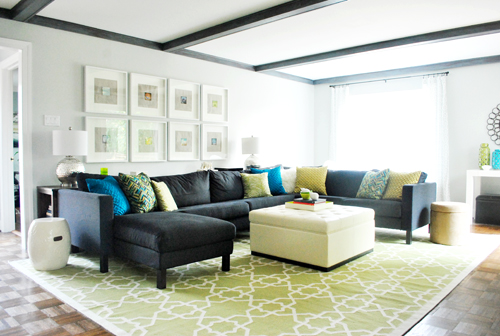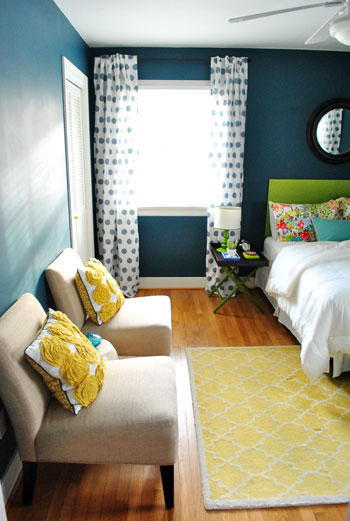 I know, I know – things in the bedroom look a lot less polished or finished than those two rooms above. True dat. Look at that naked nook and those bare walls. But things always look crazy in the middle. Heck, sometimes things don't really click into place until the very last tweak has been made, and I'd say we're at least a dozen tweaks away from the final tweak (the pillows, curtains, and lamps might be the first to get some tweak-age now that there's a new rug in town). But we'll get there someday…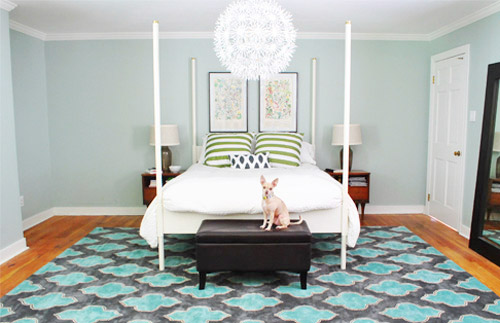 Nothing is safe when we have our tweaking hats on. Haha. But thanks to the new rug we're invigorated and excited to play around a little more and see where we end up. So expect a few more changes throughout the week as we try our hand at a few other switcheroos and snap pics for you as we go. Some might fail, others might work- so it's all about playing around in the name of figuring this room out a little more.
And can we talk about how plush this guy feels underfoot? Excuse me for mentioning the original price again, but have you ever walked on a $1287 rug before? We hadn't either. It's what we imagine the carpets in The Donald's house might feel like. Super super plush. Like double thick. Burger even lounges on the rug now (he used to lounge exclusively in the bed, so it's funny to see him sprawled out on the floor these days). It's nice to know that we have the doggie stamp of approval.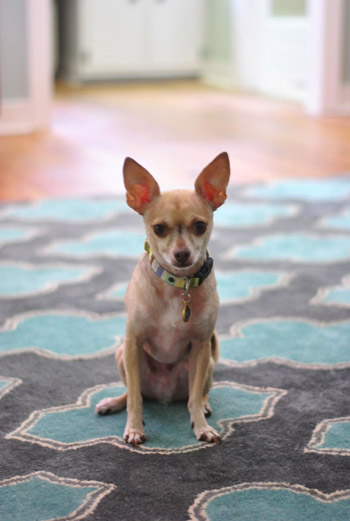 What did you guys do this weekend? Any deal hunting, rug rolling out, or super fast vacuuming? John also ran his buns off at the James River Scramble (it's sort of a rocky trail run/10K) and we loved cheering him on. We also squeezed in a stroll around the art museum (Clara loves VMFA) and dropped in on a new doughnut shop that opened. Good times. What were you guys up to?