1. You have a painting belt. Yes John has a belt that is specifically designated for painting. We learned early on that you can lose many an outfit to permanent paint drips so we each have one "summer painting outfit" (which consists of one pair of shorts and a tee shirt) and one "winter painting outfit" (which consists of one pair of jeans and a sweatshirt) to keep us from ruining everyday clothes all the time (and from having to dedicate an entire drawer to painting clothes). However, John did get paint on one of his belts pretty early on, so it has become an important part of both his summer and winter painting ensembles. He argues that he's not very efficient if his pants are constantly falling down while he's trying to get his roll on and I have to agree.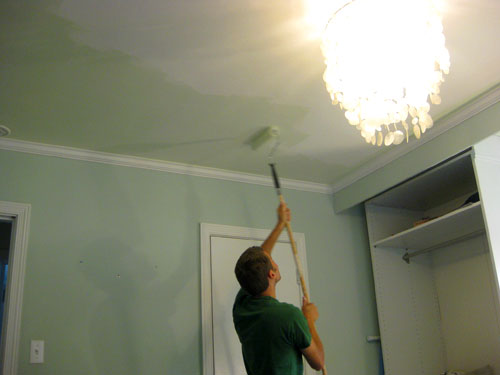 2. The first person to rub your baby belly is a Home Depot employee. Yes this is a true story. Thanks to my short torso and my genes, I started "showing" pretty much right after I found out I was prego. And although I heard stories of strangers and friends spontaneously reaching out to pat pregnant bellies, no one other than John had been near mine. Until we went to Home Depot to pick up a few things and one of my favorite cashiers immediately noticed and congratulated me by reaching out and rubbing my tummy! The funny thing is that I didn't really mind. See, there are a bunch of employees who work there (and at Lowe's and Ace and True Value for that matter) who are all like family to us. Why shouldn't they be when we practically live there right along with them? So that's how the first non-husband-hand to rub my belly came to be that of a Home Depot cashier. Think we should put that stat in the baby book?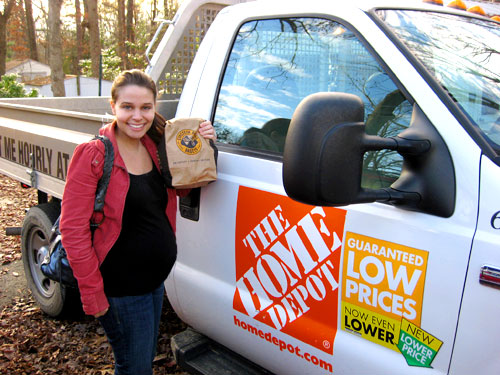 3. Four out of the eight drawers in your kitchen are dedicated to tools and painting supplies. Yes it's true. One is devoted to silverware, two are "junk drawers" and one is full of plastic bags, tin foil and wax paper. The other four are full of everything from hammers and screwdrivers to sandpaper and even rollers and paint trays. They say the kitchen is the heart of the home so I guess our tools have a special place in our heart.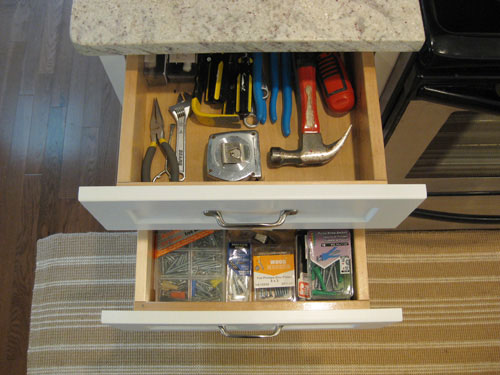 4. Your eight pound chihuahua isn't the slightest bit startled by the sound of a power saw or a hammer (and he's afraid of pretty much everything else). Somehow over the years Burger has become immune to the sounds of us bashing out walls and nailing in trim, so even though his eyes snap open and get wide with terror when he hears a leaf rustle outside, he actually falls asleep to the sound of us noisily pulling our house apart (and just as noisily putting it back together).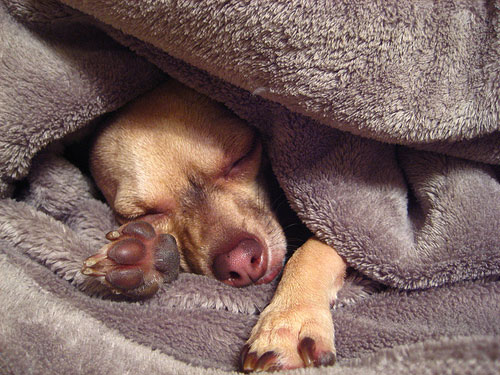 5. There's no limit to the extent of uncomfortable acts that you'll commit in the name of home improvement. Showering outside with icy hose water in 40 degree weather since the shower's torn apart? Check. Sleeping on an air mattress in the den because the bedroom floors are getting refinished? Check. Going without a kitchen for 113 solid days while you assemble a new one? Check. Waking up on New Year's Day at 8:20 to hit up Ikea? Check. It's like an episode of Survivor around here. We're just crazy in love with our house and we'll pretty much go to the end of the earth just to spruce things up. It's a sickness people. And you know what? We're oddly proud of it.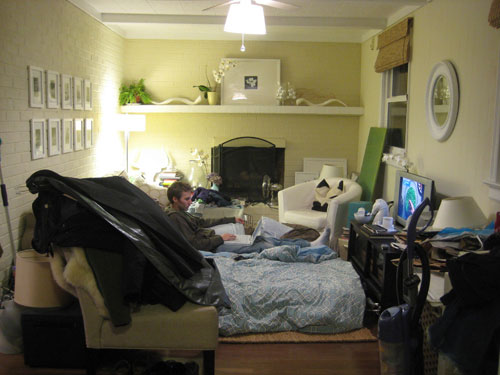 What about you guys? Do you deserve some insanity badge when it comes to your commitment to home improvement? Have you endured something truly strange or especially trying (at least now that you look back on it) in the name of DIY? Do tell.