Our office continues to creep towards the finish line (tortoise style) with the addition of an overhead light…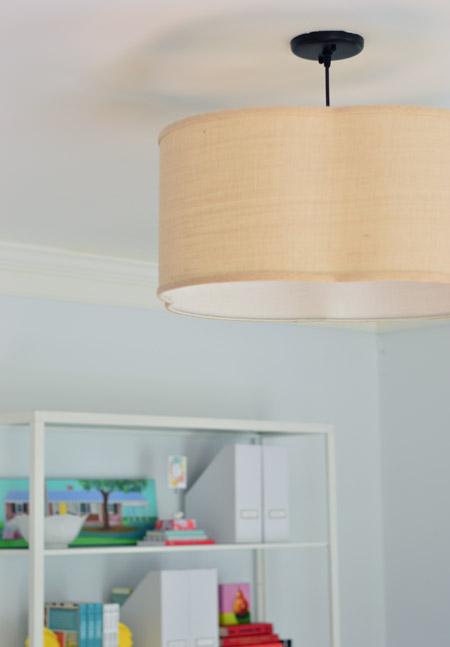 … and new desk chairs.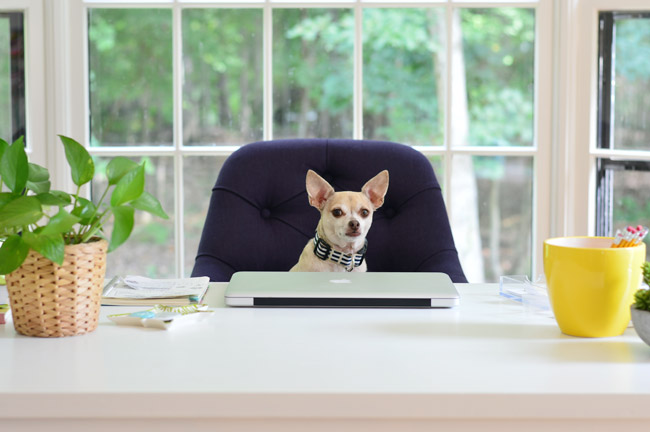 You might recognize the light because it's none other than the one we used to have hanging in our kitchen (loosely meeting both the "old" and "borrowed" criteria from this post's title). We loved the light itself, but mentioned a few times in the comments that after living with it for a little while, we weren't sure we loved it as much as we initially thought we would in the kitchen. So we figured we'd try it in the office.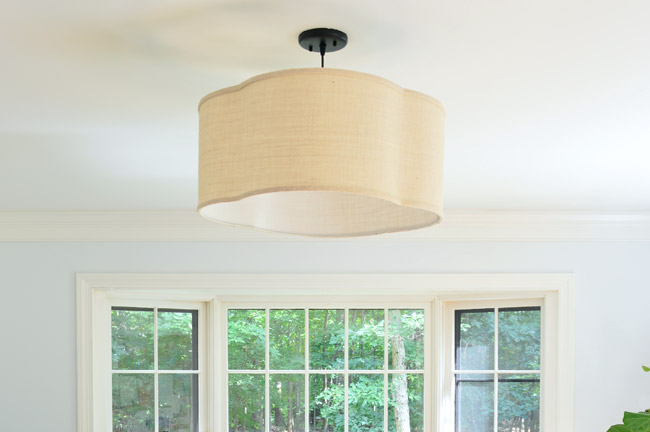 The second it was up, we were sold. It feels polished and traditional to us, so it's a nice mix with the clean-lined furnishings and colorful art (the more modern counterparts of the room) and the paned bay window and thick crown molding (the other more traditional elements that are already present). Functionally speaking, it's nice and bright (it's a two-bulb fixture) and we're both soaking up the luxury of finally having a ceiling fixture to flick on when we enter the room. We've even talked about going to a glass place (or a lighting place) and having them cut a quatrefoil-shaped diffuser to fit it, so we'll keep you posted if we get around to that.
Of course now that we stole that light from the kitchen we just have a bare bulb dangling in there, but we're glad to have found our big quatrefoil shade a more permanent home.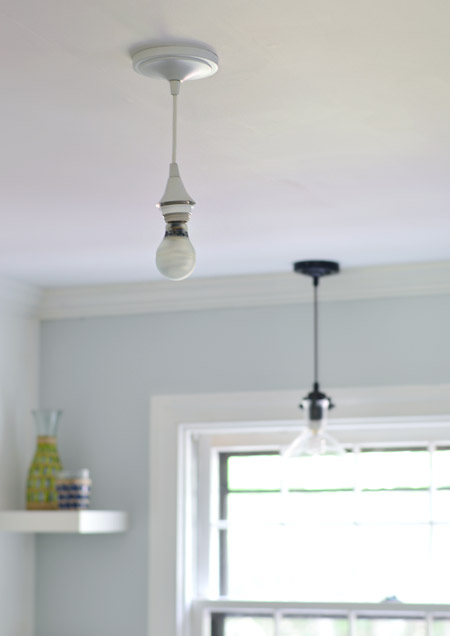 Now for the chairs. Don't you remember them from our kitchen too?
Just kidding, they're new. And blue.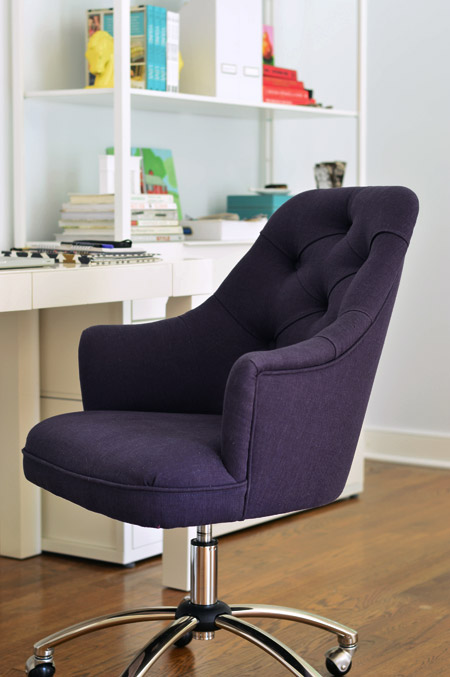 It all started when a reader named Sabrina tipped me off to a big sale going on at PB Teen and mentioned they had some pretty nice stuff. Lately I've noticed a bunch of designers using stuff from PB Teen in adult spaces. In other words, don't let the name scare you. Oh and check out PB Kids too (they have some gorgeous lights right now). In fact, Real Simple had an awesome living room a few months back and the thing I loved most and swore was probably super expensive ended up being like $150 at PB Teen.
But I digress. These chairs caught my eye the second I headed over to the site – especially because of the awesome button tufting and curved arms (traditional) and those sleek legs with wheels (the more modern counterpart). Although the light gray and teal one were completely charming, the navy one screamed my name the loudest (less worry about stains, and a nice dark/rich color to ground our light and airy office) so I showed John and held my breath. John is somewhat of a chair diva. He wanted our new office chairs to be adjustable (check), have arms (check), be on wheels (check), and not have a ton of cumbersome levers and handles under them (we looked at a lot of prior chair options looked like an oversized eight-armed spider lived under them). These actually checked all of his chair diva boxes. BIIIIIG SIGH. He was in.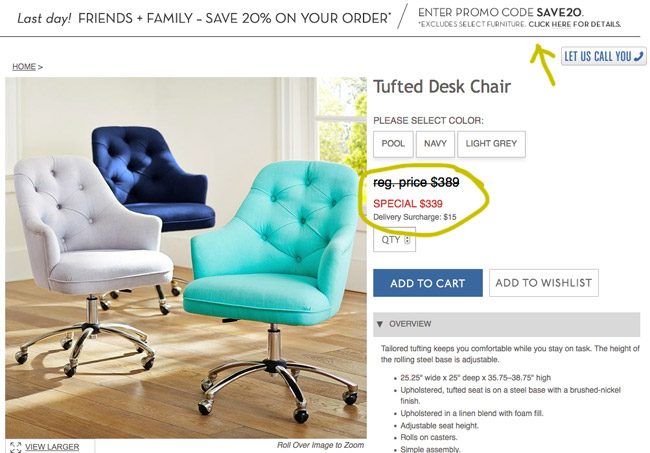 Actually, I loved them enough to pull the trigger, but it wasn't until I called a local Pottery Barn store to check if we could return them there (instead of having to pay to ship them back if we didn't like them) that Practical John was completely with me on the whole "add to cart" step. They still weren't cheap, but we certainly appreciated that they were marked down by $50 each and their friends & family sale got us 20% off on top of that (we ended up saving $118 per chair).
We did that obligatory worrying thing until they arrived on our doorstep. Would they be comfy? Would they tilt at a weird angle? Would they feel scratchy? Would they come with a nicely labeled empty box in the packaging? Turns out they did.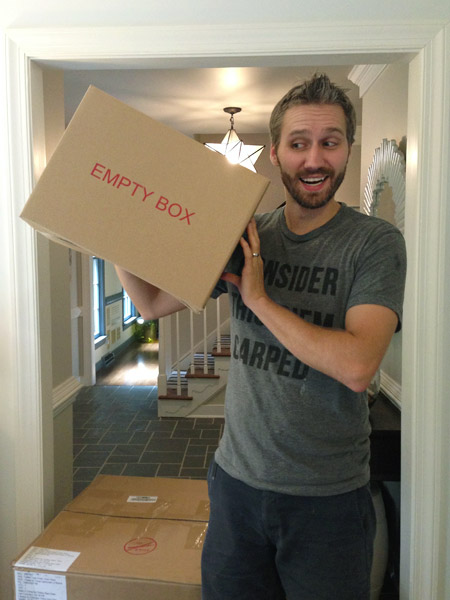 The good news is that they're also comfy, they adjust so we both can have them at the height we like, the wheels glide like butter, and the sloped arms are really nice. You're probably wondering "how does it feel to breastfeed in this desk chair?" Well, I can tell you in all sincerity that it's quite cozy indeed.
The fabric feels almost identical to what's on the armchair in Teddy's room, which has lived through both food-related abuse (remember it was in the corner of our last house's kitchen by the fireplace for a few years?) and baby-related projectiles, so we have high hopes for their durability.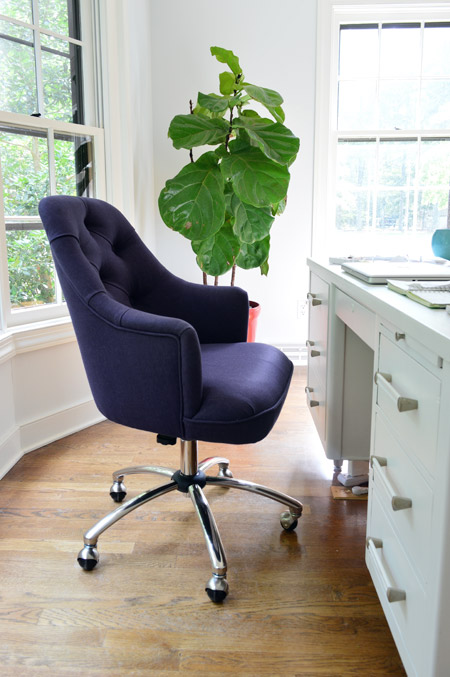 Our only slight surprise was that they looked a little less blue in real life to us (they're definitely navy, but the website photo looked almost cobalt, so we expected a little more intensity I think). But the art, the plant, and the items on the bookshelf in the office are pretty colorful, so we figure some handsome tufted navy chairs are nice classic "foundation" pieces to ground the room and balance out all the light/modern/happy stuff. Since they're not these super bright focal points we figure that frees us up to have fun with curtains or a rug in a bolder color or pattern if we want. So although they look a little whoa-those-are-dark-chairs-in-a-light-room now, I think they'll make more sense when we bring in those other items.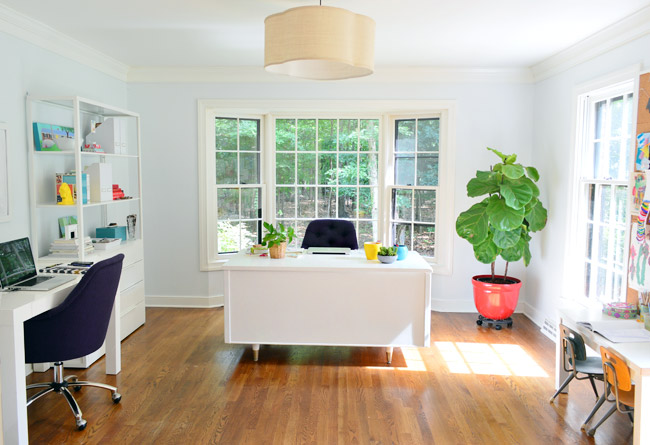 Maybe something like this? Depends on what we find. But this is a good example of how something that might look out of place in an unfinished room (the cream color of the light or the deep tone of the chairs) can sort of "gel" more as the room fills in (the tone of the light is also in the West Elm rug, and the dark curtain rod and bold curtains seem to balance out the deep color of the chairs).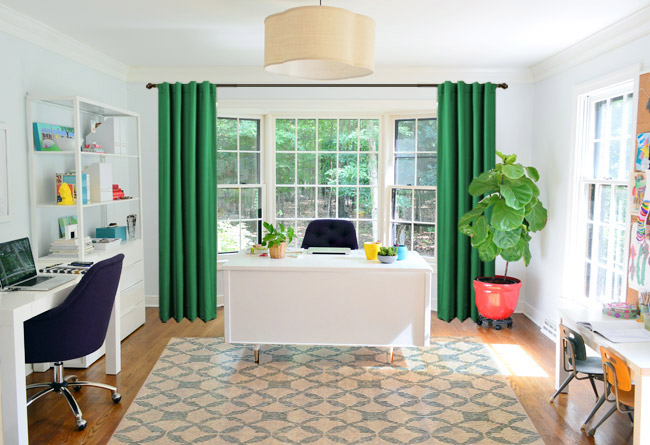 So our few remaining items on the office list are those aforementioned window treatments and a rug along with getting a frame for Clara's monster and possibly adding that diffuser to the light along with a desk lamp or two and then we should be finished in here.
It's pretty exciting to be creeping towards a mostly-completed space since the only other rooms that are worthy of that description might be Teddy's room and Clara's room along with our sunroom-turned-veranda. The funny thing is that I'd bet the laundry room will be a pretty finished-looking space in a few more weeks, which is hilarious since it came out of nowhere while some other rooms we've been slowly upgrading for over a year still feel SO FAR from being done. Houses like to keep you on your toes like that I think.
&nbsp
What's a laundry room without walls, right? Well… I guess what is any room without walls really? Point being – our new 8′ by 7′ laundry room now has them. Or the beginnings of them at least. Yup, drywall is hung! And we did it ourselves. Well, with the help of a robot-like contraption, but more on that in a second.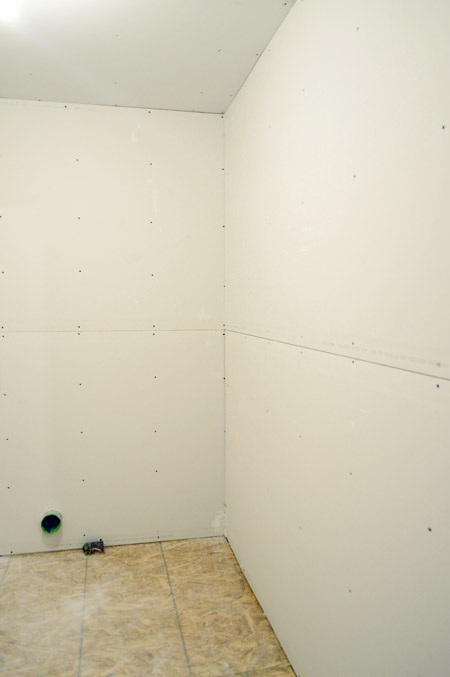 As you saw in our last post, I picked up the drywall along with my other big supplies when I rented the $19 Home Depot truck. I got fourteen 4 x 8′ sheets of UltraLight Sheetrock since the whole "ultra light" thing sounded helpful and it was well-reviewed.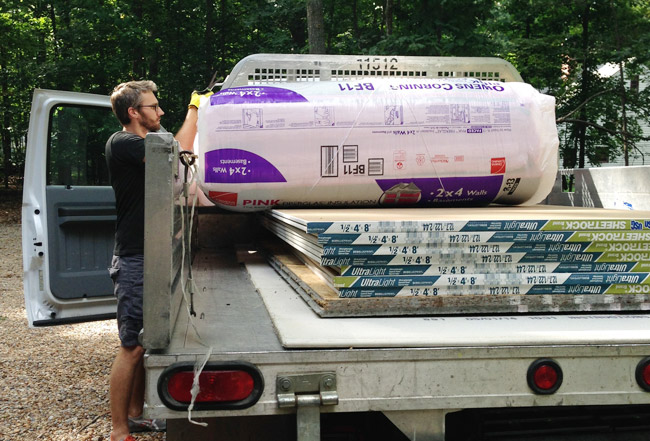 I'd say the lightweight thing was a bit of an over-promise. It's lighter than traditional stuff, but still not something you want to lug around all day. And certainly not something you can hold in place with one hand while the other screws it into the wall. So I rented this drywall lift from Home Depot to help with the job. It was $40 for 24 hours and the pieces easily fit in our car.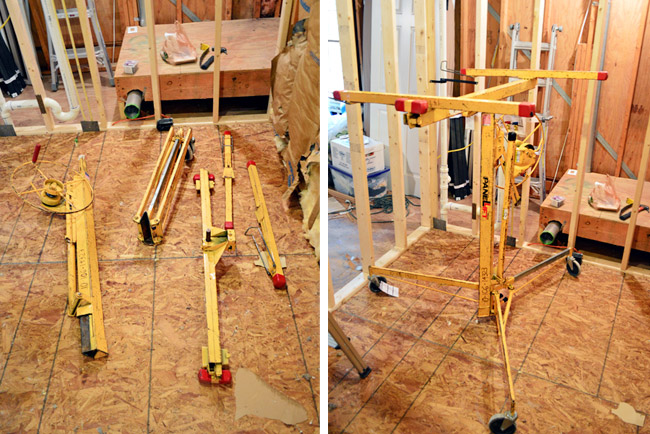 It was a lifesaver (and backsaver). We could basically place our drywall piece on it (once it was cut to size) and then crank it up into place with the spin of a wheel.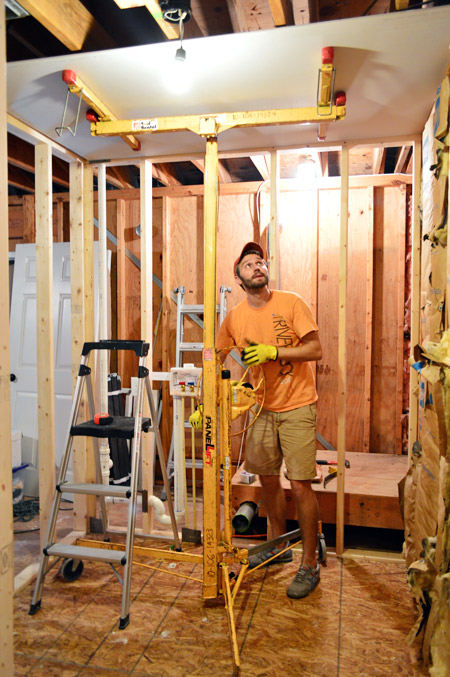 Then with the lift holding it in place, I was free to screw it into the joists without having to worry about my arms getting tired (or worrying that I was taking too long for my human helper – remember I dabbled in drywalling when we gutted our first house's bathroom and opened up the kitchen to the dining room in our last house).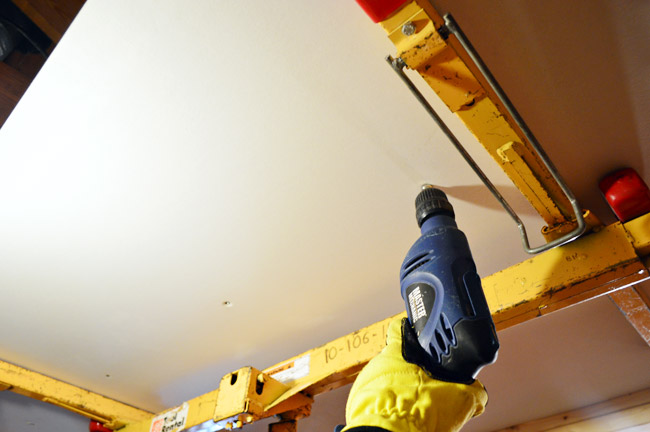 But back to screwing in the drywall – I used coarse-thread drywall screws (2″ on the ceiling, 1 5/8″ on the walls) and a special drywall setting drill bit, which makes sure the head of the screw gets counter-sunk into the drywall. In hindsight I kinda wish I had splurged on a drywall screw gun because this step would have gone a lot faster.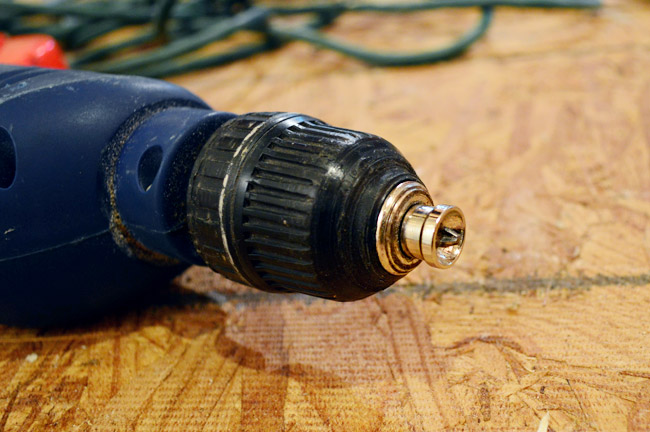 The hanging process wasn't really all that complicated – cut it to fit the pre-measured area, carry it upstairs, use the lift to get it into place, and screw it in. Even the cutting was pretty straightforward. Once I measured the size of sheet needed, I marked my cut with a chalk line and then used a straight edge (not pictured, I just realized) to score the line with my utility knife. Once you're through the top layer of paper, you can run your knife along that ridge again without the straight edge, and it's pretty easy to snap the piece along your line. Then you just have to cut the back layer of paper.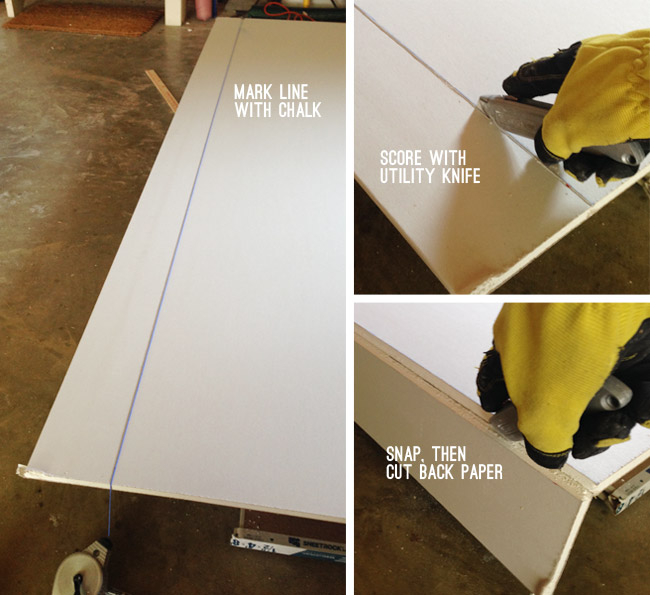 The part that we didn't photograph – which was actually the most exhausting part of the project – was carrying each piece from the garage to the laundry room. Again, they weren't exactly "ultra light" and navigating nearly 4 x 8′ pieces up our stairs wasn't always easy. Sherry was a huge help when it came to getting the larger pieces up (they were awkward to carry alone, and after denting the wall at the top of the stairs we officially dubbed it a two-person job).
As for cutting around various obstacles like light switches, vents, etc, I relied on a variety of tricks to ensure perfect hole placement. For the ceiling light fixture I dabbed some spare paint on the edge…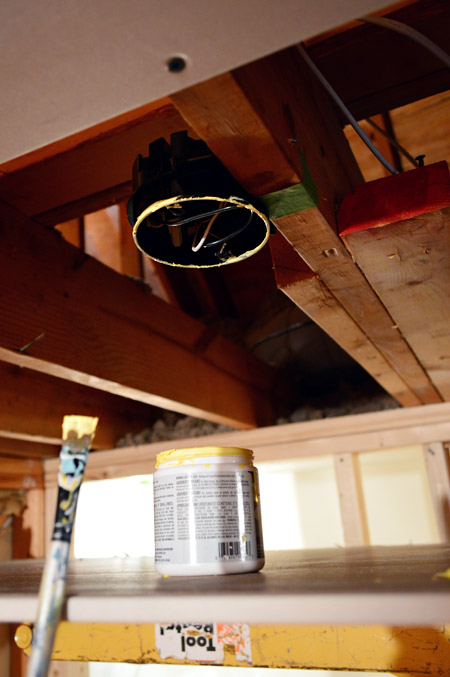 …then I pressed the sheet to the ceiling with the lift to transfer some of the paint to the drywall.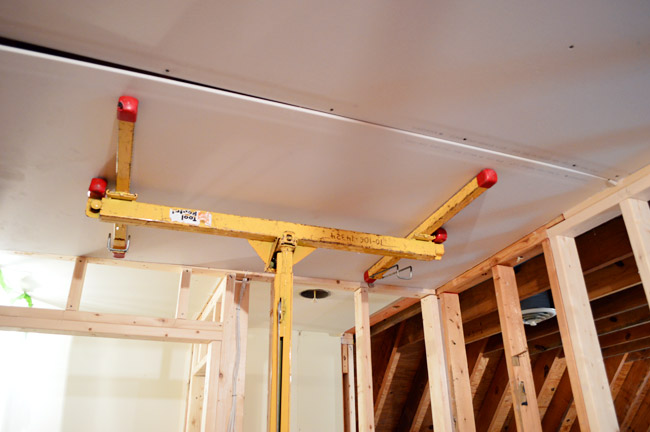 Then I could cut a perfectly placed hole.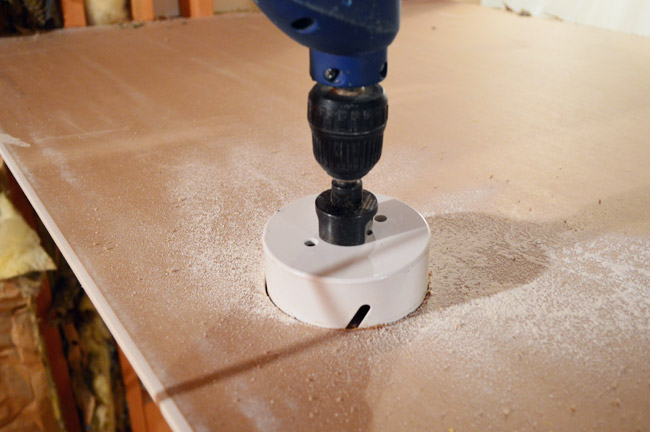 I used the same trick to mark the HVAC vent hole too, as you can see below.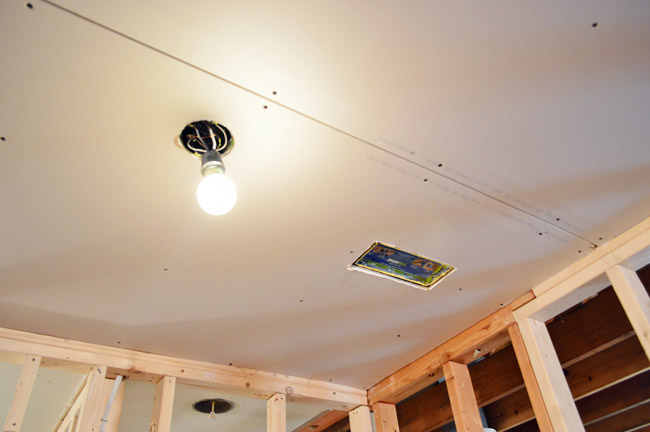 The lift also pivots to help you hang pieces on the wall. The room ended up being nearly 8′ deep and 7′ wide,  so each wall required just two sheets of 8′ drywall that were cut a little shorter length-wise.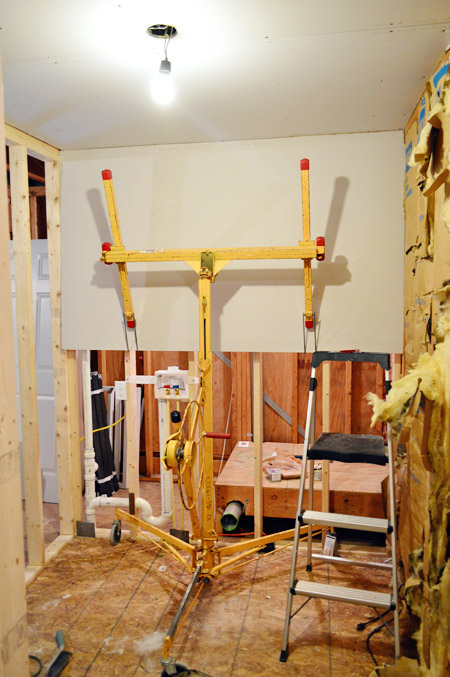 Navigating the obstacles on the back wall were pretty easy because Sherry or I could just step behind it and mark where things would intersect the drywall.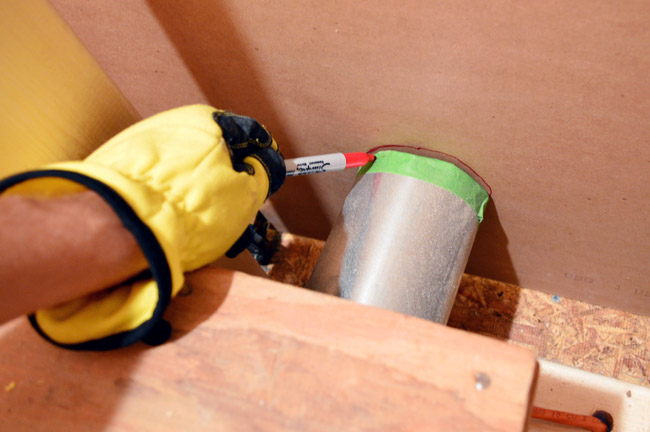 For all the non-round holes, we used the drywall / keyhole / jab saw to cut out the appropriate sized holes. Whenever possible, we liked to cut from the front of the drywall because it kept the hole a bit cleaner on the inside.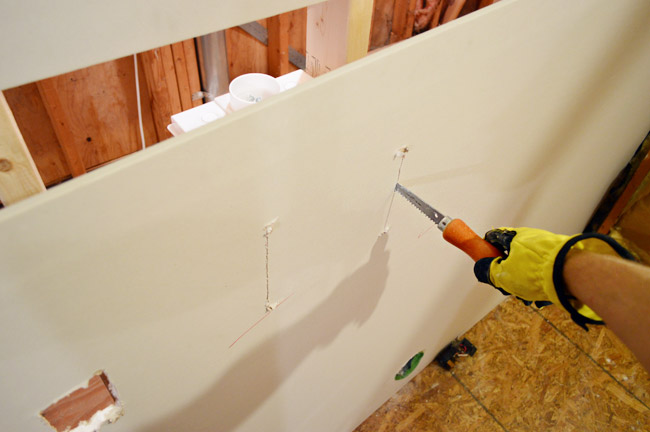 As straightforward as the process was, it still took quite a bit of time. Between measuring & marking things, making our cuts, hauling things upstairs, using the lift to get them into place, cutting around additional obstructions, and screwing the drywall into place – I think we averaged about one board every 45 minutes. Not a record-breaking pace by any means, but we were pausing to take photos and Teddy was awake. Our only real time-related goal was to get all the upper boards done before our day-long rental of the lift was over (otherwise we'd be out another $40). The drywall gods must have smiled down on us, because we met that goal.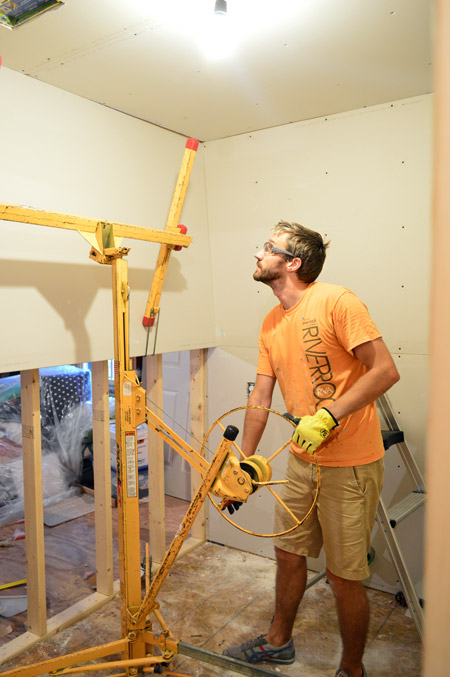 Once we got around to the pieces in front of the doorways, we chose to hang them over the door opening and then I could cut out whatever I needed once everything was screwed into place. This was a pretty foolproof way of doing it, but I think had I bought a spiral saw it would've been significantly faster.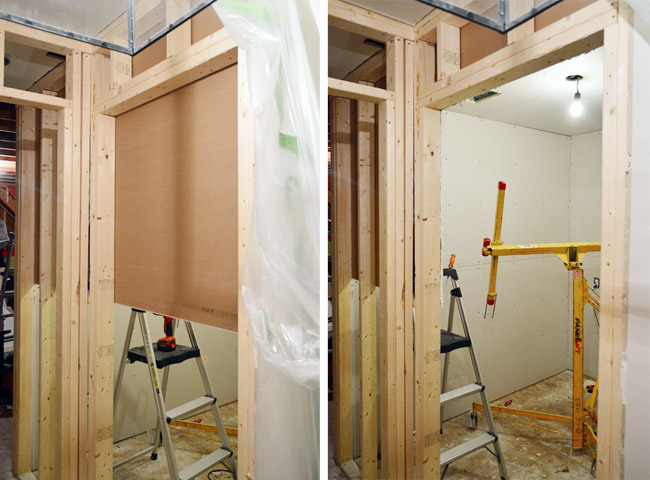 Especially since we had four doorway holes to cut (two doors with two sides each). And after leaning up this outside piece to the laundry door, I realized I'd need to cut a small access hole so I could get behind it and follow the door frame with my saw. I felt like I was in a Roadrunner cartoon or something.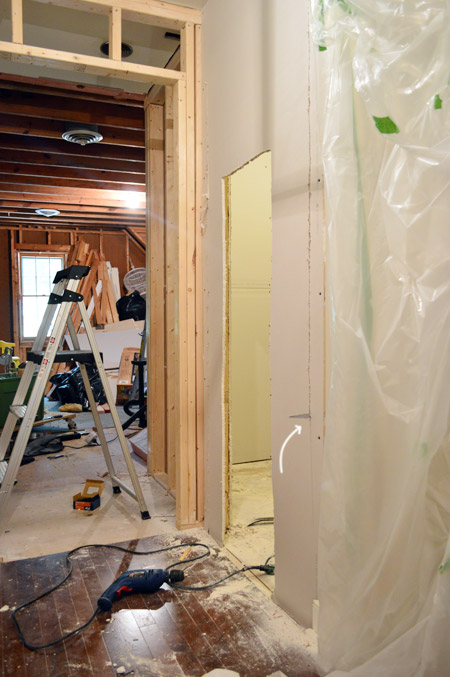 Eventually I got all 14 pieces in place (10 in the room, 2 in the hall, 2 in the storage room vestibule) and the space was really starting to take shape.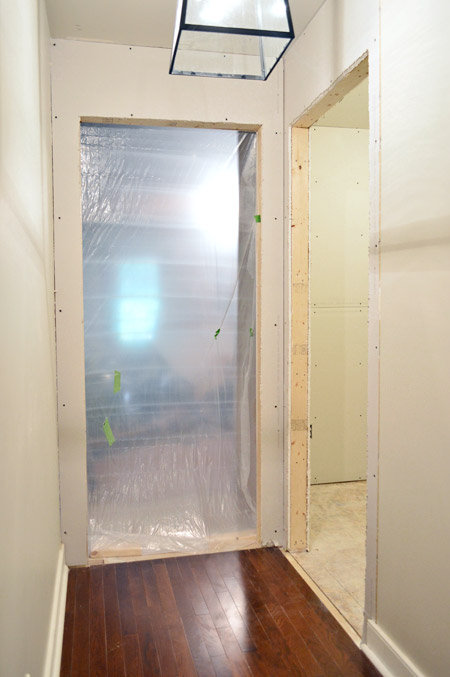 In the vestibule area I actually replaced the ceiling piece too, since we terminated the old HVAC vent that was there. I figured it was easier to put up a new solid piece than patch a large round vent hole (don't mind our big plastic drop cloth door that's so elegantly hung at the moment).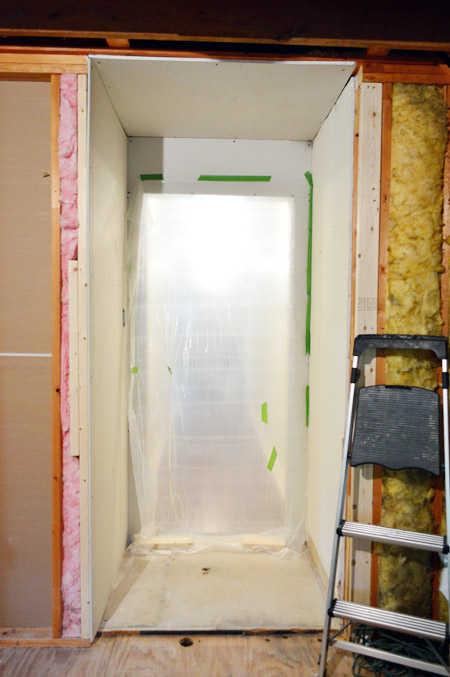 I did have to install a little bit of insulation as I went (just on a couple of interior walls that were missing some) but I still need to add the rest around the outside of the room, so I'll detail that step for you guys in the next post along with our mudding and taping progress and a budget breakdown so far (assuming we can get all our receipts together and add things up by then).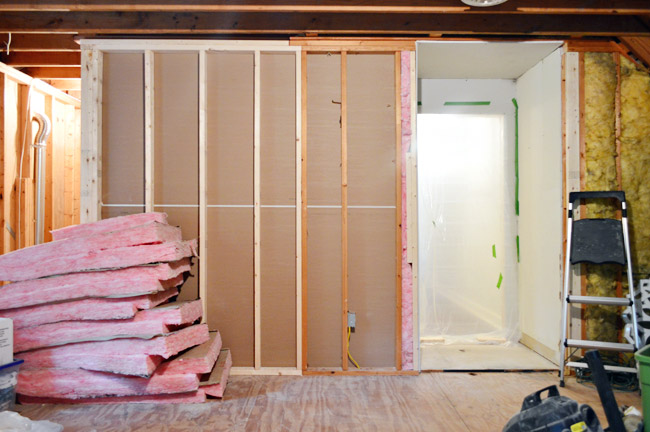 As a reminder, here's where things were last week. Three cheers for progress.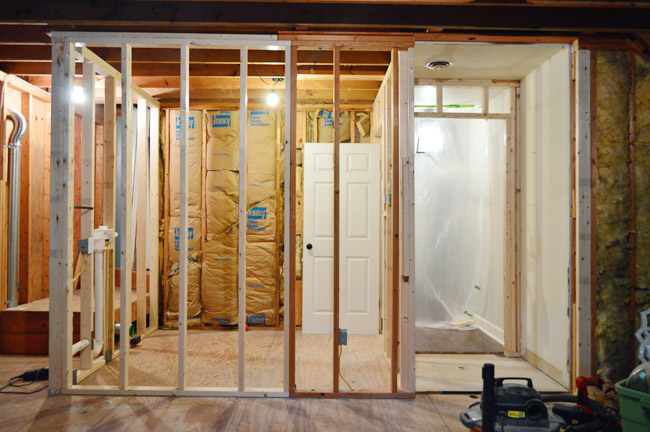 The inside of the laundry room isn't looking very exciting. And I'm learning that it's a bit hard to photograph. You can see that our drywall hanging isn't perfect (I had a slightly angled cut up in that top corner) but we're still proud to have completed the task on our own. As many of you mentioned, the hanging part is a lot easier than the art of mudding and taping, so we tried to buoy our spirits with that info as we inched along.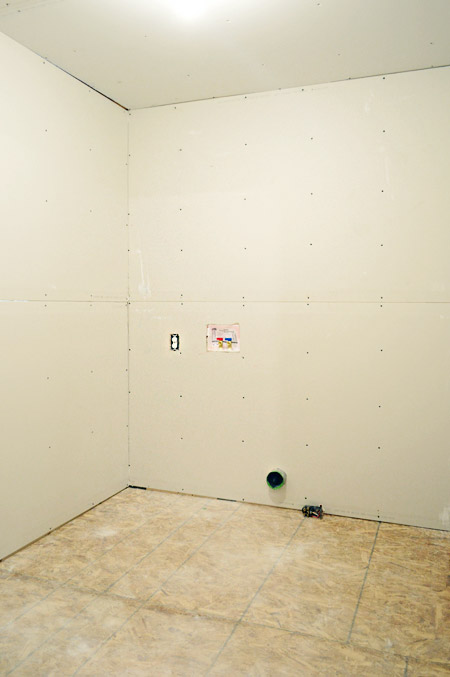 Speaking of mudding and taping, we've officially started in on that, and it's definitely the more challenging part of this process. My fingers are crossed that we'll have an update for you later this week, because after that we're onto the fun stuff – like tiling the floor, adding trim, and bringing the washer & dryer back in.
&nbsp