It's wild to think that this is our second year of decorating this house for the holidays (what even is time?!). You got a peek at some of it in our new kitchen door post, but today we're gonna show it all! I'd describe Year Two in this house for the holidays as a more minimal Christmas but still a festive one.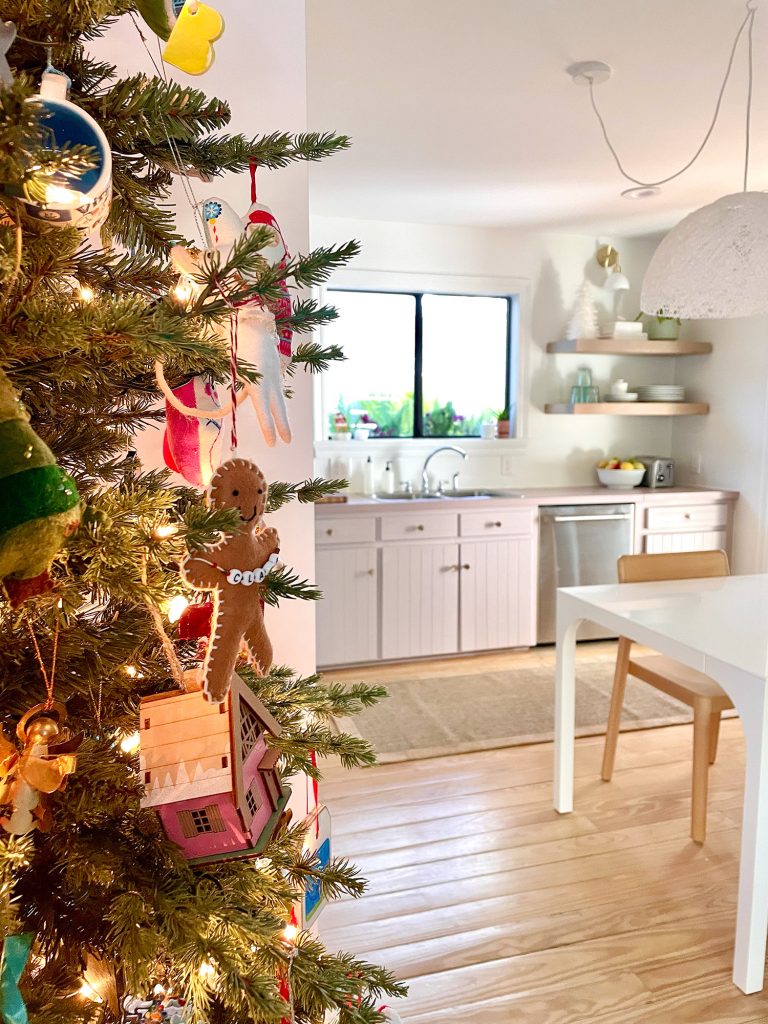 Last year we got a mini real tree for upstairs in the family room as well as putting up our skinny faker (that's what I affectionately call this tree right here) in the bedroom. But this year we had a more central spot for our main tree… right in the nook our new pantry created in the kitchen, which can be enjoyed a ton of the time. So I think it eliminated our urge to add a secondary little tree upstairs (you can see all the photos of how we decorated the house last year in this post).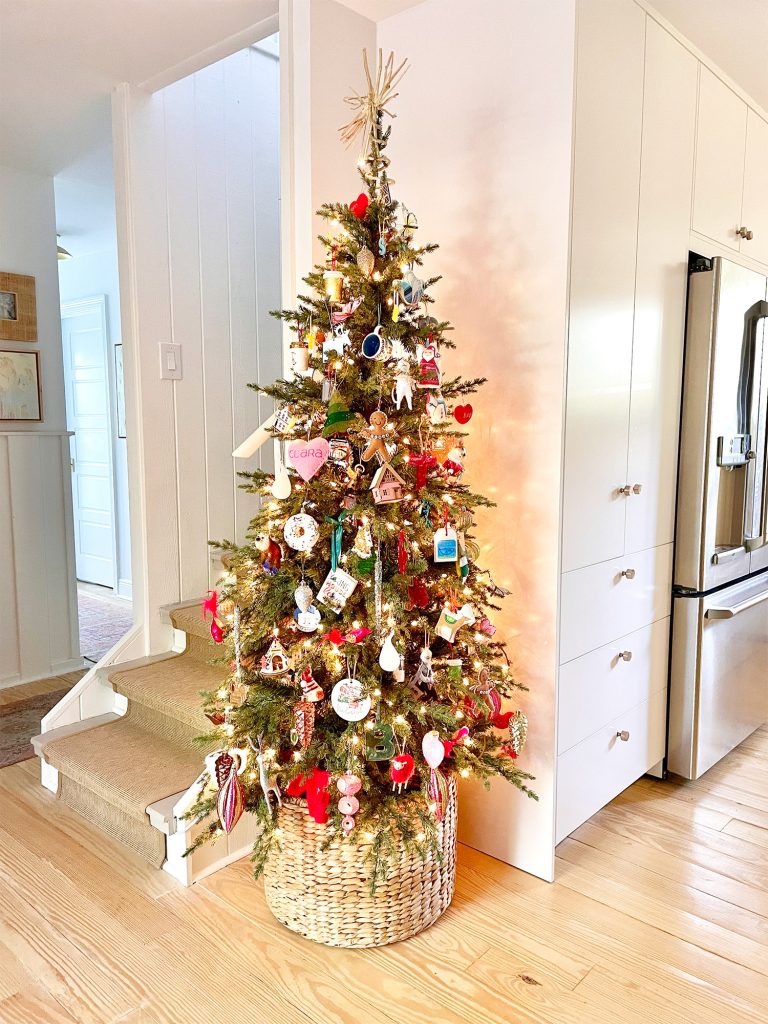 Another thing about our new spot for the tree, is that it feels like it gives us "more bang for the buck" from outside. I mean how perfect is that?! Couldn't have planned it better! And we literally didn't – we just pushed the tree into the pantry corner nook just to see if it was weird or cute in a spur of the moment urge & were both like… "UM IT IS GREAT!"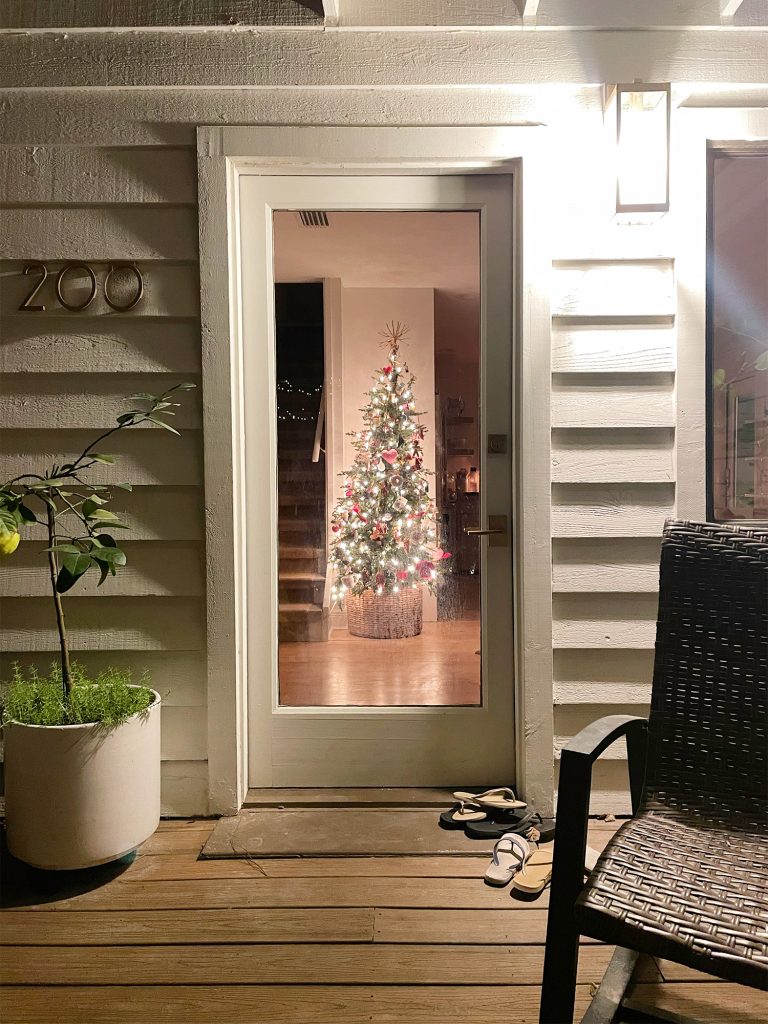 The juxtaposition of a pile of flip flops and a lemon tree outside and a glowing Christmas tree inside makes me laugh.
I realized I didn't show you how the other side of the tree looks, but you can see from this pic of the kids starting to decorate it that it doesn't really get in the way of anything. We have a big potted plant here the rest of the year, so the only real difference is that the tree is taller. But nobody was walking into that corner nook before, so it's all good function-wise.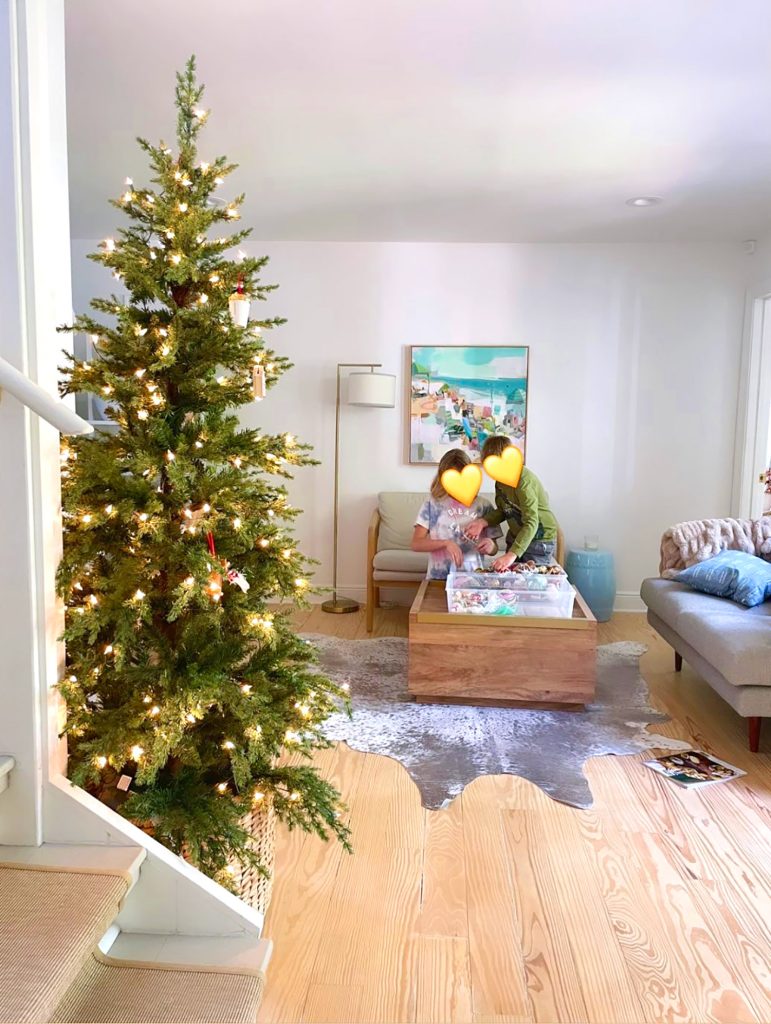 If you're one of those people who likes to "walk" through a space to get your bearings, you can also get a feel for the whole kitchen in this video. I LOVE how you can catch a glimpse out at the kitchen porch, and the ending makes me laugh. Feels very Florida.
Note: You can also watch this video on YouTube
Ok, but back to our tree. We're huge fans of the whole collected-over-time mishmash of sentimental and meaningful and handmade-by-the-kids ornaments. Gone are the days of "theme trees" or anything that's coordinated and matching – we all jam ornaments on basically every branch and admire the outcome every time. I know it's not for everyone, but it sure makes us happy.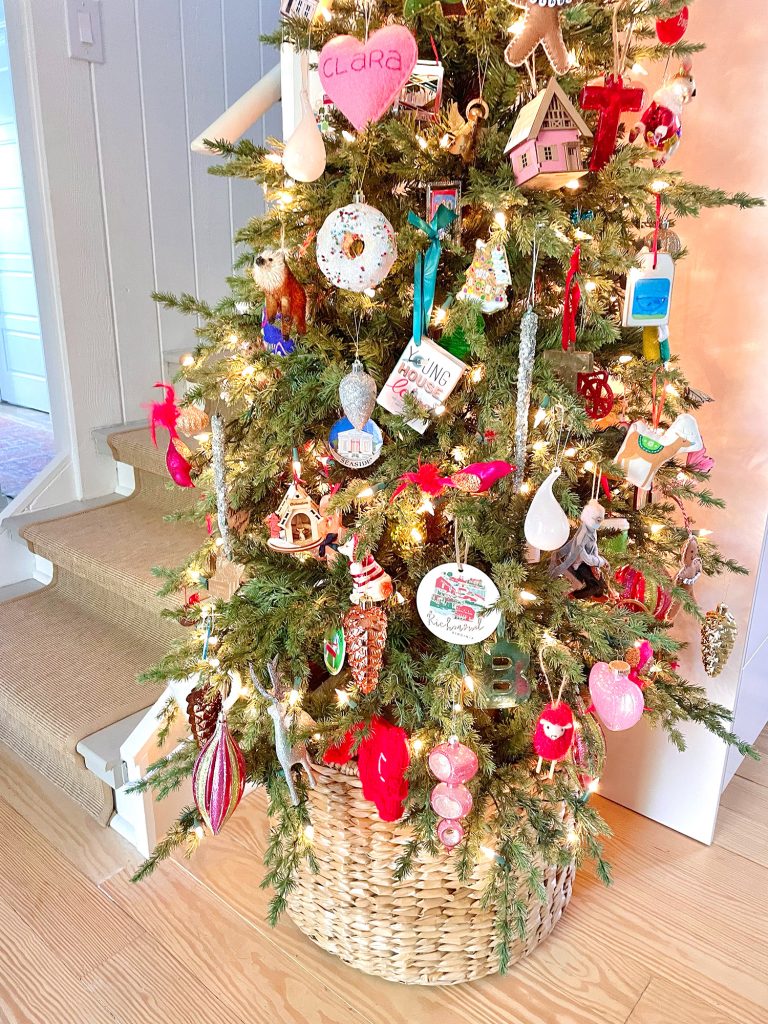 The kids put their stuffed animal "Burger" here the first night that we put up the tree and I cried real tears. We'd give anything to have him back. Feels so sad to have Christmas without him, and our tree is covered with Burger ornaments too. He lives on in our hearts for sure.
And then there's Raychard (yes, his name is Raychard, not Richard). He was named by our daughter back when she was like three or maybe even two? She's 11 now, so he has been with us for a while. He's always getting into trouble…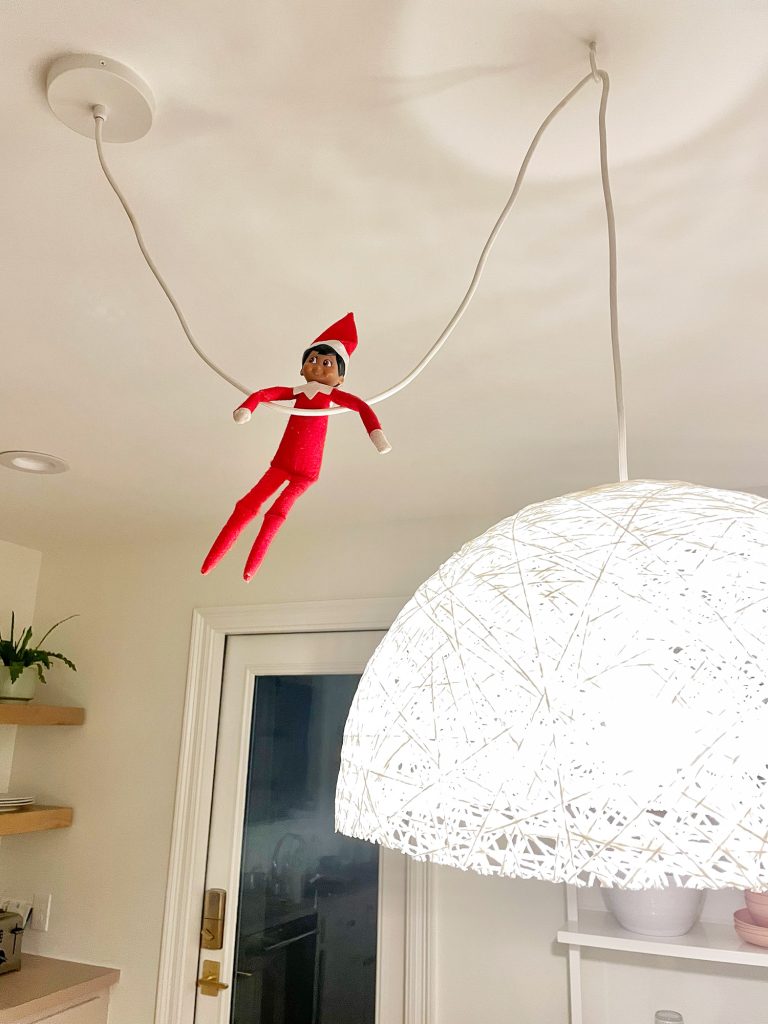 Upstairs, the keyword is minimal I think this year. Ha! I just put out a tray of ornaments and some small bottle brush trees and called it good. Some are bottle brush, some are wood, some are ceramic, and some are mercury glass. I love these things and remember packing them within an inch of their life when we moved here because I never want anything to happen to them.
Over by the TV there's a little dough bowl of shiny pink and silver ornaments for some added sparkle (here's a similar whitewashed dough bowl).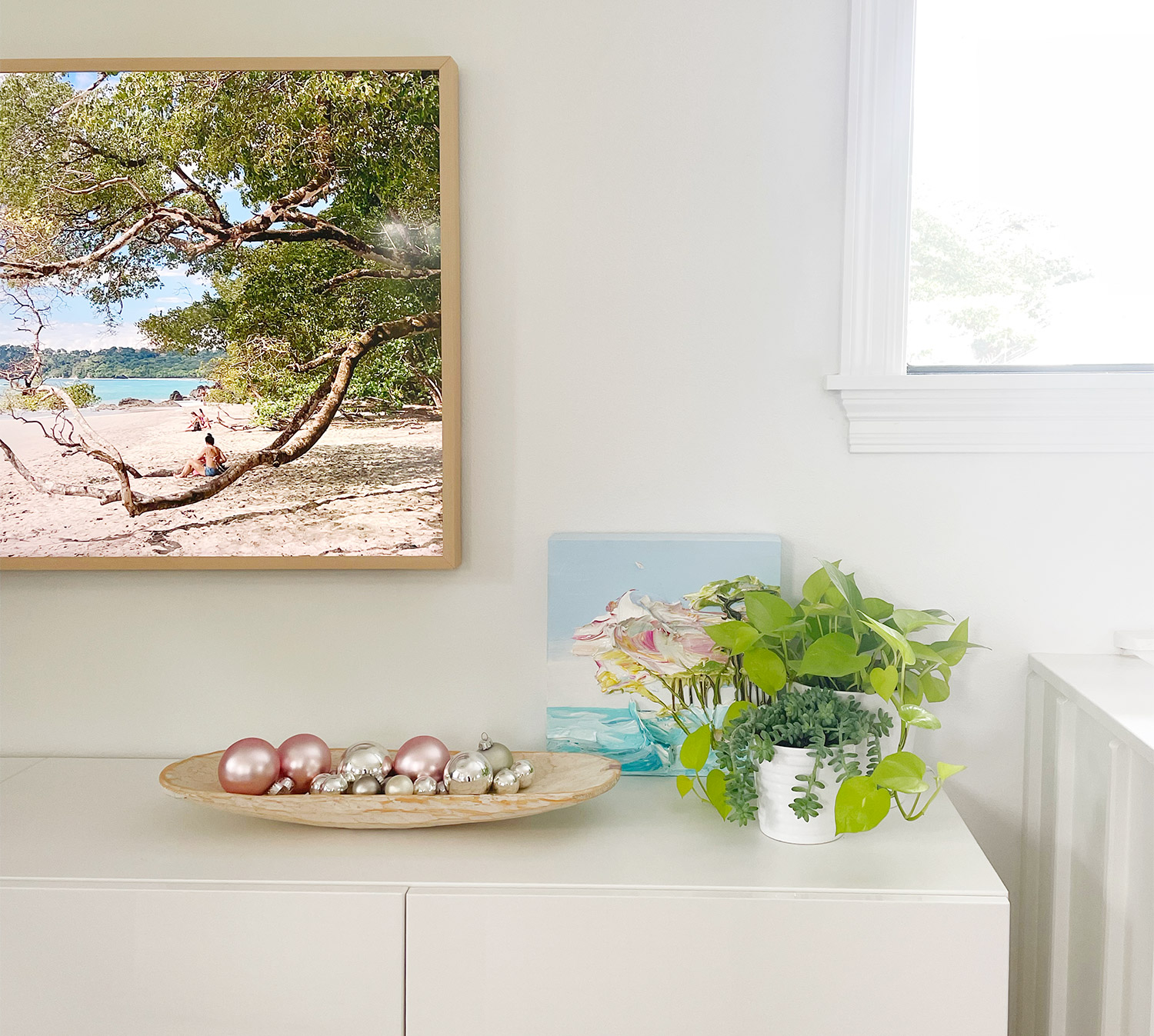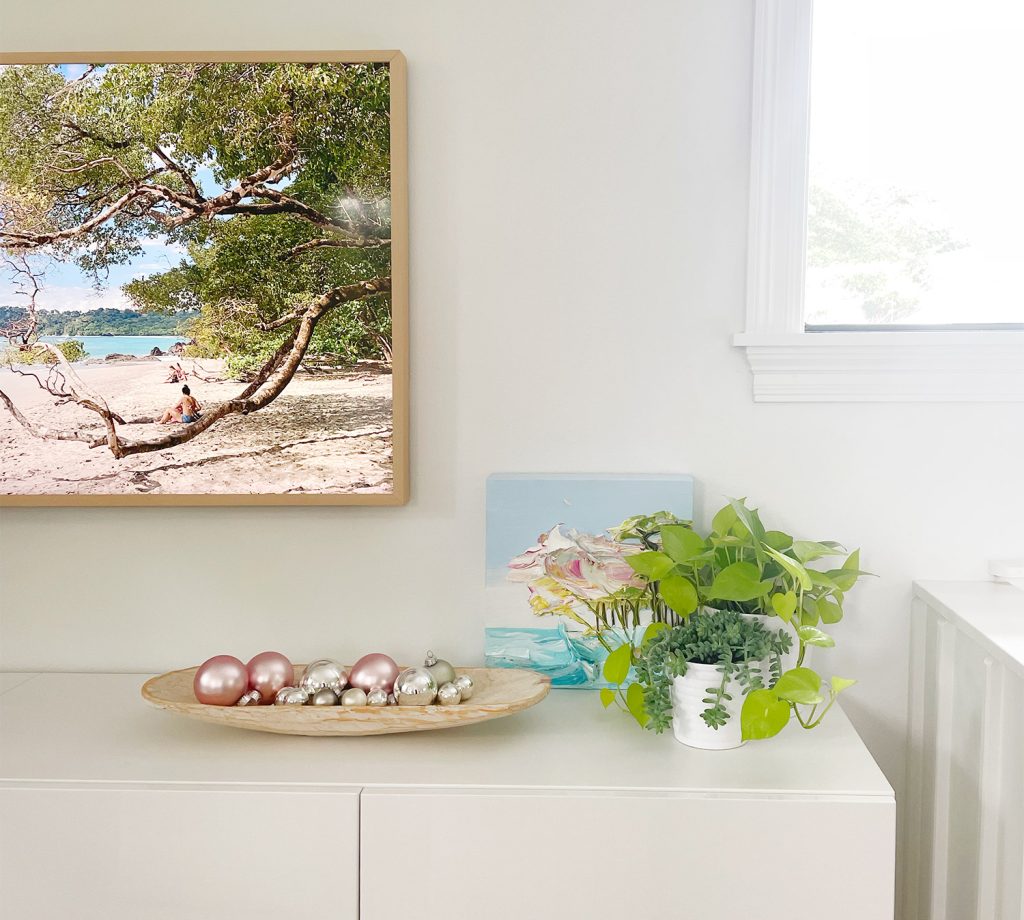 Overall, it's a subtle holiday effect. I went the opposite of over the top this year.
Fun fact: I store this dough bowl with these ornaments in it just like this! It goes in the last wardrobe cabinet in our bedroom (along with all of our other holiday stuff – more on that here) so it's just ready to set out every year. So easy, and in a closed cabinet it doesn't even seem to get dusty. In Richmond I used to bag up the ornaments in a labeled plastic bag that said "dough bowl ornaments" but sometimes less is more. This works just fine.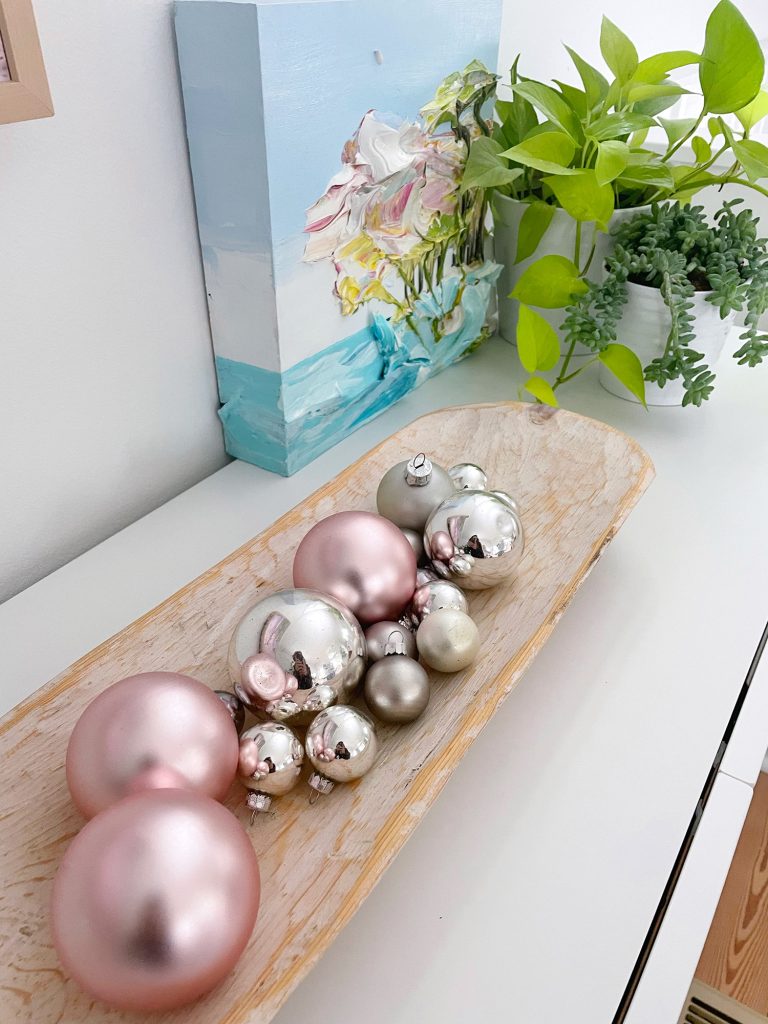 I love this angle with the pink painting and the brass sconce and Teil's book mixed with these trees. I'm telling you, they're small and cute but they make me so happy. I may have bought three new $3 ones from Target. They had pink glass and mercury glass ones in their dollar spot, which is now always $3 or $5 (the "dollar spot" name is wrong and needs to be updated…).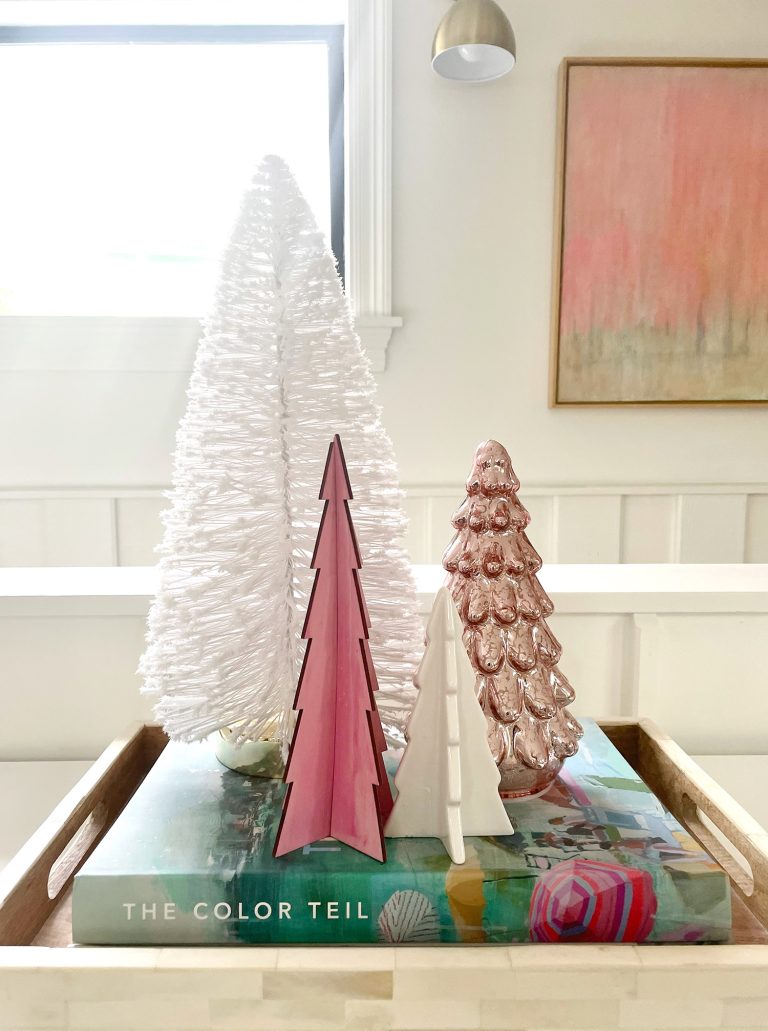 More trees ended up on our desk. Also, legos on the floor is real life, so please enjoy. The majority of these legos are from John's childhood and his mom saved them all these years and now our kids play with them. I just love that.
Also highly recommend a disco ball for year-round festivity. The reflections when the sun hits this one are so much fun.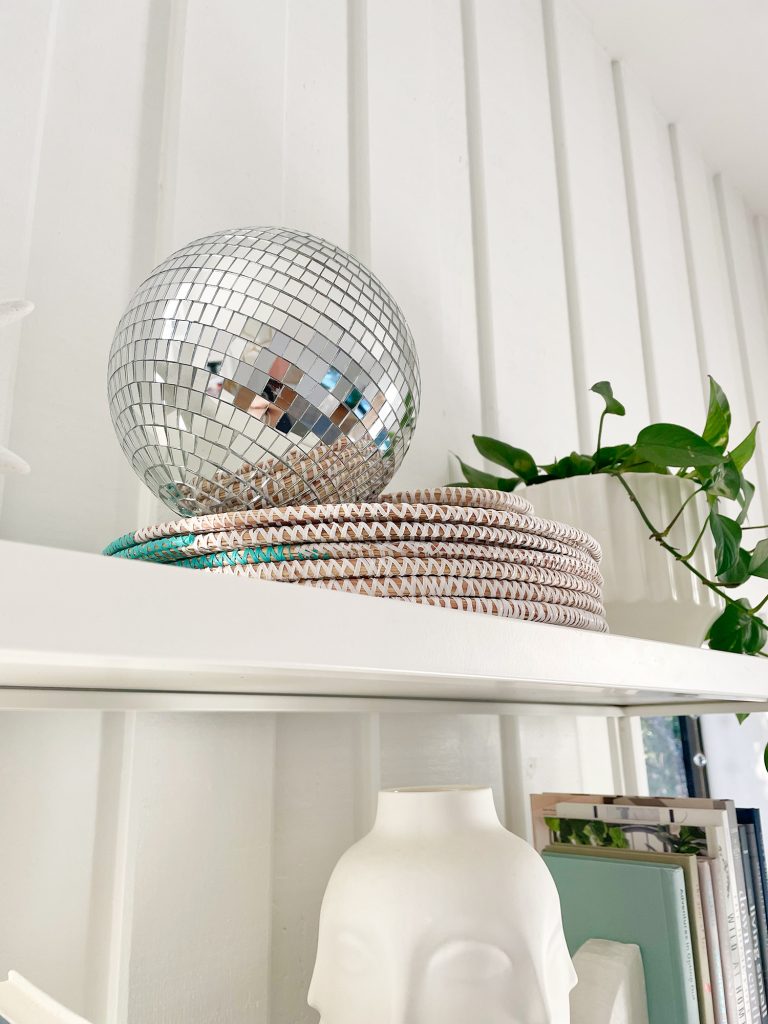 Oh and this year we finally added this beautiful menorah to our household. Growing up we always had one along with a Christmas tree (my mom is Catholic and my dad is Jewish) and I knew the kids would love growing up with a similar tradition. We all had fun lighting the lights and I shared some childhood memories of my grandma and grandpa's Hannukah traditions. Also… please enjoy the smeared hand marks on the dishwasher that I left there, also in the name of "real life." P.S. Doesn't that banana stem emerging from the fruit bowl look like a clenched fist, as if the apple is like "I'll never give up!"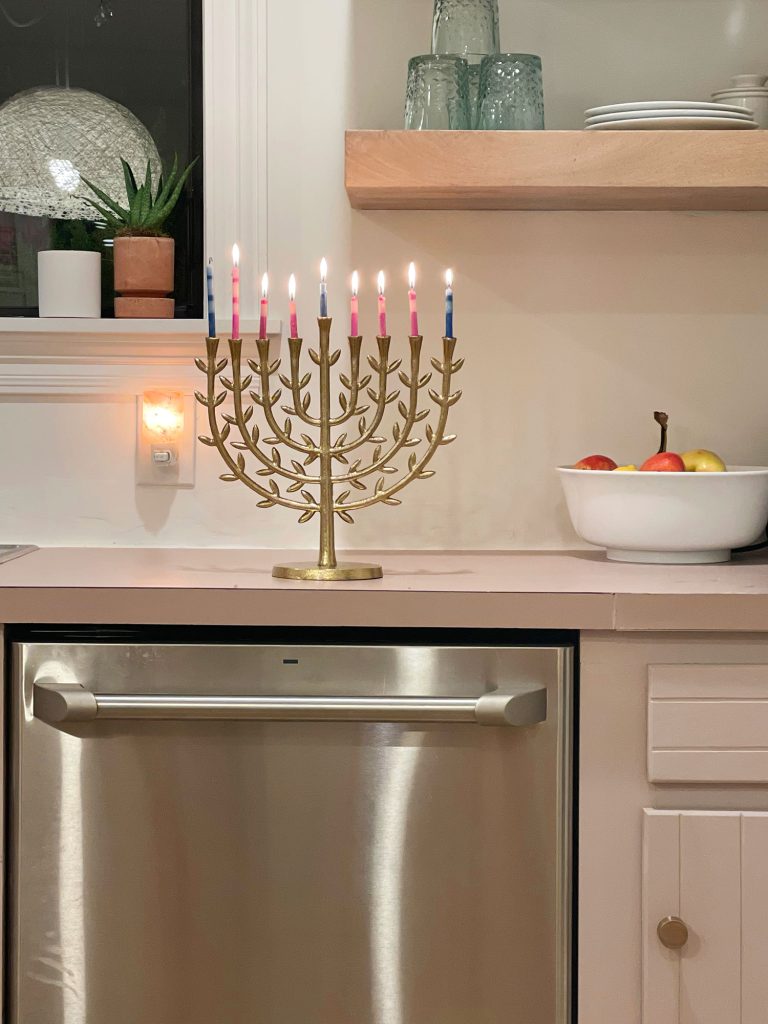 Oh and outside John had fun wrapping this tree with lights (these are similar warm white exterior lights). I love this so much I'm advocating that we leave it up year-round. It's so glowy and beautiful at night, and we get to enjoy it from our front door and window when we're eating dinner or hanging out in the sitting room in the evening.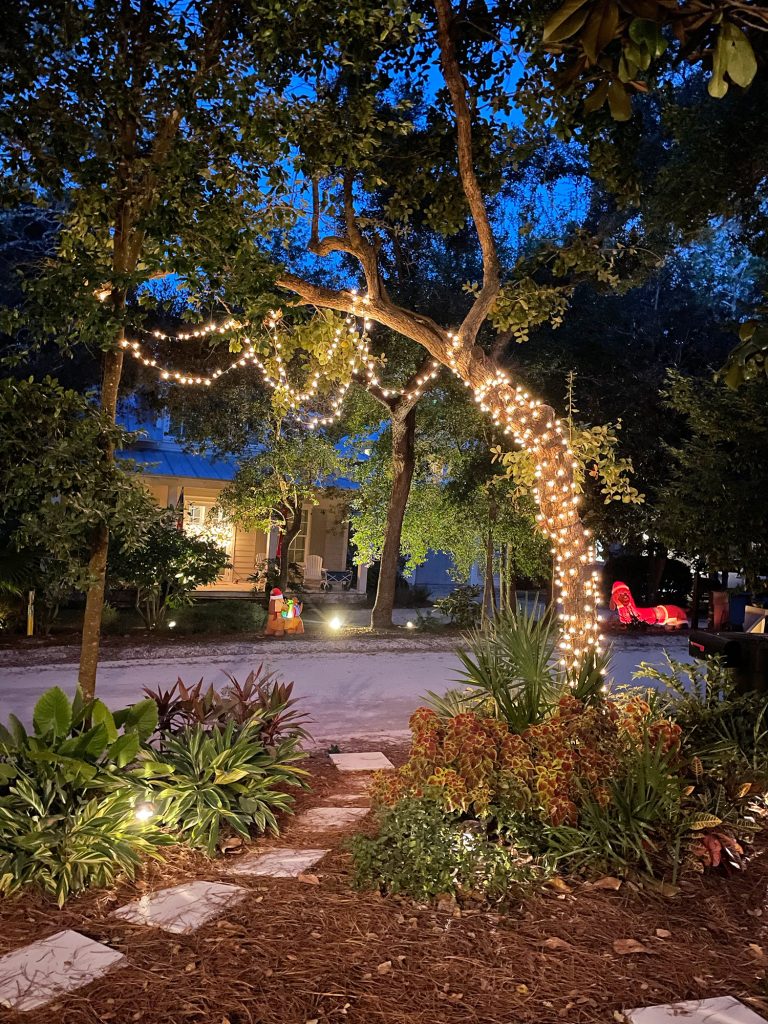 Also please take a moment to appreciate the inflatable weiner dogs that live across the street at our neighbors' house. We have the very best neighbors and their love of dachshunds knows no bounds (they even have a "Happy Halloweiner" inflatable that we get to enjoy every October). There are some other very festive houses nearby, so it's definitely beginning to look a lot like Christmas – even at the beach when it's 75 degrees.
Hope everyone is having a happy holiday season!
*This post contains affiliate links, so we may earn a small commission when you make a purchase through links on our site at no additional cost to you.