We haven't dropped in on this room since this post from more than a year ago about hanging our giant chandelier (how is that possible?! Where did that year go?!?!). This room in many ways has functioned well from day one for us – so I guess our infrequent check-ins make sense. We knew we wanted this big multi-purpose space to serve a few different functions like cozy movie room, a place to lay on the sofa and read/lounge, office/workspace for us, and an arts & craft desk for the kids that could also store all of their papers & creations while having another spot to store all of our board games and all of our work papers. I know. It's a tall ask, but this is a big room, and as soon as we moved in we knew just where we wanted the TV (and heck, that's as good of a place to start as any). There was literally one great wall for it thanks to all the large windows that fill the rest of the room…
… and that helped to define a nice cozy TV zone on one side of the room.
We essentially used the other half of the room for an office/art/workspace for us and the kids, which has worked out really well.
Photos never do this room justice, to the point that almost everyone who comes up here after seeing photos online (or just via texts from us) screams that it's twice as big when they're standing there in person. If it helps to orient you, the rug you see the sofa sitting on in the photo below is an 8 x 10! This room is around 25′ long and around 16′ wide. She biiiig.
This entire area exists on the other half of the room. Look at all that floor space. Another whole 8×10′ rug could be placed right here without touching the one in the TV zone.
This is the office/art side if you spin around with your back to the sofa.
This view certainly has come a long way from February of 2020 when we bought this house.
And here's a before shot of the long wall of the room, which came with that pretty wood treatment that we love, but the mildewed issues along the top needed some attention. This entire house didn't have a functioning HVAC system (or any working water, like not even to flush a toilet). It had been abandoned for four years, so there were a number of leak/mold/soggy drywall issues that we had to address in this renovation before we could move in (you can read more about that here and here).
Here's a similar view now of this side, all cleaned up, and no longer slowly growing any fuzzy stuff along the top edge where that wood wall treatment meets the ceiling. All of the too-damp drywall needed replacing, but thankfully that wood wall just needed some scrubbing (and no moisture had collected behind it and molded – which was a small miracle!).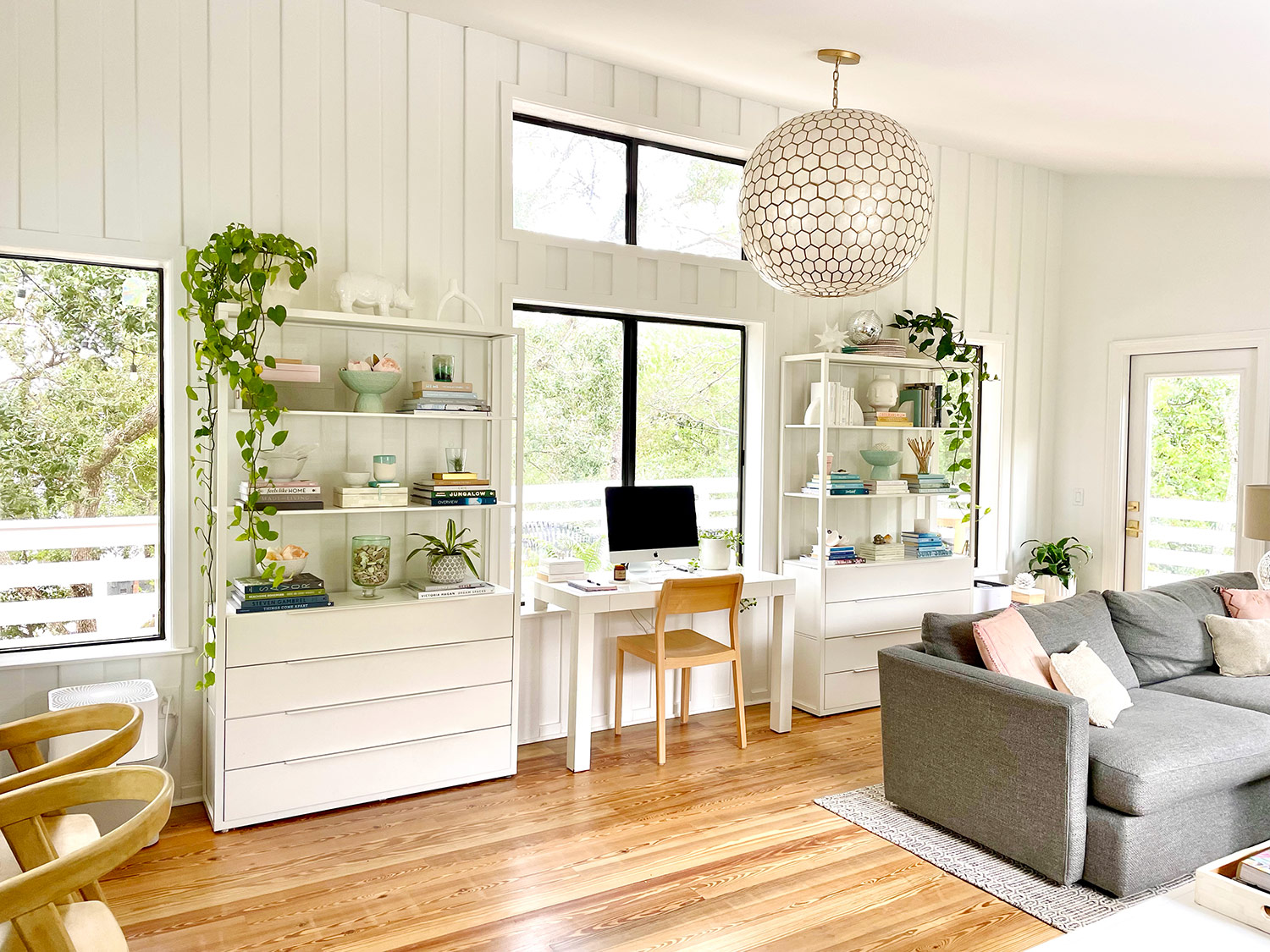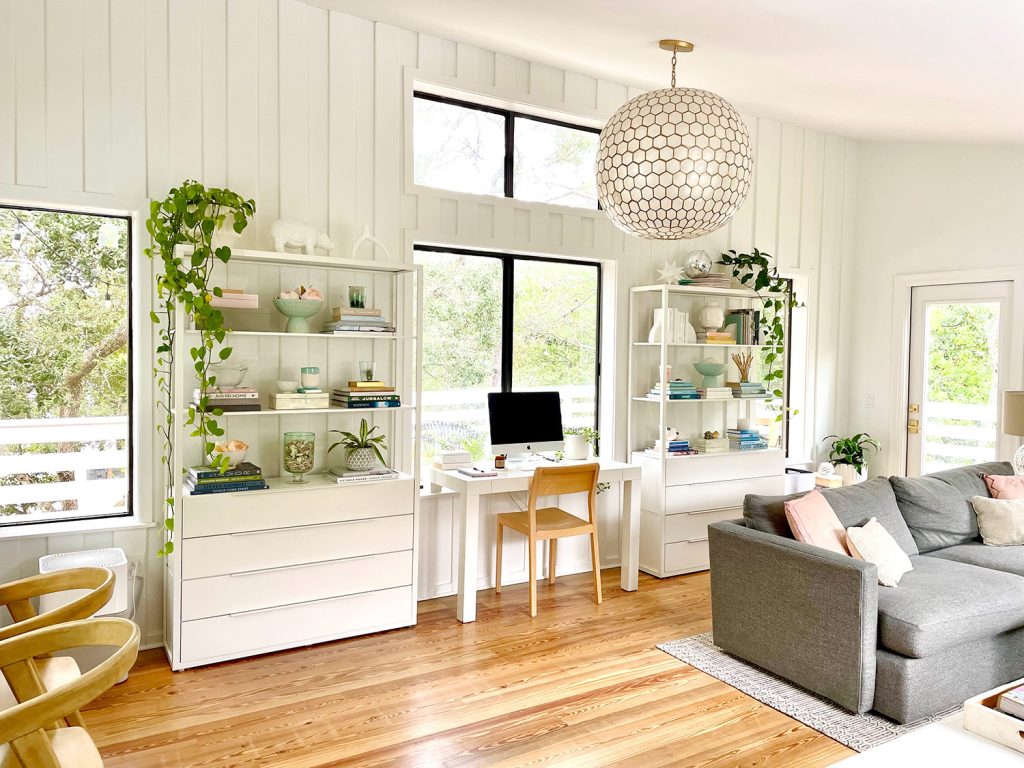 And thanks to three recent changes this room has stepped it up even more in the storage/efficiency category. So let's get into those three updates, more photos, and a video walk-through (which also gives you a peek at our firepit area as well as our brand new kitchen deck!).
Update #1: Bringing These Bookshelves Up From The Kitchen
We had used these two large bookcases in the kitchen as a makeshift pantry before we added one (they're Fjalkinge bookshelves from Ikea, and you add the drawers a la cart). You can see our glorious kitchen pantry update here and learn how we earned much more storage, deeper drawers, a place for the microwave off the counter, and a cabinet over the fridge.
Moving these bookshelves upstairs also allows us to use them for even more office storage than we had before, which is great! Combined with the console that we added to the TV part of the room (more on that here – it houses all of our games and photo albums and sentimental stuff) this big box of a room now has a lot of great storage for us, which you know is my love language.
The bookshelves fit really well between the windows on that long wall, and their larger scale is great in this room (earlier we had some smaller things on those slices of wall – which you can see here in this post). And since we use the drawers for all of our work papers, receipts, tax stuff, etc – it's nice that the kids have the drawers on each side of their desk for storing all of their art supplies and their creations themselves (you can read how we built this desk using inexpensive Ikea components and some metal legs that we bought online here).
Update #2: Getting Our Entire House On Central Air
We also finally figured out how to route our HVAC ducts up to this room (and over to our bedroom!) so we have one central HVAC system that services the whole house! When we bought back in Feb of 2020, we didn't have a functional HVAC system at all (it wouldn't turn on during our inspection – which is also when we learned the water had to remain off due to various issues/leaks). But we all assumed (including our contractor during our initial walk-through) that if we redid some of the ducting & replaced the components we could achieve this thing that didn't seem all that complicated: ducts that travel to all of 6 rooms in this 1400 sf house and blow heated or cooled air into them. How naive we were.
It's a long story but the semi-short version (who am I kidding, this is still going to be long) is that about a month later during demo we were told by our contractor that there was a load-bearing header in the ceiling where the ducting had to pass to achieve this goal, and we couldn't cut that header or we'd risk hurting the house's structural integrity. We essentially were lacking a nice channel in the ceiling to get efficient functional central air to every room of our house like we thought we could.
Not to be deterred, we got 3 different HVAC opinions, and all of them recommended either adding a soffit that stretched across the sitting area of the kitchen (or adding back the big L-shaped one that we had just demoed out, which you can see in the before photo above). Blort. The soffit would essentially get our ducts where we needed them to go so we could attach our bedroom to the system as well as popping them upstairs – but we really didn't want a big soffit infringing on our 8′ ceilings downstairs if we could help it. All three HVAC pros also offered the same alternative: if you don't want the soffit, use two mini-splits for the bedroom & family room.
The family room mini-split rec was especially surprising to us because there were three old HVAC ducts that led up to this family room in existence already – two of which you can see in the before pic below! But they were skinny old ducts that attached to our non-functional system. Although we all assumed we just needed to repair them at first, every HVAC pro said since we needed a soffit or a mini-split to address the bedroom due to that load-bearing header blocking our path, we might as well do a mini-split up here since the existing sub-standard skinny ducting that led up here (which was all that they thought they could fit) was not ideal either.
So we went for option two (mini splits in the bedroom & family room) and we followed their rec to leave the other four rooms of the house on central air since it had no issue reaching them and doing a good job once we replaced the non-functional components and rerouted some ducting (in our kids rooms where we vaulted the ceilings we moved their ducts out of the drop ceiling and into the wall or example). And that, my friends, is how you end up with three different heating and cooling systems in a 1400 square foot, six room house.
The two mini-splits were quiet and efficient so we really don't have any complaints about the actual function of them except that ours were apparently oversized for our home (which meant they cycled down and shut off all the time) which led to humidity issues. They dripped often, had various musty smell issues, and towels wouldn't dry in our bedroom but would dry in the other bedrooms with central air.
And then we came across a photo from when our house was torn apart for new drywall, and the header we were told was load-bearing didn't look load-bearing to us. Cut to us asking a different contractor, who confirmed (he had his structural engineer look at it as well)… plus we could see a generously-sized ceiling channel for standard-sized ducts to pop up into the family room! No more skinny ducts up here! No need for a soffit downstairs! And no more mini-splits necessary!
So yes, we paid to install brand spanking new mini-splits that we removed 1.5 years later and replaced with central air (and had to remove & replace a nice big channel of drywall in the kitchen ceiling below this family room to accomplish this). Because we are that smooth. *Insert that sunglass-wearing cool kid emoji right here*
At least we were able to sell the mini-splits… back to the HVAC company actually! The lead guy wanted them for personal use because they're super back-ordered right now and he knew we took really good care of them because they were here trying to work on the leak/humidity stuff pretty often – ha!
After he bought them back from us, the cost for this entire update came in under $1,000 which includes the drywall repair in the kitchen that we hired out because ceilings are notoriously hard to get smooth when you're patching something (every imperfection shows overhead). And I'm happy to report that both the bedroom and the living room are more comfortable than they used to be. Their temperatures were rarely similar to what was going on in the other four rooms when this house was on three separate systems, and now they're all much more in sync. You might even call this house Justin Timberlake (I'm really sorry. I couldn't resist that one). The icing on the cake is that towels actually dry on the hooks on the back of our bedroom door now. It's the little things.
So for anyone who's fixing up their home and ends up redoing something or changing directions or pivoting months or years later… fixing up a house is rarely without curveballs (especially when presented with new information or a better approach to something you've been trying to solve). Try not to beat yourself up about it and celebrate your victory, no matter how long it takes to get there. Of course we'd have loved to have done this up front and not 1.5 years later, but better late than never ;)
As for our mini-split experience, we aren't really against them at all – especially if they're correctly sized (we hear the humidity/dripping issue we had is mostly caused when the system is oversized and cycles down or turns off all the time). But when it comes to a 1400 sf house with six rooms, it feels great to run one central air system now versus also running two mini-splits and an external fan on top of that (all three of those items are now gone!). And only having to maintain & service one system feels great too, especially since our drippy mini-splits led to quite a few service calls. Note: it's key to trust your HVAC pro – we found someone with 25+ years of experience and he was certain this approach would work after getting to know our house extremely well over many (many) service calls.
I'm just now realizing the two vents we added upstairs aren't really that visible in these photos so I'll share some more pics on Instagram Stories soon for you (I'm currently searching for prettier vent covers – will report back with whatever I get). One vent is right at the base of the TV cabinet, which you can see in the background of the photo above. And one is on the other side of the room on the wall when you come up the stairs (if the photo below had a foot more of space on the left, you'd see it right there in the wainscotting).
Update #3: Moving The Desk To This Window (& Making Faux Legs To Recess It Into The Sill)
We stored the original legs for this desk (that we have had for 15 years! Since before we were married!) and just built little faux legs in the back, and that little update allowed us to scoot it back about 7 more inches to slip this into the windowsill for extra easy clearance.
It makes the desk closer in depth to the bookcases that flank it, which feels really good in the space.
Also if you're in the market for a classic parson's desk that'll stand the test of time – this is it. We have loved this desk solidly for a decade and a half and it's so flexible – it can basically go anywhere (which is why we saved the original legs – who knows where it'll end up in a few more years!). And this is our desk chair for anyone wondering. Light and solid. The wood tone is nice with our floors too.
While we're praising things we've had for a long time that are SO FLEXIBLE for multiple uses and spots in your home, these Fjalkinge bookshelves from Ikea are the GOAT. They can hold plates and cups and cookbooks in a kitchen, crafting & art stuff as well as home office supplies in an office or craft room, and books & decor stuff for any sort of living space.
Also, I feel like people don't put their desks in front of windows enough. Like our instinct in this room was to place it BETWEEN THE WINDOWS but it's so much nicer of a view to look outside now – versus staring at the slice of wall between two windows before (you can see the old placement here).
In plant news, they all love it up here since this room is full of light. Highly recommend one of these neon pothos to hang off any and all bookcases in your home. They aren't even plants that need a ton of light, but dangit they LOVE IT if you do have it.
Here's a view I realized you probably don't see often since I was sort of limbo-ing back over the stair balcony to get this shot. It was very graceful and not at all awkward looking.
And here we have our well-traveled Quirk cup, which moved with us from Richmond. Yes, it's just a paper cup. But we painted the pink house this color, fully influenced when John's sister Carrie walked into a Christmas party a few years ago holding it. It's very special to us, two very sentimental non-coffee-drinkers.
As for how we like our sofa after owning it for over 3 years, the verdict is that we love it. It's still very comfortable. Looks great. Feels good. I haven't even had to shave any pills or anything with my furniture shaver. It's holding up extremely well, especially considering that we have two kids who watch TV upside down on it – and had a little pillow crushing dog who took great pleasure in making temporary pillow dents as his part-time job. Also I wish they still sold this mirror. We found it at Pottery Barn Kids a while back I think.
The chandelier is another thing that's hard to get the scale of in photos. Sometimes it looks like it's bigger than the desk (spoiler alert: it is not). Other times from other angles it looks like a tiny bowling ball. In real life it's big and the room is big so it works for us. It's more than a foot over John's head (he's 6′) so nobody is walking into it.
And yes that's our beloved air purifier in the corner there with the gray cover. It blends in so much better than the old black cover we used to have. We also get asked where things like trash cans are in our rooms. That woven basket under the chair on the right of the kids' desk is this room's trash bin. As you can imagine it gets filled with about 318 paper cuttings and snack bags and band-aids each week.
I don't think we show this angle much either, so here you go. That white console table used to be in our last house's dining room, and the drawer is full of spare light bulbs and extension cords. You know John requires a special spot for those, right? Also in the wish-they-still-sold-them category, these leather ottomans are from Target maybe 4 years ago? I am in love with them and wish they'd bring them back.
Before we go, I made a quick video walk-through while this room was clean (John's mom and dad drove down for a visit this past week) and I often think a video is worth 10,000 words and photos combined. So to get the best feeling of this space, just press play. It's short, and there's no narration, so you can watch it on mute if you're at work without missing anything.
Note: You can also view this video here on YouTube.
Ok, that about ends the tour of our family room after living here a year and a half. Compared to a room like our kitchen and our bedroom, a lot more has stayed almost identical since we moved in and set stuff down. I have no idea why some rooms change a ton and others don't, but I suspect in this case, just defining one side as the office/art area and the other side as the cozy family room slash movie spot just worked well from the beginning. Plus… one good spot for the TV. Ha!
It's interesting for us to muse about what things might change over many many years though. For example, when we're empty-nesters, will that kids art desk area become something else entirely? Or will we save it for the grandkids? Maybe that's where I'll do my jazzercise.
*This post contains affiliate links, so we may earn a small commission when you make a purchase through links on our site at no additional cost to you.