Anyone who lives in a small-ish space knows that thoughtful storage can upgrade so many aspects of your life at home when it's done right (and it can be a daily frustration when it's not done well or at all). No matter how big your rooms are or how many you have, you just want to be able to access things easily & keep them in a smart spot – and downsizing from our 3150 square foot house to this 1400 square foot home last year definitely challenged us to be even more mindful about how we incorporate the most useful storage systems into our home. Suddenly we were living in 6 rooms (down from 14!) and we also no longer have a garage, an attic, a big outdoor shed/workshop, or even a closet in most of the bedrooms (of our 3 bedrooms, only 1 had a closet when we bought this house!).
So over the past 16 months, we've found some especially awesome double-duty storage pieces that answer a pretty common question that we get around here, which is "I need specifics! Tell me exactly what you're using to make your smaller home fit everything you need and use every day." Whelp, this post is attempting to answer just that (along with some links to previous posts at the bottom for anyone who wants an even deeper dive). So here are seven of our favorite storage pieces, including why we chose them and some alternate options if you're also looking to add some extra storage to your life.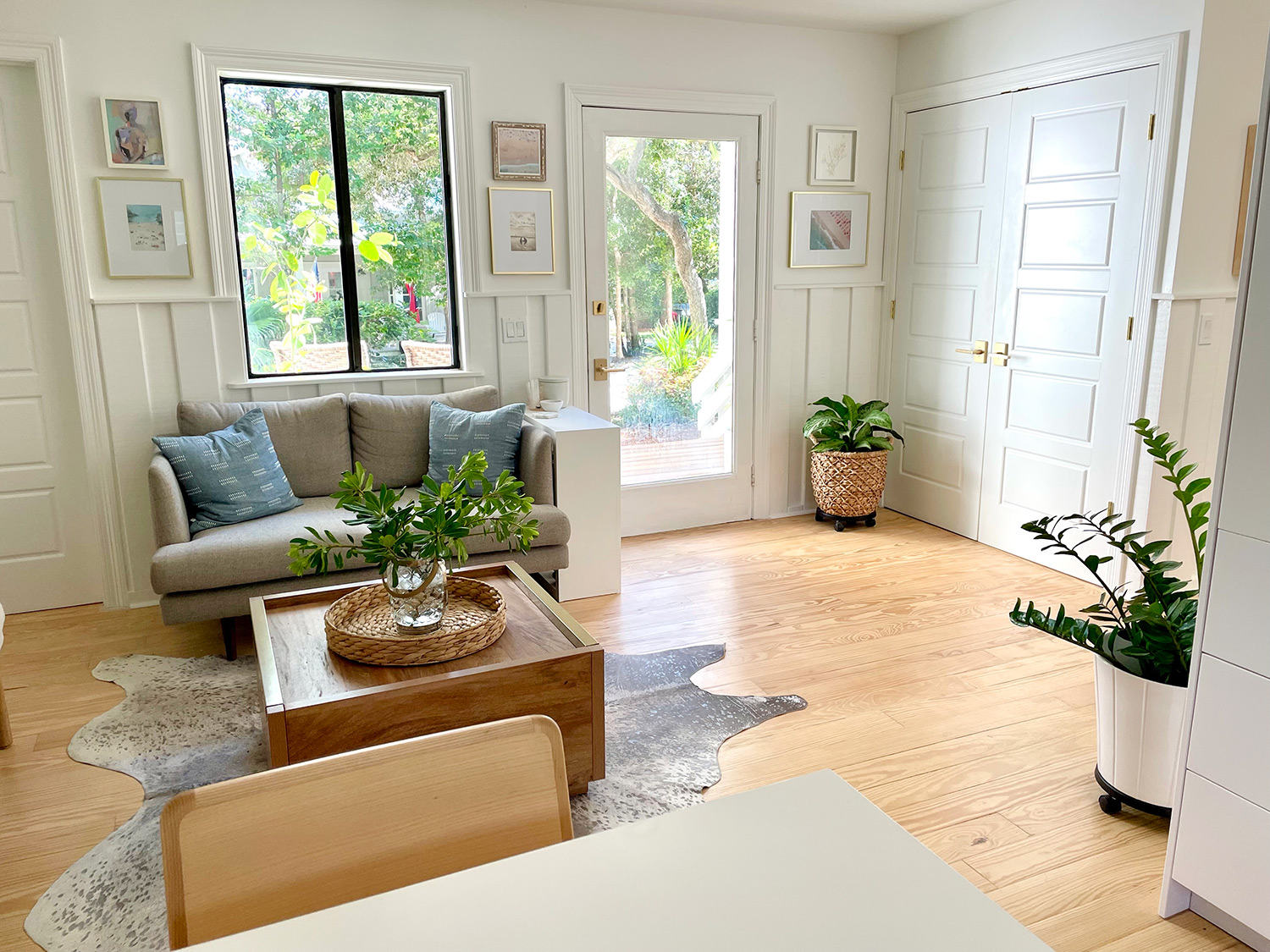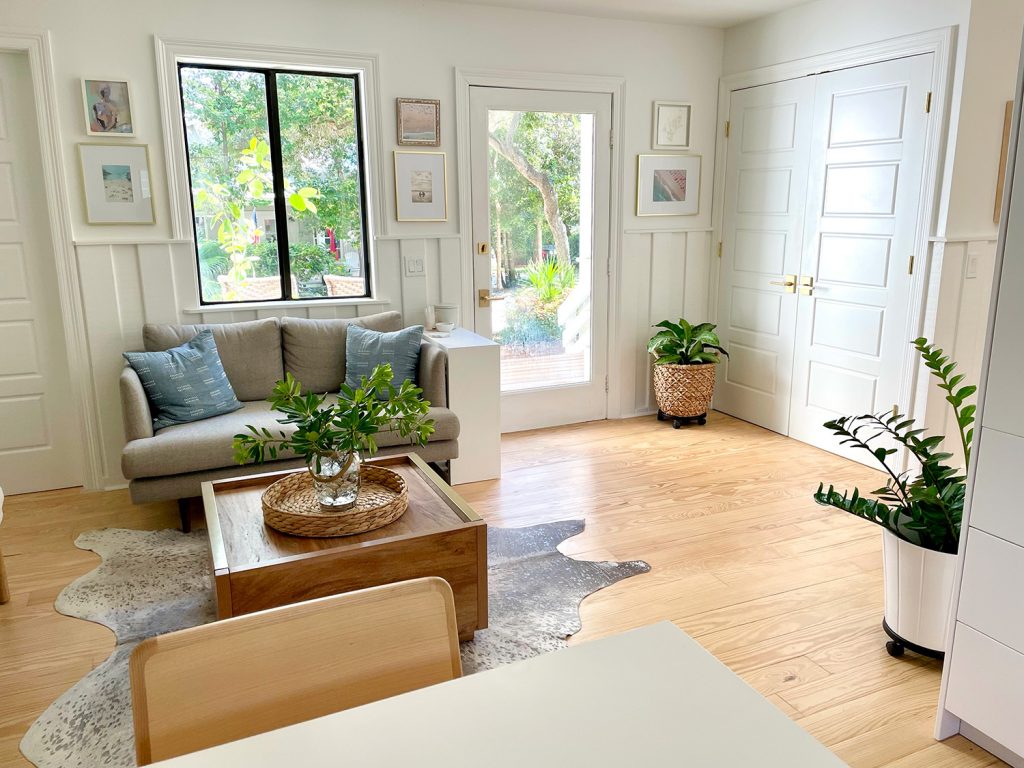 Problem: Not enough entryway storage near the front door
Solution: A deep-drawered coffee table with tons of concealed space to stash stuff
Since our front door opens right into a little sitting area, we don't have a traditional foyer or mudroom situation. We definitely maximized our nearby laundry closet (the double doors can be seen above) for hoodies and backpacks, but it can't handle everything. Which is where this deep-drawered coffee table came into play.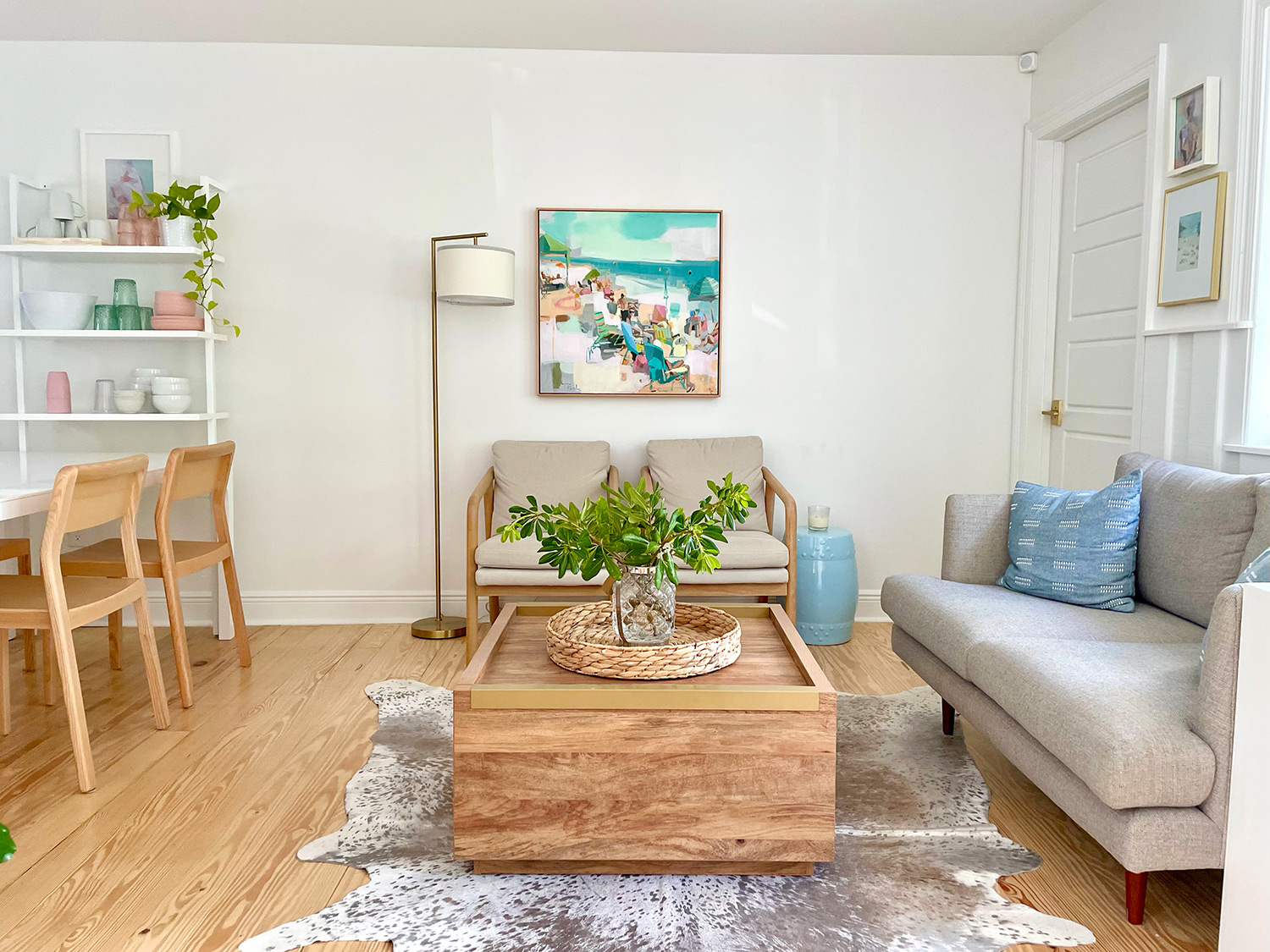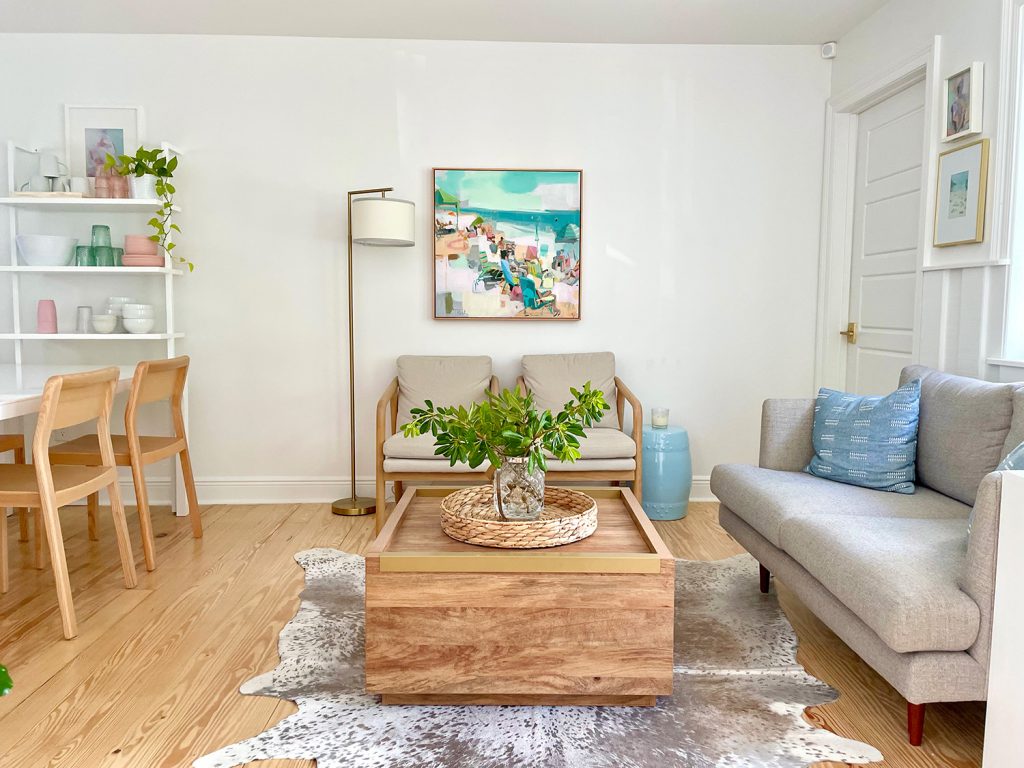 We love it because it has TONS of storage, but doesn't really look like a storage piece. Like, at first glance, it might just look like a solid wood coffee table (there aren't very obvious handles). But, surprise! – both sides pull open to reveal a total of two wide deep drawers that slide really easily. On one side we've got extra shoes (beyond our flip flops that just stay out on the front porch) and a basket with miscellaneous items that we often grab before heading out the door (keys, Burger's leash, sunglasses, etc).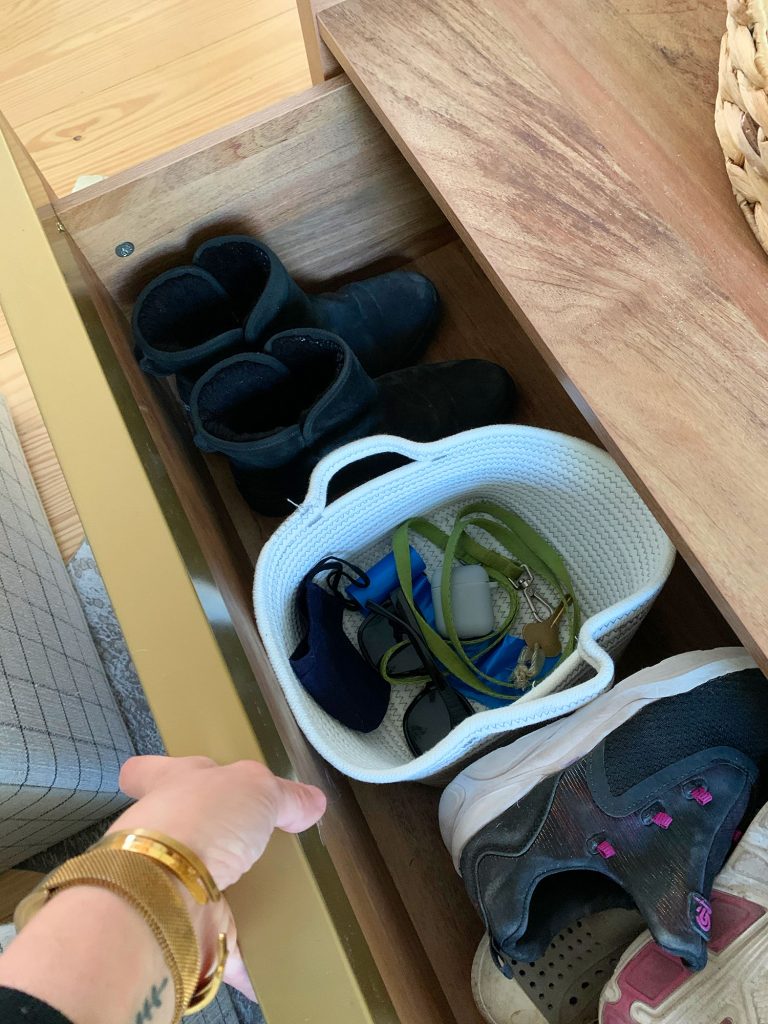 The drawer on the other side stores our lesser-used or out-of-season jackets… which you'd never guess are in the coffee table. Mission accomplished!
Other Hidden Storage Coffee Table Options


Coffee Table In Context Of The Whole Room
Also, if you want to see how the coffee table looks in the whole space (and catch one other item in this list), check out this quick video tour that we shared a couple of weeks ago:
Note: You can also watch this video on YouTube.
2. An Under-Bed Bookshelf
Problem: Wrangling our daughter's book collection
Solution: A platform storage bed that keeps books & toys accessible, while using space that's often wasted
We thought a lot about the beds that we purchased for this house, knowing full well that it would be smart to utilize them for under-bed storage. And our daughter's bed has done the job especially well. She has an ever-growing collection of books and four large baskets full of legos and other toys, but a bookshelf or some larger storage cabinet would have stolen space from a few other things that she wanted in the room (mainly a desk that she requested we add, which we now have set up across from the bed along the mural wall – as well as the dressers which perform double duty as nightstands). That's why we appreciate this platform bed with under-bed cubbies so much. It really holds A TON of stuff (which can't get pushed under the bed and lost).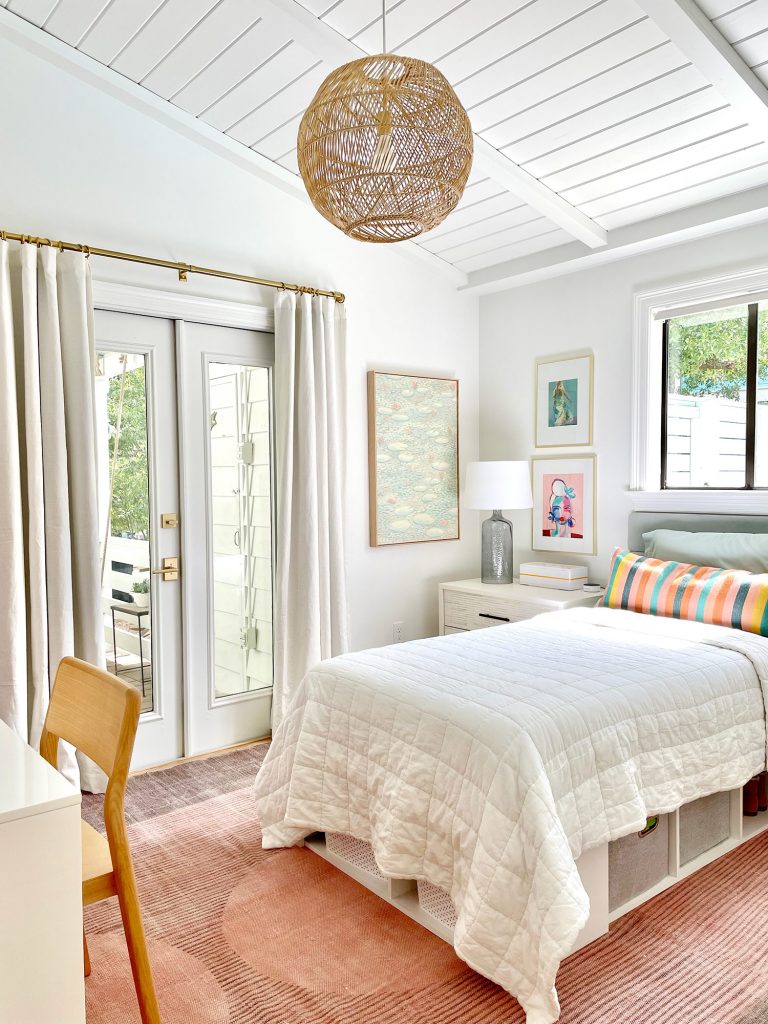 Note: It goes in- and out-of-stock at various places, so I've linked some that seem to work now. There's this link to it and I also found it here.
We have the twin-sized version and it provides 8 total cubbies (3 on each side, and 2 larger ones at the foot of the bed, where she has some giant bins full of legos). She's fully in charge of what goes where, and since she is the one who sets each cubby up, she knows where everything is – and she loves being able to grab something easily from bed at night while hanging upside down (what kid doesn't love that?). The bed came with two fabric bins, which she uses for toys and stuff on the other side of the bed, seen above). And we found these larger plastic ones from Target that fit in the two larger cubbies at the foot of the bed (those are the lego ones).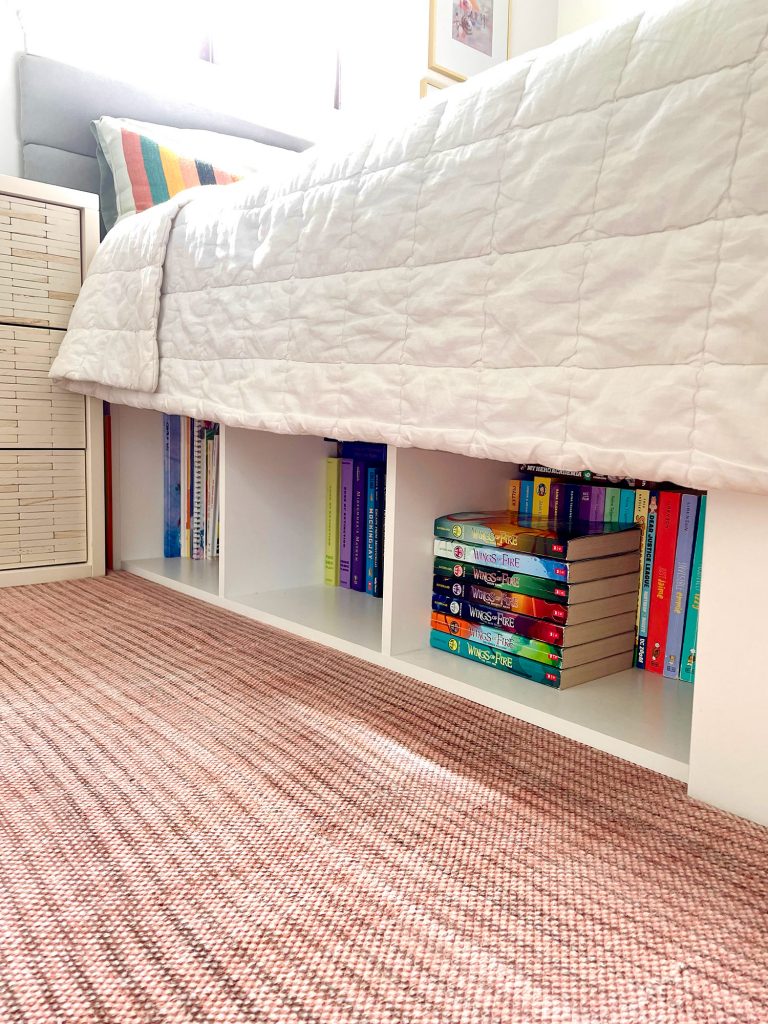 I'll admit that I was skeptical of the cubbies at first. Everyone must sell under-bed drawers for a reason, right? Well, we learned with our son's bed that drawers can sometimes just be toe-killers, and they require a clear floor to open easily (empty floors can be hard to come by in kid rooms). We actually ended up removing our son's drawers and just use our own, smaller, less cumbersome thick felt baskets under there now instead. So consider us cubby converts!
Other Under Bed Storage Buying Options


Left: The full and queen-sized version of our daughter's bed has wicker baskets included (twin seems to be sold out at the moment)
Middle: This raised daybed-style bed has a variety of storage solutions
Right: An upholstered bed with a disguised drawer in the footboard seems like it wouldn't hurt toes like our wood ones did – and it comes in several fabric options
3. A Large Weatherproof Outdoor Bin
Problem: Limited storage for outdoor gear, like beach stuff and bike helmets
Solution: An oversized wicker storage bin that lives on our porch
Storage-wise, one thing we definitely had to adjust to after moving here was not having a big garage or shed that we just got to fill with things that we didn't want in the house (think sandy beach chairs and umbrellas or outdoor toys, etc). Although it was that willy-nilly tossing of things into our previous garages and sheds that constantly had us dedicating weekends to garage clean-outs and organization, so we definitely don't miss that! (More on that phenomenon here). But now that we've got that stuff tucked neatly inside this faux-wicker outdoor storage bin on our covered porch, we don't feel that squeeze of "where does this go?!" anymore.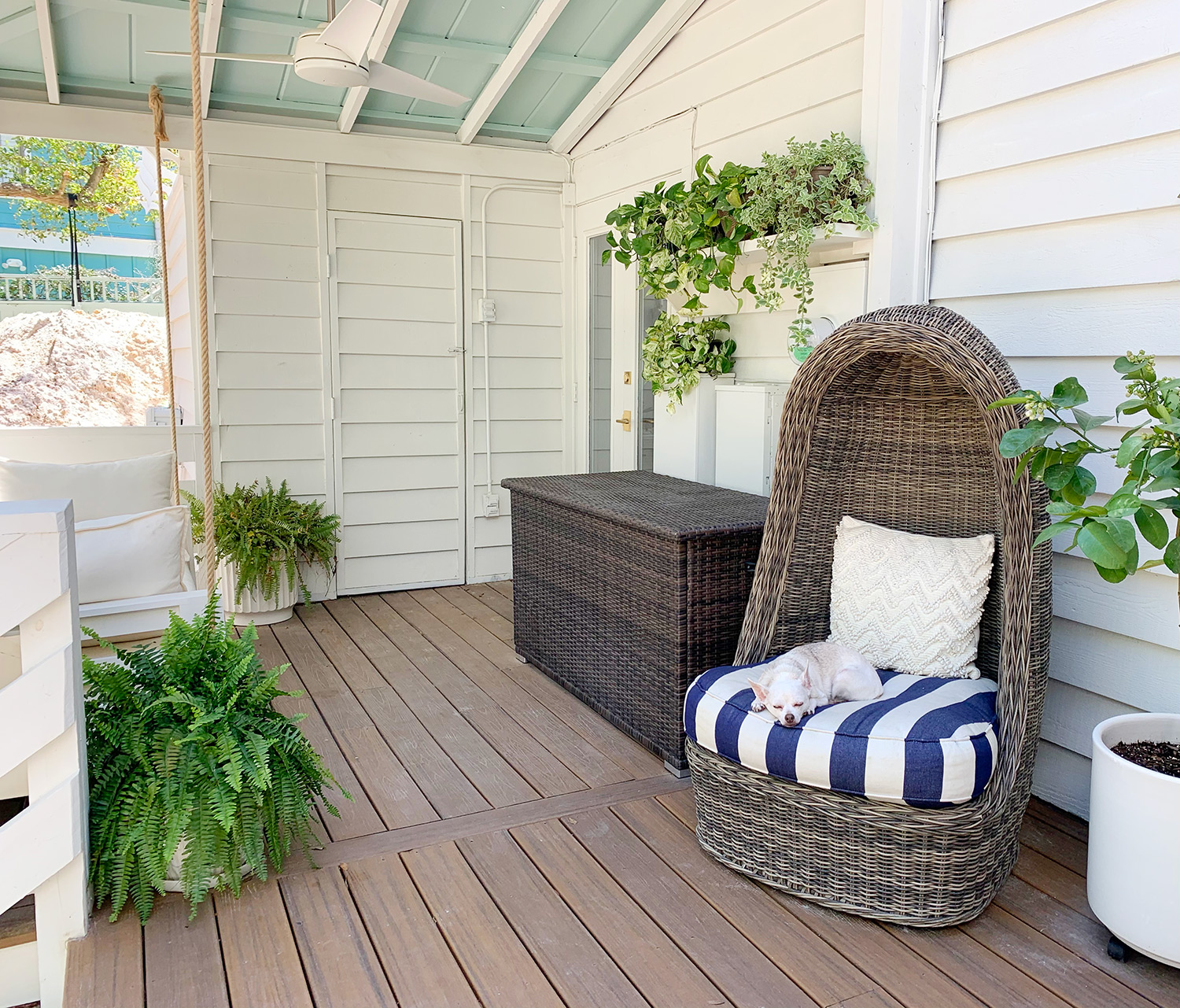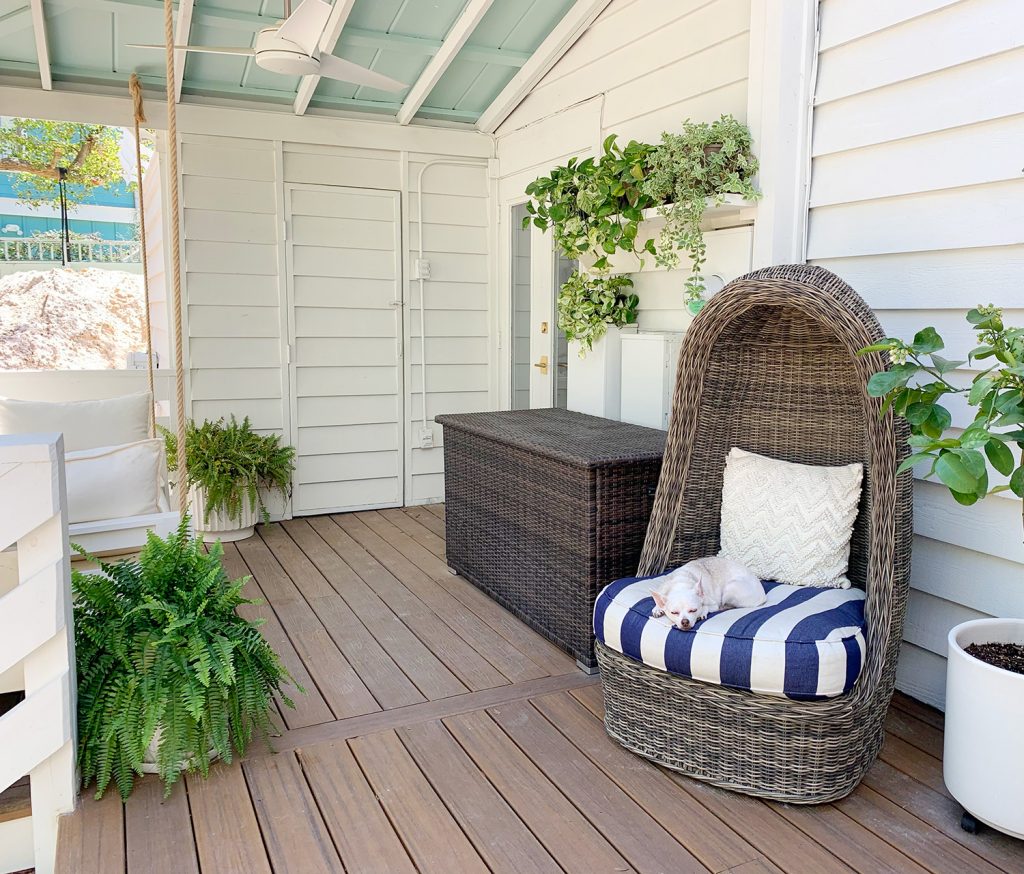 We like it because it conceals lots of stuff while also blending pretty nicely with the rest of our furnishings (it also helps us hide some ugly pipes – more on that here). Even better, it holds A LOT more than we expected. We carefully measured it before ordering to make sure it would hold our beach chairs and umbrellas (inside it's 64″ long, 30″ wide, and 34″ tall) but we were pleasantly surprised that we also had room for beach toys, bike helmets, and even sports balls and stuff.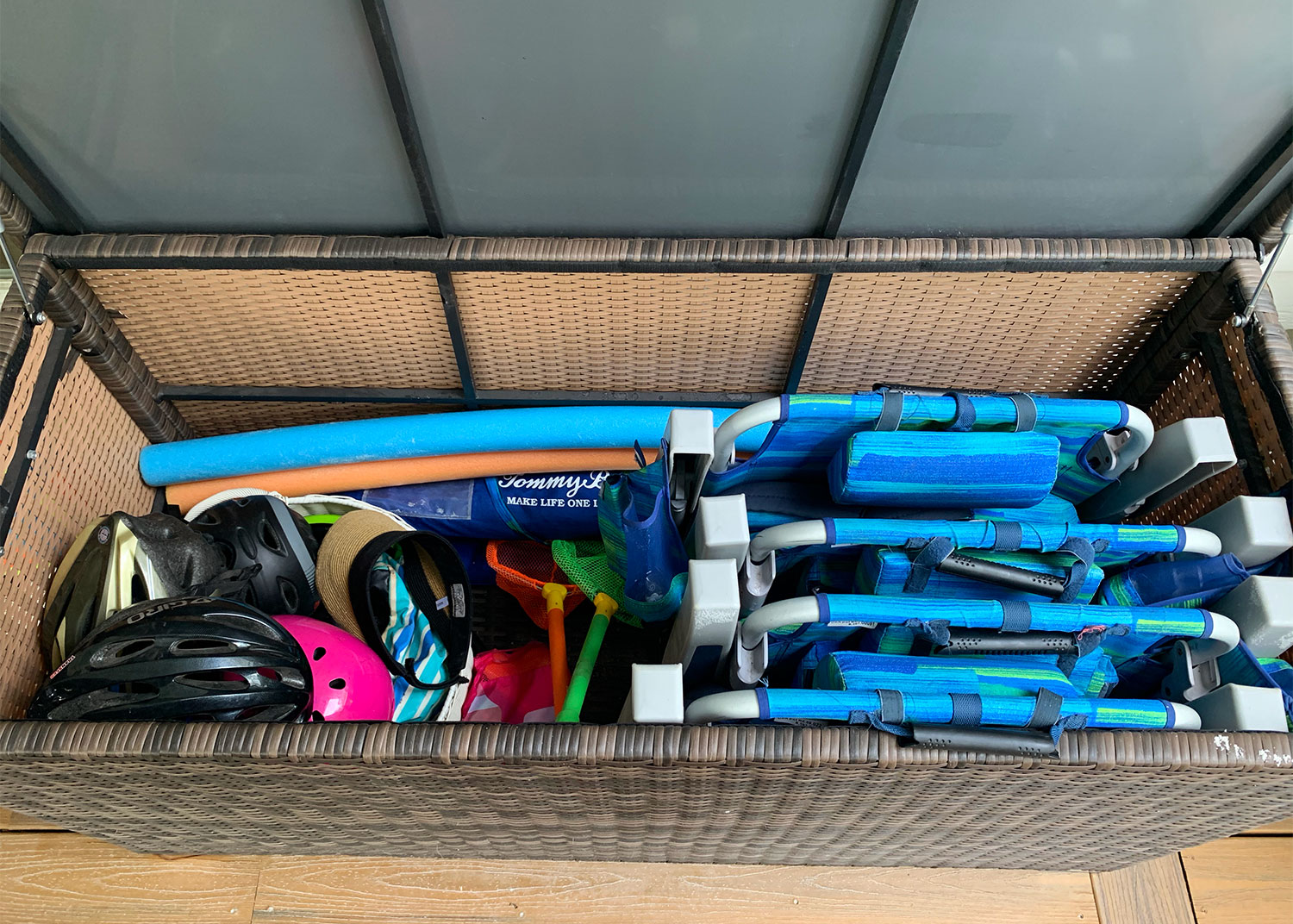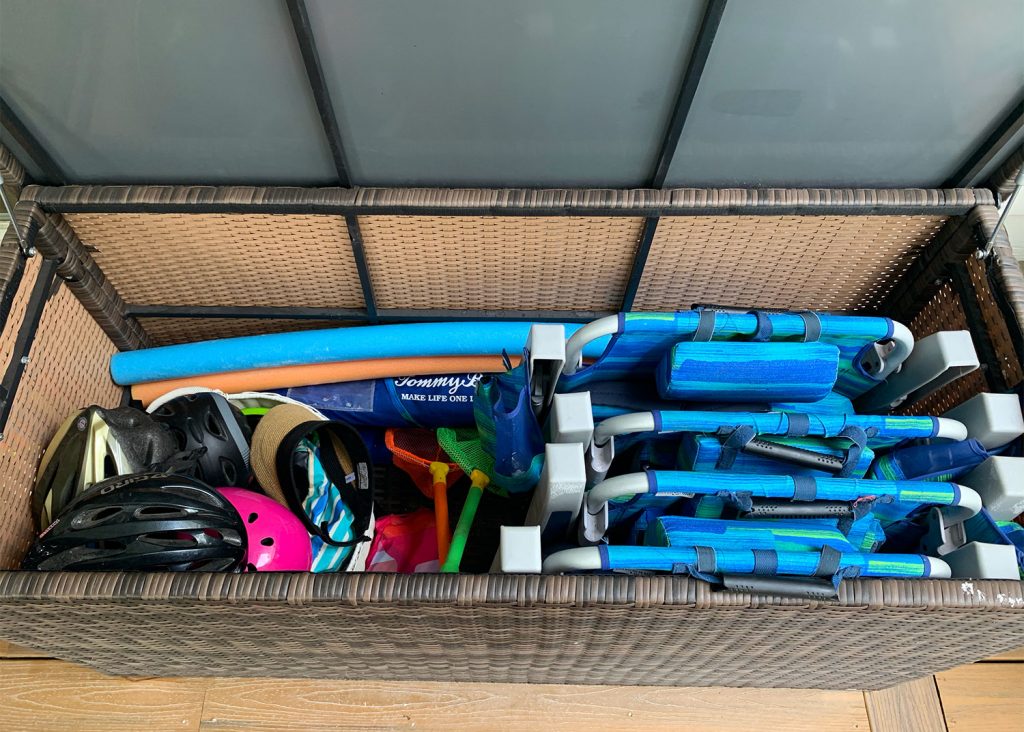 The only lesson we learned the hard way is that while the top is waterproof, the sides aren't perfectly watertight on their own – which wouldn't have been an issue if we had saved the waterproof bag/liner that velcros inside (which was included with our purchase – doh!). We opted not to use it because we store our bin under a covered porch, but upon some reflection, we wish we had saved it just in case we ever want to move this somewhere that isn't covered. So I wanted to mention that in case it helps someone else out there. Just wish we tossed it into the bottom of the bin for safekeeping before loading all of our stuff in.
Other Outdoor Storage Bin Options
4. A Long TV Credenza-Style Media Cabinet
Problem: Hoping to maximize media and game storage in one area of the family room
Solution: Skip the media cabinet and work in an extra-long cabinet that fills almost the entire alcove
Our TV is hung on a pretty long wall in our upstairs living room. In the past, we've always used some sort of furniture piece underneath our TV, but one of those would've shortchanged us in this situation because most pieces sold as "media cabinets" or "media consoles" are often low to the ground and not nearly as wide as what we had space for. That's why we opted to customize a long credenza that we created with two wide Ikea Besta cabinets that we installed to look like one long cabinet (you can read more about how we did that here).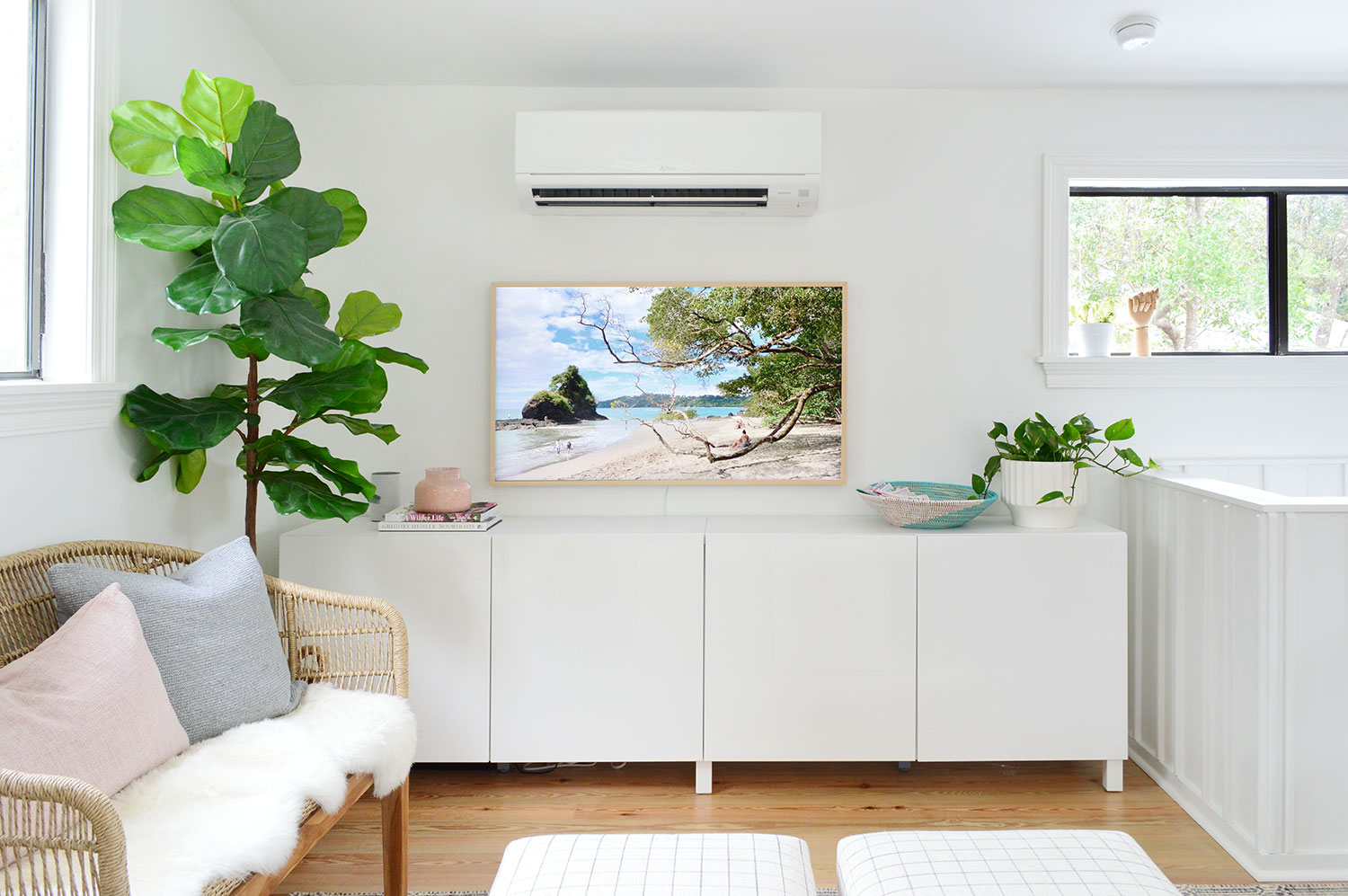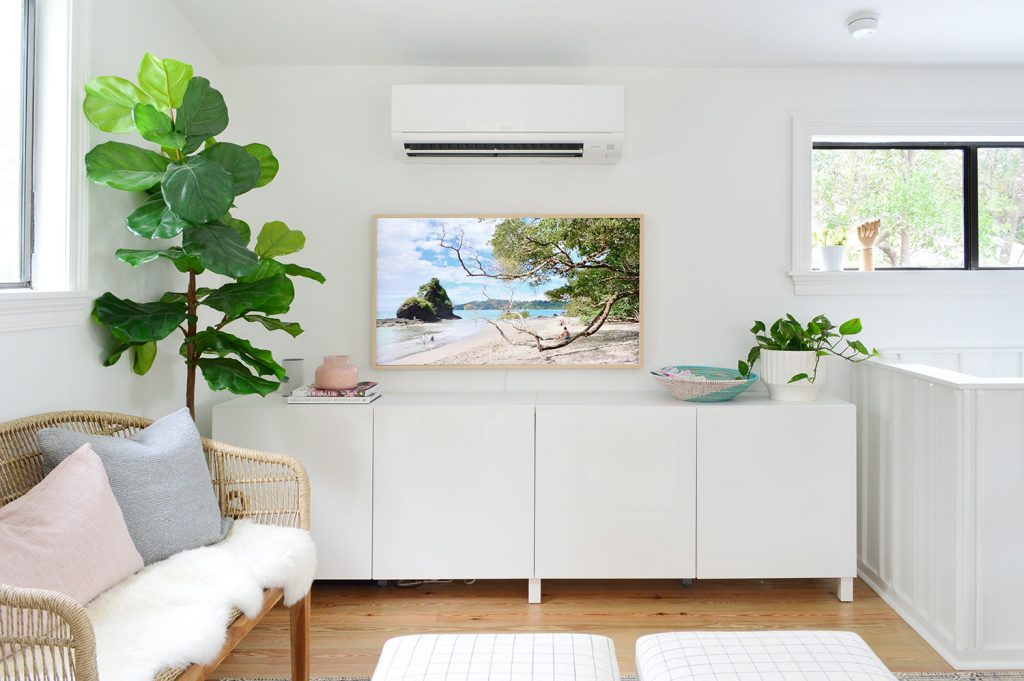 If we'd chosen to float it off the ground, it would've been what the cool kids call a "fauxdenza" – but we opted to keep the legs for now (although we nixed what would have been double legs in the middle for a more seamless look – you can read how we did that here). We still plan to customize it a bit more (probably by adding a thick wood countertop or maybe even a stone one) but this is where we are now… and the storage is GLORIOUS. It's nearly eight feet long and stores every last one of our old photo albums, newer photobooks, board games (and we have A LOT of board games) as well as miscellaneous keepsakes like yearbooks, etc). It feels so, so, soooo much better than any of those short and narrow media cabinets that we could've bought.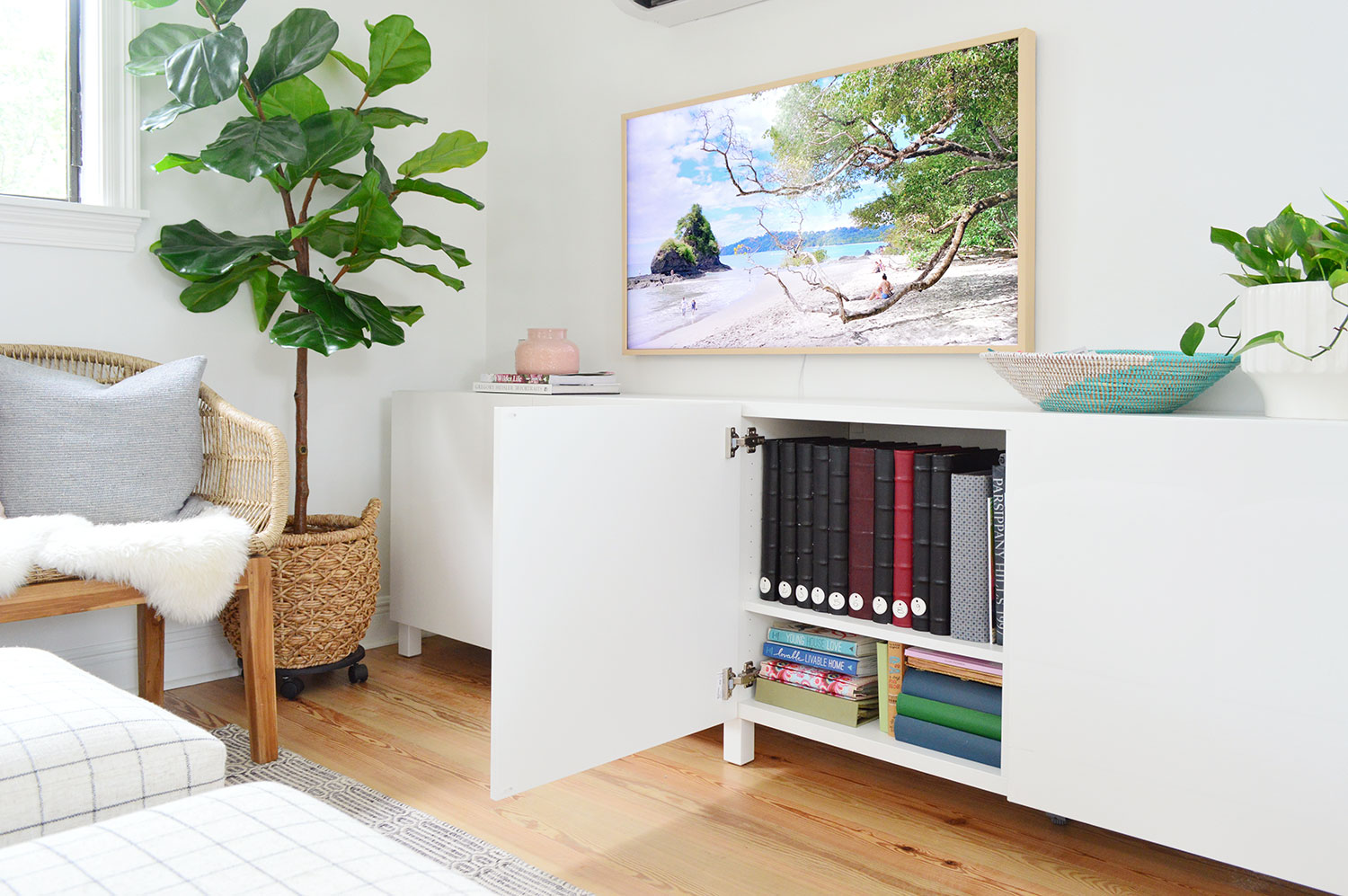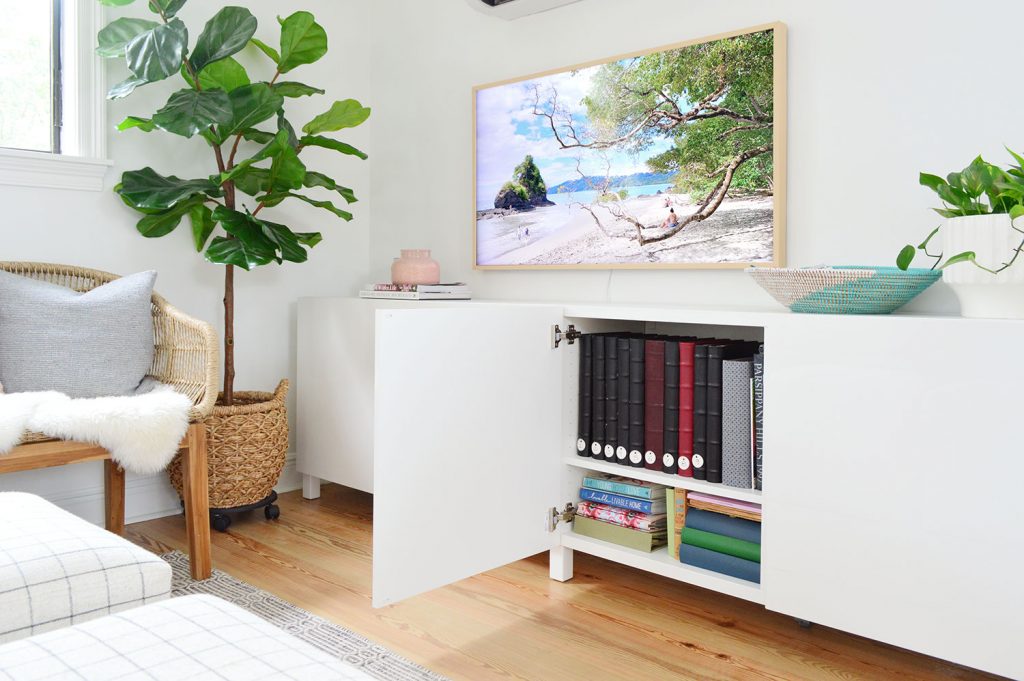 As for our actual media stuff, like cable boxes and cords…. well right now all we have is the small box that came with our Frame TV and it just sits under the Besta, tucked against the wall where no one can see it. We stream all of our TV, so there's no cable box or DVD player to deal with (you can read how we cut the cord a few years ago here).
Other TV Credenza Buying Options


5. An Under-Desk Drawer System
Problem: We built in a desk but wanted to add some under-desk storage that's actually useful
Solution: A small freestanding drawer system that slides right in
Earlier this year our son requested a simple desk for his room (what's with our kids requesting desks? they now have a big joint one upstairs where they do crafts/art/larger school projects plus they each have smaller ones in their rooms). I'm not complaining because he uses it often to draw or build those small Lego sets… it's just that nobody told me when you have kids their currency might be desks.
Anyway, we couldn't find anything that fit his space perfectly, so we opted to build in our own desk, and even connected it to his bed so it floats completely off of the floor (it's supported by simple wood braces along the side wall and the back wall as well as being secured to the bed). We debated adding some functional drawers or creating some cubbies under the desktop but it seemed smarter to use the extra area under the left side of the desk for storage instead of stealing a skinny slice below the entire desktop (you can't make that too big or legs in a chair won't fit under it… or the desk gets awkwardly high and hard to use). So we just shopped around for a nice under-desk file drawer that we could add. It even has soft close drawers!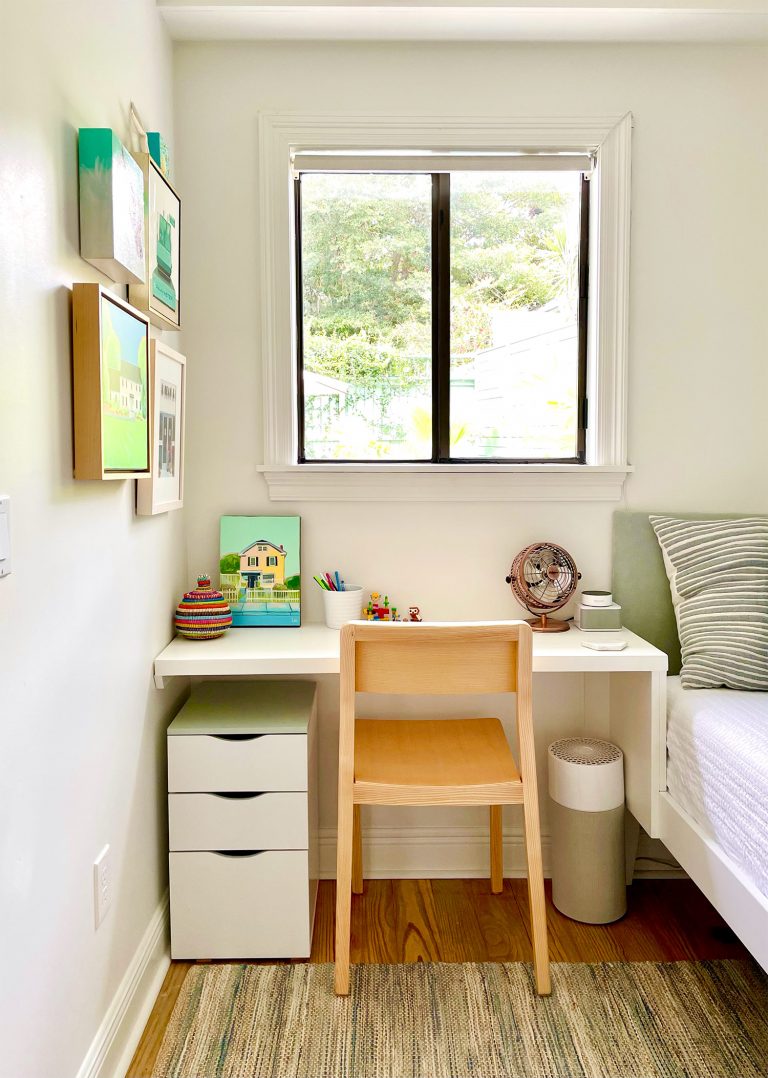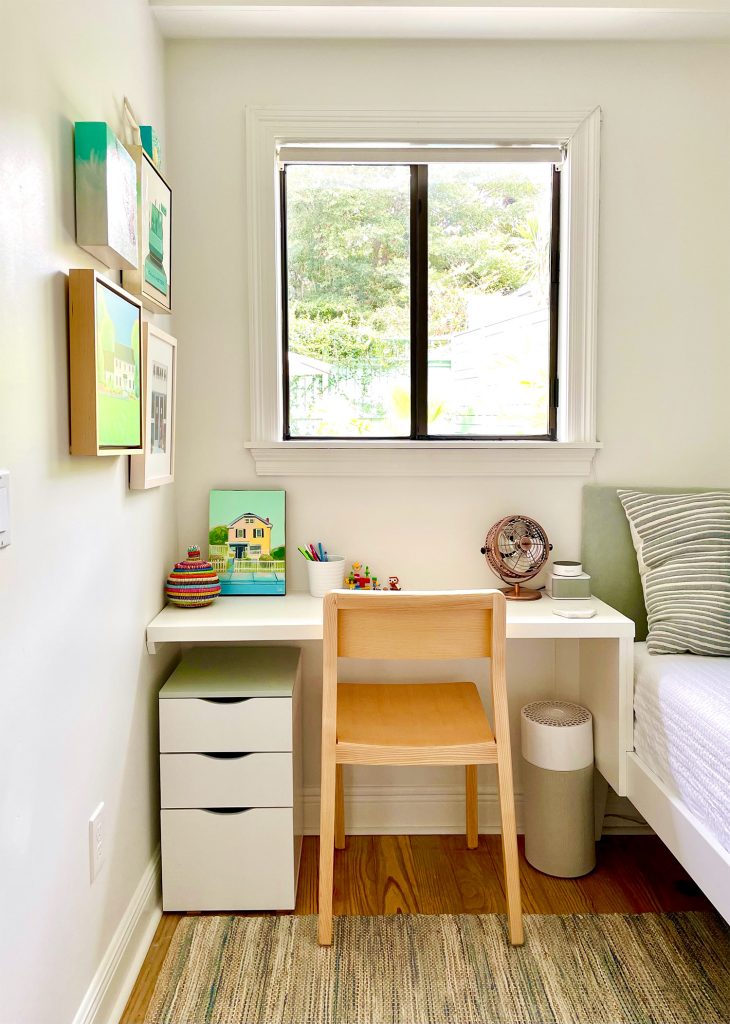 We ended up taking off the included wheels because they made it look a little cheaper – plus it gave him bonus storage on top that way. Sherry also ended up priming & painting the faux-wood top with leftover paint from his mural (since the wood color was darker and redder than his desk chair). He loves it because he has a spot to stash his papers, extra art supplies, and some coloring and activity books. And we love it because it helps keep his desk clean and ready to work on (and we see zero of the chaos behind those drawers).
Other Under Desk File Cabinet Buying Options


6. Bookcases With Display Space + Drawers
Problem: Wanting to stash away ugly things while displaying pretty stuff
Solution: Our favorite customizable bookshelves from Ikea (some stuff = concealed & some stuff = revealed)
We couldn't make a list like this and not include the true storage MVP of our small house: our Ikea Fjalkinge bookcases. We first got them for our home office in Richmond. And when we moved to Florida, at first they were storage workhorses in our kitchen (below) before we moved them upstairs to our family room (that picture is below this one). What can I say? We just can't quit their powerhouse combo of some-stuff-is-hidden and some-stuff-is-out-and-about.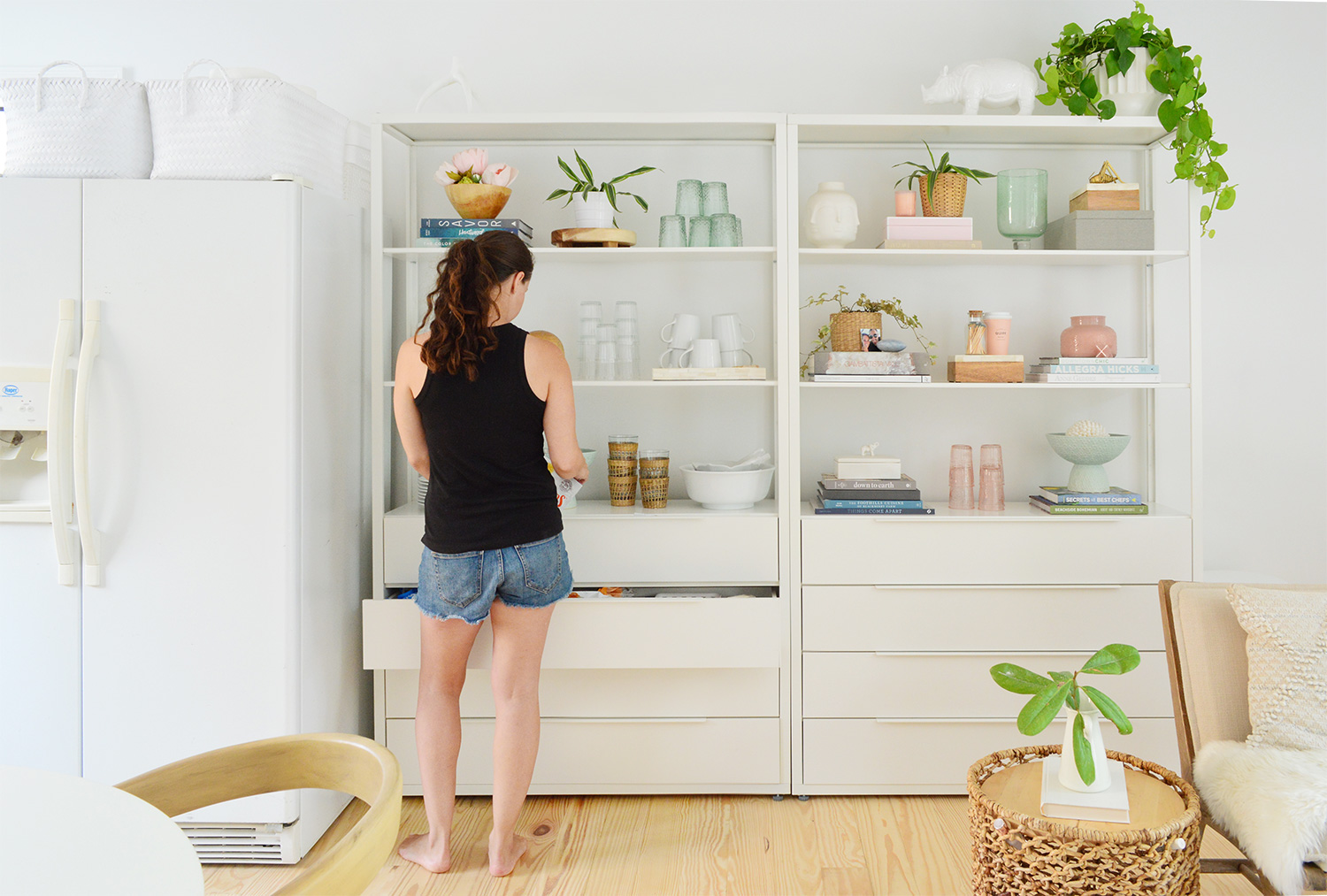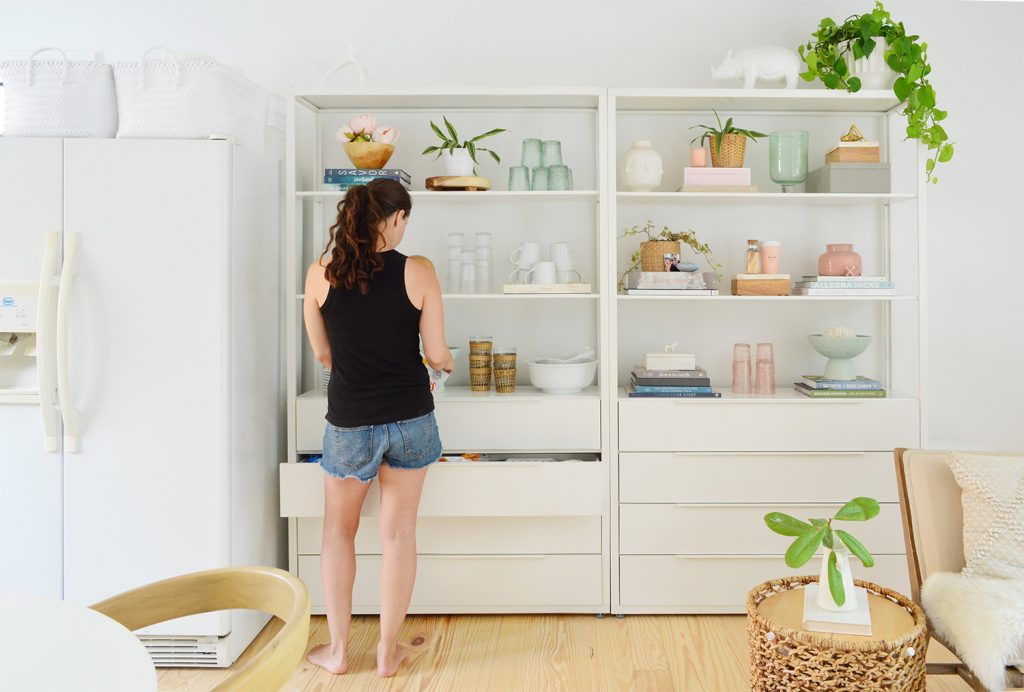 You can customize these bookcases with your preferred combo of shelves and drawers, and can even set the shelves at your preferred height and put the drawers where you want (they always show them in the middle for some reason on the Ikea website, but we love four on the bottom). This perfect split of 4 drawers for storage + 3 shelves for display space has been awesome for us in both locations. In our kitchen, we kept bowls, cups, and mugs out and easy to grab while using the drawers mostly for food and snacks you'd usually stash in a pantry. Now that we've added an actual pantry cabinet (more on that here) they're living it up in the family room, where books and decor objects are on the shelves with files, camera equipment, paperwork, and random work stuff in the drawers.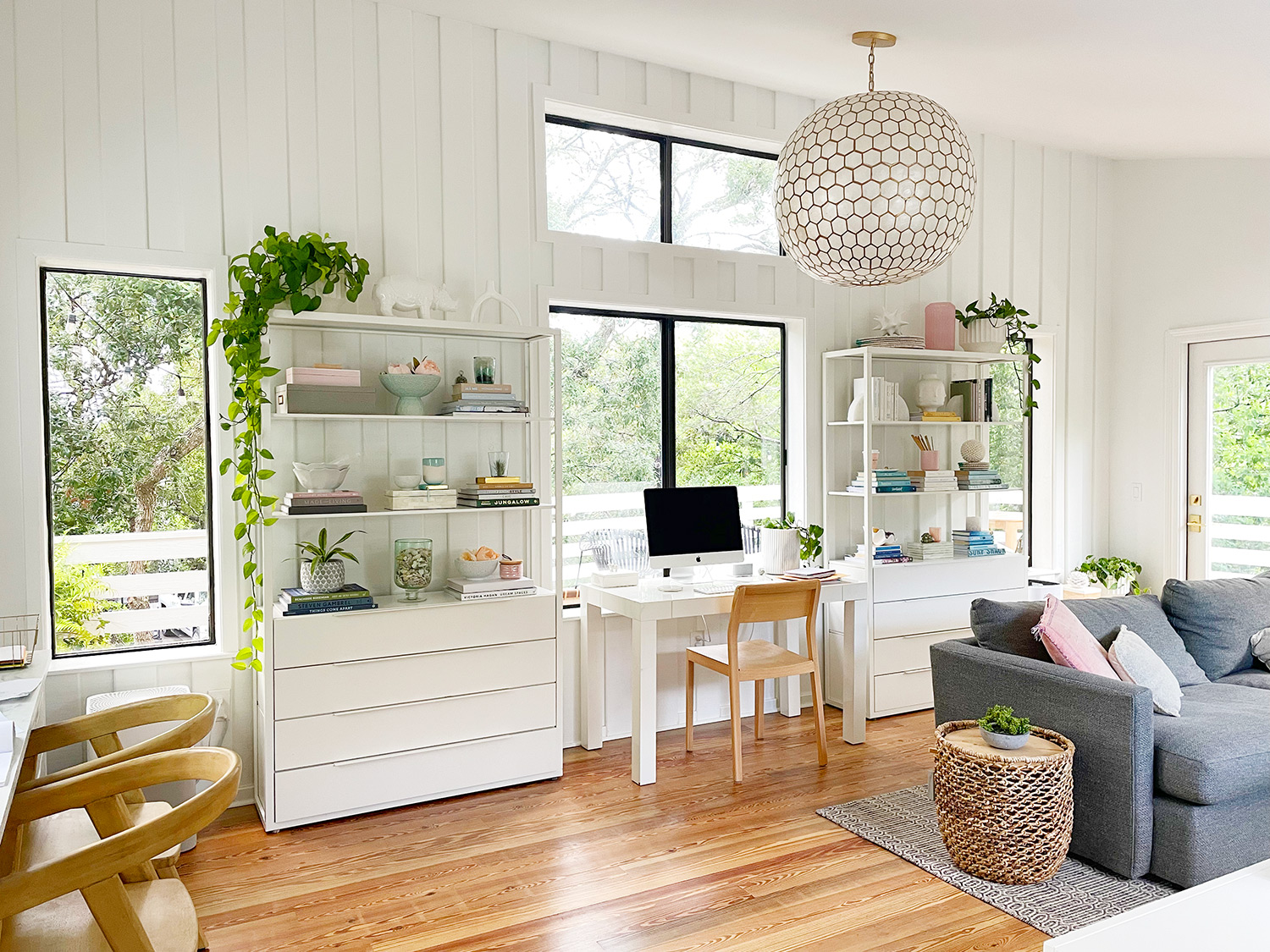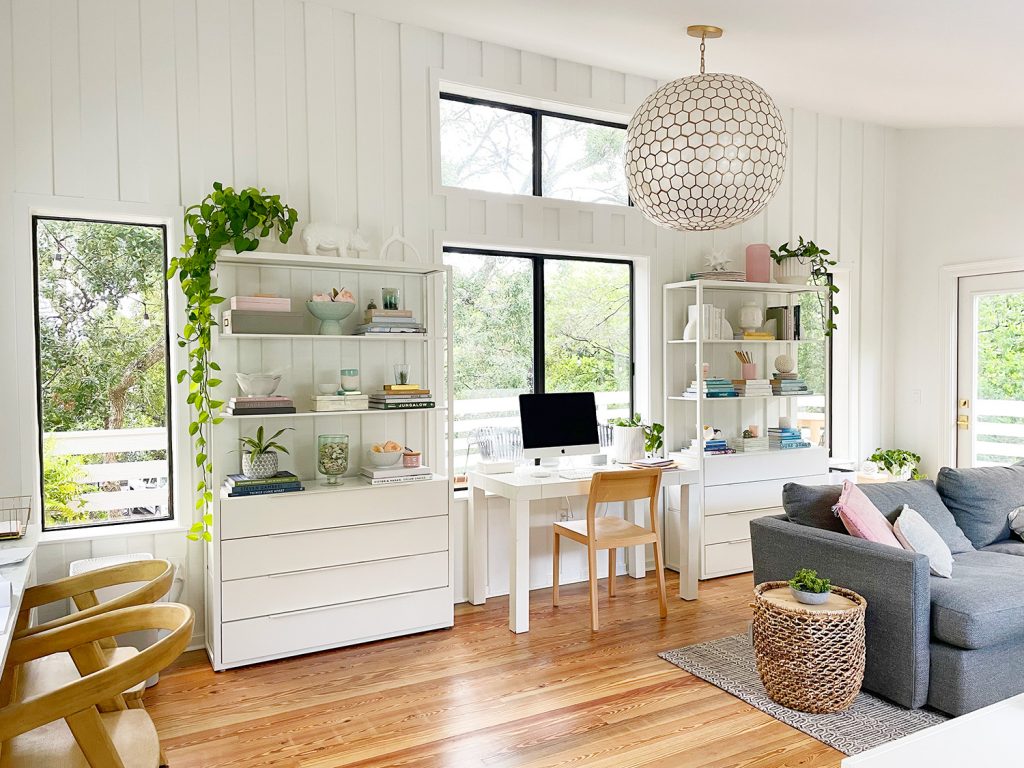 Like most of the stuff we've been highlighting so far, we love that bookshelves like these work hard AND look good while doing it.
Other Bookshelf Storage Buying Options
7. A Wall-Mounted Spice Rack
Problem: No drawers that could fit all of our spices (and we didn't want them all over the counter)
Solution: A clean wall-mounted spice rack right near the stove that takes up zero floor or counter space
We're ending with our newest storage favorite, which is small but oh so mighty. You may have already seen it In our kitchen pantry update post, but it has been too helpful to not include in this roundup – especially if you don't have lots of floor space for a new piece of furniture, but do have the back of a door or a small slice of wall or the side of a fridge to incorporate this. After we built in the fridge we realized we had an empty wall right near the stove, precisely where we could easily reach all of our spices. We have loved this small spice shelf so much. Plus it holds paper towels and a dishtowel (and it can be secured to a wall or the side of a cabinet OR stuck right to the side of your fridge because the back is magnetic).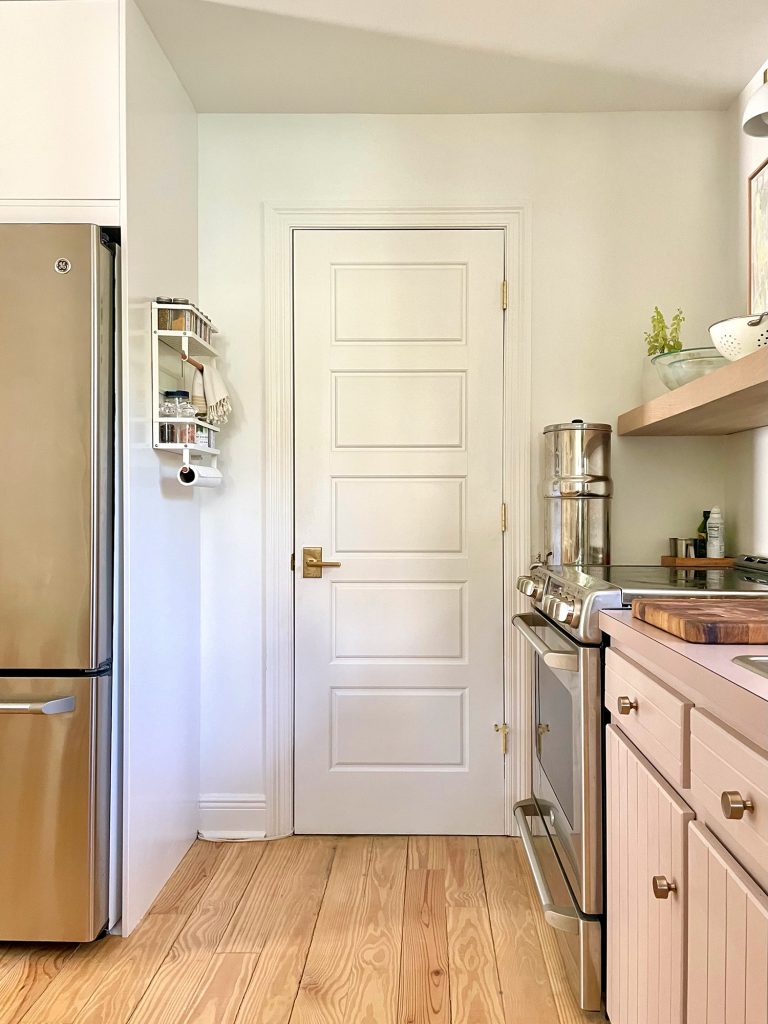 You've probably seen a million solutions like this, and getting your spices (or your knives or your paper towels) out of a drawer, off the countertop, and on your wall isn't new – but it's new to us, and we love it. We also bought this set of matching spice containers with preprinted labels for more spices than I've ever heard of (plus some blanks too). They fit nicely in two rows on the wall shelf (so we have 18 of them on this small shelf – with room for more – we just store some large salt containers along with our salt & pepper grinders). Also Sherry is wild about the crisp white color mixed with the wood dowels. Like she talks about it every time she changes the paper towels.
Other Spice Rack Buying Options
Ok, that's it. That's the post. I hope it helps any and all of you looking for exact specifics about what we use and where we used them. The good thing about storage is that there are SO MANY OPTIONS, so you can just go with whatever makes the most sense for your family, your room, and what you need to store. And if you don't want this storage-palooza to end, the posts below might shed even more light on maximizing a small home:
*This post contains affiliate links, so we may earn a small commission when you make a purchase through links on our site at no additional cost to you.