We used some quick and easy upholstery techniques to add some softness and texture to a storebought bench in our family room. We even knocked it out just in time for the holidays, adding to the coziness of this room!
We scored this woven bench at HomeGoods mostly because it was the right size and we liked the woven texture. But as soon as we got it home, it was clear that the netted texture of the bottom was less-than-desirable. It wasn't scratchy, just felt – I dunno – like you were sitting on a bunch of ropes. You can see in this post about the storage unit that we immediately threw some leftover sheepskin rugs on it.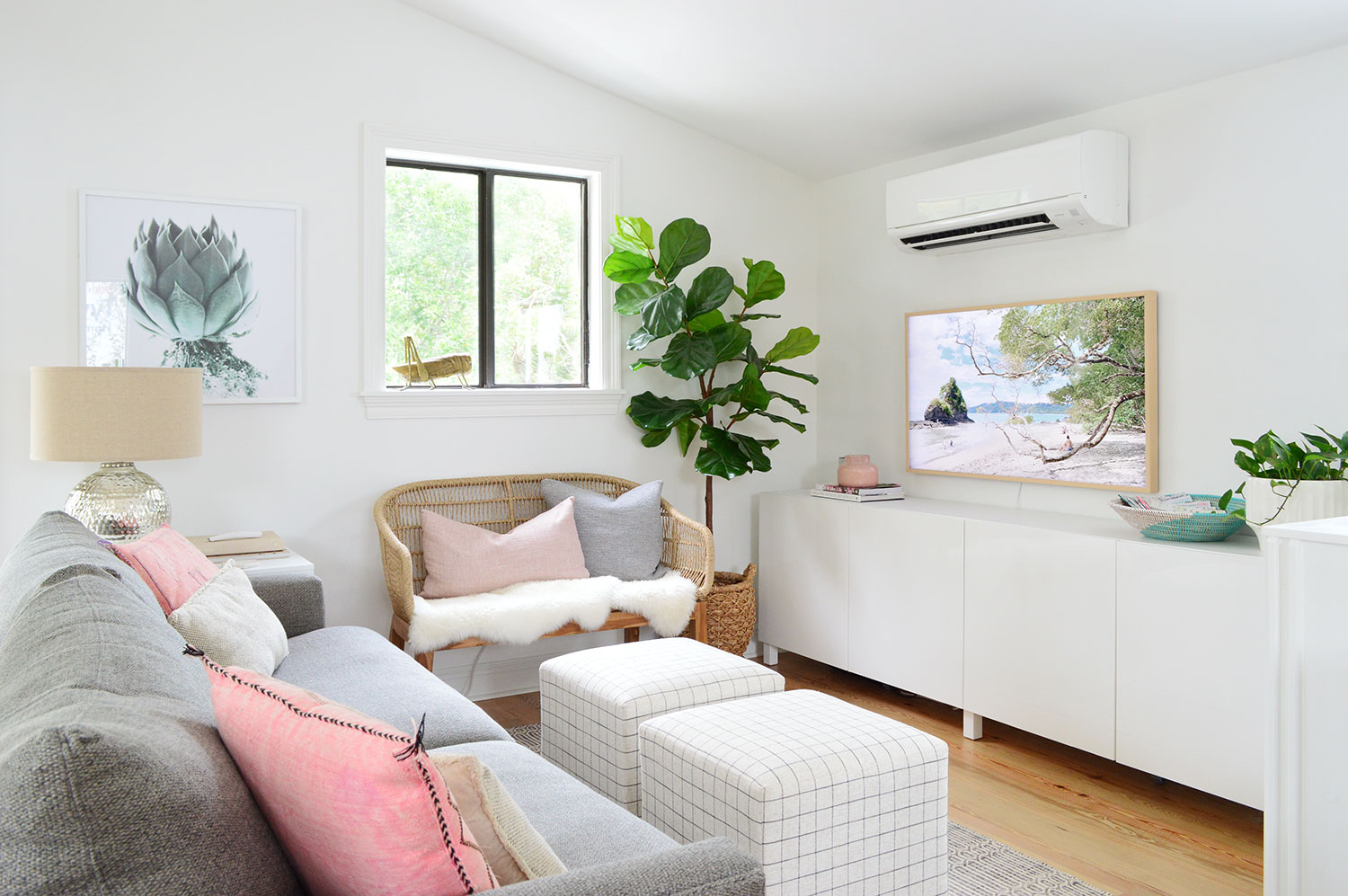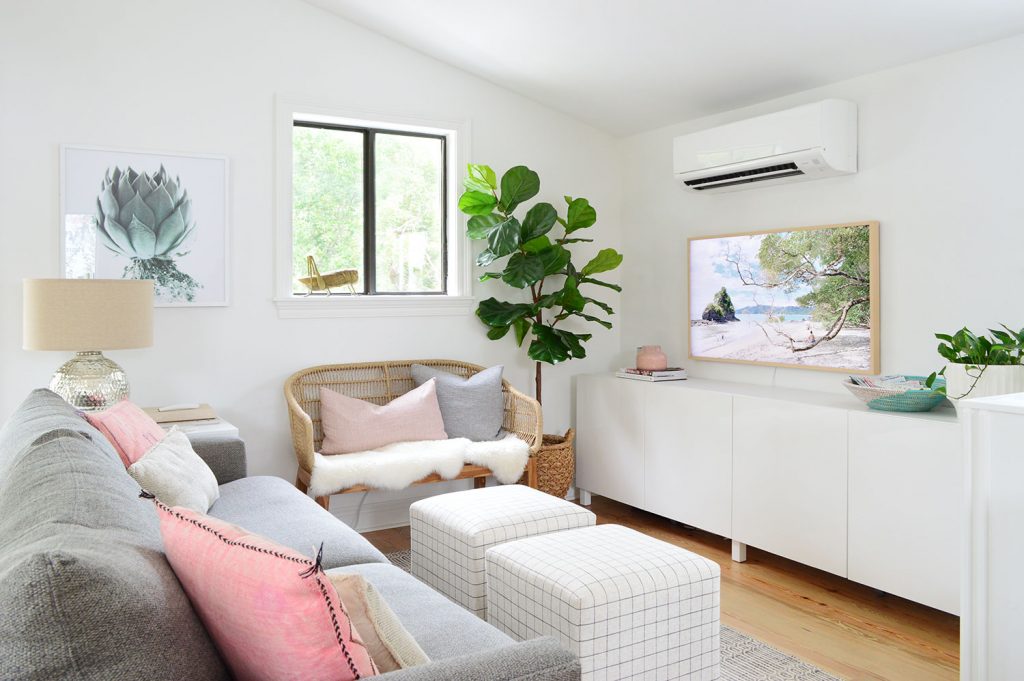 Those two sheepskins definitely helped, but they were always finding their way off the bench and onto the floor, especially since this has become a favorite spot for our wiggly kids to watch TV from. So it was time to create a more permanent solution!
Upholstering A Seat Cover
We're not pro upholsters or expert seamstresses, so this is definitely a super easy project that anyone could do. Just like our DIY upholstered headboard or DIY stair runner projects, it basically just required some patience and a heavy-duty stapler. And instead of fabric, we were using a sheepskin rug!
Step 1: Cut MDF base to size
To give us something to attach the sheepskin to, we bought a piece of 1/4″ MDF and used our circular saw to cut it to the shape of the bottom of the bench. We kept it slightly smaller than the bench area, since we knew the sheepskin would add some bulk.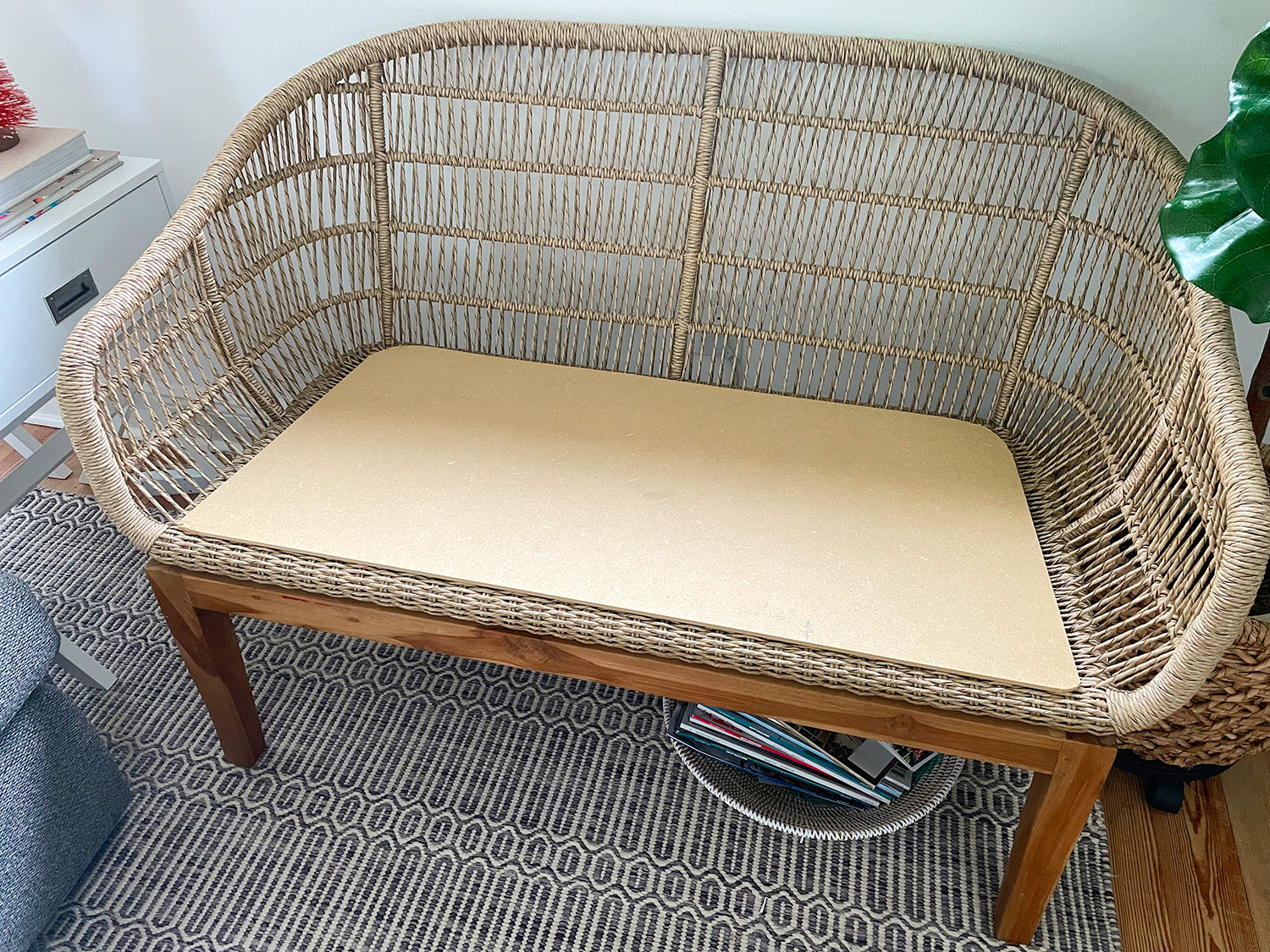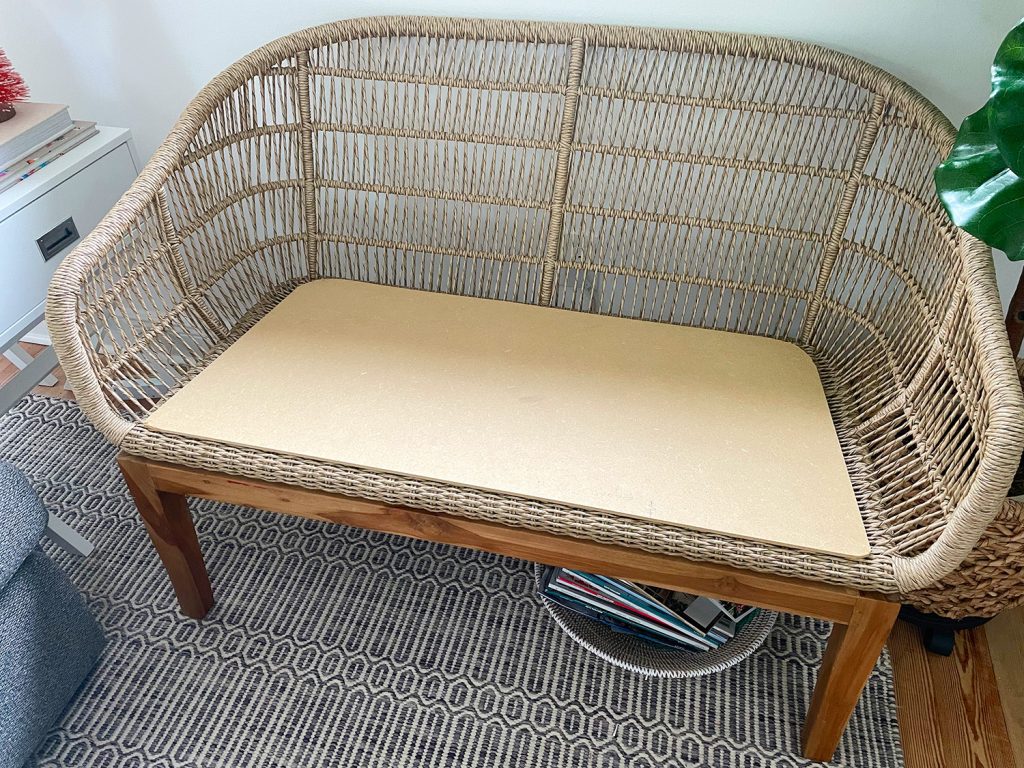 Step 2: Wrap Sheepskin Around MDF & Staple
Luckily we had a sheepskin large enough to cover the whole thing (here is a similar faux sheepskin) so we wrapped it tightly around the edges of the MDF and started stapling away, putting one in every 3-4″ inches.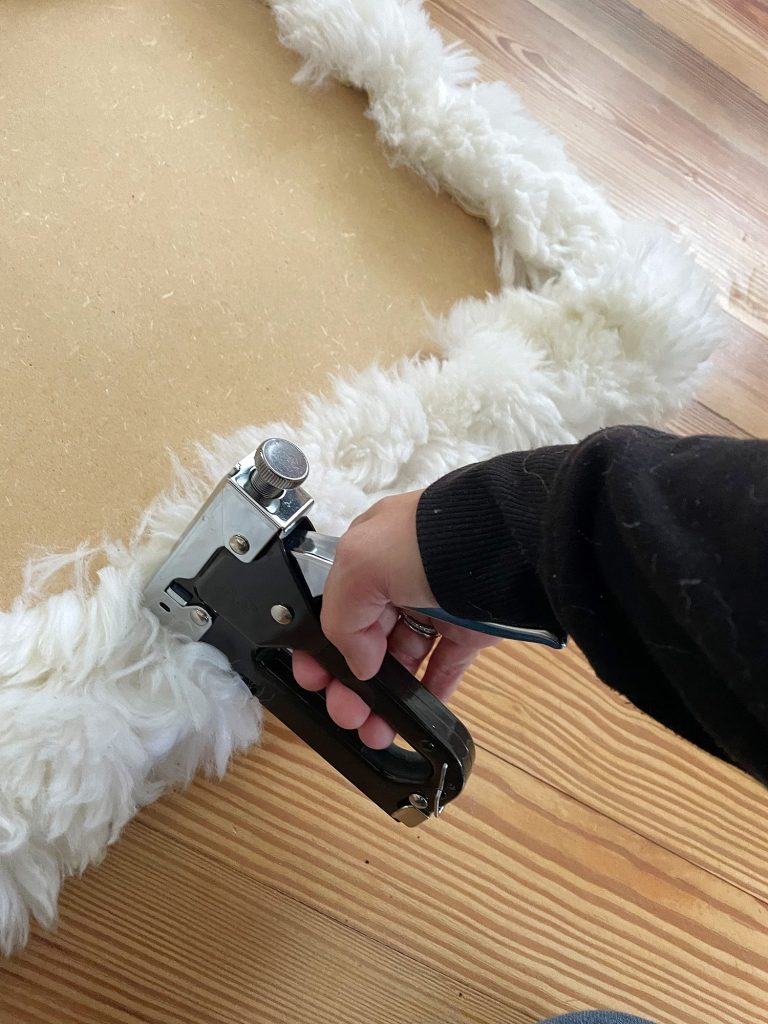 It took some effort to keep it held tightly as I stapled, but it still was suuuuper easy. And after I had it stapled all the way around, I trimmed off some of the excess using scissors.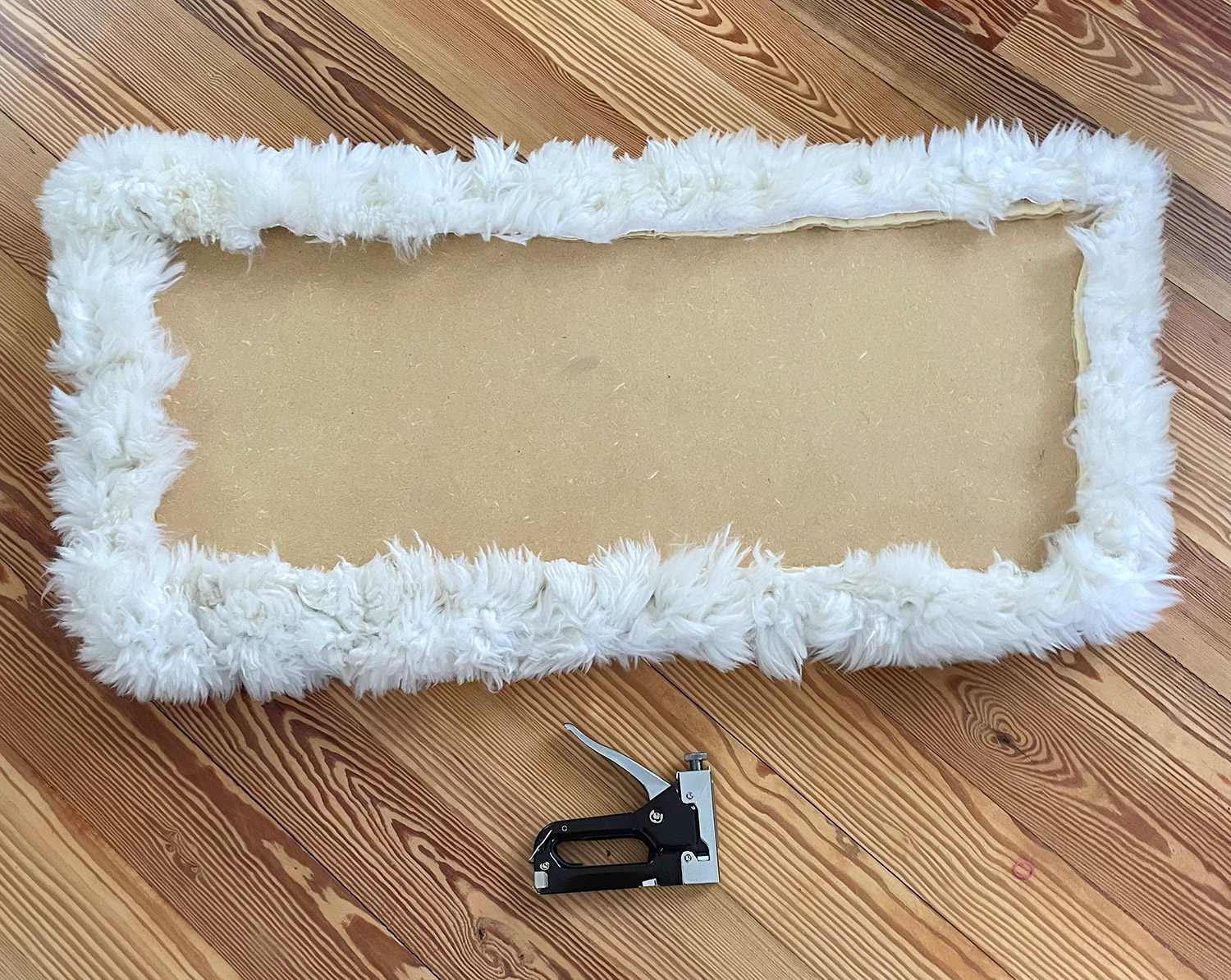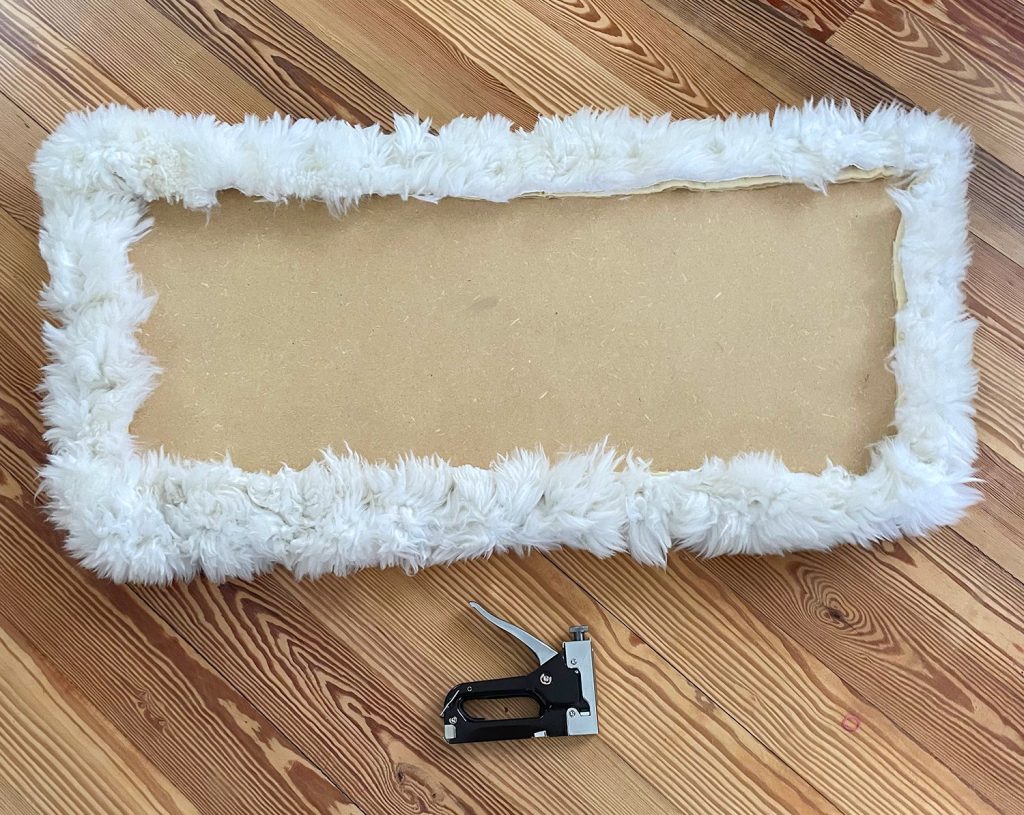 Step 3: Put it in place!
That's right, we didn't do anything to secure it to the bench – it was heavy enough to hold itself in place (especially since the woven texture of the bench isn't very slick at all). You could certainly glue, nail, or screw yours in place if you're working with a differnt subsurface. Just be sure that any nails or screws don't poke through. That wouldn't be fun to sit on!
For us, I think the whole thing took us like 12 minutes. I probably used to spend 12 minutes every few days wrangling the faux sheepskins that were no longer nicely folded on the bench seat, so…. COMPLETE AND TOTAL LIFE HACK.
You could also add some foam padding or batting to this if you wanted it to be a little "cushier" on your backside. We found the sheepskin to be floofy enough on its own, since it's thicker than your average rug or fabric. So if you do this with regular fabric, you'll definitely want to put some cushion between your buns and the hard MDF.
UPDATE: It's been over a year with it and it's held up great! The sheepskin could probably use some fluffing, but we haven't had any trouble with it shifting, staining, or anything. And actually, the fact that the MDF is removable has been helpful because we can easily lift it off and run the vacuum over it like a normal rug!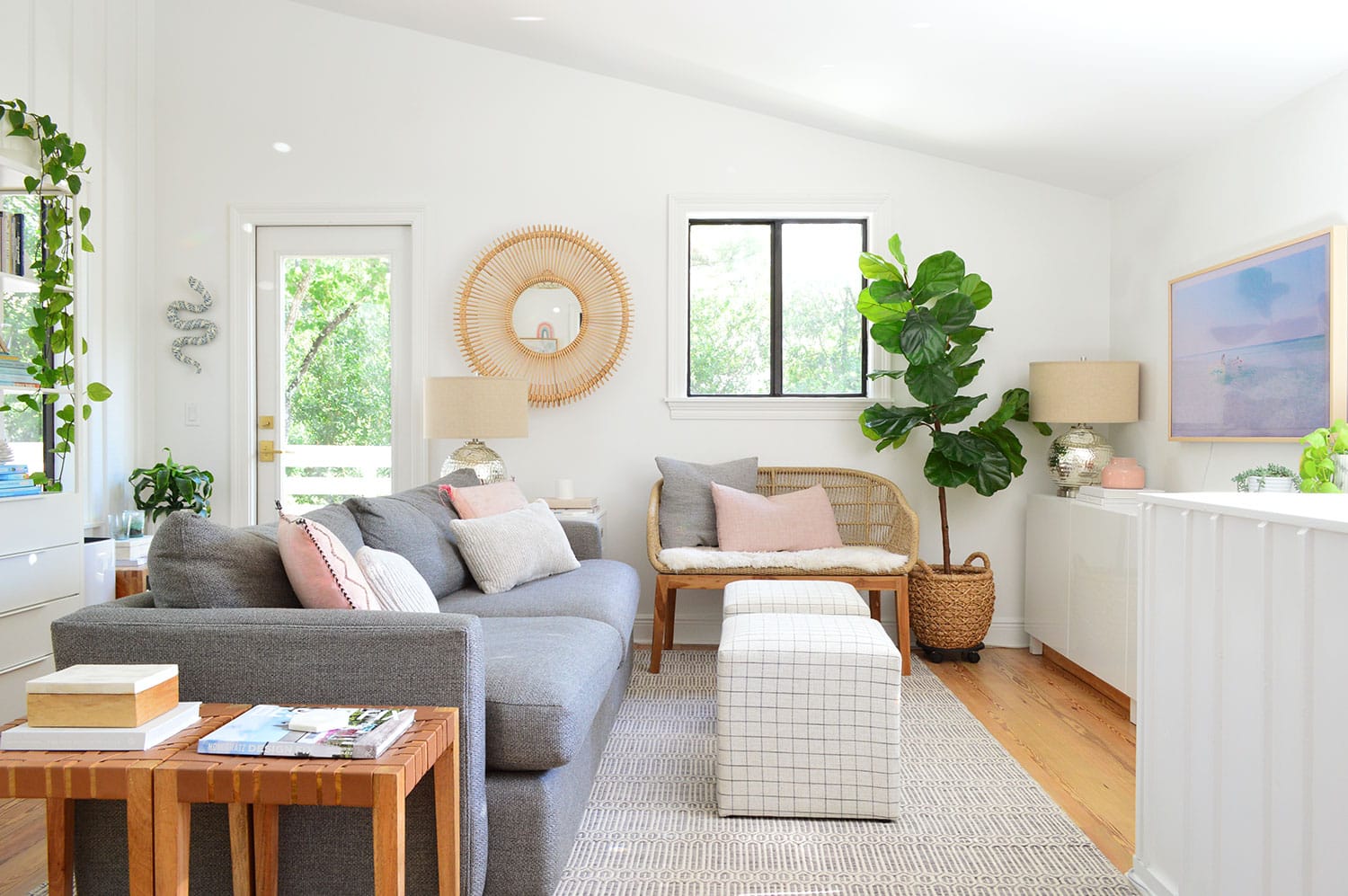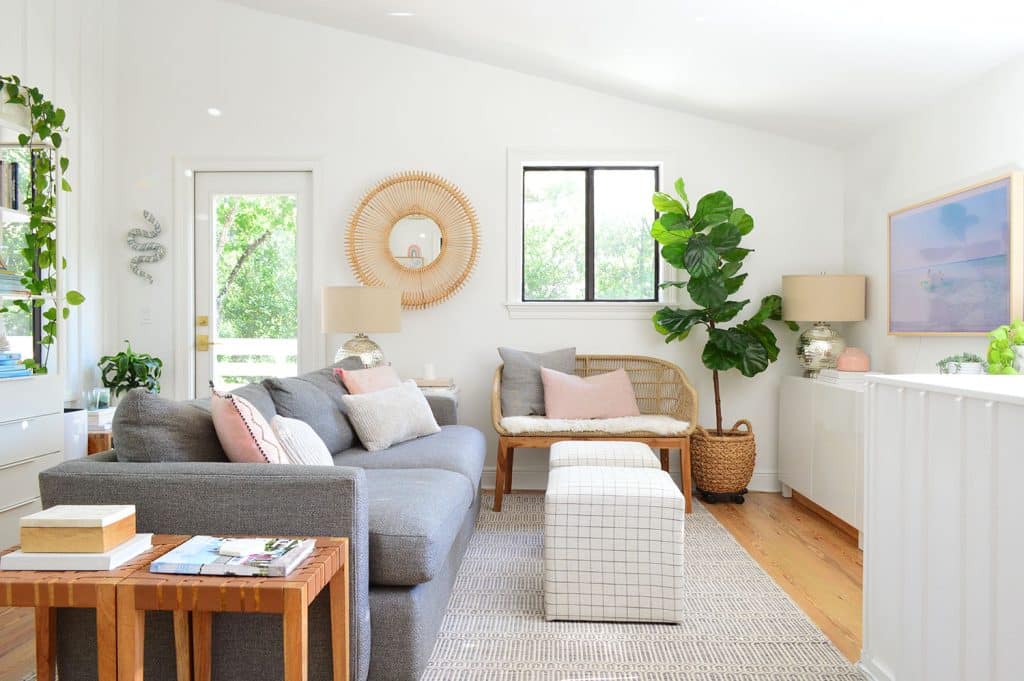 *This post contains affiliate links, so we may earn a small commission when you make a purchase through links on our site at no additional cost to you.