Reader Redesigns
Karin is a pet photographer from Minneapolis and apparently when she's not snapping pretty pictures of pooches, she's busy creating a pretty darned awesome kitchen. We know you guys like to a see non-white kitchens when those come in, and this one is actually an all wood one. Check out her letter below, which I've peppered with some of Karin's awesome before & afters. Well, and one demo-tastic during shot.
Hi Sherry and John! You've been an inspiration for my husband and I as we purchased our first home last summer and immediately started tearing it apart. After years of renting, we finally took the plunge and purchased our first home. We wanted something open and modern with lots of natural light. Thanks to our HGTV-watching experience, we had a good handle on what to look for versus things we could change ourselves. When we came across a semi-neglected house, it had all the "must-haves" for us and we went for it. This house was actually by far the least expensive of the ones we saw, allowing us to make some pretty big changes.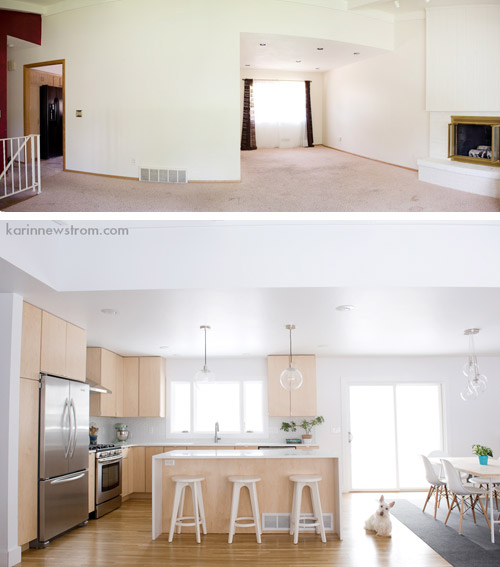 Although the before images don't convey this too well, the kitchen/dining area was dirty, tired, and needed a lot of help. Cola (I think?) was spattered on the walls, the carpet was had a minor flea infestation, and most of the tiles in the kitchen were cracked.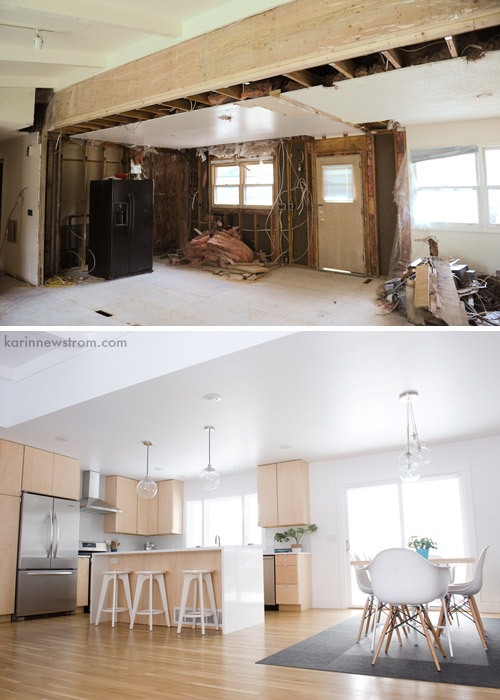 Jeff and I salvaged and donated what we could and took a sledgehammer to the rest. We did as much as we could ourselves (and with the help of family) and called in the pros when it was truly necessary (installing 600 pounds of structural beams, running a gas line to the stove, etc.). We have learned so much… and more! And to save some money we shopped around for discounts (the dining chairs are from Overstock and we actually DIYed the dining table with legs from Ikea).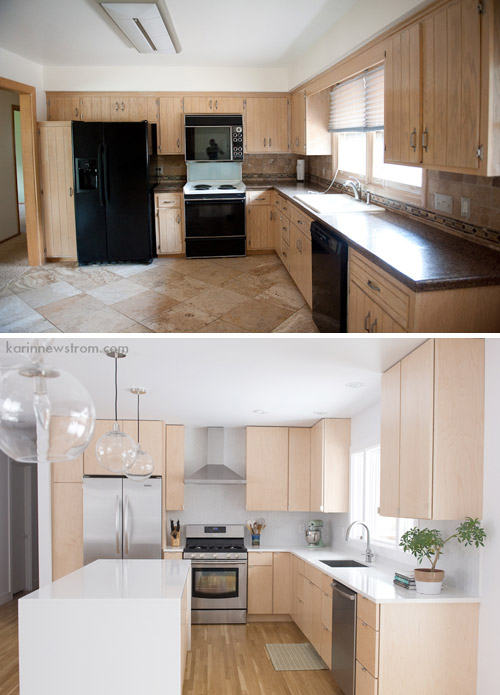 I frequently referenced many how-to's on YHL (hello backsplash!) and you two helped instill a sense of fearlessness to tackle many "scary" projects with no previous experience. Thank you and take care! – Karin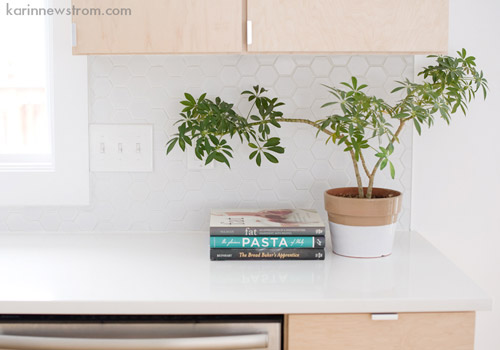 We love how light and airy this kitchen feels (proving that wood cabinets can still add up to a nice bright kitchen). Karin has tons of extra pictures on her photography blog along with a source list. Oh, and since we'd be remiss not to end with a shot with dogs in it – here goes nothing!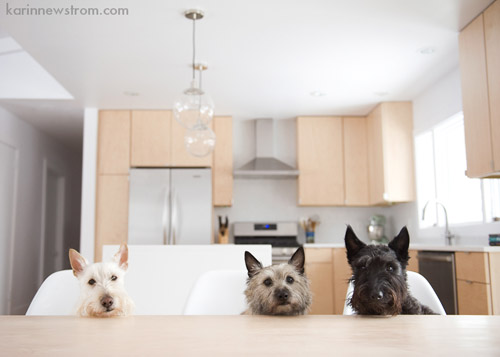 What's your favorite part? The dogs? Me too. Although those dining chairs, stools, and pretty island lights have Sherry oohing and ahhing, and I love the sleek cabinet hardware and that cool waterfall edge on the island's countertop.
&nbsp&nbsp&nbsp
Some of our friends with sons lament that it's hard to find inspiring boy rooms, which is why we're always excited when a cool one shows up in our inbox. And our excitement for Dacia and Jordan's nursery creation could almost be described as "out of this world." Pun intended. Here's Dacia's email:
Hi John & Sherry! I wanted to share my nursery with you guys. When we found out that our very first wee one was going to be a little dude, I immediately took off with designing the nursery. I had a plan all worked out, and then one night my hubby (who normally couldn't give two hoots about decorating) sweetly said, "Would you mind if I helped design the nursery?" Being the emotional pregnant woman I was, the fact that he wanted to help design a room for our son melted my heart and I threw all my plans out the window! So we started planning things out together, and I have to say, I'm so happy we did it together because I love the direction it took!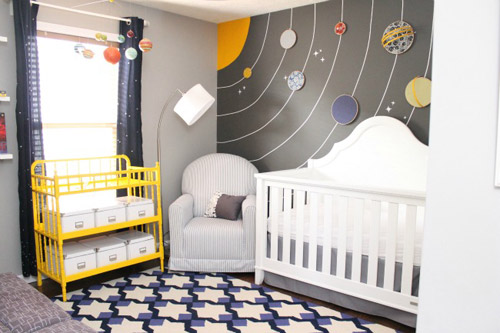 My husband has a fascination with all things astronomy so we infused that into the nursery. We put our own twist on a traditional mural wall by using embroidery hoops to create a 3D planet 'mural'.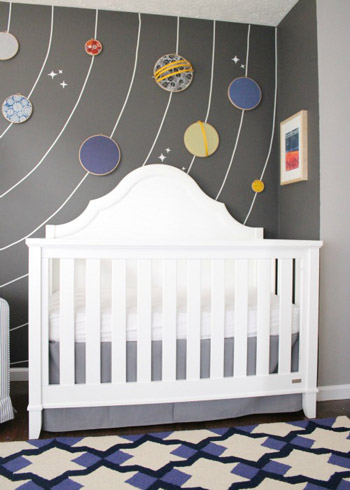 Most of the nursery is done in grays and blues, but we wanted a fun pop of color so I made over a changing table that I got on Craigslist for $30. I also updated some run-of-the-mill navy curtains with simple star embellishments.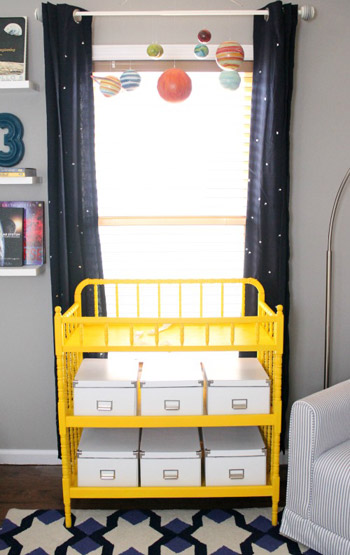 On the wall opposite the crib, we added a futon so that my husband and I both have places to sit if we're in the nursery together. Hanging above it is some art that I designed explaining the meaning behind our little man's name. We plan to add some family pictures on either side of it once we get those taken and framed.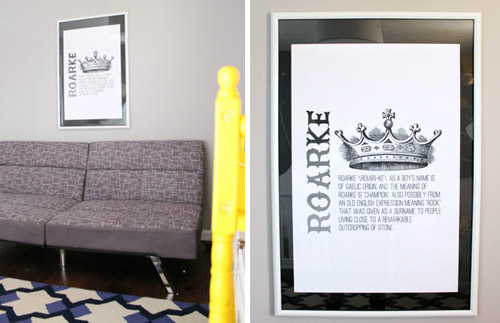 Sherry, I totally get what you mean when you say that Clara's nursery was your favorite room in your old house… I've already fallen hard for the nursery. We love spending time in it with our son! – Dacia

How cool is that room? Got any favorite parts? The mural is so creatively done (such a great use of embroidery hoops), not to mention the little nods to outer space elsewhere in the room (notice the stars in the rug?). Thanks for sharing your little astronaut's room with us, Dacia and Jordan!
UPDATE: Here's a link to Dacia's blog post about the nursery, complete with more pics. So sorry for not including it earlier!
&nbsp&nbsp&nbsp