Sherry and I were totally charmed by this room that Anna made over for her two boys. Partially because we don't have a son (well, we do have a furry one, but he doesn't have his own room) – so it's always fun to see decor for the other chromosome combo. And also because she squeezed lots of cool ideas and details in a room that could've easily been overlooked. So keep your eyes peeled for a chalkboard closet, a cozy desk space, and some stylish storage.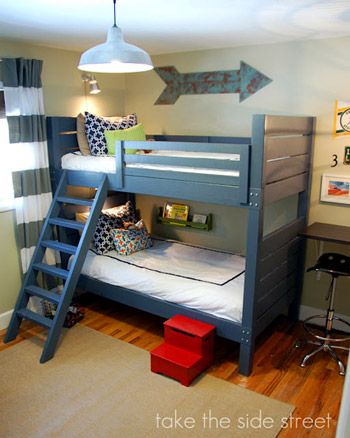 Here's Anna's email:
I just finished making over my two sons' room and I wanted to share. Here's what the room used to look like (on a messy day!). There were lots of unused corners and we knew we could get more function out of it if we really thought things through.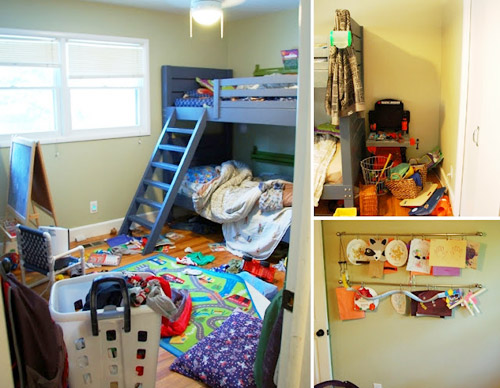 Here's where we ended up. Boy rooms are always exciting to me since there aren't as many of them "out there" as girl rooms. This did take me about 6 weeks since (1) I'm lazy and (2) I DIYed a lot of the things… the curtains, the duvet covers, the desk.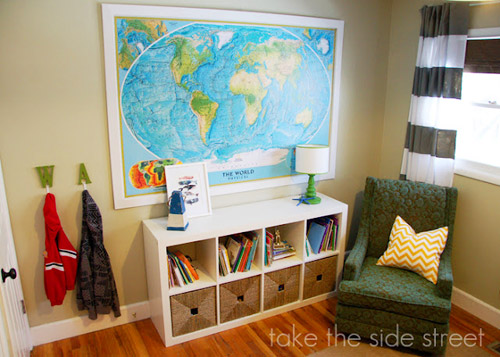 There's only so much a girl can do in a day for a room that's not even for her!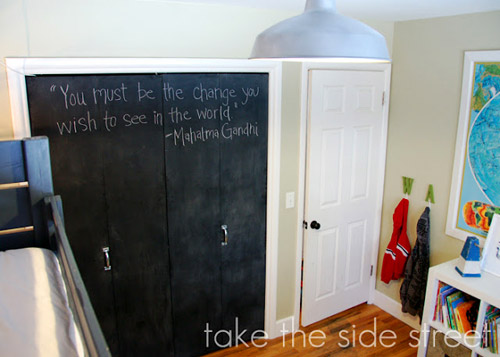 The small details like the personalized hooks and the book rack on the wall are definitely functional. Aka: less stuff on the floor!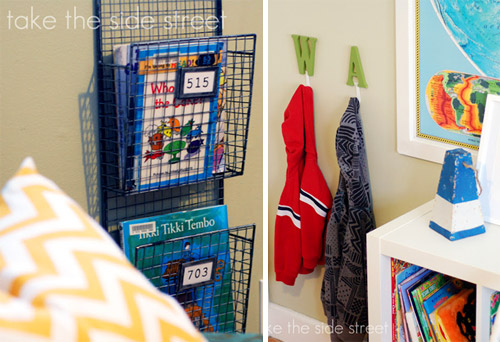 Here's a shot of that desk we made for that corner next to the bed. It definitely makes the whole room more usable.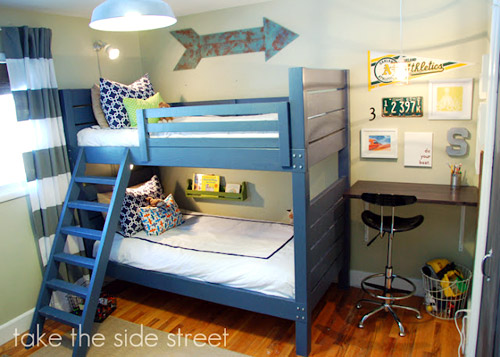 And here's the art on the wall above it (and to the right of it):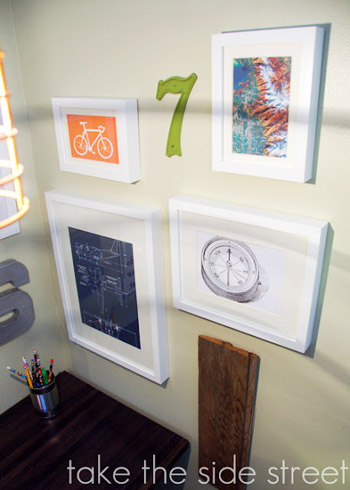 Thanks for looking, guys! – Anna
Thanks so much for sharing Anna! You can check out more pics here on her blog as well as a full source list here. I of course was particularly drawn to the map (which reminded me of this one by Kate in this Reader Redesign from 2009) along with the bike and the seven art (perhaps this room was meant for me circa 1992?). And Sherry was loving everything from the cool lighting choices to the chalkboard closet doors and those striped drapes. What's your favorite part?