Maybe this is just me trying to hang on to every last vestige of summer. Maybe it's me wanting a big sunroom makeover (we haven't even touched ours since we moved in). Or maybe it's just that Jenna Sue has a knack for awesome makeovers (you may remember her entryway transformation). Whatever the reason, feast your sunshine-loving eyes on this cheerful update. Here's her letter:
Hello once again! Our sunroom began with white walls, green trim, carpet and a sagging ceiling.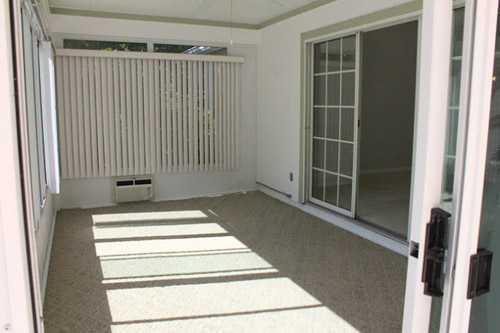 We removed the ceiling, added insulation and fresh new humidity resistant drywall (which I painted a light blue and added recessed speakers and lights). And we replaced the carpet with gray 'wood' tile planks.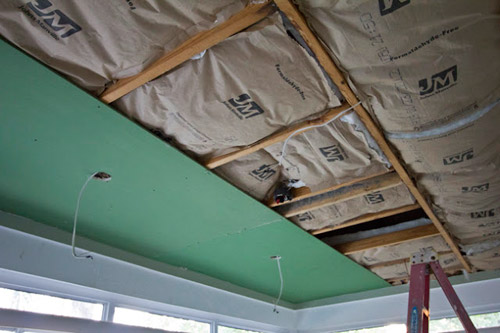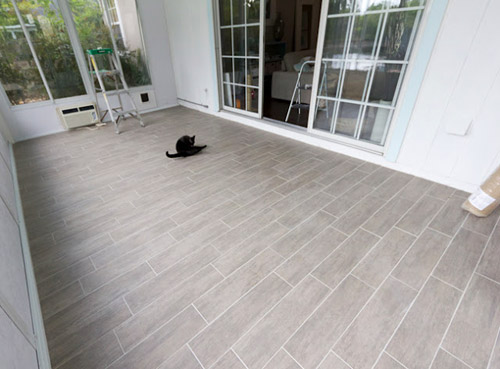 We bought a couple of Brimnes daybeds from Ikea so we can finally have guests over.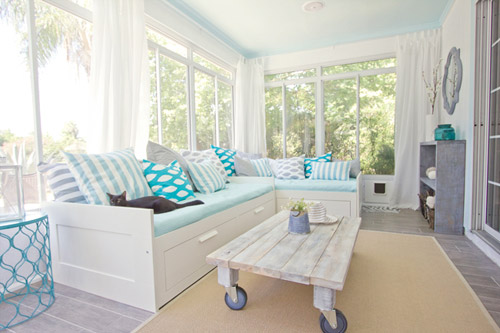 I built a simple rustic coffee…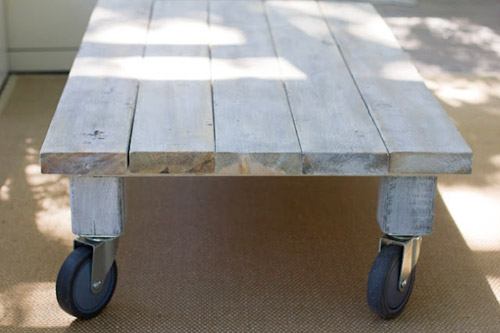 … and console table…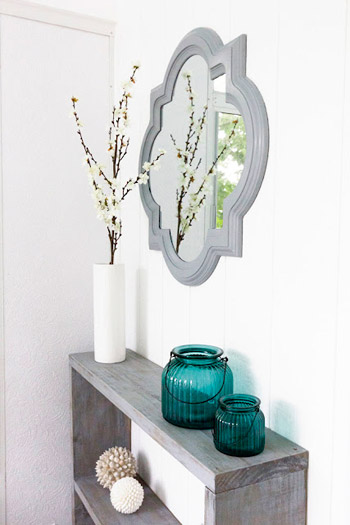 … added some accessories and a bunch of pillows, made a no-sew slipcover for our old armchair, hung some art, and now we have the perfect summer party space.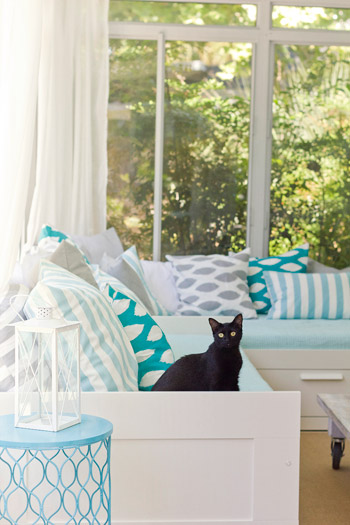 Thanks for looking! -Jenna Sue

Thanks for sharing, Jenna Sue. It makes us very jealous that we don't live in Florida right now. And we love all the construction details (like the drywall and tile work) along with the homemade stuff (like the slipcover, coffee table, and console table). And for everyone else, be sure to click over to Jenna Sue's blog for more info on the projects in the space (cat owners will love the hidden litter box she made). But first let's play the favorite part game. Sherry is swooning over those two daybeds from Ikea that are smartly placed to form sort of a daybed sectional (her exact quote was "daybed sectional for the win!") and I'm loving the gray "wood" tile and that black cat who looks just like my parents' cat. Now when can we come over?
Psst- We picked a winner for this week's giveaway. Click here to see if it's you.