Okay, so maybe the red bathroom Melissa and Ian inherited with their house isn't bad enough to deserve a nod to The Shining, but it was pretty killer on the eyes. Fortunately they remedied things with an awesome redo that they sent our way. Here's their letter:
Hi John and Sherry! We bought our second home up north in good 'ole Canada in April of 2011 and started our DIY magic – or whatever you wanna call it ;) So far we've done 2 bathrooms, an office, a guest room, and our bedroom and I still feel like we have tons to do (I'm sure you know the feeling). However, we're really happy with how our bathroom turned out. Let's start at the beginning. Here is what we had to work with: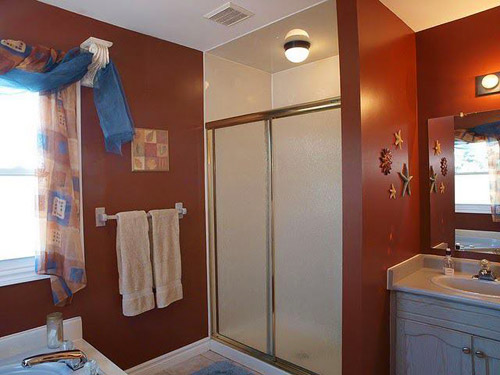 Where to begin? The pink floors? The vanity that was about as tall as my lower thighs? I was barely able to wash my face without sitting on the floor.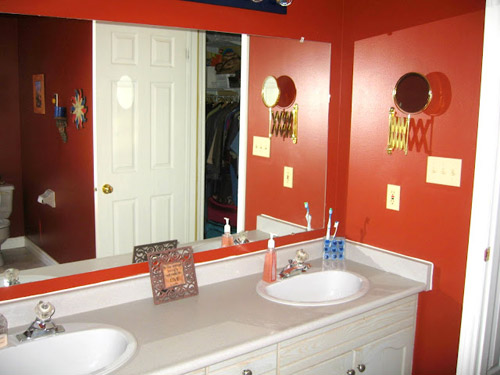 The room looked a bit like a rainbow exploded in it. We don't do rainbow guts.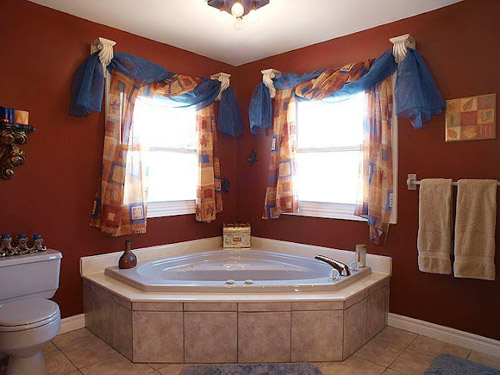 In all reality there were no words. We just knew we wanted to change the ENTIRE thing. I had been saving up tons of ideas and we pretty much knew what we wanted: a 'spa' feel with light, bright colours, and a clean look. We also really wanted to incorporate a little bit of architectural detail somehow. We had seen paneling done in a variety of different forms, and we figured this might be a good place to try it out. We ended up choosing picture frame style wainscoting. Overall, this process wasn't as difficult as it sounds.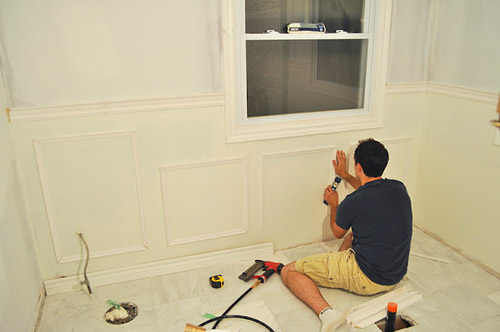 Sooooo… here it is: our pride and joy!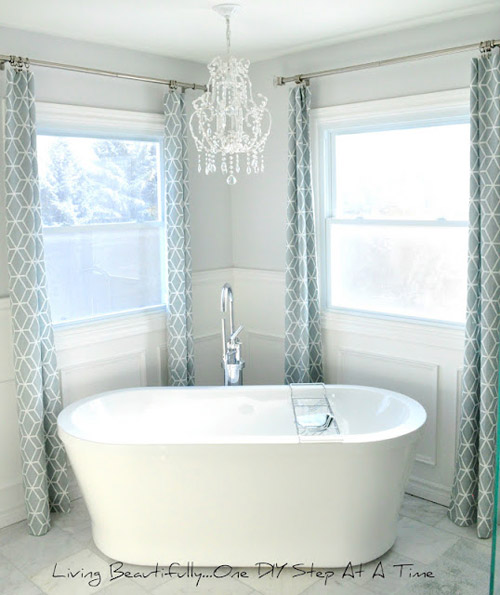 We did a lot of other things besides the wainscoting ourselves – just to stick to our tight budget – like doing the shower tile pattern ourselves, making our own curtains, and searching high and low for the best priced materials and fixtures (the tub is from Costco and the mirrors over the vanity are from HomeSense – which is also known as HomeGoods in the states).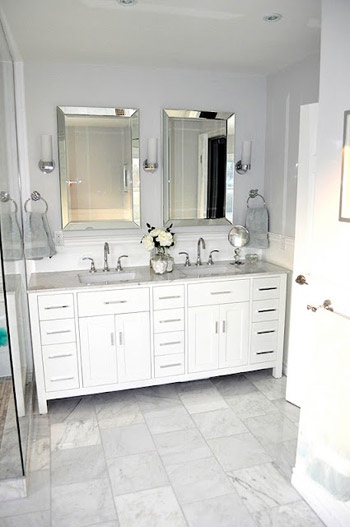 Thanks again for being a huge inspiration for a young couple like ourselves. All the best, Melissa and Ian (oh and Clover, our 85 pound golden doodle who thinks of herself as an 8 pound chihuahua).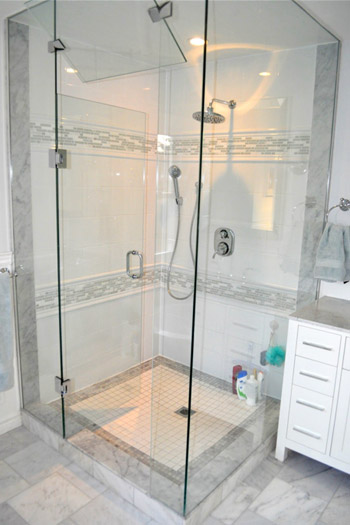 Oh to have a bathroom that large and that gorgeous! Nicely done Melissa and Ian (and Burger gives two paws up to Clover, to whom he gives all the credit). You can see more photos of their beautiful bathroom on their blog, where they've also got a full source list as well as a breakdown of projects like the paneling and the curtains.
Psst- Got a before and after of your own that you'd like to submit? Send your best pictures, links to any blog posts, and brief description to [email protected].
Psssst- We're sharing our latest Clara-conversations over on Young House Life (she's definitely the comedian of this family).