If you send us an email with the words "1950s ranch," "knock down walls" and "kitchen makeover" you've officially piqued our interest. And when you attach before & after photos as stunning as Jessica's, well, end of story. I'll need a moment to pick my jaw up off of the floor. Here's her letter:
Hey guys! I know how you love a good before and after and thought you might be interested in ours. We bought our 1950's ranch just over two months ago and have been working around the clock to get her in tip top shape. We recently wrapped up the kitchen remodel and DIYed everything but the countertops.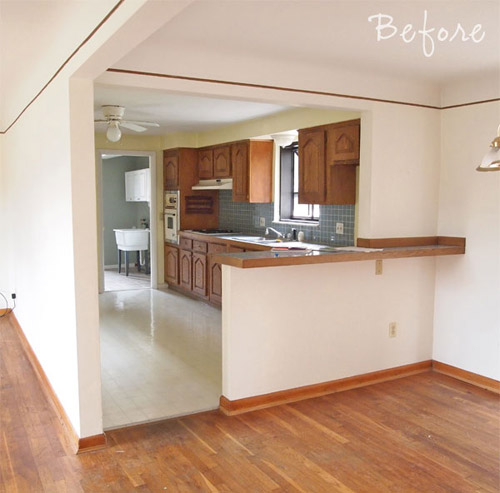 Since moving into our house we've knocked down major walls separating the kitchen from the rest of the home, updated the electric and plumbing, installed new hardwood flooring, replaced all of the upper and lower cabinets, and added a butcher block island. We updated to stainless steel appliances, soapstone countertops, and installed a subway tile backsplash. We also added recessed lighting, pendants, and under-cabinet lighting throughout. Oh, and there was a new addition (baby Lizzy) to the family just days before moving in. Whew. It's been a wild ride.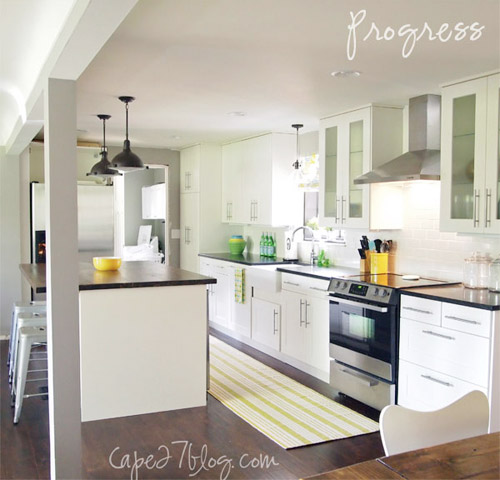 There's just something special about walking into a room that you've literally re-built from the ground up. The industrial vibe streaming from the pendants and metal stools makes me a little weak in the knees.

Hope you enjoy this space as much as we do! – Jessica
Enjoy is one word for it, Jessica. Envy might be another. Amazing job! Thanks so much for sharing your makeover with us. Jessica's also got more pics on her blog, plus a full budget breakdown and source list for you too. In the meantime let's play the favorite part game. I'm really into those great pendants and the butcher block on the island. Meanwhile, Sherry loves the cabinet hardware and wants to pet the subway tile (who's surprised?).
Psst- We announced this week's giveaway winner, so click here to see if it's you.