The bathroom makeover below that Gemma sent us impresses us for lots of reasons – the cool dark mirror choice, the attention to detail in using some of the shower tile over the sink, etc, etc. But what gets me the most is that the gorgeous vanity you'll see, which was built from scratch. Color me impressed. Better yet, color me the greeny-grey color they used because it's awesome. Here's her letter:
Hey John & Sherry! My hubby and I have just recently re-hauled our bathroom. What was a boring and beige space (and seriously outdated) has now become fresh, sleek, and classic. The whole project was a DIY affair – from the plumbing, to the tiling – we even built the vanity. We did it all ourselves and saved some big bucks.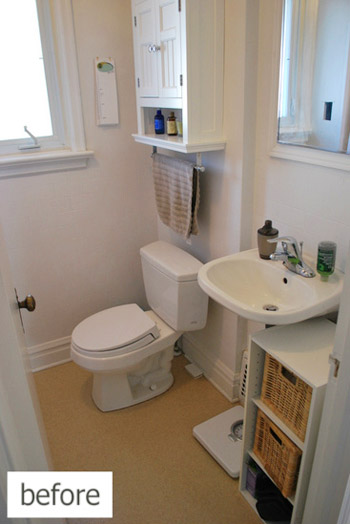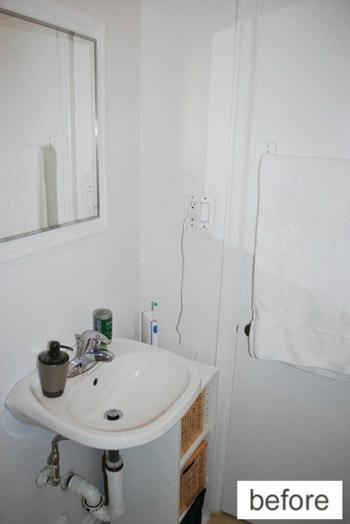 There were two main things that we wanted to accomplish: to make the space feel bigger (it's a pretty teeny room), and to make sure there was plenty of smart storage. Here's where we ended up: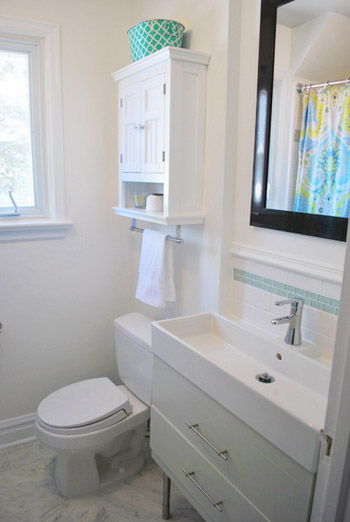 By keeping the walls white, injecting some colour into the ceiling, and using an extra tall mirror above the vanity, the space appears to be a whole lot bigger than it is.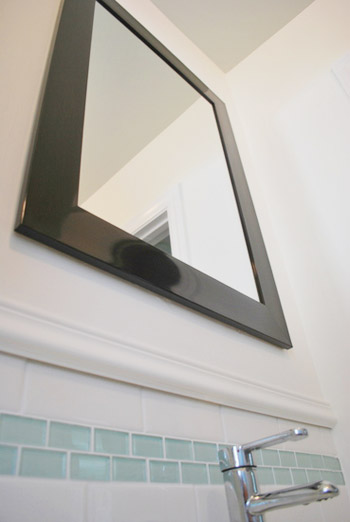 We don't have a lot of square footage, so we splurged on some carrera marble tile for the floors, which feels totally luxurious.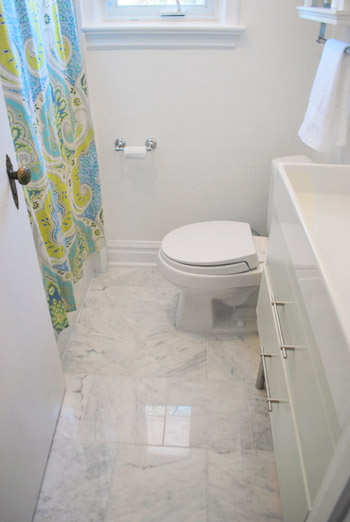 Since we couldn't find a budget-friendly vanity that would utilize the long and narrow space, we decided to build one. I painted it a pretty green-gray colour (which was the same colour I carried up to the ceiling), and kept all of the finishes in classic chrome.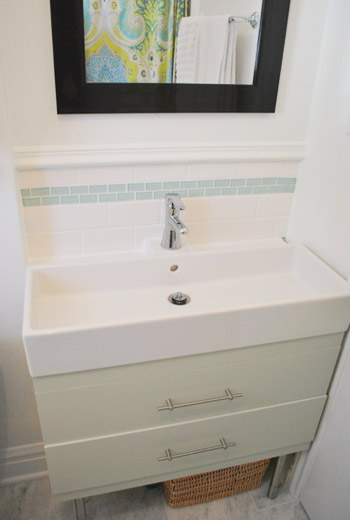 One month of chipping away at the room and putting in a ton of elbow grease was absolutely worth it – we now adore the space. Every time I walk by, I can't help but peer in and think "I can't believe we did that!" Thanks for all the inspiration, you two! – xo, Gemma
So yeah, isn't that vanity awesome? Gemma's got more details and pics on her blog, including a full budget breakdown. The whole thing – carrera tile and all! – was only about $1500 thanks to some leftover wedding gift cards. Now let's play the favorite part game. We have already established that I'm obsessed with the homemade vanity, and Sherry's loving the tile behind the sink and the color from the vanity that they playfully brought up on the ceiling. Your turn.
Psst- We shared our Labor Day adventures over on Young House Life. Hello photo bombs, beach dancing, and cannonballs…